How do you put a consultancy firm in prime position for growth in the next few years? Mike Carroll, chief executive of Arcadis, tells Emily Wright why flexibility and change are essential to future success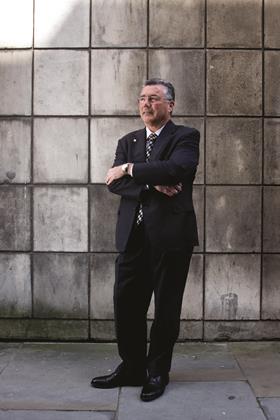 "The key to any successful restructure is getting all your people in the right seats on the bus." So says Mike Carroll, consultant Arcadis' new UK chief executive. Three months into his new job, the former US air force officer has completely overhauled the firm's structure - via this metaphorical bus. "No one had a position going into this restructure in June. All the seats were empty. Everyone had to interview again to make sure we had the best people in the best positions - playing to their strengths. If we didn't feel we had the right person for a particular seat, we left it empty."
Jolly bus analogy aside, Carroll concedes that, while he is in no doubt that the overhaul will be beneficial in the long term - he hopes it will see the business grow by 15% year-on-year from 2013 - any major restructure comes with a degree of pain. Arcadis UK, which is ranked 33rd in this years' Top 200 consultants league table, has been resized as well as restructured. Staff numbers were cut by 8% to take a reduction in public sector workload into account. "We had to face some brutal facts," says Carroll. "Part of that was 'right-sizing' the business. It's making sure it is as good as it can be."
Carroll's reorganisation creates a structure he believes worked wonders in Arcadis' US divisions. It advocates a client focus, cutting the number of clients the firm works with in favour of closer relationships. Following the overhaul, Carroll says that Arcadis UK is in an optimum position to face 2012/13. Here he explains why.
Client focus
Considering Carroll only took on the role of Arcadis UK chief executive in June, his changes have come hard and fast. But he is not entirely new to the business; he joined as the group's west region manager for the US 10 years ago. He was also managing director of the group's UK environment division between December 2010 and June 2011, which he turned from being loss-making to one of the most profitable parts of the UK firm in just six months. Now, the success of Arcadis UK will be crucial to its parent company, Arcadis, as it makes up 5% of the firm's $2bn (£1.3bn) revenue - and Carroll is convinced he is the man for the job.
"The structure I am implementing is one that has worked well elsewhere," he says. "The environmental business I overhauled has seen increases in order intake and revenue by as much as 50%. And it is the same structure we introduced in the US in 2008, where it also resulted in growth."
The new structure focuses on improving client relationships by introducing three "pillars". The operations pillar concentrates on managing each project to ensure it is delivered on time and budget. There is a client development pillar to oversee strategy: "People working in this division will look at where the market is going, which sectors we should be focusing on and which clients we should be targeting," explains Carroll. "We choose the clients we feel we can offer the best service to and don't select too many so we can give the ones we do have as much attention as possible. We identify one person who is responsible for each client. It increases accountability."
The final pillar is technical knowledge and innovation, designed to ensure Arcadis UK understands the cutting-edge technological capabilities available and, more importantly, how to use them efficiently.
It all makes sense and sounds impressive but is this not just a broken-down version of what most consultants are already doing to service their clients?
"I think what we are doing is different in terms of the extent of programme," argues Carroll. "Parts of this sort of client-focus model may be used by competitors but our programme is more rigorous. Having account principles, individuals charged with every relationship, is not something I am aware of our competitors adopting."
Growth
Carroll is convinced that Arcadis UK can increase market share in the sector by growing organically and predicts growth in the not-too-distant future: "I think we will start to see growth as early as 2012 and our ultimate goal is to grow at 15% a year from 2013. It will take a while to get there, though our environmental business is there already. With the public sector cuts, it will be more challenging to achieve this growth in buildings and infrastructure but we still think 2013 is realistic."
In terms of boosting the firm's portfolio in the UK, Carroll wants to expand in markets the consultant already operates in rather than moving into too many new sectors. "We have
very strong sustainability capabilities," he explains. "And we want to improve on this by building up our technical and financial expertise in this sector. We are also looking at how we might need to position ourselves with new staff to deal with the new code 5 residential regulations.
"Within our building sector we see the London market starting to come back so we will be focusing on opportunities with developers including renovations for new leases and high-end residential schemes.
Then there is sports and leisure. [Arcadis was project manager and QS on the Emirates stadium and QS on the Olympic stadium.] This is a real differentiator for us and we will be working with our Brazilian colleagues to help with the Games in Rio. In oil and gas it will be exploration and production rather than the clean up of old sites."
When it comes to growth through acquisition, Carroll is predictably tight-lipped. There have been rumours linking the firm to consultants including EC Harris. All Carroll will say is that Arcadis is looking to grow through acquisition and organically. But he has no further comment other than a smile and a shrug.
The future
Carroll's overarching message to staff, clients and competitors is that Arcadis UK is in prime position to take on the next two years. "The market will be flat for the next year but the right-sizing we went through - losing 50 staff members - means we are well positioned for opportunities," he says. "We have the business available to sustain our staff with a high level of confidence."
So, it looks as though the bus is en route - though Carroll is reluctant to take full responsibility for the role of designated driver.
"I am responsible for the performance of the firm, but I am not sure I am driving the bus," he laughs. So who is behind the wheel then? "I mean I am not the only one driving," he clarifies. "There are a number of us in control of the vehicle - it's not a business with just one authoritarian leader."
You get the impression that bus driver or not, this is one man who will always have his eyes fixed firmly on the road ahead.
Carroll's Cuisine
After being revealed as a dedicated foodie, Carroll divulges his
culinary secrets
Ultimate comfort food Slow-cooked short ribs
Three things always in the fridge Milk, unpasteurised butter and wine
Signature dish Osso buco
Hates Almonds
Guilty pleasure Spam, I love it
Cheese or wine? Wine - though that's a tough one
Favourite English dish Shepherd's pie