Housebuilders have been bigging up their green credentials of late – anyone would think a global conference on climate change had been going on – but how well are they really doing, asks Joey Gardiner
Whatever your opinion of the deal reached in Glasgow last week, there is no doubt that the growing evidence of the climate emergency facing the planet seems to be finally galvanising major housebuilders to take some action. Whether prompted by a genuine desire to improve the world, fears of reputational damage or exhortation from investors, the UK's listed homebuilders have in recent months all committed to seriously reducing their contribution to global warming.
The UK's biggest housebuilder, Barratt, has taken the lead on this issue, setting out more than a year and a half ago a plan, approved by the UN-endorsed Science-Based Targets Initiative, to make its business net zero by 2040. Since then, four others – Persimmon, Berkeley, Taylor Wimpey and Countryside – have followed suit with their own "science-based" targets, with four more listed rivals having committed to publishing their own before the end of 2022.
Together these companies build more than 80,000 homes annually across the UK, not far off half all the houses produced. With COP26 designed to "keep 1.5 alive", these firms should, in theory, now be actively contributing to exactly that. However, for the outside observer it is far from clear how seriously we should take these efforts by volume builders to go green, and how exactly we can compare their respective efforts. In addition, the remaining handful of smaller publicly-listed builders, and virtually all of the privately-owned housebuilders – let alone the not-for-profit housing association sector – have not made similar commitments. Will the pledges make a difference, or is it all just so much corporate greenwash?
Race to zero
Housebuilders' contribution to global warming comes in many different forms. These include the direct greenhouse gas emissions of their operations (known in the jargon as scope 1 emissions), the indirect emissions from the electricity generation also used to power their operations (known as scope 2 emissions), and then all the other indirect emissions housebuilders are responsible for: the embedded carbon in building materials, the actions of subcontractors, and the in-use emissions from the homes they build over time. This final category, scope 3, is both where most emissions come from, and where it is hardest to control.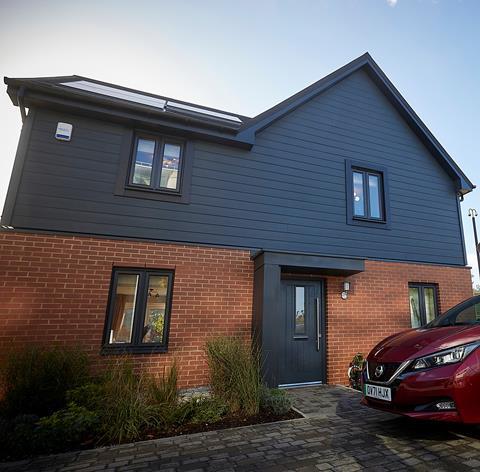 Given the range of ways housebuilders currently damage the climate, it is a relatively simple task for any firm to set a specific target in a specific area – say carbon emissions from on-site plant – and claim they are looking after the environment. Until recently, most housebuilder environmental commitments, such as Bellway's pledge to cut scope 1 and 2 emissions by 10% by 2023, have fallen into this category: welcome, but nothing like a comprehensive strategy.
For climate commitments to be meaningful, they need to set targets for all of the areas listed above – including interim targets – which are consistent with keeping global warming to 1.5ºC. This is a judgment of fiendish complexity that means third party verification is the only practical way for this to be demonstrated.
Fortunately, the United Nations' Race to Zero campaign sets the benchmark for strategies. Companies sign up to this following verification by one of a number of UN partner organisations, including the Science Based Targets Initiative. Seven out of 12 UK listed housebuilders are currently on the Race to Zero list, including all of the 2,000 homes-a-year plus builders, bar Taylor Wimpey and Bellway (see chart, below).
If you're not in the UN's Race to Zero, then what you're saying is probably all greenwash

Chris Brown
A small handful of other big resi developers, such St Modwen, which signed up before its takeover by Blackstone, and Cala, via its ownership by Race to Zero signatory L&G, are also on board.
Chris Brown, founder of sustainable regeneration developer Igloo, describes the UN's Race to Zero as the "gold standard" of environmental accreditation, and says volume builders should be lauded for making what will be a "very real commitment" to greening their businesses. "It's the only verified approach to getting to net zero, and you're signing up to being called out if you don't deliver," he says.
There is a flip side to this positivity, however. "It's great if you're in the UN's Race to Zero," he says. "But if you're not, then it's fair to assume what you're saying is probably all greenwash."
It's also important to be aware that there are different levels of ambition you can sign up to with the Science Based Targets Initiative, with only those joining its "Business Ambition for 1.5ºC" campaign actually part of the Race to Zero. The upshot being that not all firms claiming "science based" targets are actually committing to net zero on a timetable designed to save the world from dangerous climate change.
Bellway, for example, has publicly committed to setting out science-based targets for net zero next year, but a spokesperson confirmed to Building's sister title Housing Today it has not signed up to the Race to Zero (though it has not ruled it out).
Focus
Maybe that sounds like problem solved – just persuade everyone to sign up, and job done? If only it were as that simple. The most obvious problem is that with the majority of emissions coming from scope 3, housebuilders are not in complete control. They can't control exactly what people do in the homes they build, and they can't directly change the process by which raw materials such as concrete and steel are produced.
>> See also: All our COP26 coverage in one place
And we really are talking about the vast majority of emissions coming in this category: Barratt estimates the figure at 99%, while Countryside puts it at 98%. Edward Lockhart, convenor of the Broadway Initiative, a consultancy aimed at making sustainability mainstream business practice, who is now co-chair of the HBF-instigated Future Homes Task Force, says: "For housebuilding net zero is all about scope 3 – that's where we're focusing."
As Rob MacDiarmid, director of sustainability at Countryside, which published its own Race to Zero-aligned net zero strategy at the start of the month, says, net zero is "undoubtedly primarily about the homes you build" – not your business operations.
Of course, housebuilders do have huge influence over scope 3 emissions by determining exactly what and how they build. Homes built to very high energy efficiency standards equipped with low carbon heating solutions such as heat pumps will emit far less CO2 over their lifetime than those built to current regulations – indeed, Lockhart says the government's introduction of the Future Homes Standard, making homes built after 2025 "net zero ready", should tackle a large part of this problem.
Build costs
But that does not begin to address the embedded carbon in the materials, and the emissions from the building practices of subcontractors. Igloo's Brown says it will require supply chains, particularly of timber, to mature, but that other problems remain: "Some things such as concrete in the foundations are just really hard to reduce."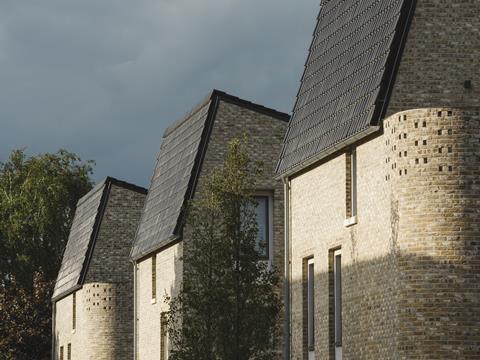 Countryside, for example, is trying to address this by moving aggressively to timber frame homes produced in its factory, and ultimately by writing in its expectations on embodied carbon into procurement agreements with suppliers – but it will not be easy, and might be expensive.
Countryside's MacDiarmid says: "You have to remember that some of these materials firms are much larger than us.
"We don't yet know what the premium will be on low embodied carbon products, but logically it just has to raise build costs. These things have to be paid for."
Measuring up
But while housebuilders grapple with how to deliver the savings required, a much more fundamental problem exists in terms of judging how they're doing: measurement. Put simply, there is no common standard for how housebuilders should measure scope 3 emissions, and very little transparency about what assumptions are made where it is done. For example, whether you're factoring in the government's claim it will decarbonise the electricity grid when you're assessing the in-use carbon emissions of new homes.
Embodied carbon in products can be assessed – in theory – through the use of environmental product declarations, but very few individual products have them. This leaves housebuilders reliant on generic industry-wide estimates for product types. The Broadway Initiative's Lockhart says: "Builders are having to make lots of assumptions in this work. I'm not at all confident in the ability as of today to compare businesses – they're all using different assumptions."
Architect Lynne Sullivan, chair of the Good Homes Alliance (GHA), even fears that measurement problems could undermine the entire process, given that the Race to Zero small print only requires those committed to it to include scope 3 emissions "where data availability allows them to be reliably measured". "It's potentially a bit of a get out," she says. "Scope 3 is the killer issue."
Igloo's Brown says he suspects that many housebuilders are actually making deliberately conservative assumptions within the way they calculate current emissions, in order to make reduction targets easier to achieve. "I think they're setting themselves up to look really good in future," he says.
This makes it near impossible to say that Barratt's pledge to reduce scope 3 emissions by 24% by 2030 is any better than Persimmon's pledge to reduce them by 22% in the same timeframe, or even to judge if both are much worse than Berkeley's pledge for a 40% reduction. While information on scope 3 emissions of businesses per home, or per square metre of floorspace constructed, would be one way to make a more direct comparison, it will still suffer from the same fundamental measurement problems. "Everyone is struggling with a lack of data," says Brown.
MacDiarmid agrees. "There's a nervousness about how all this will be achieved," he says. "If anyone says there isn't, then they don't understand the scale of the challenge."
The final problem is whether the real-world construction of new homes matches up to how they've been designed – given the lack of any statutory requirement for post-occupancy measurement of performance in the UK. The GHA's Sullivan says this must be changed "We really need to align regulation with the requirement to reduce scope 3 emissions," she says.
Lockhart says that the Future Homes Task Group is due to consider all these issues – and more – once it is fully up and running. For the moment, despite some big declarations and big commitments, it is very difficult to know exactly who is really making the running on net zero in the housing industry.
Listed housebuilder net zero pledges (based on publicly available information)
| Housebuilder | Has set out science-based targets to reduce emissions? | Aligned with 1.5ºC? | Race to Zero signatory? | Claims long-term net zero target? | Scope 1 & 2 pledge | Scope 3 pledge |
| --- | --- | --- | --- | --- | --- | --- |
| Barratt | Yes – published Feb 2020 | Yes | Yes | Yes – 2040 in its operations | 29% reduction by 2025 (vs 2018) | 24% reduction by 2030 (vs 2018) |
| Berkeley | Yes – published Dec 2020 | Yes | Yes | Yes – 2040 across scope 1-3 | 50% reduction by 2030 (vs 2019) | 40% reduction per ft² by 2030 (vs 2019) |
| Taylor Wimpey | Yes – published Jan 2021 | Yes | No – but plans to | No date set | 36% reduction by 2025 (vs 2019) | 24% reduction by 2030 (vs 2019) |
| Persimmon | Yes – published Aug 2021 | Yes | Yes | Yes – 2040 net zero from operations | 46.2% reduction by 2030 (vs 2019) | 22% reduction per m² by 2030 (vs 2019) |
| Countryside | Yes – published Nov 2021 | Yes | Yes | Yes – 2030 claimed | 42% reduction by 2030 | 52% reduction 2030 |
| Crest Nicholson | Promise to publish first half of 2022 | Yes | Yes | Yes – says no later than 2050 | – | – |
| Vistry | Promise to publish 2022 | Yes | Yes | No | – | – |
| Bellway | Promise to publish 2022 | Unclear | No | No | 10% reduction by 2023 | – |
| Redrow | Promise to publish 2022 | Yes | Yes | Yes – 2050 | – | – |
| MJ Gleeson | No | No | No | No | 30% reduction by 2023 vs 2020 | – |
| Inland Homes | No | No | No | No, but says it plans to set a target for this | – | – |
| Springfield | No | No | No | No | – | – |