Housebuilders are still expanding, with firms fighting for staff and offering generous salaries for the right roles. But Joey Gardiner finds that pay rewards are less liberal than last year and nerves are beginning to cool the sector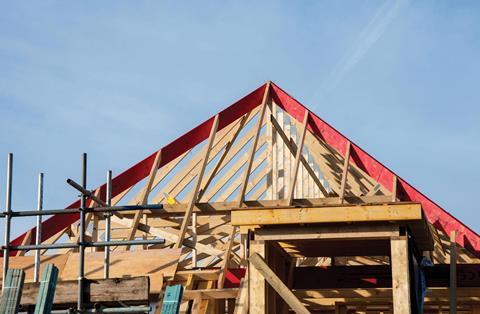 Figures this month from Halifax bank, showing the second consecutive monthly fall in house prices, followed widespread reports of stagnation in the housing market. Averaging a basket of indices, price rises are at their smallest for five years, while prices have been falling in London as consumers appear to be reining in spending amid fears ahead of Brexit.
But so far the housebuilding industry, supported by Help to Buy, has carried on largely unaffected by these esoteric doubts. Companies this year continued on a five-year run of expanding output and profit, rewarding shareholders with fat dividends along the way and remaining largely debt-free. The top 30 biggest housebuilders have increased house sales by 7.5% in the last year.
All this is good news for the sector's employees, with the same top 30 adding more than 2,000 extra staff in 12 months. So, it's perhaps no great surprise that Building's annual survey of housebuilding industry director-level salaries, conducted by recruitment firm PSD, shows salaries for those at the top of the industry continuing to rise.
"A decent mid-range quantity surveyor can pretty much write his or her own pay check at the moment'

Clare Smithson, Hill
But that does not mean housebuilders are immune from the warning lights flashing in the wider economy. Crest Nicholson and McCarthy & Stone have both warned on profit, while Berkeley Group's forecasts have been hit by the fall in London prices. PSD's research shows that staff perceive Brexit as a growing threat to their businesses, while salary rises are not as generous as in previous years, on average. One in 10, it finds, even expect their firms to cut jobs in the year ahead. With choppy waters in sight, it seems, the question for many staff is whether the risks of moving to a new employer are now worth the rewards.
Pinch points
PSD's salary data, based on all the residential placements it has made in the last 12 months, shows director-level salaries at housebuilders up an average of 3.7% in 2018 on the previous year. While this leaves directors better off by outpacing general economy inflation, currently at 2.4%, it is down on last year's adjusted average rise of 4.8%. However, while not stellar, the growth is broad-based. Every one of the 10 roles surveyed by PSD saw growth, and each of the eight regions. Even in London, where house prices and completions have been virtually static for two years, salaries are still heading north – up by 4.5% in the year.
So, even if the pace of salary increases is a notch down on last year, the overwhelming market dynamic remains one of huge demand for limited numbers of skilled people. Elliot Course, director at PSD, says: "There continue to be big skills shortages. It's really hard trying to find people with good experience who will consider a move."
Clare Smithson, group head of human resources at 550-strong South-east housebuilder Hill, which is looking to grow by another 100 staff next year, agrees. "We're recruiting quite heavily, and we have quite a lot of trainees, but there are a few pinch points. Unfortunately, it's quite a small pond we're fishing in."
The biggest problems appear in finding people able to manage the construction end of the process, as opposed to sales, planning and development. The data shows construction and build directors saw the biggest salary increases of all the disciplines, up 9.3% to an average of £110,000. Just five years ago, the average salary for the same role was only £78,000 – that is an increase of more than £32,000. Course says: "Last year it was all about commercial and technical directors, but now the focus is on construction and build directors. One search we ran, we had to increase the salary three times in six months but still couldn't find anyone appropriate."
Other delivery-end roles also saw big rises, with commercial director salaries up 5.6% on average, and this level of demand is matched for less senior staff. Hill's Smithson says: "A decent mid-range quantity surveyor can pretty much write his or her own pay check at the moment."
How much are roles paid?
| | | | | | | | | | | |
| --- | --- | --- | --- | --- | --- | --- | --- | --- | --- | --- |
| | Scotland | Yorkshire and North-east | North -west | Midlands (including East Anglia) | London | South-east (Home Counties) | South-west | Wales | Annual bonus (shown as a % of salary) | Average salary |
| Managing director | £167,000 | £158,000 | £159,000 | £176,000 | £203,000 | £192,000 | £167,000 | £155,000 | 87% | £172,000 |
| Finance director | £92,000 | £91,000 | £90,000 | £92,000 | £150,000 | £104,000 | £90,000 | £86,000 | 75% | £99,000 |
| Development director | £101,000 | £97,000 | £98,000 | £105,000 | £164,000 | £119,000 | £104,000 | £90,000 | 88% | £110,000 |
| Land and planning director | £94,000 | £96,000 | £95,000 | £101,000 | £142,000 | £120,000 | £103,000 | £83,000 | 78% | £104,000 |
| Technical director | £91,000 | £94,000 | £91,000 | £98,000 | £126,000 | £120,000 | £98,000 | £93,000 | 67% | £101,000 |
| Design director | £83,000 | £81,000 | £87,000 | £86,000 | £106,000 | £101,000 | £88,000 | £82,000 | 83% | £89,000 |
| Commercial director | £90,000 | £95,000 | £97,000 | £100,000 | £123,000 | £115,000 | £102,000 | £91,000 | 72% | £102,000 |
| Construction / build director | £97,000 | £103,000 | £109,000 | £114,000 | £138,000 | £123,000 | £105,000 | £91,000 | 82% | £110,000 |
| Project director | £88,000 | £93,000 | £103,000 | £109,000 | £152,000 | £120,000 | £103,000 | £86,000 | 76% | £107,000 |
| Sales and marketing director | £92,000 | £99,000 | £95,000 | £111,000 | £127,000 | £115,000 | £103,000 | £88,000 | 82% | £104,000 |
| | | | | | | | | | | |
| Average | £99,500 | £100,700 | £102,400 | £109,200 | £143,100 | £122,900 | £106,300 | £94,500 | 79% | £109,800 |
Source: PSD
Merry-go-round
This tough competition for skilled people is, of course, further driving salary inflation, as housebuilders resort to poaching staff from rivals, resulting in high offers and higher counter offers. Smithson says: "Increasingly, we're all recruiting off each other. It's a merry-go-round. Our staff are approached with job offers all the time and this leads to wage inflation."
Alan McGillivray, group human resources director at 750-strong housebuilder Avant Homes, which works from the Midlands to Scotland, says the demand is "ratcheting up" wages, with many housebuilders agreeing to mid-year salary rises for existing staff to defend against poaching. "The wages pressure has even been growing in the existing workforce in order to retain the people we've got. We try to do this where necessary before people are poached."
Rather than just considering staff who have put their CVs forward, this means recruiters are increasingly having to tap up staff who are not actively looking for other work. PSD's Course says: "When we're retained for an assignment, our first thought is: what is the candidate source going to be? Then, almost every time, it's about budget – the clients have an idea about how much they need to pay, and it's our job to educate them that it's not going to be enough to get people to move."
But competing for talent is also having a positive side effect. Housebuilders that have so far remained resolutely 20th-century in their style of management are having to professionalise to attract millennials with somewhat higher expectations. Avant's McGillivray says many remain "definitely behind the pace" and that "it's command and control at many housebuilders".
He says: "We have to adapt to 21st-century management techniques and practice, which means more professionalism and engagement, with transparent career paths and investment in training," adding: "Avant has seen a big change. This competition is helping us become better businesses and develop stronger leadership teams."
"We're seeing people promoted earlier than might otherwise have been the case"

Alan McGillivray, Avant Homes
Vacuum
This paucity of experienced staff also means housebuilders are looking outside the sector wherever possible. Smithson, who herself moved to Hill from a manufacturing business, says: "If we're looking for sales and marketing people, I will look at people from retail, car sales, or cabin crew – all kinds. You can teach people about selling houses specifically, but you can't necessarily learn world-class customer service."
Indeed, McGillivray says Avant, where headcount has increased by 30% in the last two years, set up a sales academy two years ago specifically aimed at bringing in people from other sectors such as retail. Now, 60% of its sales force is in effect new to the housebuilding sector, he says.
But, of course, this only works with non-technical disciplines such as sales, or support services such as finance and human resources. For build, technical, land, planning and commercial staff the difficulty recruiting externally is making it hard to grow. Responses to PSD's survey suggest many firms are dealing with this by attempting to grow output without hiring new people – with two-thirds saying their firms will increase unit production next year but only 46% aiming to increasing staffing.
McGillivray says this is also creating a vacuum, which is drawing less experienced staff up to senior roles very quickly. "We're seeing people promoted earlier than might otherwise have been the case, and we might see issues coming from this if they're not properly supported," he says. "We've got to make sure we don't burn through these people."
He says this dynamic is leading Avant to invest more in a very careful process of staff being taken into new roles to ensure they have the proper support, with a Build Academy just set up to formalise this into a three-week process. "A site manager has a massive responsibility – we can't just give them the keys to the shop. It means it's not just sink or swim."
Brave face
Most of this is great news for staff, even if it is making life tough for employers. But there are also some suggestions that la bella vita may not last forever. Despite the salary rises in London over the last 12 months, Course says the anecdotal sense is that the recruitment market has slowed in the capital over the last two years.
Certainly, the overall economic outlook for housebuilders, while by no means dire, is more challenging than for some years. Tony Williams, chief executive at research firm Building Value, says: "The sector is putting a brave face on it but people are starting to be really, really cautious. Very few housebuilders are now embarked on big geographical expansion programmes – it's peripheral compared to what it was."
Unsurprisingly, Williams suggests Brexit is behind much of the nervousness, and this is backed up by the survey. When respondents were asked to identify the top three threats facing the housebuilding market, Brexit was overwhelmingly the biggest, mentioned by 81% of respondents, compared with just half who thought it was a threat last year. This makes it a bigger threat than skills shortages and the planning system – the two big issues in 2016 and 2017. And whereas just 4% of respondents said they expected to cut staff in 2017, this has nearly tripled to 11% this year.
In response, the expectation is that it may become harder to prise candidates from existing employers because of the security that long service provides when businesses start to cut back. London property recruiter Deverell Smith's annual salary report, published last month, predicted exactly that, saying "candidate movement will begin to slow up", at least until Brexit. It added: "Would-be job seekers will delay moving to a new employer and make more conservative career decisions, […] prioritising job security over progression."
Avant Homes' McGillivray, however, has not seen any sign of this caution in the North yet, but is also worried about Brexit. "If Brexit goes badly it'll be back to the labour market freezing up. People's propensity to move just gets lower – it's better the devil you know in uncertain times."
With uncertain times ahead it is likely to be a case of when, not if, this market freeze happens. And when it does, it is likely to make life even harder for those businesses still trying to recruit.
What top three threats do you feel are impacting the housebuilding market?

Brexit

81%

Skills shortage

65%

Planning

54%

Removal of government incentives

32%

Interest rates rising

26%

Global economy

25%

Increased technical standards

9%

Other

8%

Acquisitions and mergers

3%
Please indicate where you feel there is a gap in experience and skills within your organisation?

2018

2017

Building /construction

56%

56%

Technical

45%

31%

Commercial

34%

25%

Land and planning

29%

18%

Sales and marketing

24%

12%

Managing directors

11%

11%

Finance

5%

12%

No gap

5%

12%

Specialist (eg environmental)

0%

6%
Will you be expanding or reducing head count/production over the next 12 months?

Expanding

Staying the same

Reducing

Headcount

46%

43%

11%

Unit production

67%

30%

3%
Average increases from 2017

Role

Rise

Construction/build director

9.3%

Commercial director

5.6%

Finance director

4.5%

Development director

4.4%

Sales and marketing director

3.9%

Design director

3.2%

Technical director

3.0%

Land and planning director

2.3%

Managing director

1.8%

Project director

1.2%
Average increases from 2017

Region

Rise

Midlands (incl East Anglia)

5.6%

South-west

5.1%

London

4.5%

Yorkshire and North-east

4.0%

South-east (Home Counties)

4.0%

Scotland

2.6%

Wales

2.3%

North-east

1.6%
Source for tables: PSD
Methodology
The survey was undertaken in September by PSD Group, which specialises in senior-level search and selection across the residential and property sector. There were two elements to the research: an attitudinal survey that targeted approximately 5,500 individuals at senior management to director level across the residential sector and data from placements made by PSD in 2018.
For further information on the survey please contact Elliot Course, associate director at PSD Group, on either 0207 970 9792 or elliot.course@psdgroup.com