In these days of lightning fast political changes, and possibly dire economic prospects, prime minister Theresa May has to hit the ground running if she is to prevent construction slipping into another recession. Fortunately, writes Iain Withers, there are plenty of things she can do - and some expert advice here to cheer her on her way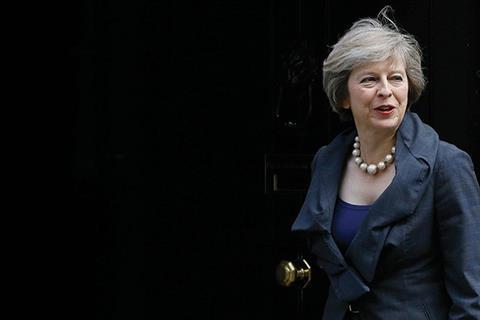 The appointment of Theresa May as prime minister after her rival Andrea Leadsom dramatically dropped out of the leadership race on Monday is likely to come as a welcome relief to the construction sector. The political and economic hiatus unleashed by the vote for Brexit last month had threatened to plunge the sector into a prolonged slump.
The prospect of two months without a functioning government was likely to hit capital investment hard as public and private clients reviewed or cancelled investment decisions. But for construction bosses sweating over business plans and forecasts thrown into question by Brexit, the danger has not yet passed.
In truth, construction's good times were already starting to turn sour well before the EU referendum. After a two-and-a-quarter year continuous growth spurt – with output hitting a seven-year high in the second quarter of 2015, levels not seen since the heady pre-crash days of early 2008 – the sector has been faltering ever since, according to the Office for National Statistics (ONS). Construction output shrank quarter-on-quarter in two of the last three reported quarters, and only narrowly avoided a recession – defined as two consecutive quarters of contraction – by growing a paltry 0.3% in the final quarter of 2015.
Whatever construction economists had been expecting to happen for the rest of the year – and a rebound and modest growth for 2016 overall had been widely forecast – that went out of the window with the Leave vote. Economists now believe it is "too early to say" what the likely impact of the referendum result will be on construction, but they agree the impact is likely to be negative, particularly in the short term.
The warning signs are there for all to see, with public and private projects being reviewed or cancelled and firms at the sharp end – such as architects Make and Sheppard Robson – starting to make redundancies. The concern for construction firms is that an already weak period for the sector could turn into a prolonged and painful slump.
Does it have to be that way? Economists, battle-hardened from many a previous recession, tell us no. There are actions the new May-led government can take quickly that could help the sector avert a crisis. We examine the prospects for construction post-Brexit vote and ask economists and sector specialists (see overleaf), to share their priorities for May and her new team.
Bad omens
Even before the EU referendum, there were growing signs construction was set to flounder this year. Last week's Markit/CIPS survey of construction buyers registered its lowest sentiment reading for seven years in June, with more purchasers expecting a downturn rather than expansion than at any time since 2009. New orders were also weak in the first quarter of this year, according to the ONS, particularly once a handful of large infrastructure orders which skewed the figures were taken out.
Construction's main forecasters, Experian and the Construction Products Association (CPA), have also been consistently downgrading their projections for construction growth for 2016 over the past 12 months, blaming uncertainty surrounding the EU referendum and a wider global economic slowdown. In Experian's latest set of summer forecasts for construction, published last week but formulated before the EU referendum result was known, it projected construction growth of just 0.3% for 2016, slashed from 1.9% in its spring forecasts.
Commenting on the likely impact of Brexit, Experian said "this is currently unquantifiable, but is almost certain to be negative". Potential vulnerabilities highlighted included tightening credit, a potential drop in consumer demand, a drop in house prices, cuts to public capital spending and a drop in foreign direct investment. Commenting further, James Hastings, Experian's head of construction futures, says it's a "fair assumption" Brexit will lead to further downgrades, putting construction "effectively in negative territory for the rest of the year" – in other words, expect a construction recession.
Economists are also expecting a recession in the wider UK economy post-Brexit. A majority of economists surveyed by Bloomberg last week expect the UK economy as a whole to slip into recession this year, while Lloyds Bank's latest business barometer suggests we could be heading for a 0.5% contraction in the third quarter alone. It came as no surprise when the fragility of the UK's economic plight was underlined by Standard & Poor's ruthlessly stripping the country of its last triple-A credit rating just days after the referendum result.
Urgent action
So in the face of this expected downturn, what steps can the government take to help construction dodge a slump? "There's nothing I can really think of except a second referendum to reverse the first one," Experian's Hastings says, only half-joking. But despite the bad economic indicators, there are plenty of actions May's government could take to help the sector.
Construction firms will quickly want clarity on May's government's views on the three Hs – HS2, Hinkley and Heathrow
"Uncertainty" is raised by economists as the biggest issue that needs to be tackled head on. Construction firms will quickly want clarity on May's government's views on a whole host of matters, including on "the three Hs" – HS2, Hinkley and Heathrow. Experian's Hastings says: "The one thing government can do [to help construction] is make it clear they want to take forward the projects currently in the infrastructure pipeline and recommit themselves to all those projects to give contractors some clarity". May's move to Number 10 raises the prospect that the airports question could be resolved earlier than October, the month the decision had been put back to following the referendum.
There is cause for some optimism among construction firms in the wake of George Osborne's decision to scrap the government's commitment to achieving a budget surplus before 2020, in perhaps his final act as chancellor. This loosens the government's ability to spend on infrastructure to help it avert a downturn. Given that private sector construction has already taken a hit in the weeks following the EU referendum, with commercial projects stalling, property and housing values forecast to fall and housebuilders and developers taking hits on the London Stock Exchange, spending on public sector projects could be critical in the coming months if the construction industry as a whole is to avoid a recession. A splurge in public sector construction investment has worked before. "[After the financial crisis] the stimulus that government had in place between 2008 to 2010 really worked," says Simon Rawlinson, Arcadis' head of strategic research and insight. The Tory-led coalition then radically cut back capital spending, but Rawlinson is hopeful May's government will choose a different response to this particular downturn. "Construction had a double-dip recession partly because programmes like road spending were cut in 2010. That was obviously a bad idea in retrospect." Rawlinson suggests other potential stimulus policies that don't involve major spending could include accelerating the release of public land or giving further incentives to energy firms to build power plants, or private rented sector developers to build rental properties.
Given the Conservatives' full-hearted commitment to infrastructure spending since they won a majority last year, and long-term planning such as the National Infrastructure Pipeline, there is reason to be optimistic that May, seen by many as a continuity candidate, will not deviate from these plans. The government is also locked into long-term spending periods in areas like transport and utilities. Noble Francis, economist at the CPA, equally sees "no reason" why expected increases in health and education spending won't still occur.
Meanwhile, Barbour ABI economist Michael Dall argues that support to "keep housebuilders building" is key, as "housing has been the consistent driver of growth" in recent years.
Experian's Hastings is keen to stress that while construction may be in for a bumpy ride, the sector isn't facing another financial crash. "There'll perhaps be something of a slowdown, but nothing like 2007-2008 will happen again," he predicts. If May's government can act quickly to provide certainty and funding for a faltering construction sector, a recession could yet be averted. But whether Brexit negotiations can be navigated to the benefit of the sector and the economy at large very much remains to be seen. We're certainly not out of the woods yet.
How Theresa May can avoid a construction recession
A sector-by-sector guide
Public sector
Peter Hogg, head of government and municipals at Arcadis
Government guarantee scheme to underwrite overseas investment in regeneration and growth; helping to reassure nervous investors and sending a clear message that the UK remains growth-focused.
Statement confirming commitment to George Osborne's vision for devolution; this will continue to see geographically balanced activity, creating and maintaining much-needed activity across the country and supporting stable, self-sustaining communities.
Procurement reform to clarify the position on OJEU and, perhaps more importantly, make it easier and less challenging to enter into innovative partnership models with the private sector and other public sector bodies.

Infrastructure
Alasdair Reisner, chief executive at the Civil Engineering Contractors Association
We really need to see commitment to the three big Hs – Heathrow, Hinkley Point C and HS2. Heathrow should be top of an incoming PM's to-do list if the UK is going to set out its stall as being open for business.
If growth does slide into the red, the government should take advantage of the low cost of borrowing to drive a UK-wide programme of shovel-ready infrastructure projects, keeping people in jobs and opening up opportunities for housing and commercial property development.
The decision of the government and quangos to commit to a long-term programme of investment in infrastructure should provide some insulation against the worst effects of any recession. We have five-year programmes of investment in rail, roads and water.
Labour market
Mark Farmer, founding director and CEO at consultant Cast
Early clarity on the status of existing EU nationals working in UK. Prolonged uncertainty could be hugely damaging to industry. With the prospect of losing future migrant worker inflows, declining apprentice numbers and an ageing workforce, things would be made worse if we start losing the migrant workforce already in the UK.
Help create the right incentives and conditions for clients and industry to adopt pre-manufactured solutions. There is now an imperative to start developing an industry less reliant on labour-intensive methods. This will have the benefit of improving productivity and also, through embracing digital technology, will hopefully improve the industry's image making it more attractive to the younger generation.
Use all policy tools available to help "smooth" construction demand cyclicality. The danger of having such a fragmented and self-employment led labour model in construction is that demand volatility results in the workforce being laid off or taking large pay cuts in a downturn. This results in many people permanently leaving the industry in each recession, damaging long-term capacity. Any measures government can take to retain levels of employment through infrastructure commitments, housing stimulus packages and the like will be crucial.


Housing
Tony Williams, director at analyst Building Value
Number one on my – admittedly glib list – is "don't leave the EU". That aside, "Plan is better than no plan" – originally said by US treasury secretary Tim Geithner but reiterated, this week, by Bank of England governor Mark Carney.
I would nudge Mr Carney (who appears nudge-able) to reduce interest rates and ensure liquidity in the money supply. There should also be a directive that any reduction in interest rates be reflected in mortgage rates – and the banks should be made to lend to existing and prospective home owners.
Some enhancement/ extension to Help to Buy would be good (it has been brilliant) and lubricate the planning wheels – it still takes far, far too long.
Commercial
Steve Watts, partner at consultant Alinea Consulting
The new leader needs to work closely with the Bank of England and start positive, balanced negotiations with the EU over the terms of the UK's departure. Political certainty will provide economic clarity and restore confidence in the many international investors who are backing commercial projects in the UK.
Even without Brexit we were facing a mounting skills crisis. The government must directly encourage firms, through financial and other incentives, to invest in apprenticeships and development, and for colleges to provide attractive and practical courses to produce the skilled workers of the future.
Developers often invest substantial amounts of time, energy and money in getting their projects through feasibility and onto site. Anything that can streamline the town planning process and at the same time provide backers of commercial developments with more certainty and clarity would be welcomed.