A new AIS guide to top fixing aims to bring some much needed clarity to the secure installation of ceilings
This article forms part of Interiors Focus magazine June 2012. To read more top tips, comment, features and news on interiors download the pdf here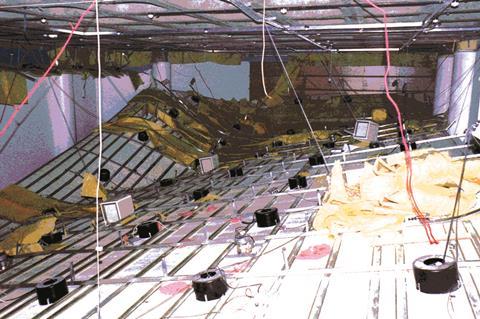 'What goes up must come down' is hardly an adage you'd want to associate with suspended ceilings. But the frequency of collapsing ceilings is a cause for growing alarm across the sector. In response to this AIS, in conjunction with the Construction Fixings Association, has produced its Best practice guide: selection and installation of top fixings for suspended ceilings, a follow-up to the Best practice guide: installation of suspended ceilings launched earlier this year.
Alex Double, managing director of AD Design Consultants, who contributed to the guide, has first-hand experience of the problem. "We are involved in inspections of works on site to make sure they are installed in compliance with manufacturers' guidelines and we get called in on quite a number of ceiling collapses", he says.
"We've had numerous instances where complete ceilings have collapsed and would probably have killed somebody. Thankfully most ceilings collapse when there's nobody underneath.
"Probably all of us in the industry have our own nightmare stories – we have one case that's going through the High Court at the moment," he adds.
Weak links in the chain
So what's going wrong? Double believes the people responsible for specifying suspended ceilings never or rarely specify the fixings to be used. "The reliance is on the subcontractor on site to select them", he says. "And often they either take their eye off the ball or they leave it to their own fixers to make the selection or they don't realise the seriousness of what they're doing.
"Sometimes it's simply the way the fixings have been applied. They haven't understood the significance of not following the manufacturer's guidance, where it does exist."
AIS technical manager Joe Cilia explains the impetus behind the guide. "AIS is constantly trying to drive best practice throughout the industry. Even if the selection of fixing is left to the fitter, at the very least this guide will provide the information they need to make that selection competently."
The guide is aimed at everyone involved in the process of fixing suspended ceilings, he says, from specifiers to supervisors on site.
In trying to bring consistency and clarity to this area, the guide starts by giving the key reasons for ceiling collapses (see box). It then looks at the application parameters that need to be identified before the correct top fixings can be selected: the applied load; the base material in which the top fixing will be installed; and any environmental factors that may affect the ceiling or fixing after installation.
A fixing selector chart identifies types of fixings, the substrate they can be fixed to and the weight of ceiling they can support. "The guide encourages people to consider the context in which the ceiling is to be placed," says Cilia. Fixings for use in concrete are very different to those used with timber, for instance. And very different types of fixing would be used for an office and for a swimming centre. Heat and humidity must be considered, as well as the likely impact of vibrations – there might be a school gym on one floor and a suspended ceiling underneath it.
The guide goes on to outline installation procedures before moving on to testing. Cilia says: "Site tests may be needed for two main purposes – preliminary tests to check the suitability of a fixing and proof tests to check the quality of installation."
"The main issue," says Alastair Soane, director with Structural- Safety, "is that fixings are often regarded as not proper engineering. So somebody at a fairly low level on site will be responsible for getting in a firm to install fixings that can be inadequate. If they fail, something will fall down and often it will be heavy. In cinemas, for example, suspended ceilings are put there for acoustic reasons and can be as much as two inches of solid plasterboard."
Structural backdrop
Structural-Safety combines the activities of CROSS (Confidential Reporting on Structural Safety) and SCOSS (the Standing Committee on Structural Safety) to work with the industry and government on safety matters, and is another organisation that contributed to the guide.
"A lot of this is related to getting the right publicity out there – which is something the guide will address," says Soane. "It will hopefully make people aware that guidance is available and that failures have taken place and it's only by good fortune that some of them have not involved fatalities."
The Construction Fixings Association was also a key contributor to the guide. Mark Salmon, general manager, explains: "We've campaigned proactively for a long time to try and improve understanding of how fixings work. We are currently involved in finalising a standard, BS8539-2012: Code of practice for the selection and installation of post-installed anchors in concrete and masonary, which has been used as the basis for much of the guide when referring to fixing into concrete soffits."
Double adds: "Top fixing is a subject dear to my heart. It was important to be involved in a document that promotes good practice and gives advice to all parties, from specifiers through to installers, on the correct methods for selecting top fixings. The guide covers the whole spectrum of potential issues."
AIS also enlisted the expertise of the department of civil and environmental engineering at Imperial College London. Its research and teaching fellow, Dr Sunday Popo-Ola, contributed to the chapter on testing. "As an engineer who specialises in the safe and proper use of fixing products, I think the guide is an excellent idea," he says. "If followed properly, it will encourage the proper design of top fixings and prevent the sort of failures and accidents that have occurred recently."
There's little doubt the AIS guide addresses a critical safety issue in construction and design. Cilia says: "Suspended ceilings have always been included in national building specification clause K40. But top fixings often come through in tenders as something vague like 'install using suitable fixings'. I've never seen a building installed on 'suitable foundations' ".
Indeed foundations are subject to highly detailed specifications based on critical factors including substrate, building weight, load capacity, soil moisture content, whether it needs piling, whether there are vibrations and so on. Suspended ceilings are no different – a point AIS is keen to emphasise in its publication. This latest best practice guidance promises to bring clarity and reassurance to a crucial but long overlooked area.

Top 10 reasons why ceilings collapse
1. Incorrect selection of fixing
2. Incorrect installation of fixing
3. Additional load applied
4. Insufficient numbers of fixings
5. People walking/crawling on ceilings
6. Failure to follow the manufacturer's guidance/ instructions
7. Modification by other trades
8. Insufficient supervision/ training
9. Structural vibration causing fixings to fail
10. Substitution of specified components