Land Securities' Colette O'Shea is about to take over the presidency of the British Council for Offices. And she has a thing or two to say about how parts of the development industry have lost sight of the most important people - the occupiers of the buildings themselves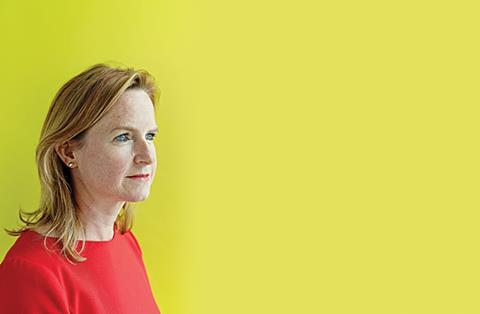 Since her appointment as London development director at Land Securities in 2006, Colette O'Shea has been one of the most powerful clients in construction. Now promoted to managing director of London for the £12bn property giant, she is overseeing the delivery of a £1.5bn programme of development, all to be complete before the end of 2016, by some of the industry's elite contractors
– including Mace, Skanska and Lend Lease.
Not content with that challenge, O'Shea will this summer take on the presidency of the British Council for Offices (BCO). As the pace of the economic recovery quickens with office development activity at its highest level since 2008, she is set on using this platform to ask the development industry some tough questions about its focus on its ultimate client – the firms who occupy its buildings.
O'Shea and Land Securities set out a very clear view of the kind of accommodation post-recession occupiers are looking for. But she's not sure the industry as a whole can honestly say it develops and builds on the basis of an in-depth understanding of its customers. In London, this apparent lack of focus is being exacerbated by the heating up of the construction market, which itself is causing rising prices, safety concerns
and an unsettling level of staff movement. So how is Land Securities approaching this, and what lessons does construction need to learn from other industries?
Land Securities was virtually the first major developer to return to the market post recession, restarting work on a wave of projects in 2010, including its most high-profile, 20 Fenchurch Street, better known as the Walkie Talkie.
Essex-born O'Shea is clearly pretty pleased with this decision, which will see the developer complete a range of schemes over the next couple of years as the lettings market heats up. "We're in a good place in London. Everything is pretty much playing out as we'd anticipated," she says.
Just two of Land Securities' pipeline of projects are yet to have a contractor appointed – although O'Shea says the firm is close to decisions on these, the 90,000ft2 Oriana retail scheme and 95,000ft2 20 Eastbourne Terrace office project.
Beyond 2016 it has no development pipeline and is pretty much out of the market for new opportunities: "We're not buying at the moment because it's a very hot investment market. There's a real demand for development land, [but] there's only a finite amount of product," says O'Shea. "There are a lot of people piling in to it at the minute and we're not going to compete at the levels that we're seeing."
This leaves her with little procurement to undertake right now, something else she's pleased about. "We have seen rents rising, but in parallel we have seen construction costs rising. It's a collision of the residential strain and the commercial strain on the construction industry. That's becoming an increasing challenge. And I think some of the big contractors, their order books are almost full."
Hence her focus is shifting from procurement to delivery of projects. "We're not sitting here twiddling our thumbs," she says.
The right price
Land Securities made a conscious decision to procure its current pipeline of work – including mega schemes such as its £384m Nova Victoria project in Victoria, London – in the teeth of the recession using single stage fixed-price competitive tendering. This allowed it to secure low prices from contractors. But it is undertaking remaining procurements in a very different fashion, using two stage tendering with an element of negotiation, despite this providing challenges for it as a listed company.
"As a Plc you need to be tendering absolutely everything but that just doesn't fit with the market as we see it today," says O'Shea. "So it's trying to work out how can we merge the Plc needs with giving someone the certainty that they'll get the job, provided we can come to the right price. So effectively you're negotiating the price. Because what is putting people off at the moment is competitive tendering."
Indeed the market is now so hot in the central London geography that she works in, that she foresees a return to construction management, despite the pricing risk for clients. She says: "If I had a project now and we were looking to procure it, then I suspect CM would be one of the routes we'd be considering, but it's obviously more risky for us [in terms of price]."
However work is procured, it is clear O'Shea thinks the qualities she needs from contractors are all too rare. "What you want is the businesses that are able to merge really traditional contracting with modern technology. Which is actually a really difficult thing to do.
"It's about people who just know building, who can envisage how the thing fits together in their head. That's a very special skill. They understand the site; they live and breathe it. When you meld that with cutting edge technology then you've got a very powerful combination, [but] I think that's where people struggle."
She won't say which firms she thinks offer this, though she says she can be judged by her record – in recent years Land Securities has offered its prize London jobs to Mace, Skanska, Sir Robert McAlpine and Lend Lease – though 20 Fenchurch St is being built by Canary Wharf Contractors as Land Securities is partnering with Canary Wharf Group on the development.
A certain quality
The difficulty in finding people with the right skills is not limited to builders, though, with the resurgence in the market creating instability as consultants start to vie for the most talented staff. "We're back to a place where anybody that is talented within the construction development sector is in demand. Particularly in the construction industry we're seeing a lot of shifting between the various businesses.
"What that brings as a client is a lot of instability and uncertainty, so that's a risk. It's very unsettling because you're reliant on your teams – whether they're internal or external – you want the same people round the table. And it's all putting pressure on the cost base."
This feeds in to her wider view of the development industry as a whole not always focusing on its customers. O'Shea speaks articulately and confidently and while you would not describe her as outspoken, she is evidently not frightened of challenging her peers in the development industry to do better.
She says: "One of our customers said to me the other day 'who are the architects designing for – themselves or us?'"
It's a problem O'Shea clearly believes can be applied to architects widely. "I think it absolutely is a fair criticism," she says.
But where does a focus on buildings' occupiers take the industry? O'Shea says the demand, emerging from recession, is still for cost-effective space. But that doesn't mean low-spec or cheap – quite the opposite – it means optimising the building for maximum possible occupancy and productivity.
"What office occupiers are looking at is the cost per head, so then it comes back to the efficiency point," she says. "If you've got 20,000ft2 of space, how many people can occupy that space? And actually if you want to optimise that, you do need really high-spec. You can't cut back if you want to achieve high densities. It's everything from the lifting capacity of the building, to the air handling, to IT infrastructure.
"We're responding to a world where our expectation, that the cost per head would be going down because people would be working from home, actually doesn't work. We do want to come in and occupy space, but that space will be used differently."
She cites both Land Securities' own Walkie Talkie, and Derwent's stripped back "White Collar Factory" concept in Old Street as instances where the industry has thought hard about specific users' needs. But this doesn't always happen.
Keep the customer satisfied
"If we as an industry don't think about our customer at all times within every segment of it, we won't have a sustainable model. There are many other industries that haven't kept tabs on what their customers have done and they've gone. You look at some of manufacturing, where they are looking and understanding what their customer wants daily. From the widgets, to the colours – constant customer feedback that is informing their product.
"I am a customer of a contractor, but the ultimate customer of both contractor and Land Securities is the end user, and so it's about the industry remembering that, so that they've always got the end user in mind when they're building out."
She seems to have a particular concern here around architects, adding this advice is "really relevant for the design industry".
Indeed, for her, the current debate over the planned proliferation of tall buildings in London is more a question about the design quality of the proposed towers than their height or specific location.
"London's success has been its ability to have historic buildings sitting among beautiful modern buildings. If you're working around listed buildings, that absolutely should and must be respected, and viewing corridors are important and should be respected. I don't think we'd be where we are today if our policies around heritage weren't working.
"I wonder whether the biggest challenge is the design quality challenge – how do you ensure that every building is absolutely of the best quality for whatever its use is?"
O'Shea will have a year at the BCO to develop this theme, after being formally announced as president at the organisation's annual general meeting in July. The construction industry would be well advised to listen.
BCO conference
The BCO conference takes place in Birmingham on 14-16 May. For more information or to book a place go to www.bco.org.uk. Building is a media partner for the event.