Great Portland Estates has a £1bn development pipeline over the next five years, so naturally head of projects James Pellatt is on the hunt for companies of all sizes - just so long as they have a sense of humour. He talks to Emily Wright
If you want to win work in central London over the next five years, there is a name that should already have made its way to the top of your contact list. James Pellatt is the 42-year-old head of projects at £1.2bn-turnover London developer Great Portland Estates (GPE). He speaks about the future of development in the capital with the kind of calmness that instills infinitely more confidence than an over-zealous sales pitch.
But then, Pellatt is in the enviable position of being able to let the facts and figures do the talking. GPE has a 2.2 million ft2 development pipeline worth £1bn to roll out over the next five years alone and an average of three projects a year to be tendered between now and 2017. For Pellatt, the future is looking bright, and he wants to let a swath of new suppliers in on the spoils - just as long as they have a great sense of humour, something he believes is crucial for survival in the risky world of development and can be "the difference between a team gelling or not".
All mapped out
"We are very active at the moment," Pellatt says, sitting in GPE's central London office, a huge map of London spread out over the table in front of him. Whole sections of the city are heavily outlined in orange highlighter pen - a visual confirmation of the activity he is keen to discuss.
"We're basically looking to get moving on things as a priority," he says. "There was a deliberate halt put on some projects last July as the eurozone crisis hit, but now we are dusting things off and getting them back on track quickly."
That halt made a dent in the company figures - it posted a pre-tax profit of £79m for the six months ended September 2011, down 32% on the previous year. But the half-year results released in November last year suggest that the wheels are turning again: its portfolio valuation has risen 3.9% since March 2011; it has committed £84m of capital expenditure, spent £196m on new property since this time last year, and signed 35 new leases, securing an annual income of £8.6m.
I am really concerned about SMEs feeling the pressure. We will support them financially. It's important to keep them going
And that's just the beginning. "We're out there buying and developing and if we see an opportunity, we'll go for it. And we like to stay in control. We have a lot of joint ventures but we always make sure we are the lead developer and work on a 50/50 basis. We currently have 24 projects in the pipeline and five on site - it's steady, stable work."
But it promises to be a lot more than that. At a time when firms are desperately scrabbling for overseas work, here is a developer that won't work north of Euston Road, west of Park Lane, east of Bishopsgate or south of Southwark, and has a pipeline of £1bn. Even in the relatively safe haven of the London commercial market, it's a neat trick to pull off.
"It is rare," says Pellatt. "Our trick was that we stopped developing in 2008 - a deliberate decision because we felt the market was getting too heated. But what we didn't do was stop working the schemes altogether. So there was still planning going on, sites being prepared to ensure that when the market took an upswing, we could take advantage of the situation by being ready."
A helping hand
Those projects, Pellatt is keen to point out, come in all shapes and sizes: in the next cycle of development - kicking off in 2014 - there are schemes ranging from the 300,000ft2
The Pollen Street refurbishment is "not a glam project", says Pellatt, and is worth just £1m, but it is the type of job that will offer opportunities to smaller firms. "I am really concerned about SMEs feeling the pressure," he says. "We will support them financially when it comes to complying with government legislation or securing certifications. It's important to keep them going.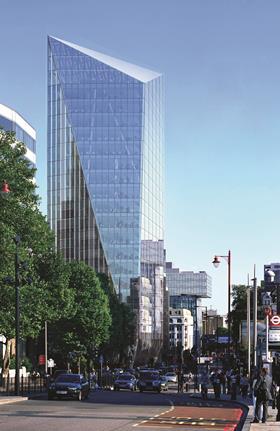 "It's a tough time for them but we definitely want to work with them. In fact, I would often prefer to use small firms on certain projects. We may not be as important to large international outfits as they have so much other stuff going on."
He adds that he wouldn't be surprised to see some big contractors moving away from commercial work eventually. "I can see them thinking, 'It's costing a fortune for us to bid, we don't always win, let's go for the nuclear power stations and big infrastructure schemes. That's where the margins are.'"
Winning the work
So how does a small firm get to the top of Pellatt's list of potential suppliers? As with all active clients, winning work with GPE isn't easy: "People do seek us out to try and work with us," says Pellatt. "We get a lot of enquiries. We're relatively easy to approach, but obviously very busy." He adds that if anyone really wants to bend his ear, there is one other way to catch him: "I love cycling and if anyone wants to meet me, they are welcome to join me on a bike ride through north London any Sunday morning."
Standing out from the crowd is a must, then, but that is sometimes easier said than done. Pellatt admits that, while small can be beautiful, previous experience is essential. "We listen carefully to recommendations and, although this is a bit 'chicken or egg', we look for a track record," he says. "There are a lot of out-of-town suppliers trying to come into the market, as so much work outside of the capital just isn't there - and it is very hard for them. But firms with experience working in London know how to work efficiently in terms of space availability, organisation, waste management. If you're not aware of all of that, it can be quite a challenge."
Once a company is in, however, it can expect to build a relationship with GPE. Pellatt insists that the developer wants its suppliers to be with it for the long haul, and is against the practice of simply accepting lowest price bids.
"Some people say it's a great time to be a developer because you can buy very cheaply," he says. "But it isn't just about price. We want our suppliers and contractors to make a profit. And we want them to be with us for the long term."
But isn't this the standard line from developers? Pellatt nods: "OK, if we were to go to three competing cost consultants, for example, and one of them offered half the fee of the other two - that's the wrong fee. And we know it is. It doesn't really make a huge difference to our bottom line to turn it down, but the lack of relationship certainly would if we were to go with it regardless."
He adds that over the last year GPE has only accepted the lowest bid on a tender once, "and that was only because the firm came up with an innovation that allowed them to reduce the cost.
"We need to have the chemistry. I'm not saying supply chain teams need to be all friends for life, but they need to gel. And while no one starts out on a project thinking, 'I am really going to try to mess this up', things in this industry do go wrong. So we need that sense of humour I was talking about. It's not all about the money."
London loves
Favourite London outdoor spot The top of Primrose Hill
Favourite London restaurant Dean Street Town House
Favourite London secret It's small but underneath Admiralty Arch there is a nose that sticks out - Wellington's nose
Favourite London legend I love music so it would have to be someone who sings about being in London - Paul Weller
Favourite London bridge Hammersmith