The government's recent commitment to back 14 new garden villages sounds like a lovely idea, providing 48,000 much-needed homes in stand-alone communities. But can it make much difference? David Blackman reports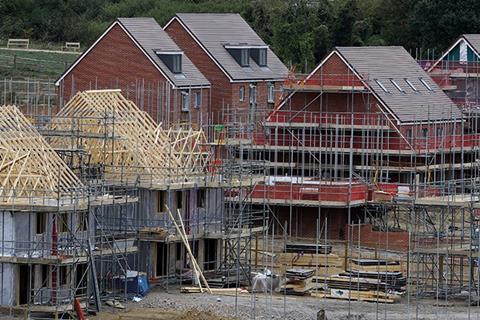 The Bulldog Bash has become established over recent years as the bikers' favourite summer festival. However, 50,000 festival-goers and their motorbikes will have to find somewhere else to congregate following a government announcement last week.
Planners have much more sedate things in mind for the Long Marston airfield, near Stratford-upon-Avon, where event is held. The site has been identified for one of the 14 so-called "garden villages" which are due to be developed across England.
The government clearly wanted to make a splash with the announcement, its first of the New Year. And it certainly sounds like very positive news. However, critics worry that the initiative is more about spin than substance and that the new settlements could end up as soulless housing estates.
Here we look at why garden villages have become the government's latest favourite housing policy, if there is enough funding to make them viable self-contained communities and whether they can avoid the fate of Labour's failed eco-towns. In short, is this initiative just a gimmick or a genuine contribution to solving the UK's housing crisis?
Sowing the seeds
The garden village concept is essentially a twist on the garden city, which was dreamt up by Ebenezer Howard in the late 19th century. The self-taught inventor came up with the idea of providing new housing for slum dwellers in self-contained settlements, where they could live and work in healthy, rural environments.
The idea caught on, inspiring a wave of new towns after the Second World War, before falling out of fashion from the 1970s. However, the garden city principle came back into vogue under Gordon Brown's government as it grappled for ways to boost housing supply. Labour's "eco-town" initiative – which aimed to build self-sustaining settlements of up to 20,000 new homes built to zero carbon standards – proved a flop but the coalition too fell under the garden city spell and brought forward plans for a number of garden towns including Ebbsfleet and Bicester north west. The current government has developed the policy in the form of the garden villages, issuing a call for expressions of interest in March last year, leading eventually to last week's announcement.
The 14 new so-called villages, sited in locations as diverse as Carlisle and Cornwall, are a mixed bag of schemes. They vary in size from 1,500 homes to what are effectively small towns of 10,000 dwellings. The settlements are intended to deliver a total of 48,000 new homes.
Some of the villages are proposed on brownfield sites, such as the plan to create a new settlement in redundant china clay pits near St Austell (to be called West Carclaze) in Cornwall. Many others, though, will be built on greenfield sites, like the plan to create a new village called Halsnead on land belonging to a landed estate on the outskirts of Liverpool.
What they have in common is that each is meant to be a distinct, stand-alone new place with its own community facilities, rather than an extension to an existing town or city.
The backers are varied. While Cala Homes is developing the proposed village at Long Marston, Crest Nicholson and insurance giant Aviva have teamed up to build a new settlement at Longcross, near Runneymead in Surrey. Others, like Culm in mid Devon and Dunton Hills, near the Essex market town of Brentwood have been brought forward by strategic land companies on behalf of local landowners.
Some plans are more ambitious than others. The Culm scheme includes proposals to reopen a nearby railway station on the Taunton to Exeter line which was closed in the Beeching cuts more than 50 years ago. The leader of Fareham council has stated that he wants the 6,000-home Welborn garden village, which is being proposed on green field land near Southampton, to host one of the new style grammar schools championed by prime minister Theresa May.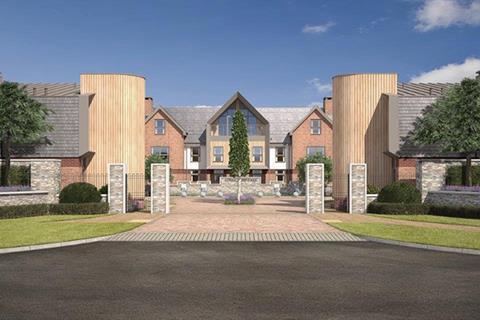 How do the gardens grow?
It's easy to see the political appeal of garden villages, which unites two of Middle England's favourite and most comforting words. When badged up this way, large housing developments undoubtedly sound "less scary", acknowledges Katy Long, garden cities advocate at the Town & Country Planning Association.
David Rudlin, director of urban design consultancy Urbed, agrees: "Focus groups suggest that people think that garden towns and villages are a good thing. It's a very good way for any government to talk about large-scale housing development by using terms that people react well to."
Matthew Spry, senior director, at the planning consultancy Nathaniel Lichfield & Partners agrees. "The brand resonates better than technocratic terms like new towns."
The other big advantage of garden villages is that, as stand-alone settlements, they can be built away from existing residents. And by steering clear of backyards, there is less chance of objections from angry Nimbys. Martin Curtis, associate director at lobbying firm Curtin & Co, says: "Compared to spreading the development around a district, the amount of people you upset will be proportionately less. There would be much more shouting if you were talking about 15 lots of 200 homes than 3,000 homes in one place."
In addition, building stand-alone settlements can enable developers to leapfrog the green belt, which is often such a sensitive issue when extending existing towns and cities.
Garden villages are a very good way for any government to talk about large-scale housing development by using terms people react well to

David Rudlin, Urbed
And by developing at a big enough scale, schemes can make a bigger contribution to their own infrastructure needs, says Curtis: "One of the benefits of larger sites is that you concentrate funding so that you can better deal with the impact of the development. If a development is big enough, it will be able to fund its own schools and health centres so you reduce the amount of traffic to and from the site."
However, the downside of creating new settlements is that they tend to require much more new infrastructure than when extending existing places, where it is possible to capitalise on roads and other facilities. The added concern is that garden villages will simply be too small to make a meaningful contribution to their own infrastructure.
The risk, critics worry, is that the garden villages will fall short of the ambitions for self-sustaining communities outlined by housing minister Gavin Barwell when he announced the programme last week, and will instead effectively end up as soulless dormitory housing estates, heavily reliant on the motor car.
Rudlin says: "Stand alone settlements are not necessarily a bad idea if there is a good transport link into the nearby town but most of these aren't big enough to pay for that on their own."
Villages containing fewer than 2,500 homes will struggle to support a shop, let alone a pub or a primary school, just two of the traditional hallmarks of the traditional English village, he warns.
Down the garden path
One thing is certain: the £6m pledged so far by the government to support the garden village programme won't pay for this infrastructure.
"The money the government has put aside is not of the scale needed in terms of paying for the sort of infrastructure needed. Add a couple of zeroes for what you will need," says Rudlin.
"It sounds like a lot to the man in the street but in reality, it isn't," agrees Curtis.
The £6m pot will be used instead to cover cash-strapped councils' planning costs, such as paying for additional officers and commissioning masterplans for the new villages.
To pay for infrastructure, like roundabouts and schools, the garden villages will rely on the government's £2bn housing infrastructure fund, announced in November's Autumn Statement.
Spry, who is leading the planning on the Long Marston garden village, insists that schemes will fare well when competing for support from the fund.
"If you have garden village status you are likely to be in a better position to bid for other sources of money."
This kind of tangible commitment will be important because the recent history of efforts to promote new settlements doesn't exactly inspire confidence. But the government seems to have learnt lessons from Gordon Brown's eco-town initiative, which delivered lots of headlines but little actual development. Of the four eco-towns approved by Labour in 2009, only one (north west Bicester) has gone forward as a garden city. Work on the first homes at Whitehill-Borden in Hampshire, which has been cut from 5,000 to 3,500 homes, only started last year. The West Carclaze eco-town has been rebadged as a garden village in the current programme.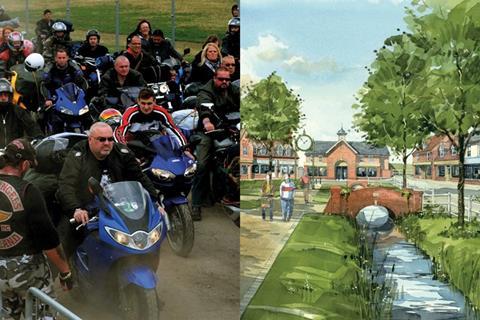 Each of the garden village bids has secured the support of its local planning authority, creating less risk that schemes will be derailed by the kind of grassroots opposition that put paid to many of the eco-town plans.
The bulk of the garden village sites are already earmarked for development in plans, such as the Long Marston site where Cala has already having secured outline planning permission for the first phase of 400 homes.
Spry says: "It's taken schemes that already have traction and have been selected by the local authorities in that area. It's very much focused on delivering schemes rather than adding add new ones into the hopper."
Ultimately though, critics complain, the 48,000 homes due to be delivered in the garden villages don't add up to much compared with the 200,000 plus needed each year to meet England's housing needs.
However, Spry argues, the new settlements will be useful examples for spurring development elsewhere.
"It's an important part of the solution but nobody pretends it's the only solution – but if it is seen to succeed, it could give local authorities in other areas confidence to progress those types of developments in their local plans."
And, he argues, there is "huge scope" for similar developments around the country.
"There is a very large number of railway stations around our cities that have undeveloped land around them and where hardly any passengers are being picked up."
"If you started putting garden villages around that existing infrastructure you could bring forward lots of development without the costs of bringing forward homes in the middle of nowhere with no infrastructure."
Even the diehard petrolheads, who attend the Bulldog Bash, could probably get behind that.
Starter homes
The government has made a further move towards tackling the housing crisis, by also confirming this month the first 30 areas that will benefit from a dedicated fund to help deliver starter homes.
Only first-time buyers, aged between 23 and 40 years old, will be eligible for the starter homes, which will be offered at a discount of at least 20% below market value. The value of properties will be capped at £250,000 outside London and £450,000 in the capital.
This month's announcement details the first allocations from the £1.2bn Starter Homes Land Fund, which was created in April last year to unlock sites for starter home development. The funds are available for council-led partnership to acquire and remediate brownfield sites so that starter homes can be built on them.
The announcement identifies 30 council-led partnerships, which will be able to draw down cash from the fund, including Bristol, Liverpool, Luton, Cheshire and Plymouth.
The government has committed that the fund will deliver sites for a minimum of 30,000 starter homes by 2020. The government is providing a further £1.1bn worth of support for starter homes.
In addition, it has changed the planning rules so a proportion of all large residential development should be starter homes. More details on how these rules will work are anticipated in the housing white paper which is expected to be published by mid-January.
Overall, the government has pledged to deliver 200,000 starter homes by 2020. However, shadow housing minister John Healey has claimed that the 200,000-starter home target cannot be achieved by the end of the current parliament.