Kevin Taylor and Phil Pringle, the two men who built McLaren, on how they created a £400m-turnover contractor in the teeth of an economic crisis – and why they've got no plans to sell up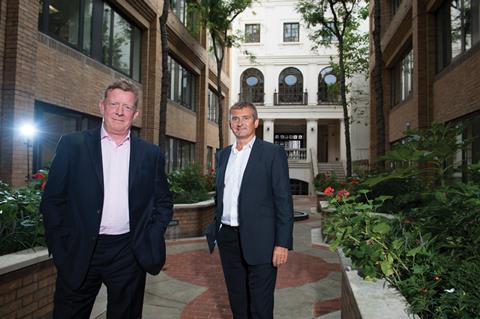 Kevin Taylor and Phil Pringle have not given a full interview in 11 years of running McLaren – and it shows. The joint founders of one of the UK's fastest-growing contractors are fiercely proud of their business but don't seem comfortable sharing its secrets.
Caution is the order of the day. Seldom does Taylor – the chairman – or Pringle – managing director of construction and the UAE – speak out of turn, and when one does, the other is helpfully on hand to jump in and swat away any risk of controversy.
But amid the corporate speak is a remarkable story - of how the two men built McLaren from an outfit working from Taylor's dining room table to a company turning over almost £400m.
Along the way the firm has launched successful property and fit-out divisions and a business in the UAE. Latterly the company increased its turnover by almost 50% last year to about £385m while pre-tax profit also edged up from £7m to about £8m - this in the teeth of a recession - and now employs 380 staff across five UK regional offices and one in the UAE. As Taylor remarks, "We're better known and better respected coming out of the recession than going into it."
So how have Taylor and Pringle managed to do it? From their Mayfair office, the McLaren bosses explain the story behind the company's rapid expansion, reveal plans to expand in sport, frameworks and potentially abroad - and why their double act is (mostly) a harmonious one.
Where they're going…
It may come as a surprise to hear that McLaren's growth plans for the next few years are relatively cautious. Taylor says the company has just produced a three-year business plan which maps out 5% annual growth over the period. "We're not after conquering the world. We want to increase the business but we want to set targets realistically," he says. However, the business plan does have flexibility for the firm to "jump a year … if we do everything well", he adds.
One of the secrets behind the company's significant boost in revenue last year was the success of its two-year-old property business. The division, headed by former Capital & Regional director John Gatley, contributed 15-20% of the firm's construction turnover last year. It focuses on buying property assets which the firm's contracting business will then develop or redevelop - in student accommodation, mixed-use and high-end residential schemes. Taylor says he hopes McLaren will maintain that proportion of crossover work as both parts of the business continue to grow.
There's probably rumours flying around the market that we're selling the business which, as we said earlier, are completely untrue

Phil Pringle
One of the areas the company is looking to expand in is sport and leisure. Pringle says the firm wants to capitalise on its successful delivery of a £45m training complex for Tottenham Hotspur Football Club by "looking to align ourselves with more Premiership and Championship clubs who are looking to redevelop their stadiums or training centres".
The firm's partnership with Spurs came up trumps with a further win this month to deliver a superstore as part of the first phase of the club's redevelopment of its stadium at White Hart Lane.
McLaren is also looking to build on its relationships with its "blue chip clients" to strengthen its presence across all sectors, Taylor says. It has just started work on a £25m office project – Marble Arch House in the West End of London – for British Land, after many years working with the client's retail team, Pringle points out. The company is also looking to target more public sector frameworks after appointing a new director to head this area and recent breakthroughs on the £150-200m Barking and Dagenham council construction framework and the UK-wide Royal Mail framework. Key sectors for growth in the UK also include data centres, commercial, manufacturing, automotive and mixed-use.
Pringle says the UAE market - where McLaren has been since 2009 - "is not as slow as it was" and is starting to show "reasonable recovery". The firm is on site with a data centre project and in "detailed discussions" with a number of other clients about other schemes. Taylor believes the company's track record in the UAE - including delivering studios for Sky News Arabia - can act as a "springboard" for further launches overseas. The firm has so far "looked at" China, Qatar, Saudi Arabia and Oman, Taylor says, but he stresses the company will only launch in a new territory "if the market wants the McLaren values and product - then there's an opportunity there". While discussing the company's strategy, the McLaren pair bring up – unprompted – rumours that they are up for sale. "We're aware of rumours in the market that we're selling - we're not for sale," Taylor says with emphasis. It's one of several occasions where Taylor and Pringle look quite tense. Taylor explains: "This is a privately owned business, and it gives us lots of advantages to be privately owned."
"And we enjoy what we do," Pringle adds gravely.
You can see why such rumours might arise - rapid growth can be a sign of a management team fattening up a business for sale. The desire to deny this is clearly on their minds as they bring it up again. The subject reappears as they explain the reasons behind a restructuring earlier this year which saw them domicile the company overseas. "Coming back to that [restructuring point], there's probably rumours flying around the market that we're selling the business," Pringle suggests, "which, as we said earlier, are completely untrue."
However, if they're keen to dispel rumours of a sale, they're equally enthusiastic not to discuss the question of the company's new registered home, declining four times to say plainly where they are based. Taylor (himself based in Monaco) does say, however, that the move overseas is about "making sure we have the right infrastructure in place for now and for the future", and could help facilitate the launch of further overseas ventures. Pringle says the restructuring is "a work in progress". A McLaren spokesperson later clarifies that the business's ultimate parent company is now based in Luxembourg "to manage the strategic development of the international business".
…Where they've been
Both geographically and financially, then, McLaren has come a long way from where it started in 2001. The firm's first desk - the box the fax machine came in - has gone down in company legend. Taylor's dining room table doubled up as the boardroom. "It was back to basics - licking envelopes and sending out tender enquiries. It was a very humbling experience," Pringle says.
The two founders first met much earlier on a £10m retail park project in Essex in 1989 while both were working for contractor Birse, now part of Balfour Beatty. Pringle was senior project manager, later leading the project, while Taylor began as assistant QS, before taking over the commercial side of the build. The two men developed a strong working relationship, which continued when they both later moved to builder Fitzpatrick.
As the new millennium dawned they took the plunge and set up alone, investing "everything on the line", because they "saw an opening in the marketplace for an agile business, one that wasn't encumbered with unnecessary paperwork and procedures", Taylor says. The company wasn't modest-sized for long. Its first contract was an industrial project for Land Securities, and British Land followed as a client shortly afterwards. The pair's first business plan set a target of £30m revenue by year three and they exceeded this by hitting £50m.
The company hit the headlines in 2009 when it acquired historic builder William Verry, further boosting its revenue and profile. Among the jobs it picked up through the deal was the £70m City of Westminster College in west London, later long-listed for the Stirling prize, which the pair acknowledge was a "breakthrough project" because of its scale and profile.
Taylor said at the time that the company would look to make more acquisitions, but he is more reserved about that possibility today. "We've done a lot of due diligence on some companies over the last couple of years […] but haven't secured them," he says. They're still on the lookout for the right deals, however. "We're quick when we make our decisions and we'll put the right resource on to review a situation if required."
Taylor believes this "agility" is the real key to the firm's success. "If a customer asks us to do something tonight and it needs to be done by tomorrow morning, we'll do everything we can to make sure that happens. We react quickly - it's a can-do attitude and people appreciate that," he says. The pair point to the launch of the company's property and food retail divisions as further evidence of this agility paying off. "We saw London as a safe haven for property two years ago. We believed London would attract a lot of investment and it has," Taylor says.
As for food retail, in the space of five years McLaren boasts the full house of big grocer clients - Tesco, Asda, Morrisons, and more recently, Waitrose and Sainsbury's.
The double act
It is no surprise when Taylor says the pair rarely disagree. This is the best display of synchronicity since the summer's Olympic diving competition. "It's very rare we strongly disagree - in all these years we differ maybe less than once a year," Taylor says.
After a morning of back-to-back meetings and in a slightly airless board room, it's not surprising perhaps that Taylor and Pringle struggle to look enthused, but the passion
is certainly still there: "We like winning," Taylor says. "But winning isn't just about winning projects, it could be keeping a long-term relationship, it could be seeing a junior working all the way up to board level - we love our business."
Pringle adds that he's proud of the firm's health and safety statistics and that "winning work still gives us an absolute buzz".
"We have a great relationship with the people in the business, it's a way of life - it's contagious," Taylor adds. "We've got to enjoy it, we do enjoy it and we still have fun."