With Labour poised to topple Tory seats in the local elections next week, especially in London, David Blackman looks at how the party's push to the left could change housing and planning policy – but are the plans as radical as they sound?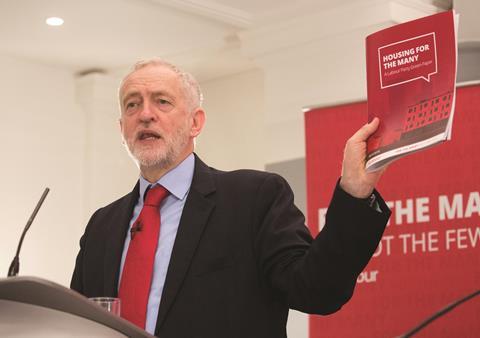 The Labour party clearly sees housing as a big vote winner. With exactly a fortnight to go until polling day, the party's leader, Jeremy Corbyn, unveiled a new package of housing policies, titled Housing for the Many (see Labour housing green paper), last Thursday.
Ever-increasing problems of housing unaffordability, which are most acute in London and the surrounding Home Counties, are widely reckoned to have been one of the key factors fuelling the party's recent success in the capital.
Discontent about housing has also been a key factor propelling the remarkable rise of Momentum, the group set up for Corbyn's leadership campaign that has since mutated into a movement to champion his radical agenda.
And the issue of housing and regeneration has often been a flashpoint in mutually damaging local struggles, which have recently pitted centrist Labour-run councils against their more radical grassroots memberships.
As much of England gears up for the local council elections next week, what impact is Labour's left turn likely to have on housebuilding and planning? And could public-private partnerships and estate regeneration become a no-no in Labour-run town halls?
The last two decades have seen pragmatism take hold in local government, with councils increasingly willing to engage with business to undertake council housing stock transfers to housing associations and to set up joint ventures with private developers to fund estate regeneration.
Labour shunned what many in the party viewed as the excesses of the 1980s when far-left councils such as Liverpool and Lambeth defied then prime minister Margaret Thatcher by refusing to set budgets that would result in cuts to jobs and services. Pragmatic New Labour local government politicians, such as former Hackney mayor Jules Pipe, were happy to engage with the private sector.
However, with Corbyn's leadership entrenched since last year's general election, next week's poll will be the first real opportunity for the party's new and more radical membership to make waves at a local level.
The focus of interest in this year's local elections will be London, where every borough seat is being contested, unlike in much of the rest of England, where only one-third of seats will be up for grabs. An exception is Birmingham, which has recently opted for all-out local elections.
"In most places, [Momentum] will be a minority faction whinging about what the leadership is doing"

Labour party insider
Set to take seats
In the capital, Labour is poised to make continued progress, with even traditional Tory bastions such as Wandsworth and Westminster at risk of succumbing. Barnet, where the Tories currently have a knife-edge majority, is predicted to fall too. And the direction of local Labour councils is expected to take a leftward turn.
The north London borough of Haringey has seen a host of centrist councillors deselected as candidates, following a backlash by local activists against the local authority's plans to set up a joint venture with Lendlease to redevelop a town centre and neighbouring council estate. Claire Kober, who pushed through the now notorious Haringey Development Vehicle JV, has decided to step down from the council rather than face being dropped as council leader after the election.
And the deselection of Sir Robin Wales last month has sent shockwaves through the East End borough of Newham, over which the Scot has presided for the past 23 years, initially as leader of the Labour-run council and more recently as directly elected mayor.
He was beaten in the selection contest to become Labour's candidate by local councillor Rokhsana Fiaz. The prime factor that led to Wales' political demise was widely seen as a desire for a fresh face. But another reason was Labour grassroots discontent about the mayor's embrace of the private sector – he made it no secret that his goal was to maximise the overall number of new homes rather than focusing on affordable housing.
His replacement – barring a shock result – is striking a different tone on housing and regeneration. Fiaz's manifesto includes a pledge to terminate the proposed joint venture scheme to regenerate the Carpenters Estate, which is located on the outskirts of the Queen Elizabeth park. The council had got as far as shortlisting three housing associations to carry out the project.
Instead, Fiaz has pledged to consult on a resident-led masterplan for the regenerated estate, where she wants to see as much socially rented council housing "as possible". Across Newham, she says that "at least" 50% of new homes over her four-year term should be council homes let out at relatively cheap social rents. During the next four years, the manifesto has set a target to deliver at least 1,000 council social rented homes in Newham, which equates to the number delivered by all local authorities across England, according to figures in Labour's policy document.
Elsewhere in London, local Momentum groups have mobilised protests against plans by the Labour-run administrations in the south London boroughs of Lambeth and Southwark to regenerate council estates.
And a fierce campaign has been mounted against the centrist leadership of the north London borough of Waltham Forest over the controversial inclusion of only 20% affordable housing in a residential tower block planned as part of Capital & Regional's redevelopment of The Mall in Walthamstow. This was subsequently revised up to 30% after negotiation.
On the South Coast, the leader of Brighton and Hove council, Warren Morgan, resigned in February following fierce criticism by left-wing activists of the authority's joint venture with Hyde Housing Group to redevelop a barracks on the edge of the city.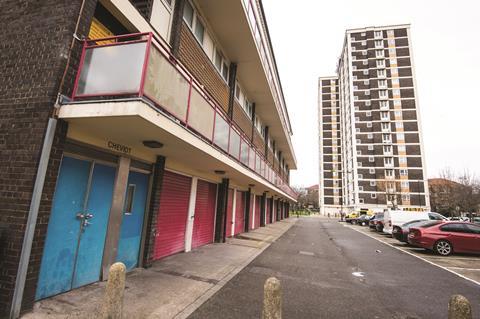 Radical – but up to a point
However, so far, according to Labour local government watchers, Haringey is the only Labour council where a Momentum takeover is on the cards. "They've created waves in Haringey but we don't see it happening elsewhere," says Paul Dimoldenberg, Labour business spokesman on Westminster council, who says the Labour group on his own council is typical. "It's a mainstream, activist, interventionist party, which will keep the environment up to scratch."
Even Newham's Fiaz is not as radical as her support base indicates, says one Labour insider. "She's not an ultra-ideologue."
Philip Glanville, who oversaw Hackney's regeneration joint ventures while holding the housing portfolio in Pipe's cabinet, remains in post as mayor of the east London borough. And Peter John is still fronting Labour's campaign in Southwark despite the brickbats that the authority attracted over not ensuring more replacement social housing was provided during the regeneration of the Heygate estate at Elephant and Castle.
In some London local authorities, council candidate selections were sewn up before last year's general election, when Corbyn had yet to entrench his power in the Labour party. "In most places, [Momentum] will be a minority faction whinging about what the leadership is doing," says the Labour insider.
Chris Brown is chief executive of the Aviva-backed Igloo regeneration fund, which works closely with local government to deliver regeneration projects. He says: "People have come under a bit more pressure but not to the extent that leaderships will change after the elections."
Dimoldenberg, who is also founder and chairman of the public relations company Quatro, argues that Labour politics is often more consensual than national newspaper headlines sometimes suggest. "Many people don't understand the subtleties in Labour. There are people at either edge of the spectrum but the vast bulk are round the middle, and willing to work with people they are not 100% aligned with politically."
"Anything where you are partnering with the private sector or other than councils using the Direct labour organisation to build council housing is seen as selling out"

Labour party insider
Labour housing green paper: key points
Build one million new affordable homes over a 10-year period, the majority of which will be for social rent
Replace the affordable rent tenure, introduced by the coalition government and set at a rate of 80% of the market rate, with cheaper social rent
Give housing associations access to cut-price government loans from the Public Works Loan Board
Kick-start council housebuilding by lifting the ceiling on the amount local authorities are allowed to borrow for housing investment
Scrap viability "loopholes" that allow developers to negotiate lower affordability housing contributions
Scrap affordable housing exemptions for development on smaller and rural locations
Make it mandatory to hold a ballot to secure tenants' consent for estate regeneration projects
Suspend Right to Buy for social housing tenants
Introduce legislation to kick-start a new towns and garden cities programme
Grassroots pressure
Still, Labour groups on local councils are expected to be more left leaning, thanks to the influx of a more radical membership since Corbyn's election as leader. "They are younger, more enthused and maybe more Corbynite," says Nick Stanton, a director at public affairs firm Curtin & Co.
The unnamed Labour insider says: "There's increasing grassroots pressure on individual councillors and through them to the leadership. Personnel changes are quite small, but it's the change of attitude. People will be more sensitive to what is going on in their ward parties.
"This might have a chilling effect on the housing and regeneration policies that councils go for. They've seen what happened to Claire Kober and will see that if they fancy carrying on as leaders their range of policies will be more constrained."
This will translate into greater pressure in Labour town halls to deliver affordable housing, Stanton says: "People are less able to enter deals because they need to be seen getting more out to meet local needs. There will be much greater priority on being able to say that you have bled as much affordable housing as possible rather than a nice new park or highways rerouted or relaid. Policies will be much more about affordable housing."
In addition, sensitivities have been heightened around regeneration, which has become a byword for social cleansing in radical left circles. "Estate regeneration seems to be the touchpaper issue," says Brown.
London mayor Sadiq Khan has swung into line behind Corbyn's pledge at last year's Labour party conference, confirmed in last week's policy paper, to offer council tenants ballots on whether estate regeneration projects should go ahead.
Ballots can cause significant delays, as can be seen on Southwark's Aylesbury estate, a large proportion of which is still waiting to be regenerated nearly 20 years after proposals for the estate's transfer were blocked by its tenants.
While ballots may generate uncertainty, they are a "commonsense" move, says Dimoldenberg: "Getting buy-in from residents is essential for regeneration work."
Westminster's Labour group has promised to scrap the current Conservative administration's plan to carry out wholesale regeneration of the borough's five estates if it wins next month's poll. Instead it will complete more infill and refurbishment, he says. "When buildings have definitely come to the end of their useful life demolition is an important tool but not where we start from."
But Dimoldenberg says that only one estate regeneration – the smallest – has gone ahead so far because in areas like Westminster many former tenants have taken advantage of the right to buy, inflating the cost of rebuild projects. "The purchase price of acquiring long leaseholds is enormous."
Wary about private partnerships
Labour leaderships, mindful of the controversy sparked by the Haringey Development Vehicle, are likely to be wary about entering into partnerships with the private sector. The Labour insider says: "Anything where you are partnering with the private sector or other than councils using the DLO [direct labour organisation] to build council housing is seen as selling out to the private sector.
"Where moderates are in the driving seat they are pragmatic about working with the private sector but also pragmatic about not doing things that are going to terminate their political careers, so perhaps not contemplating things that would have been options a few years ago."
Igloo's Brown says it will be "really hard" for Labour-run councils to enter into joint ventures with the private sector and that they will be looking at options.
Those opposed to entering into joint ventures with the private sector hold out hope for the election of a Labour government, which has pledged to allow councils to borrow more for housing. But in the meantime, the government has set its face against any such move, meaning any relaxation may not happen until 2022, the scheduled date of the next general election.
By then, when those fighting the current local elections next face the voters, their councils' central government funding will have dwindled to one-fifth of the level it was when the coalition government entered power in 2010.
Dimoldenberg says: "Everyone would like to do it on their own, but they have to weigh up what they can achieve on their own and what they can live with in partnership. Politics is always about the art of the possible."
Developers will be hoping that when confronted with the need to deliver housing and regeneration, more Labour leaders will feel compelled to agree.