It is winner British Gypsum's innovation in gypsum-based plastering and drylining and focus on its customer needs for that impressed
WINNER British Gypsum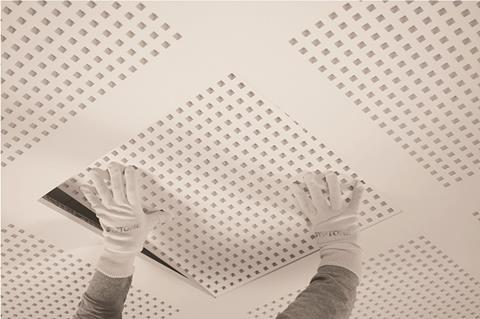 Gypsum-based plastering and drylining solution manufacturer, British Gypsum, says that it aims to place customers at the heart of its business, and to that end has focused on providing innovative solutions and services. Part of the Saint Gobain group, the 100-year-old company launched two major new products in 2012: ACTIVair ceiling solutions, which store volatile compounds from the atmosphere; and Thistle Uni-Finish, which eliminates the need to pre-treat previously painted surfaces with PVA. Also in 2012, the company was the first UK-based gypsum manufacturer to be awarded a BES 6001 "very good" rating for a core range of its solutions. According to a customer, this meant "[it] makes our job that little bit easier". The judges called this company a "global player".
Runners-up
Boltcracker
Boltcracker was brought to market in 2011, and was created to solve a problem with installing bolts when constructing steel framed buildings. Founders Colin O'Gara and Leigh Rooney found the common practice of applying an oil-based tape around the base of the bolt to be unreliable, time consuming and a potential health and safety risk. According to the company, their product, "The Boltcracker", can be attached to the bolt head, to allow rotation and movement of the bolt after the concrete has set, allowing for easy repositioning and alignment of steel.
Brookvent
Northern Irish-based Brookvent has looked further afield in 2012, expanding its export markets to Poland and the Baltic and to North America. This has allowed it not only to be the top supplier of energy-saving ventilation systems in Northern Ireland but has also boosted its turnover to £3.1m last year, its third successive year of turnover growth. Brookvent's focus on innovation also applies to its product range, leading to the launch of two new products for 2013: aircycle 1.2 and 2.2. As a green company, Brookvent has also committed to sourcing sustainable materials for its products and lowering the firm's own carbon emissions.
Jablite
The UK's largest manufacturer of expanded polystyrene insulation, Jablite has recently achieved a significant turnaround in performance. The company says that its strategy to concentrate on innovative products and new markets led it into profit after six years of making a loss, and to increase sales by 10% to £22.9m. Questioning manufacturing processes led to an improvement in productivity at all its UK sites; and surveying customers to identify areas for improvement revealed a 77.8% customer satisfaction rate. In 2011, the company also launched Dynamic insulation, which in 2012 was successfully installed in several domestic retrofit external wall insulation projects.
Knauf Insulation
Knauf is a major player in its sector, as the UK's leading insulation manufacturer and the third largest in the world. For Knauf, 2012 was a year in which social and environmental responsibility were at the forefront of the company. Concerned at the lack of government clarity over the Green Deal since it was introduced in October 2012, Knauf has undertaken political lobbying, campaigning for significant revisions to the planned implementation of the scheme. It has also aimed to find practical solutions to the challenges presented by the Deal, last year training around 300 installers at its ThermoShell Training Academy in Birmingham. In addition, it has continued to focus on improving its own sustainability performance.
Lift and Engineering Services
One of the few remaining independent UK lift manufacturing companies, the 30-year-old firm says it has invested heavily in creating a business that can compete successfully with larger, foreign-controlled firms. Its diversification in 2011 to a greater public sector base and long-term partnering and framework contracts has led to growth in that sector. The family-owned firm's bespoke solutions for traction and hydraulic lifts particularly suit replacing and refurbishing existing installations. The firm says that its has workload for its manufacturing workshops into the next two years.