Far from being a mysterious and distant figure, Xu Weiping of Chinese developer ABP is happy to talk about the thousands of office blocks he is building in China, as well as the 35-acre scheme at Royal Albert Dock - and his plans for many more. Louise Dransfield reports on a company on the move. Photography by Jean Goldsmith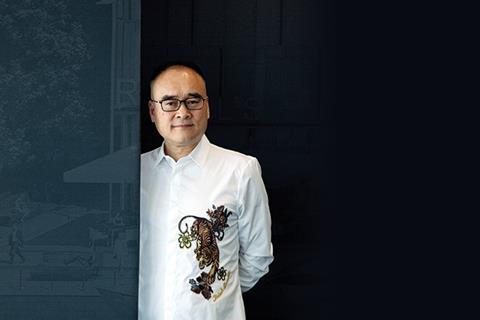 Xu Weiping, the man behind the £1.7bn project to redevelop Royal Albert Dock in east London, is the very antithesis of the stereotypical reserved Chinese businessman.
Mr Xu, as he is referred to by the rest of his firm, relaxes behind his desk at one end of his long office in Docklands. He wears a new Roberto Cavalli shirt that arrived earlier in the morning. A Versace bomber jacket is slung over a stand to the side. Behind him statues of big cats in gold and silver lurk on top of cabinets, as does a Darth Vader mask he bought at a manga exhibition at nearby ExCeL. No dark suit, plain shirt and tie for him.
A cheerful sort, Xu – who is in the process of learning English, which peppers his Mandarin – makes wisecracks throughout the interview via his translator, and seems always ready to laugh. Yet he is deadly serious about his ambitions for his company, Advanced Business Park (ABP), in the UK. The redevelopment of the 35 acres at Royal Albert Dock is just the start, he says.
Here, he talks about what's next for the firm, and why Brexit will increase the UK's appeal as a destination for development.
Big developments
Xu began his career in China as an engineer before being selected to join a research institution for economic reform, as China moved from a planned economy to a market one. In 2003 he set up ABP, which in China has focused on creating new city-sized business parks. One such project, which he began building that same year, lies in south-west Beijing and contains 400 office buildings, while another scheme for an incredible 2,000 office buildings is in the works for the city of Shenyang in the country's north-east.
But Xu's ambitions proved even bigger. Having decided to enter the UK market, his company announced in 2011 that it intended to bid for the contract to transform 35 acres at Royal Albert Dock. Xu explain's the decision to target east London, saying: "I think the rest of London is fully developed, but east London still has the space to be developed. We believe it has great potential."
ABP eventually signed the deal with former London mayor Boris Johnson in May 2013. There is nothing now to stand in Xu's way. The redevelopment of Royal Albert Dock – a strip of land next to London's City airport in the Docklands – will by the end of April have started in earnest now that the thousands of rare UK bombardier beetles that inhabited the area have been successfully relocated to Barking, and the land declared free of any leftover Second World War ordinance.
The first buildings are expected to be up by autumn next year and the £320m first phase of the scheme is scheduled to complete in the first half of 2019. Xu expects the entire scheme to be completed in under 10 years, but points out that his deal with the Greater London Authority allows him 26 years to complete the project.
Now, wheels are very much in motion, with Phase 1 under way (see details about the Royal Albert Dock project team, overleaf). Over 60% office space within Phase 1 has been reserved, 66% to UK companies and 34% to Chinese companies. ABP's chairman is already looking towards Phase 2 of the project. It will be twice the size of the first, comprising 1.3 million ft2 – half offices, half residential – and the aim is to start construction in the second half of next year, Xu says. ABP is to go to the market in the second half of this year to invite tenders from architects to carry out detailed designs for Phase 2. Xu plans to work on planning permissions, procurement and contracts in the first half of 2018, as he aims for Phase 2 to start on site by the second half of 2018.
"In terms of the consultancy team of course there will be change, there will be adjustment. We may expand the team, but it doesn't need to fully change as we are happy with most of the team," he adds. "There is the possibility for other companies to join."
Xu also expects ABP to go back to the market for contractor tenders for Phase 2, but seems happy with Multiplex, its principal subcontractor for Phase 1. He says that "Multiplex is competitive", so any other firm would need to really excel to get a look-in.
Citic Construction – majority owned by a Chinese state-owned firm – is the main contractor on Royal Albert Dock. So, would it consider cutting out the middle man and acquiring a UK contractor, so it can do the work itself? Could Citic consider buying Multiplex? Xu roars with laughter. "Everything is possible," he says. Chuckling, he adds that he will put the question to Citic's boss.
This seems to be typical of Xu's attitude – seeing no need to put limits on what can be imagined, or attempted. Having established ABP the UK market, Xu is looking for further opportunities, and ABP and Citic have now partnered up with Bangkok-based Thai firm Charoen Pokphand Group to form the East London Development Group, which will look to invest in new projects around the east London area.
And it appears a second and potentially third project are on the horizon – Xu says he expects project number two will be under way within two years' time, though he would rather not elaborate on the details. But he's clearly on the move and may be setting his sights further afield – he refuses to rule out expanding outside of London into the regions, which are already benefiting from substantial Chinese investment.
But not all Chinese developers entering the UK market have had such an easy time with getting contractors on board to build their schemes. Wanda One, which is building One Nine Elms, a £1bn twin-tower scheme in Battersea, is on its third contractor – Multiplex – after being unable to agree terms with first, Interserve and its joint venture partner China State Construction Engineering Corporation, and then Balfour Beatty.
Xu says he believes the issues Wanda has encountered will not happen elsewhere. He says: "Wanda knows the Chinese market very well, but in terms of the UK and its laws and regulations, the contract market and even the way British society works, they may not know enough, and they still have their mindset in the Chinese style of doing things. This will have been a lesson for Wanda and its investors.
"In the future I think we will see more UK contractors and Chinese companies working together, and we will integrate better."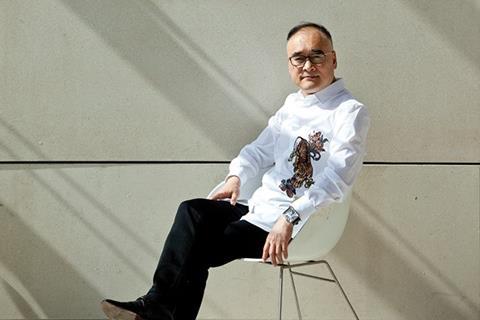 Brexit benefits
It seems Xu and his partners are in the UK market to stay, and as such they are carefully following the twists and turns of Brexit – but unlike most industry figures in the country, Xu is upbeat.
"Just be relaxed," he says. "It's not a big thing for the Chinese" – although he tactfully acknowledges it is a "big thing for the British".
Maybe the fact that Xu has been part of such a dramatic change in his own country makes him so laid back about the UK's seismic split from the European Union.
"As a Chinese investor myself and knowing other Chinese investors very well … I think, before Brexit Chinese investors were very passionate about investing in the UK – but I feel that after Brexit the passion will be the same and probably even increase," he says.
Xu explains that the Chinese believe that the UK without the shackles of the EU will be able to be a more independent economic centre and be able to develop itself further.
"Chinese investors recognise that although the EU is a big alliance the development between EU countries varies a lot. Germany, France and the UK are very advanced, but some other countries in terms of economics and management are lagging behind.
"There is also the issue of asylum seekers, which is affecting the EU's safety. So because of these many issues Chinese investors recognise that the EU is not as strong as it was before.
"When the UK exits the EU it can showcase its real talents and strengths and become stronger."
What really interests Chinese investors is not so much political to-ing and fro-ing as the resulting decisions that affect built environment policy. One example was the appointment of Theresa May as prime minister under a year ago, who just one month after taking office decided to delay approving the country's first new nuclear power station at Hinkley in a generation due to security concerns over Chinese involvement in the project.
"I believe this was only a temporary decision from a new prime minister. It was not going to be her long-term policy direction," Xu says, adding that since then UK official relations with China have been much friendlier. Interviewed before this week's news of a snap election, Xu says of the prime minister: "Theresa May used to be the secretary of state for the home office and she's very established and experienced at that post, but I feel that promoting her from a secretary of state to a prime minister who is in charge of everything in the country and even some important decisions relating to the world's economy and politics – I think it has been too quick for her. She is still a baby prime minister. So that decision was totally understandable. I also believe that she has gone through a learning curve quickly and only after half a year I can see she has got an international vision and is looking at the bigger picture."
So with Brexit barely registering as a blip on Xu's plans and – this being his first two weeks in the UK since October last year – a very full schedule, he heads off into his next meeting to forge ahead with his east London plans.
In a rare sombre moment, he admits as a parting thought that, like many other of his fellow Chinese, he feels that he has lost part of his life in the pursuit of a market economy and believes it will be another generation before his fellow countrymen and women can enjoy the same standard of living that is a given in the UK.
In the meantime he contents himself by giving over what little spare time he has to his hobbies, such as his interest in manga cartoons and his enjoyment of fashion so that, as he puts it, his "pursuit of life will not be less than the British". And off he goes, to continue that pursuit which, if it is as determined as his search for large-scale success in the UK construction market, is surely going to keep him a very satisfied man.
Royal Albert Dock
Masterplanned by architecture practice Farrells, with structural engineering by AKT II and MEP and energy services by Hilson Moran, Phase 1 of the scheme comprises 1.2 million ft2 across 20 office buildings along the waterfront. The phase will also see two listed buildings refurbished into either a boutique hotel, a restaurant or an art gallery; Xu has not yet decided. Farrells also carried out detailed designs for this phase.
Although ABP is privately run, the Chinese state is clearly supportive of its activity. Chinese contractor Citic Construction, a subsidiary of Citic Ltd, China's largest conglomerate, was appointed as the main contractor on the project in 2015. Citic Ltd is itself 58% owned by Citic Group, a Chinese state-owned enterprise. After investor China Minsheng and ABP were unable to agree terms, Xu's firm joined with Citic Construction to form an investment company – Citic-ABP Investment Ltd – which holds a 25% stake in ABP.
ABP said at the time that Citic's involvement in Royal Albert Dock would "ensure the project goes forward" and Citic's role as an investor in the scheme has helped provide "a comprehensive funding platform" for it, Xu says.
The project was set on an ever surer footing last autumn, when four of China's largest commercial banks – Bank of China, Agricultural Bank of China, Industrial and Commercial Bank of China and China Construction Bank Corporation – joined Citic as investors, agreeing to fund £1.2bn of the £1.7bn cost of the scheme.
The funding tie-up followed confirmation that Australian-owned contractor Multiplex would act as principal subcontractor on Royal Albert Dock and would be the firm actually carrying out the building work.
Xu feels that the combination of Citic, Multiplex and ABP is a winning line-up – he says that Citic's knowledge of construction and Chinese investors combines perfectly with Multiplex's experience of the UK and European markets, and that ABP brings its development knowledge.