The Olympic focus has now switched from London to Rio, which has the added pressure of hosting two other international sporting events before the 2016 games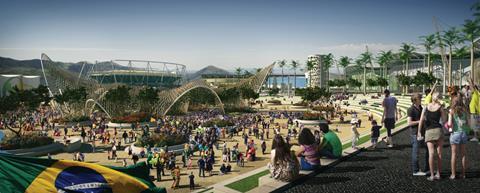 Now that the dust has well and truly settled on a successful London 2012 Olympic Games, the spotlight has swiftly moved to the next host city, Rio de Janeiro. However, unlike London, several of Rio's Olympic venues will also need to serve two other huge international sporting events well before the Olympics even begin: the 2013 FIFA Confederations Cup and the 2014 FIFA World Cup. Rio therefore is in a busy state of preparation.
Inevitably, there will be some similarities between Rio 2016 and London 2012. While Rio's Olympic authorities have been reluctant to reveal the current official 2016 budget updated from their original 2009 winning bid, the federal government has recently estimated a cost of around £9bn, roughly the same as London 2012. (It's worth remembering that our own estimates four years before the Olympics were a fraction of the final cost.)
Also, like London, several venues will exploit iconic world famous landmarks - such as Copacabana Beach and the magnificent Christ the Redeemer hilltop monument - as their backdrop. The games will also make extensive use of temporary venues and have already prompted an aggressive programme of regeneration in several of Rio's poorest districts.
High dependence on public transport is also at the heart of both games and while Rio's network is less extensive and integrated than London's, one of four new bus rapid transit (BRT) systems has already opened and one of Rio's two metro lines is now being extended to the Olympic park. And while London's bid was initially dogged by the controversy of the Millennium Dome and Wembley Stadium projects, Rio too is haunted by the bleak spectre of the 2007 Pan American Games where costs spiralled to six times the original budget and rushed construction and poor planning left a litany of crumbling roads, inadequate housing and broken promises.
But intriguingly there will also be some key differences between Rio and London. Despite a booming Brazilian economy, cheaper labour costs and a less contractually rigid and statutorily constrained market have enabled several venues to cost noticeably less than their London counterparts. Also, while the focus of London's Games was inevitably on the Olympic park, with multiple other venues dispersed sporadically throughout the city and, to a lesser extent, the country, Rio's events will all be confined to four Olympic "clusters" within the city and none (except football) will be held outside it.
The Olympic preparations (and budget) have been interspersed with those of the Confederations and World Cups meaning that several venues have had to satisfy unique, dual-purpose requirements and adhere to a more compressed construction programme than London's. And problematic as they were, the Pan American Games did leave a legacy of some readymade infrastructure and venues that the Olympics have been able to exploit.
Furthermore, no new Olympic stadium is being built and Rio's will be one of the few Olympics where athletics and the opening and closing ceremonies will take place in two separate stadiums, neither of which is located in the Olympic park.
While London's Olympic park was built on a largely unoccupied post-industrial wasteland and necessitated some commercial but hardly any residential relocation, Brazil is embroiled in a controversial programme of slum clearance and forced eviction which, according to the Rio Community on the Olympics and World Cup Games campaign group, will potentially displace 170,000 mainly poor residents across the country.
While London is the only city in the world to have hosted three Olympic Games, 2016 will be the first time the Olympics have ever been held in South America. It is, then, a moment of exceptional national pride.
Football may be Brazil's secular religion, but this is a country in which sporting culture is woven deeply into the national psyche. And perhaps most importantly, the Olympics will provide an opportunity to flaunt the new capability and confidence of the emerging BRIC economies and challenge stereotypes of a nation terrorised by corruption, poverty and crime.
Legacy has been a much trumpeted feature of London 2012. But at Rio 2016 it will assume an unprecedented level of significance that extends far beyond sporting excellence or urban regeneration. Below we take a first look at the progress of some of the key 2016 Olympic venues determined to show the best of a new, rejuvenated Brazil on the world stage.
Maracanã Stadium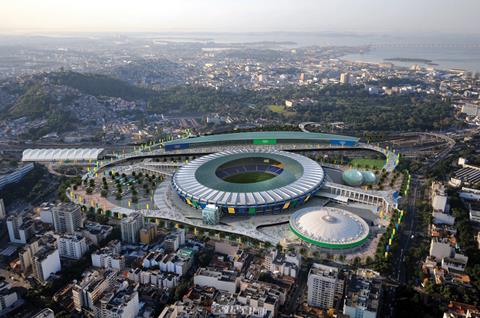 Events: Opening and closing ceremonies, football
Post games: Football, major events
Construction: Refurbishment
Capacity: 78,639
Estimated completion: February 2013
Cost: £271m *
Once the biggest stadium in the world, the Maracanã allegedly hosted a stupendous 210,000 people for a final group stage game at the 1950 World Cup. On that occasion and in an historic upset, Uruguay beat Brazil 2-1 so the host nation will be hoping for friendlier fortunes when the stadium hosts the opening and closing ceremonies for Rio 2016. Maracanã has been the country's principal football venue since it opened in 1950 and it invokes a spiritual reverence among Brazilians similar to that exerted by Wembley here. It also lends its name to the smallest of Rio's four Olympic clusters which also includes the João Havelange stadium where athletics will be held.
Reconstruction works include expanding the stadium's roof to cover all spectators and amending the seating bowl's former two-tier configuration. Despite a series of labour strikes, the stadium is set to reopen in time to host the Confederations Cup next year. It will then be on course to be one of only six stadiums worldwide to have hosted a World Cup Final and Olympic ceremonies. By hosting athletics elsewhere and using an existing stadium as their showpiece venue, Rio has also deftly avoided the conversion trauma that still besets London's Olympic stadium.
Copacabana Stadium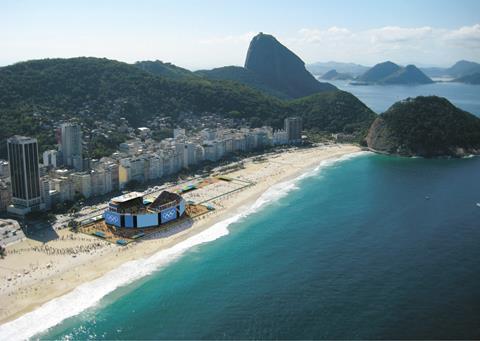 Events: Beach Volleyball
Post games: Future outdoor sport events
Construction: Temporary
Capacity: 12,000
Estimated completion: 2016
Cost: £7m*
After the inspired success of London's Horse Guard's Parade venue, beach volleyball is fast turning into the Olympic sport that provokes the most creative use of urban locations. While Rio's world famous Copacabana Beach may be a more obvious choice than an imperialist classical square, it promises an equally spectacular urban backdrop. Beach volleyball is hugely popular in Brazil and the 4km stretch of sandy white coastline is traditionally used for tournaments within the sport. The beach is also where people gathered to hear the announcement that Rio had won its bid in 2009.
The wider Copacabana zone is one of Rio's four Olympic clusters and will also host triathlon, sailing, rowing and marathon swimming events. These will take place on a series of stunning beach and marina sites close to the city's famous Sugarloaf Mountain. The Copacabana zone is located at the opposite end of the city from Rio's fourth and final Olympic cluster, Deodoro in the north-west, which will host equestrian, shooting and modern pentathlon events.
Olympic Park & Village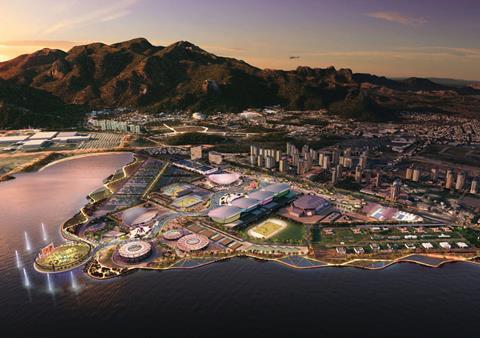 Events: Several including tennis, handball, gymnastics, basketball, boxing, swimming, track cycling
Post games: Public park, Olympic training centre, residential, commercial
Construction: New-build
Area: 185 acres
Estimated completion: 2016
Cost: No official estimate available
Rio's Olympic park is located on a triangular, lakeside site in the Barra da Tijuca borough in the southwest of the city. Although athletics and the opening and closing ceremonies will take place elsewhere, the park is located within the largest of Rio's four Olympic clusters. Several existing venues built for the Pan American Games, such as the Barra velodrome and the Maria Lenk aquatics stadium have also been woven into the park's masterplan.
Aecom UK, lead consultants on the design and delivery of London's Olympic park, designed the competition-winning masterplan working in conjunction with architects Wilkinson Eyre, responsible for London 2012's basketball arena. Early plans to recycle and rebuild the London 2012 basketball arena in Rio were recently abandoned due to cost. As with London's Olympic park a mixture of permanent and temporary venues will be built and a "games" and "legacy" mode for the park has also been prepared. The latter will see up to 60% of the park's 18 million m2 released for future development.
A key part of Rio 2016's post-games legacy will be providing accommodation for the Olympic training centre, a new centralised sport facility dedicated to teaching and developing athletes. Four indoor venues with a combined capacity of almost 50,000 will be assigned to the centre after hosting various events during the games. These, are part of 20 venues which have been concept designed by local practice BCMF Arquitetos. This is in marked contrast to London 2012 where a range of different architects were invited to design individual venues.
Sixty-two acres of the Olympic park will be dedicated to the Olympic village. Designed by the Rio's municipal urban development department, these will provide 17,952 beds within 48 buildings, 31 of which will be 17-storey 3 and 4-bed tower blocks. Unlike London where construction of the athletes village was publicly funded and half earmarked for social housing, a private consortium will build the Rio's equivalent and sell them after the games. However legacy social housing may be provided on the nearby media village site.

Olympic Velodrome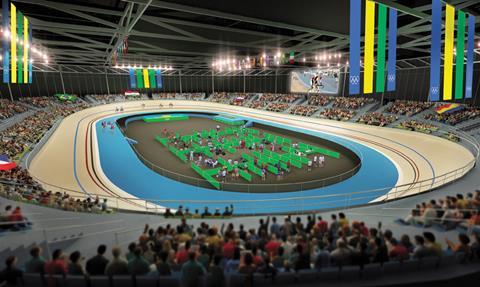 Events: Track cycling
Post games: Cycling/multi-use arena/Olympic training centre
Construction: Refurbishment
Capacity: 5,000
Estimated completion: 2016
Cost: £25m*
The existing Barra velodrome was also built for the 2007 Pan American Games. Nonetheless it will still have to undergo significant remodelling and expansion to satisfy IOC requirements. This includes the introduction of a steel framework structure that will eliminate existing structural columns and provide a clear uninterrupted span across the entire track.
Sambadrome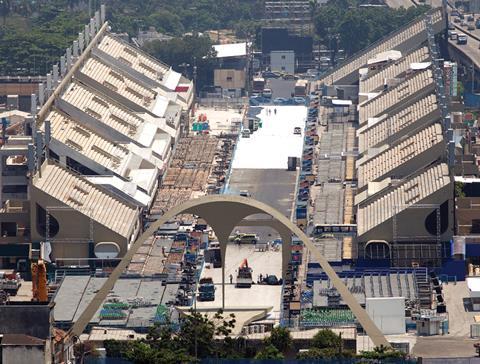 Events: Archery, marathon
Post games: Rio carnival, major events
Construction: Refurbishment
Capacity: 37,000
Estimated completion: 2016
Cost*: £14m*
Situated close to the João Havelange stadium in the Maracanã cluster is one of Rio's most famous buildings. The Sambadrome was designed by legendary Brazilian architect Oscar Niemeyer in 1984 as a 700m long open-air parade avenue with grandstands for up to 90,000 spectators on either side. Every year during the Rio Carnival it hosts a glittering procession of competing samba schools. While Niemeyer's work is principally associated with Brasilia, this is one of several buildings he designed in the city of his birth. His trademark sculptural vigour and powerful geometry is present in the sweeping parabolic arch that constitutes the venue's monumental climax. The reconstructed northern section of the Sambadrome will host archery events and the marathon finish line.
Aquatics Stadium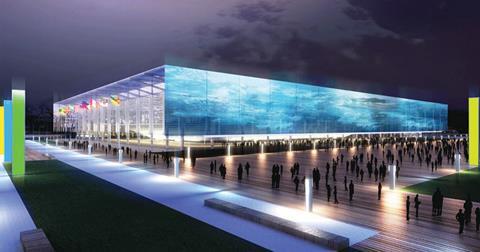 Events: Swimming
Post games: Olympic training centre
Construction: New-build
Capacity: 18,000
Estimated completion: 2016
Cost: £34m*
Located in the heart of Rio's Olympic park the aquatics stadium aims to be one of the foremost architectural highlights of the 2016 Games. Designed by BCMF Arquitetos the shimmering glass box has an entrance facade wrapped in a giant 180m x 20m glass display screen suspended 5m from the ground. A continuous sheet of water cascades down the screen onto which moving images are dramatically projected. With its translucent skin and rectilinear form the aquatics stadium is much closer conceptually to PTW Architects' Water Cube for Beijing 2008 than it is to Zaha Hadid's aquiline equivalent for London 2012. Also, unlike London the building exterior will not change after the games, although all its internal seating will be dismantled. The nearby Maria Lenk aquatics stadium will also be used for diving and water-polo events.
João Havelange ("Engenhão") Stadium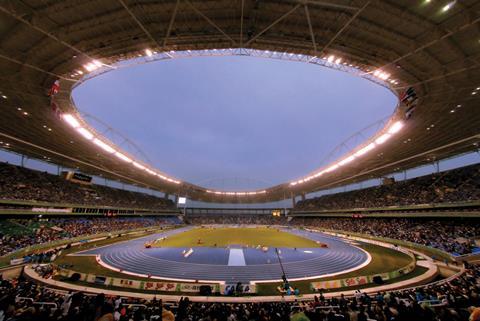 Events: Athletics
Post games: Football, athletics, major events
Construction: Refurbishment
Capacity: 60,000
Estimated completion: 2016
Cost: £32m* *All headline costs are quoted in 2008 prices
Rio second largest Olympic venue was built for the 2007 Pan American Games. At a cost of £120m it came in at an eye-watering six times its original budget. However, as it will host athletics track and field events during the Olympics, it is the venue set to enjoy one of the highest profiles during the Games. Initially built to a capacity of 45,000, this is being expanded to 60,000 for Rio 2016. Named after a disgraced former FIFA present, this stadium remains very much a football venue and, in the kind of seamless ownership transition that seems to have eluded London 2012 thus far, it has been the home to the local Botafogo football team ever since the Pan American Games ended.
Nevertheless its athletics track makes it a perfect example of a multi-purpose venue, another condition which London's Olympic stadium aspires to. Sadly, the stadium also reveals another aspect of Brazilian sporting infrastructure in recent years, appalling construction safety standards. Although luckily nobody was injured when a 6m high wall collapsed in 2007, other incidents have been more tragic. Seven died in the same year when a stand at Salvador's Fonte Nova stadium collapsed and three were killed when an upper tier at Maracanã stadium fell in 1992.