Nick and Christian Candy reckon you may as well put a sign up at Heathrow saying the UK doesn't welcome successful people. But if anyone can persuade the country we have the entrepreneurial nous to get us out of the hole we're in, it's the men behind One Hyde Park - the £1bn development of 86 flats for the super rich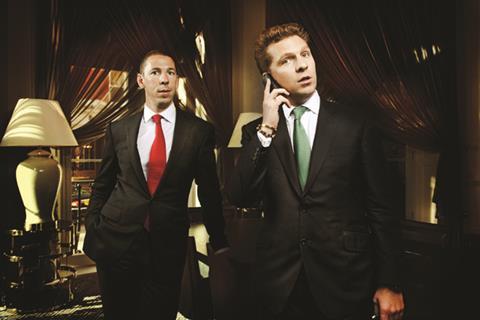 Nick and Christian Candy's irritation with the media has reached breaking point. The brothers, arguably the best known men in UK property, have nearly stopped giving interviews altogether. At least for now. Their decision has been brought about by some of the less than flattering press coverage of their One Hyde Park development, launched last month and home to one of the world's most expensive apartments, a snip at just £140m. And although the Candys have agreed to give this interview as an exception they are both, and Nick in particular, more than a little prickly at first: "We won't get an apology from any of those papers or magazines who have written anything about One Hyde Park that is completely wrong," says Nick sternly, leaning forward across the jet black conference table in one of the many rooms at Candy & Candy's Knightsbridge head offices. "It gets so frustrating and that's why we have shied away from interviews. Everyone has a different opinion on architecture, like I have an opinion on your hairstyle today," he adds with a shrug. There is a momentary awkward silence before Christian, sensing the tension, jumps in: "A hairstyle we both really like. Just to clear that up." Everyone laughs and we're back on track.
Over the last year, the brothers Candy have rarely been out of the public eye, appearing in the diary and gossip pages of magazines and newspapers thanks to their trademark high-end design, their involvement in controversial schemes such as Noho Square and Chelsea Barracks and their high-profile relationships - Nick, 38, is dating ex-Neighbours star Holly Valance and Christian, 36, is married to London socialite Lady Emily Crompton. Now that One Hyde Park has been launched, their profile is higher than ever - even if most speculation is about how many of the units have been sold and who the super-wealthy purchasers might be. Here they talk about their most recent project, fume against the British distaste for success and (almost) reveal their plans for the future.
A different world
Candy & Candy promotes a level of luxury not even on most people's radars. But even the rich will be gobsmacked by the opulence of One Hyde Park. The £1bn project was developed by Christian's Guernsey-based investment company CPC Group and Waterknights, a development group owned by the prime minister of Qatar. Candy & Candy was development manager and interior designer on the scheme. Love it or hate it, there is no doubt that the five-bedroom, 9,000ft2, £61m show apartment blows pretty much anything before it out of the water.
Not everyone is a fan, though. The press have lambasted the project with descriptions ranging from "a monument to inequality" to "hideous". But, as Nick says, that's all subjective. The real question is whether anyone is buying the units - they do, after all, cost between £6.5m for a one-bed and over £100m for the penthouse that is over 25,000ft2. Claims that only two flats have been sold are rife. "Journalists are saying no deals have been done but over these last three weeks alone, PGGL [Project Grande (Guernsey) Ltd, the client] has done over £900m of deals that have now completed," shoots back Nick. "By the time I go to Mipim, £1bn of sales will have been done."
So how many apartments have they sold? Over 60%, they say - and fewer than 30 units remain. They advise anyone still unconvinced to check the Land Registry in 4-6 weeks for proof.
Too much?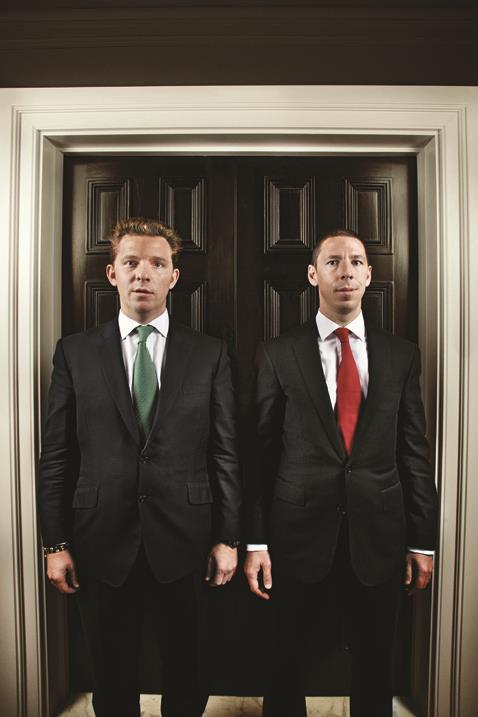 When it comes to the question of what makes the development so expensive, it's hard to know where to start: silk carpets, chilled ceilings to offer an alternative to skin-drying air con, white onyx tiling, exclusive residents' access to a cinema with 900 channels, a 3D games room and a stunning spa with platinum leaf-covered ceilings in the treatment rooms are just a few of the added extras. But to an ordinary mortal, isn't this demonstration of such extreme luxury, especially in these austere times, all just too much?
"Too much?" repeats Nick sharply, like the idea is too ridiculous for words. "What does that mean, too much? How do people know if it's too much if they haven't seen it with their own eyes? If they are lucky enough to get in, they can see it for themselves."
"Expense is like beauty," adds Christian. "It's in the eye of the beholder."
"These apartments have it all," he adds simply. "Firstly, tell me a better location for a residential building in London? On the park, at the end of Sloane Street. Get back to me if you can think of one and let me know if it's for sale. With One Hyde Park, PGGL tried to tick every box, down to the amazing views from every room, the perfect ceiling height of 2.8m, outside space for almost every apartment, underground parking security and the location next to the Mandarin."
Nick says that having to defend the project, and themselves, so regularly, is - in part - down to the fact that the British attitude towards success is scornful and jealous. "Chris and I don't come from multi, multi-million pound backgrounds," he says. "We started with just £6,000 in 1995, and perfect timing. Now we're successful. And why can't it be in this country that when young, entrepreneurial people do well, we're pleased for their success? In this country we might as well put a sign up at Heathrow that reads 'we don't want people to be successful. We don't back entrepreneurs and we don't want people to make money.' The US has the American Dream. Why can't we have the British Dream? Here, the natural instinct is that we want people who are successful to fail. That can't be right for a country."
The great British public should be thanking him and his brother, he says: "People should be patting people like us on the back. We have designed this building in Knightsbridge that is now selling at huge prices. And what does that do for the surrounding area? On the one hand they want to slag it off and on the other hand they are repricing their own properties."
And he's not finished yet: "Guess what? When Gerald Ronson phones me and says you've used X on One Hyde Park, would you recommend them for the Four Seasons Tower? I can. Everyone wants to put One Hyde Park on their CV."
The future
So what next? What plans do they have for luxury design? "We're not going to tell you that," smiles Nick. "It's like a magician revealing his tricks," adds Christian. Is it? Really? "It is, and you know it," laughs Christian. Fair enough - so then what about the future more generally?
"There are two things," says Christian. "First there is CPC Group which is a real estate development company with real estate expertise and we are looking, today, for new opportunities. We are looking at cities that can hold our business model so we have always come back to New York, Hong Kong, definitely Monaco and probably Shanghai and Mumbai in the future. But if you are going to watch this space anywhere, watch real estate in London because we will be doing more deals and looking at some financial services business."
"Then at Candy & Candy we've got 100 design professionals in this building and we'll continue to do what we're doing," adds Nick. "On the back of the last five years of work we have done, our core business is private clients, internationally."
And what about opportunities to work with them? Are they open to fresh supply chain members: "Absolutely," says Christian. "We always look for financial security as we're procuring extremely large contract sizes so financial credit risk is important to us, as is a good track record in delivery in this sector. We are easily approachable … And we're very open at CPC Group, too."
What if?
Asked where they think they would be if Candy & Candy never was, Nick says: "There would be less stress in our lives for sure. I would probably be in marketing, working for an ad agency like an account director or creative director, or something."
"What would I be doing?" asks Christian. "I might own a dog breeding company."
"No," says Nick firmly. "You would be a commodities broker."
"Yes, I'd be a commodities broker," says Christian with a quick nod of the head at his elder brother's suggestion. It's clear, as it has been throughout the interview that Nick and Christian Candy are as much siblings as they are business partners, which makes for a touching – yet dynamic – dynamic.
One Hyde Park has just blown any concept of luxury living in London out of the water," cuts in Christian. "We have raised the bar so high; my next challenge at CPC Group is what the next thing is to beat that. But I find it very difficult to comprehend, in my lifetime, doing a better building."
Interviewing Nick and Christian together reveals a great deal about their fraternal relationship - more perhaps than they would choose to give away. They flip between correcting each other's mistakes and seeking agreement or approval on certain comments; they often finish each others' sentences and sometimes try to talk at the same time, raising their voices over the other's - though it's all underpinned by a huge amount of mutual respect. When Christian speaks, Nick tends to hang on his younger brother's every word despite the fact that he has the reputation for being the louder, more opinionated of the two. It's a surprisingly pleasant dynamic.
The story so far
1995 Nick, a former accountant at KPMG before moving into advertising, and Christian, in corporate finance, buy a flat in Earl's Court for £122,000 using a £6,000 loan. After living in it while doing it up, they sell it 18 months later for £172,000
1999 Following several years of property development alongside their day jobs they set up Candy & Candy
2004 Christian sets up real estate development group CPC Group in Guernsey
2005 Develop plans for One Hyde Park, backed by Qatar investment
2006 Acquire former Middlesex hospital with Icelandic bank Kaupthing for £175m
2007 Acquire now-infamous Chelsea Barracks for £959m, funded by Qatari Diar
2010 Sell a Monaco penthouse for £199m, possibly the biggest residential property sale "of all time"
2011 Launch One Hyde Park in Knightsbridge
A taste of candy

Chris Candy
Cats or dogs? Dogs
Caffeine or Christmas? Christmas
Midday or midnight? Midday
Speaking or reading? Speaking
Fantasy or reality? Reality
Nick Candy
Film or cheese? Cheese
Flight or invisibility? Flight
Rich or famous? Rich
Alcohol or internet? Internet
Fine dining or home cooking? Home cooking