Supermarkets are responding to the UK's shift in shopping habits by massively cutting back their development programmes, leaving the construction industry and affected communities wondering what will happen to the unwanted sites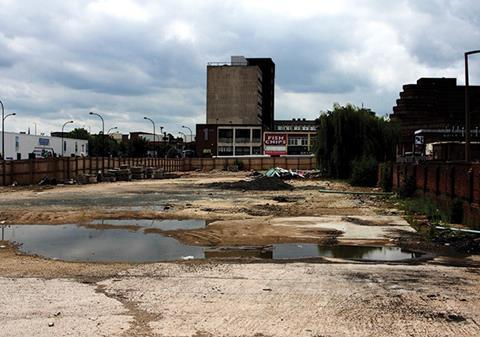 It's not just Tesco's construction supply chain which has been left reeling by last week's announcement by the supermarket giant that it had cancelled nearly 50 projects. The roll-call of schemes canned by Tesco spans the length and breadth of the UK, from Fort William in the Highlands of Scotland to Dartford in Kent. For many of the communities affected, the investment and jobs pledged by Britain's biggest retailer offered a crucial lifeline for regeneration and redevelopment of run-down places.
In total it has been estimated the retailer is holding 4.6 million m2 of land on over 300 sites - enough for over 15,000 homes if re-purposed.
And Tesco is not the only one reining in its plans - Sainsbury's and Morrisons have kicked off the year with similar announcements. So what impact will the slowdown in supermarket development have on the construction industry and communities across the UK? And with the business model for "big box" retailing unlikely to get back on track any time soon, what are the prospects for developing the vast quantities of land that Tesco and its competitors are now free to release onto the market?
Tesco told the stock market last week that it had slashed in half its capital expenditure budget to just over £1bn. The latest announcement followed a £400m cut last year to the same budget. While it doesn't say how much of that budget is spent on construction, a study published by Goldman Sachs last year estimates that around three-quarters of supermarket chains' capital spending is likely to be accounted for by buying new sites and building stores - implying a cut of construction spend by Tesco of £750m.
Of Tesco's competitors, Sainsbury's announced last year that it had decided to halve its own capital expenditure budget to £500-550m. Morrison's too has cut its development programme. Of the so-called Big Four retailers, only Asda has refused to cut store openings.
The cutbacks have been prompted by a profound shift in the UK's shopping habits. The budget retailers Aldi and Lidl, which keep prices down by stocking a limited range of relatively obscure brands, have eaten into the Big Four's market share. Meanwhile, many of us have swapped the ritual weekly trip to the supermarket with online shopping, topped up with irregular visits to high street convenience stores, which are increasingly commonplace. While it used to make sense for retailers to stock a vast range of cheap goods in a big box on the edge of town, shoppers can now access an even wider variety of products from their sofas.
It all means that the ambitious floorspace expansion plans drawn up by the supermarket chains in the pre-iPad era are redundant.
Even before last week's Tesco announcement, the development pipeline for grocery outlets was down to 46.6 million ft2, the lowest level for more than two years, according to a recently published analysis by CBRE. But the level of construction activity is holding up for now, according to the property consultancy (see box, below).
The loss of both potential jobs and increased supermarket competition will be a hard pill to swallow for many

Charles Kennedy, MP
If contractors aren't suffering quite yet, Tesco's announcement looks likely to be a hammer blow for those communities which had pinned their regeneration hopes on the retail behemoth. Retail values have traditionally trumped those on offer from any other land use, meaning large supermarket schemes have been used by towns and cities to enable what were often otherwise unviable projects to wash their faces financially.
A typical example is Kirby on Merseyside, where a planned 140,000ft2 store was designed to anchor a new retail park to regenerate the town centre. Ditto Dartford, Derby and Wolverhampton, which will all be left with large holes in their urban fabrics following Tesco's withdrawal.
The rapidly growing discount chains Aldi and Lidl are unlikely to be interested in the kind of large format stores being abandoned by Tesco because they operate from smaller units.
Tesco's cancellation of plans for a 60,000ft2 store in Fort William was described by local MP Charles Kennedy as "deeply disappointing". The former Liberal Democrat leader said: "The loss of both potential jobs and increased supermarket competition will be a hard pill to swallow for many." Tesco's planned 60,000ft2 supermarket was the anchor for a wider £50m mixed retail and employment scheme by Miller Developments on a 110-acre site.
In the Midlands meanwhile, the Lincolnshire district council of North Kesteven illustrated the lengths local authorities were prepared to go to encourage Tesco's investment. In the teeth of resistance from local town councillors, North Kesteven recently slapped a compulsory purchase order on a recreation ground to facilitate Tesco's plans for a new store in the town, which has now been axed.
Land on their hands
The big question for these communities and the industry though is what will happen to the suddenly unwanted sites. So far the supermarkets themselves aren't saying much. A Tesco spokesperson said: "We will work with local communities to do all we all can in terms of the use of those sites in the future. We will make sure that those sites are used properly." Sainsbury's also declined to comment on what it planned to do next.
Paul Hodgkinson, chairman of retail specialist development adviser Simons Group, says: "Everybody will be looking at the various portfolios working out what they can do with them. A lot of stuff is going to have be re-thought."
Many suspect that a significant share of the sites owned by the major supermarkets has been held for defensive purposes: to thwart efforts by competitors to get a foothold within local markets. But now they no longer want the land, the chains may find they cannot get rid of it without significant write-downs.
Supermarkets used to be able to pay premium prices for sites. But other kinds of retailer, like the DIY and fashion chains, have been just as hit by the online revolution as the supermarkets, meaning that they are no longer in the market for "big box" units.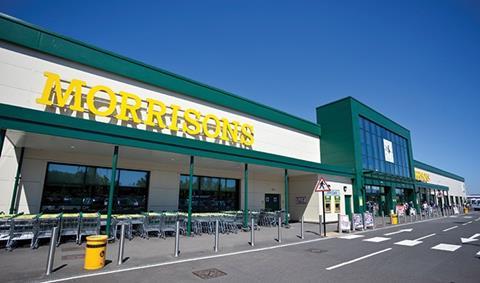 Richard Woodford, partner at Manchester-based HOW planning consultancy, believes leisure operators are now more likely than retailers to seek out-of-town sites. "Leisure is probably the dominant sector in the out of town market now," he says.
The other growth sector in the out-of-town market is distribution space. Reflecting the flipside of the online shopping revolution, Barton Willmore planning partner Dan Mitchell says many retailers want dedicated "click and collect" warehouses - essentially pick-up points for goods bought over the internet, which will typically be located on edge-of-town locations.
However Ian Anderson, director of the retail planning team at CBRE, believes that demand for distribution space is stagnating. And in any case, such uses command substantially lower values than retail. This means that to get anywhere near retail values, Anderson says the best option for these sites is to flip them to housing schemes. "All of the messages from government at the moment are resi, resi and more resi," he says.
Securing change of use from retail to housing is not an automatic process. The so-called permitted development rights, which avoid the need for securing full-blown planning permission when converting unloved offices, cannot be used for retail buildings. Nevertheless, HOW's Woodford argues that securing residential permissions from councils is "relatively straightforward". "If a council does not have a deliverable five-year housing supply, and it's a sustainable and sensible site, you would think they would fall over themselves to make it happen."
He notes that the likes of Aldi, which his firm represents, are reporting that their main competition for sites comes from housebuilders rather than rival retailers. However whether a site is suitable for housing depends on its location. Anderson says: "If you are on the edge of a housing estate, residential is the obvious use, but if you have an isolated site on the bypass, you potentially have a problem."
Where the planned superstore is part of a large land holding, there may be an opportunity for a small district centre, containing other uses, including retail.
Tesco floated the idea last year of getting involved in developing some of its unwanted sites for housing. But Paul Zuccherelli, director of retail at the consultancy Alinea, believes that the supermarket chain will not develop the housing itself following a series of unsuccessful ventures into non-core activities, like the Blinkbox online video service.
However, even housing will not command the kind of values that supermarket sites attracted in their mid-noughties pomp. "The numbers are not going to be as steamy as they would have been. I can't see how else they are going to get the value back," says Woodford.
Ultimately the chains will often have little option but to let hard won sites go. Sainsbury's showed the direction of travel when it announced last year that it had written £287m off the value of its property portfolio. Woodford believes that the chains will have little option but to stomach such balance sheet hits.
"They're in a bit of a pickle," he says. "But you would think they would go for something as it's better than nothing." The construction industry will certainly be hoping they do.
What's in the trolley?
The most recent grocery development pipeline research from property consultancy CBRE shows that 2.80 million ft2 of space was under construction in September last year, down a fifth from 3.51 million ft2 in the same month in 2013. However the most recent figure is above average for the last 10 years of CBRE statistics. The supermarket chains may be retrenching their development programmes. However Paul Zuccherelli, director of retail at the consultancy Alinea, says many of the contractors he works with are "busier than ever".
"If Tesco said they were going to do another £1bn worth of construction, I don't think the industry could tool up for it. Contractors working specifically for retailers are struggling to recruit."
However, while there is still "quite a lot" of construction going on in the supermarket sector, it is not at the level expected two or three years ago, observes Noble Francis, economics director of the Construction Products Association. "Retail construction is nowhere near where we were at the beginning of the recession." Overall retail construction activity is expected by the CPA to grow 8%, but Francis says this is more likely to be on the back of the rebounding shopping centre market rather than supermarkets. And the work now available from supermarkets is largely for convenience stores, which mainly involves fitting out rather than new build projects. "All of the supermarket chains have expansion plans but it's very focused on small urban units," says Francis.
Colin Turner, head of retail at EC Harris said this change created an opportunity for contractors to forge a more equal relationship with their clients. "If you are spending £10m a go on a new supermarket , it is entirely justified to have a big in-house team. If you are spending £5m across a number of refurb projects or 20 new convenience stores, the delivery model that best suits could be more contractor- led."
Source
Original print title: 'No man's land'