Suddenly everyone's talking about housing. Little wonder when electoral success now depends on an effective and imaginative solution to the housing crisis. But did last week's Conservative Party conference do enough to persuade the industry – and voters –  that the government has what it takes?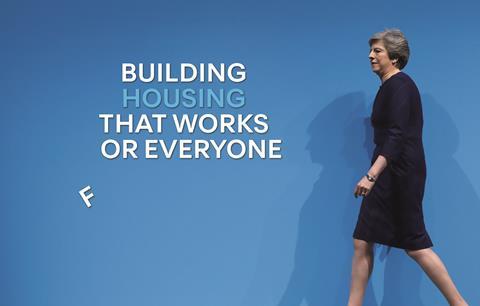 It was the renters who nearly won it for Jeremy Corbyn: they were the source of the massive surge in support for Labour at this year's general election, according to YouGov's breakdown of how people voted by tenure. Nadhim Zahawi, the Conservative MP who co-founded the polling company, outlined its findings in a fringe session at last week's Tory party conference in Manchester. This showed that Labour outpolled the Conservatives among private tenants by 54% to 31% – a dramatic turnaround on the 2010 general election when the Tories led Labour by 39% to 29% among such households.
Perhaps less surprisingly, the Conservatives' vote share was lowest among social housing tenants, only 26% of whom backed the party.
The Conservatives had owner occupiers to thank for winning the biggest share of the vote, according to YouGov. The Tories are most popular among those who own their homes outright, 45% of whom voted for the party. And they have increased their vote share among mortgagees from 39% in 2015 to 43% in June.
But the worrying thing for the Conservatives is that private renters form an increasingly important chunk of the housing market. While the proportion of owner occupiers has fallen from 71% of households to 63% since 2003, according to the latest edition of the government's English Housing Survey, the percentage living in private rented properties has nearly doubled from 11% to 20% over the same period.
And the fall in owner occupation is most dramatic among younger people, as prime minister Theresa May admitted in her ill-fated conference speech last week, when she spluttered out figures showing that over a decade ago 59% of 25-34-year olds owned their own home, compared with just 38% now.
It was hardly surprising therefore to find a lot of soul searching among the Conservatives last week about what even the party's most anti-development voices now acknowledge is a housing problem. Brian Berry, chief executive of the Federation of Master Builders, says housing was a big-ticket item on the party conference agendas this year. "Housing seems to be really top of all the party conference main agendas: there is a common, cross-party understanding we have to do more to tackle the housing crisis. There is a recognition that this has been going on for too long, but not enough has been done."
But the headaches are particularly acute for the Conservatives following June's unexpected failure to win an overall majority at the general election. Berry says: "Labour is tapping into the Conservatives' lack of awareness about how ordinary people live. Now their core support is dwindling away, there is a recognition that unless the Conservatives sort out housing they are not going to be the next government."
John Slaughter, director of external affairs at the Home Builders Federation, agrees.
"There is a full recognition that housing is an issue that cannot be ducked. In order to be successful politically, they have to be seen to be doing something effective about housing."
Housing's increased political salience could be seen in the fact that both May and her Labour opposite number put housing centre stage in their showpiece party conference speeches. The prime minister ramped up expectations by declaring in her speech that she would "dedicate" her premiership to fixing the housing crisis. But how do the remedies outlined by the Conservatives match up to the scale of the problem?
£10bn Help to Buy boost
The biggest move from the construction industry's perspective was probably chancellor Philip Hammond's announcement of a £10bn extension to the Help to Buy programme. Before the conference, housebuilders had raised concerns that the loans, underwritten by the scheme, would dry up before the 2021 date when the scheme is due to end. Housebuilders are happy to see the extension of a scheme which has been a key factor in boosting building rates, particularly in more fragile regional markets. "[The extension] gives full confidence that the scheme can continue to 2021," says Slaughter.
Others take a more jaundiced view of the Help to Buy extension though. Hugh Ellis, director of policy at the Town and Country Planning Association, says: "Plugging in £10bn is a demand solution when supply is the issue. You can keep helping people to buy homes but when there is no supply for them to buy, it just has the potential to increase competition, particularly at the lower end of the housing ladder."
May tried to even up the supply/demand scales by using her conference speech to promise an extra £2bn for affordable housing. "By any standard there were a lot of chunky policy announcements for one conference," says Slaughter.
Some critics have seized on the mismatch between the £10bn and £2bn figures to criticise the government for not giving enough to social housing, a charge which has added potency in the wake of the Grenfell Tower disaster. David Cowans, group chief executive of developer and property manager Places for People, counters that the two figures cannot really be compared. "One is a loan and the other is a grant."
Others argue that while £2bn sounds like a lot of money to a layman, the truth is that it does not buy a lot of social housing. The Tories' own briefing note, which accompanied the speech, says that the extra funding will deliver around 5,000 homes a year – small beer in the context of the 100,000 mismatch between current delivery rates and the 250,000 new homes a year that most agree are required. And it looked paltry when put in the context of the 100,000 new affordable homes per year that Labour's 2017 manifesto promised to deliver by the end of the current parliament.
Public vs private
Cowans suggests that the techy sounding announcement about a new rent settlement for social landlords is likely be more significant in terms of housing supply than the £2bn extra funding for affordable housing. In 2015, then chancellor George Osborne announced social housing tenants would see an 11% a year cut to rent for four years – the Treasury's intention was to rein in the housing benefits bill. Last week's reversal of that policy now enables housing associations to increase rents by 1% again, which will generate more income that can be spent on new builds.
For volume housebuilders though, the big concern is whether the Help to Buy scheme will be extended beyond its current 2021 cut off date. Housebuilders need to know whether the scheme has a future in order to plan ahead when buying sites, says the HBF's Slaughter. "They need clarity because it is important in terms of future investment. It matters for looking ahead when you are trying to buy sites and take them through the planning system and will affect their assessment of future market opportunities.
"You are already getting into a period where you are starting to look at land acquisitions which will stretch beyond 2021."
However there is a growing view that a real step change in housing delivery can only be achieved by mobilising councils to build on the scale that they did in the post-war period. England has not achieved 250,000 new homes per year since
the late 1970s when councils were still very active in the home building game. The key, according to this school of thought, is to give councils full freedom to borrow against the still substantial assets that they own, to finance new housebuilding. At the moment a borrowing cap is imposed on local authorities.
Alison Inman, president of the Chartered Institute for Housing, says: "Everybody wants local authorities to get back in the game and the easy way to do that is to lift the cap. If you want them back in the game, they need the freedoms to do that."
The TCPA's Ellis agrees: "If [central government] had lifted the borrowing cap, it could have allowed local authorities to crack on."
However, giving councils the freedom to borrow more goes against established thinking in the Treasury, which faces spending pressure on many fronts, most notably from the looming relaxation of the public sector pay freeze.
And last week's official statistics, which showed that future tax receipts are likely to be worse than expected, will give "Fiscal Phil" Hammond even less incentive to break with his department's orthodoxy and his own low borrowing instincts.
Housing was a winner at last week's Tory conference. But with construction staring recession in the face, the industry will be hoping that Hammond has a good look at those YouGov polling figures when he is putting together this autumn's Budget.
Other hot topics during conference season:
Estate regeneration ballots
The perception that estate regeneration is merely a byword for social cleansing has become widespread, particularly in London where many of the biggest and most controversial projects have been concentrated.
The issue hit political centre stage at the Labour Party's annual conference where leader Jeremy Corbyn pledged to give existing residents of estates a ballot on whether regeneration projects are allowed to go ahead.
However, developers' fears about Corbyn's proposal stem from the chequered history of ballots on regeneration projects. The most notable example was the Aylesbury estate in south London, which provided the backdrop to the launch of former prime minister Tony Blair's drive to combat social exclusion 20 years ago. Plans to demolish and rebuild the estate had to be shelved after tenants voted overwhelmingly against Southwark council's proposals in 2001. In the intervening years, progress on the Aylesbury's regeneration has been piecemeal.
When quizzed on Corbyn's proposal at a Conservative Party fringe meeting, Barratt Developments chief executive David Thomas expressed the concern that regeneration projects "simply wouldn't get voted through".
The HBF's John Slaughter agrees: "It would add risk to what are already difficult investments so will require fairly sensitive handling. It would add more uncertainty into the process. These are very difficult and not straightforward projects with big front-end costs."
And it is Labour councils, like Haringey and Southwark, which are often in the driving seat on estate revamps, leading to the national party's subsequent clarification that Corbyn's proposal will not apply to existing projects.
Transport spending
The Conservatives must be finding Manchester an increasingly uncomfortable place to hold their annual party conference as the delegates, who were spat at and verbally abused by anti-austerity protestors on their way into the venue, will attest.
Mancunian ire with the Tories had an extra twist at this year's event, which took place barely a month after the transport secretary had effectively washed his hands of responsibility for funding the cross-Pennine High Speed 3 rail line. The twist for northerners was that Chris Grayling had just announced that he was working up a funding package for London's planned Crossrail 2 line.
Labour capitalised on this sense of provincial grievance by using its annual conference to carpet bomb the regions with promises of rail upgrades.
For starters, shadow chancellor John McDonnell promised to build HS3. On top of that he said HS2 should be extended to Scotland and that Labour would electrify the main line from Cornwall to London and fund the Midlands Connect transport strategy for the region. In addition, he said that Labour would legislate to ensure a more even distribution of transport funding across the UK.
Chancellor Philip Hammond responded to his Labour shadow's lavish promises in his conference speech with the more modest pledge of an extra £400m for improving northern transport links. Three-quarters of the £400m has been earmarked for improving connections between the HS2 and cities that are not directly served by the north-south high-speed link with the remainder to be spent on road projects.
Scrapping PFI
The signature announcement of the Labour conference was probably John McDonnell's promise to buy back PFI contracts. In one fell swoop, the shadow chancellor tried to bury one of the key legacies of the New Labour government of 1997 to 2010, which had made such extensive use of the public-private partnership mechanism.
The use of the initiative has largely tailed off in recent years with just the Midland Metropolitan Hospital and five batches of schools under the Priority Schools programme, being funded under PF2, the replacement of PFI, developed by the coalition government.
Nevertheless Labour's mooted move has set alarm bells ringing in the City of London, where the share price of listed infrastructure funds plunged following the announcement. Professor Charles Egbu, vice-president of industry body the Chartered Institute of Building, says: "Quite a few things didn't work out well with PFI but in a society where it is difficult to come by funding, private and public funding of projects that will benefit society is not a bad thing."
Unless investors are fully compensated for the broken off contracts, Bronwen Maddox, director of the Institute for Government, worries that confidence in private financing of infrastructure will be undermined if Labour were ever in a position to deliver on McDonnell's pledge. "Breaking PFI contracts is legally difficult and expensive. It is not clear from Corbyn's speech that Labour has a plan for handling this process, or for managing the organisations and contracts once they are back in public hands."

There will be a session on the housing crisis at the Building Live conference.
Book your place at www.building-live.co.uk