In 2008 Taylor Wimpey's chief executive was battling to rescue the firm from the brink of collapse, just months after the merged company became the UK's biggest housebuilder. Today it's back in growth and a far stronger business. Building talked to him about surviving tough times
Becoming the biggest housebuilder in the country is not an easy thing to achieve. And having got there - Taylor Wimpey is the number one housebuilder by turnover in Building's Top 150 contractors and housebuilders for the second year running - you might think chief executive Pete Redfern would be obsessed with retaining that number one spot. Well, you'd be wrong. His vision of the firm he created by merging two of the most historic names in UK housebuilding, is of a leaner company more focused on profit than scale. "We've very much changed our perspective," he admits. "You should not expect Taylor Wimpey in five years' time to be a small company, but our aim is to be the best, not the biggest. I'm very relaxed about not being the biggest."
Redfern is best known for navigating the group through the 2007 merger of George Wimpey and Taylor Woodrow - something he insists was not, even then, driven by a desire for scale. Either way, the combined group's debt left the business in a bad way when the credit crunch hit. So much so that there are many who thought Redfern, who is still only 40, and even Taylor Wimpey itself, wouldn't make it this far. The period included Taylor Wimpey reporting the biggest ever corporate loss by a UK housebuilder, a staggering £1.84bn for 2008.
For a time the youngest chief executive of a FTSE 100 company, Redfern was felt by some to be too inexperienced to take on the challenge. Yet he's still there, and so is his company. This month Taylor Wimpey concluded the £595m sale of the US arm of the business and the business is now back reporting profitable growth. So it rather looks like Redfern has proved his critics wrong. In fact, an increasing number of analysts are picking Taylor Wimpey as their key housing stock. So how on earth did he make it through the credit crunch? And where is he looking to take the business next?
On the brink of disaster
Redfern is a character who probably got used to being underestimated in the downturn. The £1.6m-a-year chief executive is not a big personality, and he doesn't go out of his way to dole out unneccessary social niceties. But if he's low key, he's equally fast talking and fast thinking. Talking to him, you have a sense of information being processed at lightning speed, with a ruthless brain sifting information for its pertinence. And what he lacks in charm, he more than makes up for in strength of decision-making and resilience. "One of the things I learned about myself during that period," he says, "was that I was tougher than I thought I was. Because when it gets tough, I do have a tendency to get my head down and do the right thing and get through. I probably do have more faith [in myself] now."
And there's no denying that, once Redfern had delivered the Taylor Woodrow deal just nine months after being appointed chief executive of George Wimpey, things got very tough, very quickly. When bank lending collapsed in the spring of 2008, Taylor Wimpey had £1.7bn of debt, and there was a real possibility the housebuilder would soon be in breach of its loan covenants, effectively forcing a refinancing. Things came to a head at the end of June that year, when Redfern's first attempt to refinance collapsed. He was in danger of becoming the youngest FTSE 100 chief executive to take a firm under. "In the nine months of renegotiation of that first refinancing from July 2008, to March 2009 - there were probably two moments when I felt there was a material risk of going under.
"And they lasted a day or so - particular negotiating sessions where it felt like it was going to the brink. That period, where life was changing so fast, that was stressful."
The tougher the times are, the more people want, above all else, clarity on where they're going
Did he ever question his decision to take the job on? "There were a couple of moments - I do mean moments - when I thought, why am I doing this, because it was an incredibly tough period. But I don't think there were any periods I regretted it; I just don't think there's a lot of point in having that kind of perspective."
Survival strategy
But if he wasn't doubting himself, there were plenty of others that were, including a number of housebuilders that saw Redfern, alongside Barratt chief executive Mark Clare, as symptomatic of the industry losing its way by hiring professional businessmen rather than people who had housebuilding in their blood. Taylor Wimpey quickly made about half of its nearly 10,000 staff redundant, posted that notorious loss and saw its shares drop in value to as little as 7.5p. It was only at the end of that long 2008 that the firm started to turn a corner.
Redfern insists it was his ability to take decisions early and provide leadership that enabled him to cope with the pressure. "The tougher the times are, the more people want, above all else, clarity on where they're going. I think we did develop a plan quite quickly. And once we'd got a plan, once I was clear in my mind what I wanted to do, what I needed to do, then actually a lot of that stress fell away."A reliance on lots of sport has also helped. "Running, swimming, football, squash. That's actually incredible in helping you to take the levels of stress and making you feel better about life.
So what is his plan? Actually that reference to not having to be the biggest housebuilder is central to it. It's about driving profits off more selective purchases of land, a strategy that is distinct from where Barratt, Bovis and Linden Homes are going at the moment, all of which are instead trying to open more and more sites. It is instructive that the competitor he most often judges himself against is not the similarly-sized Barratt, but Berkeley Group, which has restricted itself to a regional business to defend its profit margins. "I admire the way the firm adds value," he says. And he's scathing of those that do chase scale: "The belief that changing scale causes some of the biggest mistakes that housebuilders make, is very much ingrained within certainly me, but also our senior management team."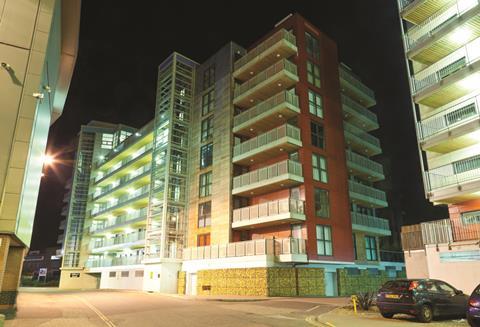 He also thinks the City should judge him not just by his profits, but also by the company's net asset value - the value of its land holdings - the way it does with commercial developers. All of which points to a business with more of a focus on strategic land purchases than feeding the immediate desire for oven-ready sites, and it's a long way from the original George Wimpey business. It's clear that the recession has been key not just to deciding on but also being able to deliver this strategy. "It [the credit crunch] was an opportunity to cut through a lot of history and a lot of distractions and get on with what needed to be done. We think a far stronger strategy, stronger land positions, a far stronger business came through it, and actually a lot of that is down to the fact it drives you to work out the simple clarity of what is important."
Adapting to change
Does that mean Taylor Wimpey is about to start building homes for rent like Berkeley has done, following the model of a commercial developer? While Redfern accepts a healthy private rental sector would be a good thing for the housing market as a whole, he rejects the notion that the numbers can be made to work. "Essentially the rental returns of circa 7% are still below the cost of capital for most of the industry. We do look at it every year, but it's very difficult to do more than the odd scheme."
The biggest challenge he sees, beyond the continued paucity of mortgage lending, is the impact of localism on the planning system. A year ago he dubbed the coalition's plans to abolish housing targets and introduce a new neighbourhood tier of the planning system, as "truly scary", and has since instituted a programme of training to ready his staff for the move to a new planning system.
So, having had more time to talk to politicians and, by his own count, 23 council chief executives, what does he think now? "It's not healthy to stick your head in the sand about it. As a developer, if we don't get this side of our business right it's vital, so we're better off trying to understand what's going on. And actually, I'd describe it as a significant opportunity - but still with some truly scary risks in the transitional phase to the new system."
At this point, you'd bet on Redfern to take advantage of that opportunity.
TAYLOR WIMPEY TIMELINE
July 2006 Pete Redfern appointed Group chief executive of George Wimpey UK
March 2007 Merger between George Wimpey and Taylor Woodrow announced
June 2007 Merger completed creating the UK's biggest housebuilder
April 2008 First profit warning as credit crunch hits
June/July 2008 Taylor Wimpey announces planned financial restructuring then fails to complete, sending shares into freefall
December 2008 Leaked email suggests refinancing near
April 2009 Refinancing completes but posts largest ever corporate loss by a UK housebuilder of £1.84bn
March 2011 Firm returns to full year profit of £259m
July 2011 Taylor Wimpey completes £595m sale of US business
Factfile: Taylor Wimpey
Disciplines covered: Housebuilding, private and affordable housing
Chief executive: Pete Redfern
Chairman: Kevin Beeston
Turnover: £2.6bn
Pre-tax profit: £75.1m
Number of staff: approx 3000 worldwide
Number of offices: 24 (UK); 17 (outside UK)
Countries active in: 2
List of five key, current projects
A home community comprising 1,500 homes in Cambuslang, near Glasgow
Trevenson Meadows development in Newquay
Mountain View housing developmet in Wrexham
Woodlands Park scheme at Brickhill in Bedford
Willow Lake development in Milton Keynes