Five key points from fire safety experts at Building's Risk & Regulations event this week
With the introduction of planning gateway one fast approaching there is plenty of discussion about the impact new rules will have on construction professionals and how they work in future.
Extensive work was carried out by Dame Judith Hackitt after the Grenfell fire into regulatory reform, which led to the Hackett Review in 2018 and then the draft Building Safety Bill in 2020. The aim of the bill is to enhance fire safety of buildings that fall within its scope and to also introduce the concept of gateways at three stages: planning, construction and handover. Each gateway or stage must be signed off by the new building safety regulator before moving onto the next stage or before residents move in.
Gateway one, or the planning gateway, is set to come into force on 1 August but it is being introduced via an amendment to existing planning legislation because the Building Safety Bill has still to go through parliamentary scrutiny as part of the legislative process.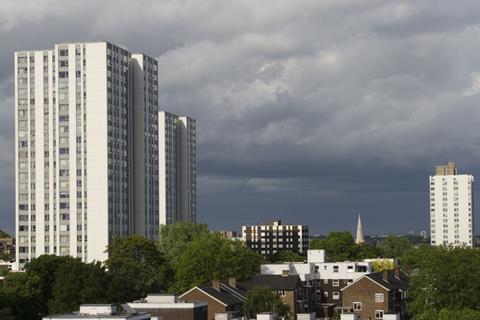 Gateway one is being introduced to ensure that fire safety measures are included at an early stage, which means that a developer must submit a fire statement setting out fire considerations specific to the development before planning permission can be granted.
The changes to the planning rules (Draft Town and Country Planning (Development Management Procedure and Section 62A Applications) (England) (Amendment) Order 2021) also establish the Health and Safety Executive (HSE) as a mandatory consultee on all relevant planning applications.
Yesterday, Building hosted a webinar on the upcoming changes with PRP's Andrew Mellor, Trowers & Hamlins' Amanda Stubbs, and Hydrock's Chris Allery.
Take a look at some of the key points taken away from the session.
Key point #1: Buildings in scope
Stubbs outlined which buildings were in and out of scope. Simply put relevant buildings are those that contain two or more dwellings, or educational accommodation and meet the height condition of either 18m-plus, or seven-plus storeys – which ever is reached first.
She also explained that relevant planning applications are those that provide for one or more relevant buildings, development of an existing relevant building; or development within the curtilage of a relevant building.
Applications exempt from the gateway one changes include any where a material change in use of a relevant building results in it no longer being a relevant building, a material change in use of land or buildings within the curtilage of a relevant building, outline planning permission; or develop land without compliance with conditions under section 73 of the Town and Country Planning Act 1990.
But Mellor said while some building types currently fall outside the regulatory scope there is every chance they will be added down in future.
He said: "Hotels and care homes are not currently in scope but could foreseeably be added in the future. MHCLG is looking at all these building types and more could very well be included further down the track." And he added that the secretary of state has the power to include any building type of any height in the legislation in future.
Stubbs pointed out that schemes that come under the permitted development category will not go through this formal route of submitting fire statements, although Mellor said his understanding is that in the guidance it says there will be something introduced that sits alongside permitted development applications.
Key point #2: Potential delay to introduction
Stubbs said there was concern about how gateway one could be introduced without the regulatory framework, which will be established in the Building Safety Bill, in place.
She flagged potential expertise issues within the HSE as it currently stands and also said there had been some thoughts that the introduction of gateway one could be pushed back to allow the wider framework to be established.
But Stubbs said the way it was written meant the first gateway could be introduced as a standalone piece and the industry should be prepared for a 1 August introduction.
Key point #3: Gateway one will be the least onerous change
Mellor said the changes being introduced in gateway one are by far the least onerous of the impending regulatory changes. He said the key gateway two and three changes would have a much greater impact.
He said: "We have been advising MHCLG and trialling the fire statement reports we have found they should only take one to two hours to complete if you have the correct information to hand.
"That is what you should be considering in terms of cost and times implications."
The fire statement is a standardised form and as Allery pointed out it needs to be completed by a suitably qualified fire safety person or someone with demonstratable experise, the easiest way to demonstrate that is chartership with a recognised institution.
Mellor added that the HSE deliberately wanted a standard format for the fire statement to make easier to process all the information. But he said he could see in the future it might be possible to embed the fire statement in the design and access statement so it sits with all the architect's drawings sent to the planning authority, as well as submitting the fire statement separately.
Key point #4: The competency and skills challenge
Allery said there was a challenge with the number of currently accredited fire engineers - saying there are currently 300 in the sector and that this needs to increase by at least 50%.
He said: "There are a lot of engineers with a lot of experience who are working there way toward chartership
"Those numbers will come up quite quickly but there obviously will be a time-scale and delay for this to be carried out."
Mellor said the government's approach of limiting the types of buildings that are within scope of the new safety regime makes sense given the shortage of fire engineers, but also of other professionals such as lawyers, architects and developers, with fire safety expertise.
He made the point that with just the buildings that are currently in scope and at 18m there are 400 new builds a year, while there are 1500 existing buildings and if the height is dropped to 11m that would add about another 100,000 existing buildings into the mix. If all buildings were included into the new regime from day one the industry would not be able to cope with the requirements, he said.
Key point #5: Planning gateway 1 vs London Plan
Allery also flagged the potential interaction between the planning gateway one and the London Plan, both of which require the production of fire statements.
He raised point that there is still a lack of clarity around how they will interact but that are key differences between what the London Plan and planning gateway one fire statements will require.
These include who the consultees are, with HSE being a consultee on for gateway one fire statement and the London borough being the consultee on the London Plan statement. Another difference is that the content requirements via the London Plan are significantly more detailed than the planning gateway one document.