Get the fiddly bits finished before you get on site with these frames, facades and panels from construction's pod people. Then read the latest news about the firms that make them
Structural insulated panels
Innovare has launched a structural insulated panel called the Jabhouse System. It comprises a structural shell that includes the internal leaf of external and party walls, floor cassettes and a roof system that can provide a roof space.
Innovare Systems
www.innovaresystems.co.uk
www.building.co.uk/enquiries 302
Sealing tape for timber joints
Illbruck has developed a tape, the Compriband Timber Max, to deal with the joint movements associated with timber-frame construction. The pre-compressed foam sealing tape can accommodate movement from 13 to 50 mm.
It is supplied on rolls with an adhesive backing and is available in two widths: 40 and 50 mm.
Illbruck Sealant Systems
www.illbruck.com
www.building.co.uk/enquiries 303
Timber-frame home
Hunter Building Systems has launched a timber-framed volumetric off-site manufactured home that, once erected, can be ready for immediate occupation. The company says the homes combine traditional timber-frame technology with innovative fixing details.
Hunter Building Systems
www.hunter.co.uk
www.building.co.uk/enquiries 304
Two-storey steel-framed council office
McAvoy Group has installed a two-storey steel-framed building for Newry and Mourne council in Northern Ireland. It has glazed curtain walls, insulated panels and cedar cladding.
McAvoy Group
www.mcavoygroup.com
www.building.co.uk/enquiries 305

Gazing into the Futurebuild
Semi-permanent housing
Holland Composites Industrials, a Dutch maker of modular structures, is set to launch its Spacebox concept in the UK. The company says Spacebox (pictured above) is a semi-permanent completely prefabricated system made of high-quality composite materials such as fibre and resin. It was initially designed for students, and has easy-to-install fittings, concrete foundation slabs and overground piping that minimises the time to complete a block. The 18 m2 space houses a kitchen, a shower and a toilet. A 24 m2 version is in development.
Holland Composites Industrials
www.hollandcomposites.nl
www.building.co.uk/enquiries 306
Wide range of facade options
Kingspan is to launch the Kingframe architectural facade system, a complete cladding wall ready for delivery to site. The system, pictured right, includes a steel frame, acoustic and fire performance board, insulation and an external facade carrier system. The maker says Kingframe offers more than 300 facade and construction options, including conventional finish, render and ventilated rain screens, applicable to steel or concrete-framed buildings.
Kingspan
www.kingspanoffsite.com
www.building.co.uk/enquiries 307
Modular wiring system
MK Electric has launched a plug-together modular wiring system for use with all types of manufactured homes. Called MK Flexible Wiring System, it is installed during the production process of the modular building units. The company says on-site assembly time is minimised because the system uses pre-terminated connectors and prepared tails suspended inside a modular wall, floor or ceiling panel.
MK Electric
www.mkelectric.co.uk
www.building.co.uk/enquiries 308
Product innovation: cool cubes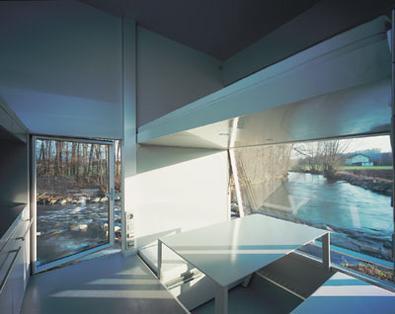 Richard Horden, director at Horden Cherry Lee Architects, has collaborated with German practice Lydia Haack + John Hoepfner Architects to develop a modular home that combines state-of-the-art technology and low-energy use. Called the Micro Compact Home, the 2.65 m3 module made by Gatterbauer in Austria uses insulated vacuum aluminium panels and high-quality insulating glass to minimise energy consumption while keeping a lightweight structure. The design is inspired by the layout of traditional Japanese tea houses. The first six cubes have been installed in Munich for the local student housing authority and are divided into zones for toilet, shower, kitchen, dining area and sleeping space. The team behind the project is currently reviewing the dwelling's energy consumption. Units can be combined and mounted on an external aluminium frame in vertical and horizontal formations around central lift and stair cores. Micro Compact Home Production is working with several developers and private clients to build on a range of sites including a snowboarding village in the Alps and projects in Switzerland, Germany and Austria.
Micro Compact Home
www.microcompacthome.com
www.building.co.uk/enquiries 301
Movers and makers
Yorkon has launched a software tool that compares the whole-life costs of the Yorkon system with other modular and traditionally constructed buildings. The program uses whole-life costing techniques and 3D building simulation software to enable specifiers to evaluate the implications of design options on carbon emissions, energy consumption and running costs.
Foremans Relocatable Building Systems has launched the www.constructionspace.co.uk website for the sale, hire and purchase of pre-owned modular buildings. It provides information about the company's stock of modular buildings and cabins, photographs, specifications, layouts and the relevant costs. The company says it will consider buying modular buildings that other construction companies no longer need.
Precision-engineered metal systems maker SAS International and air distribution and static cooling innovation firm Krantz have entered into a partnership to develop bespoke integrated service modules that can be assembled off-site and incorporate heating, cooling, lighting, sprinklers and electronic amplification systems. The firms say they are able to design, supply and install a fully co-ordinated building interior that includes integrated service modules, matching architectural bulkheads, columns and acoustic panels.
Advanced Panel Systems, the modern methods of construction division at Select Nicholls, has installed a production facility in Callington, Cornwall to produce 1000 kit houses a year. The APS system is said to be the only closed panel system to come with roof cassettes as well as insulation, drylining, windows, doors and floor cassettes.
A continuing professional development seminar on off-site techniques devised by Ruuki UK, a supplier of metal-based products and systems, has been granted assessed material status by the RIBA. Off-site Solutions for the Modern Building Envelope is available as an in-practice seminar. It offers information on the rise of off-site building methods, assessment of their advantages, case studies and an installation guide.
The MMC Alliance has been launched to promote the benefits of modern methods of construction and to provide a pool of off-site resources. The association comprises 40 members, including companies such as Levolux and Saint-Gobain. It represents every sub-sector of off-site manufacturing.
Postscript
Futurebuild takes place on 22-23 February at Earls Court 2, London for more information log on to www.futurebuild.co.uk
Off-site manufacturing
1

2

Currently reading

Products

3

4

5