The spectacular roof of the Western Concourse of King's Cross station soared above the impressive competition, in this diverse category
WINNER King's Cross station redevelopment, John McAslan + Partners, Network Rail, Arup and Vinci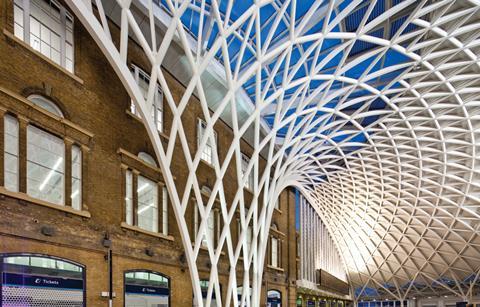 The opening of the spectacular Western Concourse at King's Cross station marks arguably the most significant milestone in the terminus' long programme of redevelopment. The largest single-span station structure in Europe is a visual and engineering tour-de-force, which carves a new functional and civic heart into one of the world's oldest railway terminuses. Sixteen steel tree-form columns sprout beams that radiate dramatically over a soaring elliptical roof 150m wide and 20m high. But the King's Cross project is about more than this stunning space, it also involves the meticulous restoration of the station's historic fabric, including the magnificent twin 250m-long Victorian main train sheds. King's Cross harnesses the very latest design and conservation technologies to rekindle the romance and anticipation of a bygone age of travel.
RUNNERS-UP
Archbishop McGrath Catholic High School, HLM
This Bridgend secondary school places not only its hall at the centre of its floorplan but its chapel also. Much of the building is clad in dark stone whose punched holes and in once instance carved cross, reaffirm this spirituality. A cool, spacious simplicity also defines the interior, some of which is available for use by the local community.
Emirates Arena, Sir Robert McAlpine
The London 2012 stadium may have justly attracted attention during the Olympics, but its newer Scottish equivalent has delivered considerably more facilities from a broadly similar budget. The £116m Glasgow complex is the only significant new sporting venue constructed for the 2014 Commonwealth Games and will provide only the UK's third major velodrome after London and Manchester. But it also offers a wealth of other sporting, leisure and commercial amenities, all of which can be accessed by the general public, an ingenious consolidation of a disparate range of activities.
London 2012 Handball Arena, Make
"The Copper Box" proved to be one of the most popular venues of London 2012. One of only four permanent venues at the Olympic park, its 15,500m² area makes it the third-largest indoor arena in London. During the Games it accommodated up to 7,500 spectators and it is now being reconfigured as a multi-purpose sporting, cultural and entertainment venue. It sets a precedent for how future permanent venues can skilfully satisfy dual pre and post-event roles. Its flexible format includes retractable seating and modifiable floors.
UCH Macmillan Cancer Centre, Hopkins architects
The newest addition to Europe's largest biomedical campus is a powerful rendition of the sculptural structural forms and facades that define Hopkins' work. Externally, the building presents itself as a handsome urban block. Inside, a sweeping sequence of double and triple-height naturally-lit, lobbies and lounges, framed by exposed concrete and generous glazing, mimic the patient's journey from social interaction to private consultation.
North London Hospice, Allford Hall Monaghan Morris
This building's gabled profile and brickwork pay quiet homage to their vernacular fabric. Only the staggered geometry of the asymmetrically laid window openings and the deep recesses cut into the envelope provide compelling clues as to the dynamic spaces within. In an ingenious reinterpretation of conventional hospice accommodation, these include a hairdressers, creative therapy and teaching rooms.
Tidemill Academy & Deptford Lounge, Pollard Thomas Edwards architects
This aspirational inner-city development represents civic design at its best. From the new public square to the distinctive gold colour copper alloy wrapped around the Lounge, this project is as much an impassioned celebration of public realm as it is a work of architecture. The community-focused amenities the development offers also reflect the municipal generosity at its core. These range from the primary school housed with Deptford Lounge and the exhibition space, studios and social housing located within the Academy.
Wakefield One, Muse & Cartwright Pickard Architects on behalf of English Cities Fund
Coming in at an astonishing £95.85ft² to Category A specification, the council offices represent a cost-effective, economically sustainable development that the Age of Austerity will increasingly demand of local authorities. This has been achieved by a simple, rectilinear form and the adept utilisation of a standardised pre-fabricated "kit of parts". Moreover, this approach has not been realised at the expense of quality of design.