The Velux skylight brand is normally associated with the residential sector. But a collaboration with Foster + Partners could soon enable the company to break into commercial and public buildings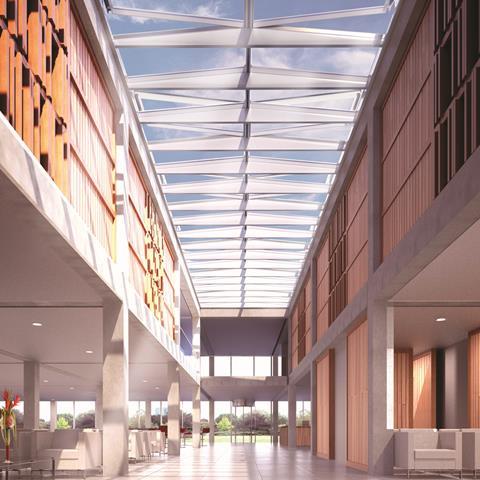 Only a handful of brands have become so successful that the brand name has slipped into generic household usage. Hoover, Portakabin and JCB are some of the most familiar examples as is the Velux roof-light. Since the company was founded 70 years ago, Velux has principally been associated with the residential market. But the company has now collaborated with renowned architects Foster + Partners to launch a modular skylight system aimed at the commercial and public buildings sector. The result is what Velux boldly claims will "reinvent" the entire skylight concept and "change the rules" of commercial skylights.
The Velux Modular Skylight is a fully prefabricated skylight system that is supplied with integrated flashings, frames, panes, sun-screening accessories and an electric control mechanism concealed within the frame. To satisfy the variety of spatial conditions applicable to the commercial sector and broaden its market appeal, Velux has introduced three versions of the system.
The Longlight has bands of continuous modular skylights designed to fit in large rooms or corridors. It comes with pre-fitted installation galvanised steel mounting brackets and clamps which can be fixed to steel or masonry profiles within the building structure. The skylight can be applied to roof pitches ranging from 5-25 degrees.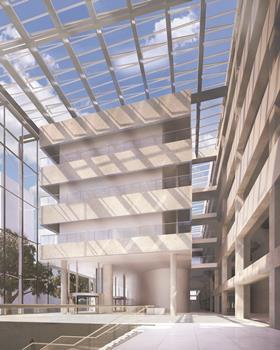 The Ridgelight has been designed for circulation, gallery spaces or small internal courtyards. It incorporates a pitched profile which comes in either 5 or 25 to 40 degree models. The former incorporates a prefabricated central beam section from which a series of smaller transverse horizontal beams span to support integrated panes of glass inclined on a 5 degree slope.
The steeper version is a self-supporting structure where the central beam is replaced by a joint top-bracket supporting the two rows of skylights on either side. Like the Longlight, a galvanised steel mounting bracket fixes each skylight version to the building structure and glass panes can be fixed or openable.
The final new skylight system is the Atrium. As the name suggests this system has principally been designed for large communal spaces requiring high levels of daylight.
The roof glazing system is formed by multiple rows of Longlights or ridgelights supported by only a top and bottom beam. Integrated valley gutters between the rows also disperse rainwater and facilitate maintenance.
Velux identifies three main benefits of its system - energy efficiency, modular composition and streamlined design. It says the system is able to adjust individual room ventilation, apply comfort zoning, control daylight and deflect solar heat.
The system also incorporates internal climate management features that have been configured for commercial requirements. This includes exploiting natural stack effects, utilising automated internal roller blinds and enabling timed ventilation systems. As well as preventing excessive solar glare and overheating, Velux claims the introduction of these technologies within commercial buildings reduces reliance on mechanical ventilation systems and leads to greater cost-efficiencies in building management and maintenance.
Critically, the system also comprises a framing material that reduces thermal bridging and offers higher environmental performance compared with traditional aluminium skylights. The frame is constructed from a low conductive pultruded fibreglass and polyurethane composite that provides high-strength, insulation and thermal stability. Together with low-energy panes, the skylight units offer low U-values of 1.4W/mÇK for a standard two-layer pane and 1.0W/mÇK for a three-layer pane.
Velux also cites the modular composition of the system an advantage. The Modular Skylight is 100% standardised and pre-fabricated and comes with accessories such as blinds, flashing and motors. This eliminates the need to source a number of individual suppliers and offers the benefit of a comprehensive, all-inclusive warranty. Finally, the design aspect is one which Velux highlights as a major advantage.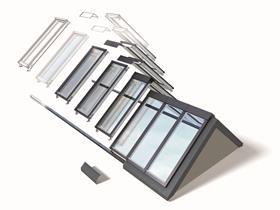 Co-operation with Foster supplies a wealth of market and intellectual credibility. Foster's hand is discreetly evident in the clean lines, subtle colours and slim profile of the system. But more specifically, the preoccupation with streamlined technology and efficient design that is evident throughout Foster's architecture is perhaps more easily applied than one would initially think to the combination of standardised but sophisticated manufacture that Velux aims to realise.
After decades where it has become synonymous with the residential market Velux's excursion into the commercial sector is an ambitious and daring move.
As Coca-Cola's doomed UK bottled water campaign as well as countless other aborted commercial ventures remind us, it is not always easy for a brand so intrinsically associated with one sector to move seamlessly into another, regardless of how successful that brand has initially been.
Nonetheless, Velux has assembled a confident and convincing array of design and technical features, conspicuously designed to replicate the performance and prestige it has accumulated in the residential market.
Moreover, the strong emphasis on core attributes of design, standardisation and energy efficiency clearly speaks to a mass, cross-sector audience. If Velux's new venture is successful it could well inject a welcome degree of innovation, choice and competition into the commercial skylight market.