Fasten your safety belts: the government is about to give the go-head for the £13bn expansion of Heathrow airport. Good news for the construction industry, of course, but, as Dan Stewart reports, the backers of the alternative options are not finished yet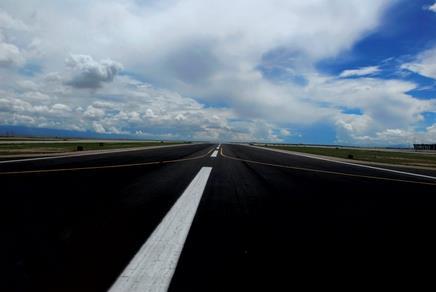 Any day now, transport minister Geoff Hoon is expected to pledge the government's support for a £13bn expansion programme at Heathrow airport. This would involve, among other things, a 2.2km third runway, a £5bn airport terminal and related infrastructure to be built by 2020.
Prime minister Gordon Brown has already voiced his approval for the expansion of Britain's largest airport, and BAA has been working furiously to ensure the proposals are proportional and as environmentally friendly as they can be to help ensure the go-ahead from parliament. Behind the scenes, it is considered a done deal. It is understood that BAA is so confident the expansion will be approved that tenders are ready and waiting to go out in January for environmental consultants and planners.
David Connolly, head of aviation at Davis Langdon, is sure expansion at Heathrow will be welcomed by the construction industry. He says: "It would be a huge boost. BAA already has a capital spend of £4bn planned without the expansion, but a terminal, runway and infrastructure could be just as much work."
Architects would be the first to benefit from the approval of Heathrow's expansion, with tenders likely to go out for feasibility and masterplanning studies early in the new year. Grimshaw, the masterplan architect for Stansted's expansion, could be expected to tender for this, alongside aviation specialists such as Pascall + Watson and YRM.
Cost consultants and project management tenders would follow about six months later. EC Harris, Mace and Davis Langdon are among the firms likely to benefit. Contractors from BAA's 10-strong capital projects framework would look to bid for work on "R3", as the scheme has become known at BAA, in early 2010. Expect Balfour Beatty, Carillion, Laing O'Rourke and, of course, Ferrovial to be high on tender shortlists.
Firms in the environmental sector, like RPS and Delta Simon, are also well placed to benefit. Connolly says: "Airports and airport operators are going to have to illustrate that they can meet environmental standards if this is going to get built, and they are going to go the extra mile to prove it."
The construction of airports attracts related industries, which need business parks and industrial space in which to operate. "It will be of benefit to the local community, even though they are also the ones who suffer most from noise pollution and the like," says Connolly.
Whichever way you cut it, increased spending on infrastructure has to be good for construction. Expansion at Heathrow could reap £7bn of new business for BAA's framework of contractors and consultants.
Even so, trouble is brewing. Environmental campaigners, local residents and the Conservative party have pledged to fight every step of the way to ensure Heathrow remains at its current capacity. Some in the Labour party are also opposed to the airport's growth, which suggests the prime minister could face a contentious vote in parliament – and that's before the inevitable public inquiry and protests.
The Tories have proposed various alternatives to R3. The official line is that a high-speed rail line would cut the number of domestic flights, making room for more international flight routes without expansion. A souped-up rail line from London to Leeds could bring in £10bn to the industry's coffers, proponents of this idea claim – an even juicier cherry than the Heathrow plan.
And then, of course, there's the option of a new location. London mayor Boris Johnson is quite serious about his "eco-airport" in the Thames Gateway, having appointed industry heavyweight and Crossrail chair Doug Oakervee to conduct a feasibility study into the plan. And this plan, it is claimed, would bring in more work than either of the two other schemes.
Still, Hoon's announcement is likely to kick other options into the long grass and at a time when there is precious little new work on many order books, the approval of Heathrow's expansion will be welcome indeed.
For the Heathrow Expansion…
Karen Dee, head of infrastructure, CBI
Because business operates in an increasingly global environment, good transport links overseas are essential. With the capacity constraints at Heathrow, we fear its status as a global hub for industry will be affected.
We have to expand if we want it to remain a global hub, it is as simple as that.
Plans for a new airport in the Thames estuary have been looked at before by governments, and all their reasons for turning it down remain valid.

The difficulties of constructing in a wetlands environment, the huge investment that would have to go into linking it with central London, the question of persuading commercial airlines to use it. It would certainly not work as a replacement for a third runway.
Robert Stewart, YRM, masterplan architect for R3
There is a need, and Heathrow is best to satisfy that need. From the day we drew up the plans, back in 1999, there has always been the intention in the design to minimise the environmental impact of the runway. In particular, the geometry of R3 has been designed to minimise noise impact
on the surrounding communities. It has been aligned with the M4. Only twin-engine planes will take off on R3, and they take off at a much steeper angle. On air quality, BAA will limit the number of flights based on actual emissions. If things don't improve as fast as they'd like, there will be fewer flights.
… And against
Bob Marshall-Andrews, Labour MP for Medway
There will be a vote on this issue. When that vote comes, the government will lose it – and with it, their new-found and deserved reputation for environmental custody. That will be terrible, not only because of the loss of that reputation, but in electoral terms.
Tom Foulkes, director general of the Institution of Civil Engineers
While the construction of a third runway at Heathrow would increase the airport's capacity, it is by no means clear that it is the best solution in terms of the impact it would have on CO2 emissions. Outside of the environmental groups, the debate around a third runway is yet to properly address the carbon issue and factor it into their economic analysis. As the world inevitably starts to price carbon aggressively, we could find ourselves paying heavily in the future for decisions made now.
Boris Johnson, mayor of London
I just cannot see how the expansion of Heathrow is a long-term solution to the predicted demand it faces. That is why I am keen to know what the alternatives are, and whether the idea of a new airport in the Thames estuary is viable or not. If there is an overriding economic, environmental, political or practical reason why this airport cannot be built, it will not be built, but I am determined to consider all arguments first so we can decide once and for all whether it is a feasible option.
Three infrastructure options – and the work that would come from them
Expansion at Heathrow
Construction date: 2009-2020
A third runway
A new terminal
Rail link to Terminal 5
A new airport in the Thames Gateway
Construction date: 2009-2016
A new floating terminal
Four new runways
80-mile high-speed rail link
High-speed rail from London to Leeds
Construction date: 2015-2027
195-mile dual-track railway line
New stations at Birmingham, Manchester and Leeds