Financial uncertainty can dampen any spending mood. But now the government has set funding and raised tuition fees, UK universities are getting on with attracting students – which means restarting schemes put on hold during the recession.
It's been a difficult time for universities. While bracing themselves since the election for savage funding cuts this year, they've also been facing a radical overhaul of funding that didn't become clear until the publication of the Higher Education Bill in June. Unsurprisingly, such uncertainty around money made universities hold back on major construction spending. Schemes such as Bristol University's life sciences building were paused, scrapped or relegated to the wish list, awaiting better times.
"A whole series of events came together in the university world to make the funding climate really uncertain," explains Patrick Finch, director of estates at Bristol University. "We weren't comfortable about committing to really big projects until we could see a realistic likelihood of return on them."
But in the last few months, things seem to be changing. While the funding announcement was indeed tough - 75-79% down on the previous settlement - the decision has been coupled with the long-awaited publication of the Higher Education Bill allowing universities to charge up to £9,000 in tuition fees for students.
For the first time since the election universities can start sensibly to plan capital budgets based on reliable assumptions
This means that for the first time since the election universities can start sensibly to plan capital budgets based on reliable assumptions.
Once the details were revealed - in letters to universities in November 2010 and officially in March 2011 - some decided it was time to restart work on priority schemes. Figures produced for Building by construction data firm Barbour ABI show that, since the start of 2011, £138.6m of higher education projects on hold have restarted. This includes £84.6m of university schemes.
And the money's getting through. Consultant Davis Langdon has seen six of its university projects - worth a total of £200-250m - restart. Contractor Wates also reports an increase in university work as projects get going again.
Bristol University restarted its life sciences building project in January after 18 months on hold and Imperial College is also set to start a four-year £60m refurbishment of its mechanical engineering building, having held back on new projects while it waited for the Higher Education Funding Council for England's (HEFCE) funding announcement. Steve Howe, director of capital projects and planning at Imperial College, says the body has only got one-third of the capital funding it received in the past but has raised £50m for development in 2011/2.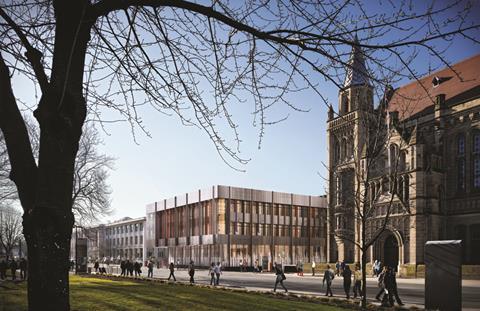 Paying customers
One possibly significant boost to the pipeline of work is the Higher Education Bill's proposal to allow universities to raise fees for English students to £9,000 a year. Many universities say the extra income replaces money cut from government grants for tuition, so will not itself fund new buildings, although the government says universities will get about £1bn - 1% - more funding between 2010/11 and 2014/15 and most of this is likely to come from student loans.
There is not yet a precise figure for the amount fees will raise because this depends on the number of students who go to university and the level of fees universities choose to charge. However, the Department for Business Innovation and Skills expects university funding to increase by about £1bn - 10% - between 2010/11 and 2014/15 and most of this is likely to come from student loans.
In total, universities and further and higher education colleges saw a £849m drop in HEFCE funding between 2010/11 and 2011/12 from £7.4bn to £6.5bn. In 2009/20 this figure was £26.8bn, of which £11.3bn came from the government, according to the most recent figures from the Higher Education Statistics Agency.
However, the prospect of competing for high-paying customers may inspire the institutions to spruce up their campuses. "Next year, with increased tuition fees, each university has to compete for students and to do so they have to have facilities on campus that are in keeping with the increased fees," says John Shannon, business unit director in the North-west for Wates Construction.
Rupert Goddard, design director at architect Sheppard Robson, says his firm noticed a growth in university building projects six months ago as universities rushed to attract the first wave of students who would pay increased fees in September 2012. He is now working on Manchester University's Alan Gilbert Student Commons. Goddard says improving the students' experience of the institution was a priority for the university, so the building was never put on hold but was scaled back when funding dropped from about £23m to £13.5m as HEFCE grants fell.
Likewise, Coventry University has just finished building its £18.5m Student Enterprise Centre. Architect Roger Hawkins, director at Hawkins\Brown, says: "The
belief is that they have to put students first. They are in a competitive market to attract students."
The general consensus is that most future construction demand from the sector will come from elite universities charging the highest fees and competing worldwide to attract students. But there will also be work at the other end of the spectrum as less prestigious universities charge lower fees to attract mainly local students, and compete with private providers and further education colleges expanding into higher education. "They will have to tidy up some central facilities just to make it locally attractive; they are not competing on a national stage," says Laurence Brett, head of public and higher education at Davis Langdon.
With funding in short supply, many universities will also want to use their space more efficiently and could sell off unused land and buildings to developers to raise cash. Sheppard Robson's Goddard points out that the university sector as a whole has lots of underused space and that former polytechnics, which were often formed out of the amalgamation of several colleges, sometimes have widely spread sites that are hard to manage. "They are looking to shrink campuses and to do that they need to build in a selective way and refurbish," he says.
The period of change is not at an end for universities. The Higher Education Bill is yet to pass into law and institutions are waiting to see whether increased fees put students off applying. But there seems to be cautious optimism among some universities, especially the upper tier, that construction work can help secure their future by attracting students.
"We have confidence in our future," says Bristol University's Finch. "We have a big surplus of students applying." But he adds: "If we are going to be successful we have to invest in facilities; if we do not we will fall behind."
So while a sudden flood of work is impossible, the construction industry may yet again rely on a steady stream.
Starting again
Figures from construction data firm Barbour ABI show that £84.6m of university projects and £54m of higher education college projects were taken off hold in the first seven months of 2011. In comparison, no projects were restarted in the sector during the same period in 2010.
Early 2010 was an uncertain time for the estates directors of universities: they knew funding would be scarce, so many thought it best not to make any major spending commitments until they found out the scale of the cuts. They did not receive letters from HEFCE outlining their capital funding until November 2010 and waited until March 2011 for the final announcement. As a consequence, the first projects restarted just before Christmas and others began again in the new year.
The total number of annual higher and further education projects is 460 at £2bn.
However, not all of the projects were put on hold because of funding constraints. For example, Exeter University's new building for research into mood disorders went on hold when its contractor Rok went bust. Leadbitter has now taken on the £3.6m job, which is due to complete at the end of this year.
Cutting down
The cuts turned out to be as deep as anyone feared. The Higher Education Funding Council for England (HEFCE) announced a budget of £165m in 2011/2 and £193m 2012/3 for all capital spending at higher education institutions in England, excluding include some other smaller or one-off areas of capital grant, which includes new and refurbished buildings as well as equipment and IT infrastructure.
Although it also reinstated £58m of funding from 2010/11 that had been frozen by the government, the figures were well down on previous years. For example, the body gave out £2.4bn from 2008/9 to 2010/11, which works out at £786m a year, meaning the new figures are less than a quarter of the last spend.