Covid-19 is having a profound impact on what people now want from their homes, with bigger houses and outdoor space top of the wishlist. How should housing design reflect these new priorities?

Rethinking Design series: Homes
Earlier this summer six finalists were chosen by the RIBA in a government-sponsored competition to design the "Home of 2030". Alongside a proposal for homes made 98% from organic material were innovative modular designs that allowed buyers to pick and choose layouts using interchangeable parts.
The competition understandably asked entrants to address both sustainability and practical deliverability, in order that the designs might provide a template to meet the housing crisis. But – commissioned before the coronavirus pandemic struck in March – it did not ask them to respond to the covid crisis and lockdown.
Which is a shame. Because mounting evidence suggests that what people want from where they live has undergone a significant shift during torrid last six months. Lockdown has forced people up close and personal with their homes like never before – and a big proportion have not liked what they've seen.
Observers suggest the current boom in the housing market is as much a reflection of people's realisation of the inadequacy of their living conditions as it is a result of pent-up demand from when the market closed. Richard Donnell, research and insight director at property portal Zoopla, has branded it a "once in a lifetime reassessment of the nation's housing needs" – with homebuyers and renters increasingly voting with their feet. There are even suggestions it could begin to reduce the overwhelming preference – for at least a generation – for open-plan living.
For housing associations and private developers alike, then, the puzzle is to work out, first, how much of the apparent shift in sentiment will last, and second, how housing design should change to reflect it.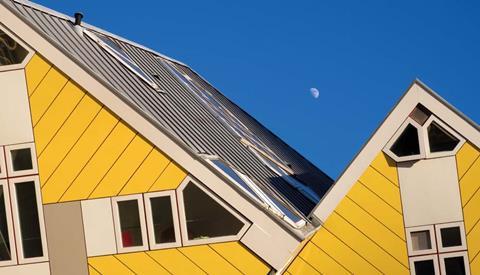 New normal
Data suggesting people's living preferences have changed are not hard to come by. Being trapped in small homes for long periods early in lockdown and the need to find a way to work from home throughout are, unsurprisingly, seen as key drivers. Property portal Rightmove in June reported buyers prioritising bigger homes and outdoor space above other location factors far more than ever before, and demand shifting decisively from flats to houses and from urban locations to the suburbs and commuter belt.
Half of renters said their priorities had changed, while 39% of homebuyers said the same. Luke Hillson, design director at planning consultant Barton Willmore, who himself moved during lockdown, says: "People are saying their own homes aren't fit for purpose."
According to a survey by Ipsos MORI, the number of people looking to move further away from town or city centres has risen to 49% in the period, with 23% of those renting dissatisfied with their home. Only half of renters had access to a garden during lockdown, and only a third had a private space in which to work. But while, conceivably, the increased desire for outdoor space on the part of homebuyers may be a temporary response that fades as memories of the early, draconian lockdown experience grow more distant, there is evidence the move toward home-working will be more long-term.
> Analysis: What the next six months will bring
Office for National Statistics data suggests that nearly half of people have been working from home during the pandemic, and a survey by the Times conducted over the summer found two-thirds of big employers were considering making home-working a permanent feature. Developer St Modwen, which commissioned the Ipsos MORI research, says it has already responded by making its new homes more adaptable and factoring in room for workspaces.
Changing needs
Another housebuilder that is looking to respond quickly is 5,700 homes-a-year firm Countryside. Group planning director Andrew Taylor says that evidence of purchasers' changing needs is still anecdotal, but that the firm is nevertheless starting to plan how to respond.
He says: "One thing is about space – but it's not just about the amount of open space, it's about the quality of that open space in and around developments.
"The other thing that people are thinking hard about at the moment is internal layouts. We've had lots of open-plan living. Well, now, people have realised that the ability to close the door can be preferable. We're thinking about how to respond to that – where previously if we've had one room, whether we need to give people the ability to break that down."
Taylor says these changes may even see Countryside having to reopen planning discussions on existing approved applications, where internal layouts have been on drawings approved as part of the consent. "We're looking at all that," he says, "but we're only six months in."
This last point is crucial. In development terms, the six months since the start of lockdown is the blink of an eye – just a fraction of the time commonly spent getting a planning consent, let alone getting a project from land purchase to completion. So it should not be surprising that few report there is – so far – a stampede of re-planning activity from major housebuilders and developers. Barton Willmore's Hillson says: "Many developers think it's just too early to tell."
Red hot
Current strong sales give developers no reason to slow anything down. Simon Bayliss, managing partner at housing architect HTA, says: "We sense these conversations are beginning to happen at board level [in developer clients] but it's not quite reaching us yet.
"Housebuilders don't really want to change anything on consented schemes at the moment if it's going to slow down delivery, as the market is red hot."
Philip Barnes, group land and planning director at Barratt Developments, echoes this sentiment. "Our house types are already designed to be flexible and the market is currently strong. Therefore our overriding priority is to build out our consents rather than incur additional delays."
In the short term, accordingly, it is the marketing of houses that is being flexed, rather than the home designs themselves. "Our house types are already flexible and designed with working from home in mind. We also normally provide a garden, so our marketing materials obviously focus on these two elements, which have become more important to many potential customers," Barnes says.
Likewise, Rob Hall, deputy managing director of housebuilder Hill Group, says that while it is considering some changes to designs, so far the focus had been on emphasising the relevant features to customers. "For example, now we'll demonstrate to buyers how our homes are compatible with home-working – we'll ensure you are shown that," he says.
Communal space
While there is a relative lack of immediate action, developers and their consultants are considering the implications. Ben Kelway, a senior director in planning consultant Lichfields' London office, says that while none of his housebuilder or developer clients are taking consented schemes back into planning, a number are in the process of reviewing their pipeline schemes to check them against the "emerging priorities" of buyers.
He says local authorities and Greater London Authority officials are increasingly asking questions of developers in pre-application planning discussions. "They're raising issues around private gardens and communal space," he says. "Home-working has also been raised – they want to know how those needs are going to be met within new developments."
Loren Thanyakittikul, director at residential architect Assael, says that some of the fastest to react have been build-to-rent developers – albeit the focus for change has so far been on the design of communal areas rather than the flats themselves. This has meant changes in emerging schemes to reception and concierge spaces – including secure parcel storage – a much greater focus on co-working space, a desire to ensure mechanical heating and ventilation systems vent externally, and details such as antibacterial light switches. "So far it comes down to having much more flexibility in the communal spaces and storage. Changing the design of the units themselves is going to take longer," she says.
Fundamental shift
Changes being considered are often developments of existing trends. For example, Lichfields' Kelway says that balconies on apartment scheme had already been getting bigger because some developers had started to see value in it. "That was a trend already in train. Now they're all realising it can attract value," he says.
Hill's Hall says the same is true of bicycle storage – another post-lockdown must-have. "All our schemes already had cycle stores – the difference is they're probably better used now," he says.
Those who complained when the London Housing Design Guide set out generous minimum space standards for bedrooms and family spaces aren't as vocal now

Julia Park, Levitt Bernstein
Despite the need for private space in which to work, many are far from convinced that open-plan living – seen in two-thirds of the homes built since 2003, according to a recent Sunday Times study – has had its day. Hall says his firm is looking at offering customers the option to partition rooms in different ways on some developments, to create either a bedroom or a smaller study, but that "there's still a big focus on open-plan. People prefer fewer, enjoyable spaces than lots of small spaces."
Assael's Thanyakittikul agrees: "Open-plan layouts just feel like a larger space. Moving away from that is quite a fundamental shift, and it's not one we're looking at yet."
Overwhelmingly, however, most assume buyers are going to demand more flexibility, allowing rooms to be used as bedrooms, family rooms, dining rooms and workspaces as needs must – sometimes fulfilling different functions at different times of the day. Julia Park, head of housing research at architect Levitt Bernstein, advises that housing designers start with "cellular" – that is, non-open-plan – layouts, to ensure that homes are designed with enough windows to work that way if needed. The dividing walls can be removed if open-plan layouts are preferred, but that way the flexibility to change later is built in.
The core enabler of this flexibility is building to a generous space standard. Park says: "Those who complained when the London Housing Design Guide set out generous minimum space standards for bedrooms and family spaces aren't as vocal now."
This reliance on space, of course, exposes the fundamental tension at the heart of buyer desires for post-pandemic living: between amenity and cost. People have always been able in theory to buy a house with a spare bedroom that can be used as an office – the point is that many cannot afford to do so.
This is a tension that will only deepen with the tightening-up of the Help to Buy scheme next April, and one which many think likely to limit the real-world impact of the professed desire for big design changes.
HTA's Bayliss says: "It's difficult to know how reasonably this [desire for more space] is going to be reflected in most urban developments, where viability is already so pushed. The idea developers are suddenly going to build flats at 60m² rather than 50m² is unlikely without new regulation.
"The more obvious response is people are going to move out to where they can afford more space, enabled by home-working. They will live more remotely."
This idea, of course, is backed up by the data evidencing the flight (in comparative terms) from cities by home-movers since May. Barratt's Barnes has been considering the implications of this too. "We understand that in the future many people will be commuting fewer times per week so therefore may be willing to accept a longer commute time," he says. "Sites in attractive locations but slightly further away from employment centres therefore come into scope [for development] more."
Changing the location of development may then be as significant an impact of the pandemic on housing as changing design. But location, of course, is also a question of how the planning system, which prioritises urban and brownfield where possible, responds. In the absence of a big shift there, the design flexibility proposed by many of the Home of 2030 finalists – ironically, chosen before the pandemic took hold – still looks set to be the watchword.