Will standardised schools herald a school building programme where design quality and educational aspiration are crushed under a monotonous wave of Identikit slabs? Ike Ijeh investigates Photos by Mike Pinches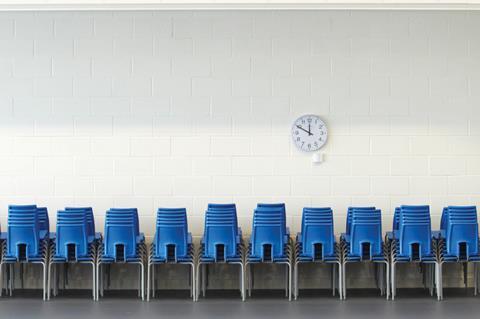 While standardisation has been the default model in most consumer industries for decades, it remains a dirty word in architecture. The design of everyday consumer products like cars, mobile phones, televisions and furniture has long been adept at combining repetitive mass production with high quality. But the design of the overwhelming majority of buildings remains rooted in the "reinvent the wheel" approach.
This may be about to change in the education sector. Last year's James Review recommended the adoption of standardised designs and specifications among school buildings in an effort to lower construction costs and improve efficiency. To many industry consultants and professionals, weaned on the bountiful Building Schools for the Future (BSF) diet of languorous procurement and bespoke design, this meant only one thing - a reduction in quality and a return to the cheap, prefabricated classroom sheds of the sixties.
But does this have to be the case? If cars and iPads can retain impeccable levels of design quality and desirability while being composed of standardised components and design then why can't architecture?
The construction industry itself has been quick to grasp the standardisation mantle. Contractors have led the way and have already placed several standardised schools solutions onto the market with more to follow in the very near future.
Over a year after the James Review, the first wave of the new generation of standardised schools it called for is being completed.
This presents an opportunity to judge for the first time whether standardisation is indeed a friend or foe of good design. We picked three new schools, each based on a different standardised system, and assessed each for how the school and the system perform on design quality.
CAMPSMOUNT TECHNOLOGY COLLEGE, DONCASTER
TYPE: 11-18 Foundation Trust School
PUPILS: 900
ARCHITECT: CPMG
CONTRACTOR: Wates
SYSTEM: Adapt
COST: £10.7m (includes design fees)
COST per m2: £1,500
PROCUREMENT: 21 weeks
Campsmount Technology College was the first standardised Wates school and the Adapt system evolved from precedents established during the school's design and construction stages. The Adapt system is a highly flexible standardisation concept which can be "adapted" to incorporate a considerable degree of customisation and reconfiguration. Rather than a modular, "flat-pack" or "one size fits all solution" Adapt offers a "kit of parts" that can be adjusted to suit any particular site. Interestingly and in a canny nod to the emerging Free Schools market, Adapt can be applied to conversion as well as newbuild projects.
Although the reconstruction of Campsmount emerged from unique circumstances, it became a strategic template for national schools policy when it was selected as a pilot project for the James Review. The former school was almost entirely destroyed in a 2009 blaze which spared only the sports hall, now incorporated into the new design. Pupils decamped, into what the school's authorities claim was the UK's biggest Portakabin build, until the Olympics before moving into the newly completed school in Easter.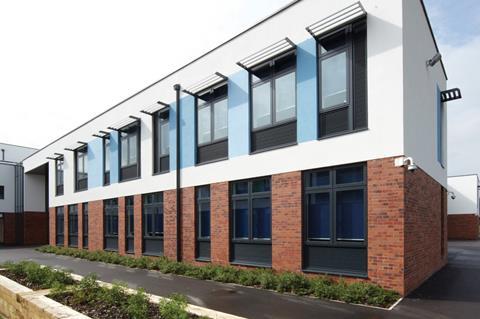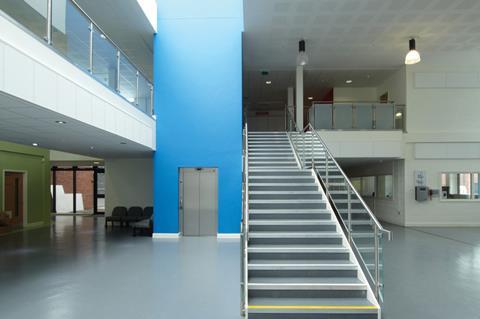 The new Campsmount college is predominantly a two-storey steel frame building faced with brickwork on the ground floor and render on the upper. The feature entrance block contains three-storeys encased within a projecting aluminium envelope and is connected to the rest of the building by a curved, hinge-like zinc rotunda. Protruding "finger" blocks extend out from the main technology wing, each one colour coded internally and externally to reflect its assigned syllabus and separated by a series of open-ended courtyards.
Headteacher Andy Sprakes is unequivocal about what his "non-negotiable" priorities for the new school were. "It had to be robust, easy to maintain, have good circulation and above all, be flexible," he says.
The design responds accordingly. Painted fair faced blockwork walls and concrete floors impose an air of solid durability, enable good acoustic performance and create high thermal mass. The steel frame also permits a huge amount of flexibility within the floorplan enabling a large proportion of internal walls to be sliding partitions.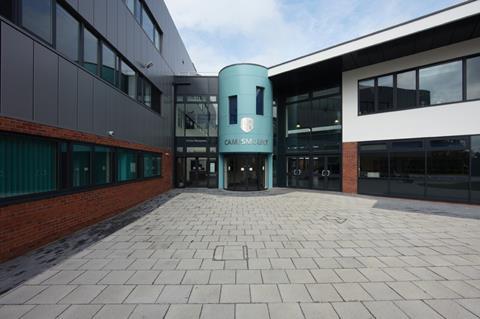 CPMG group director Hugh Avison insists that the standardisation approach adopted can still produce a bespoke design. "Really, there's no such thing as a standardised school, they're all different. The standardised design elements here only extend to areas such as structural steel, window heights and floorplate depths. Beyond that we were still able to pursue a simple, volumetric and flexible approach but one grounded in discipline and rigour."
Sprakes concurs. "Standardised principles are fine, as long as they don't lead to standardised buildings." And for school business manager Kevin Unsworth, the approach was an unquestionably "refreshing" relief from the "pathetic posturing of BSF". "All we wanted was a simple, traditionally and practically designed school. Give me a square or a rectangle over a useless curve any day."
While Adapt's "kit of parts" approach does not necessarily generate assured visual cohesion externally, it clearly imposes a functional pragmatism on the design which has led to a series of simple and successful interiors. Its rectilinear forms are also enlivened by a diverse mix of colours and materials. Campsmount will not set the design world alight, but it proves conclusively that standardisation need not suppress either flexibility or visual variety.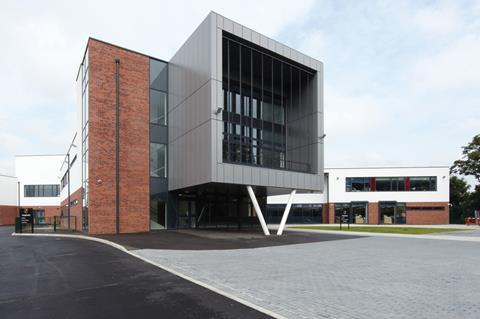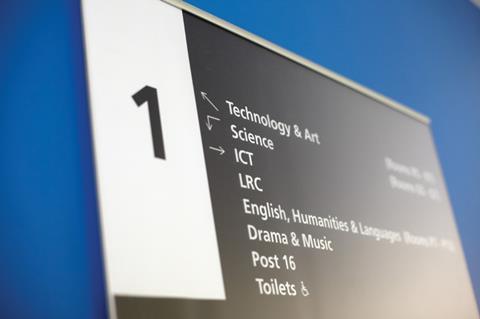 HOLY TRINITY ALC (ADVANCED LEARNING CENTRE), BARNSLEY
TYPE: "All-Through" 3-16 School
PUPILS: 1,200
ARCHITECT: AHMM
CONTRACTOR: Laing O'Rourke
SYSTEM: BSF/Sustainable Standardised Schools Solution
COST: £26m
COST per m2: £2,566
PROCUREMENT: 25 weeks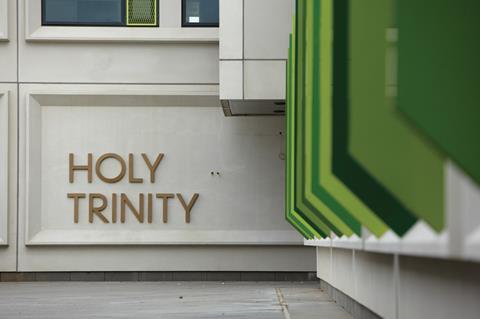 According to Andrew McHugh, Laing O'Rourke Construction North project leader, Holy Trinity School in Barnsley is a BSF school that has been built to standardised principles. It therefore represents a unique hybrid between two diametrically opposed procurement routes. Laing O'Rourke's Sustainable Standardised Schools Solution aims to incorporate 70% of off-site prefabricated components into its projects and relies exclusively on concrete structural panels manufactured at a giant central plant in Nottinghamshire.
Standardisation can also be extended to other elements such as stairwells, windows, classrooms and sports halls. Nevertheless, the contractor claims that a high level of customisation and flexibility can still be achieved by the use of concrete columns precluding fixed internal structural walls and the possibility of brick or stone finishes.
At Holy Trinity the standardised elements are restricted to the external sandwich concrete panels, twin internal walls and precast concrete lattice flooring planks. This allows the introduction of elements of variety to some parts of the school, such as the composite cladding to the sports hall and the dynamic expression of a floating chapel, complete with glazed structural cross precision cut into the concrete frame, above the entrance.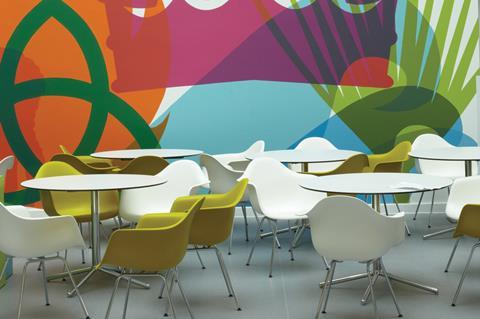 However, externally at least, the building remains a uniform and repetitious affair. The elevations are defined by successive concrete bays with large windows set behind a protruding concrete trim. While the concrete finish is exceptionally honed and crisp and the bays are relieved by varying shades of perpendicular lime coloured aluminium fins, the regimental approach and the interruption of the clean roofline by the array of jutting ventilation stacks above, does little to conceal the modular assembly of the building.
Moreover, the elevational treatment is virtually indistinguishable from AHMM's Dagenham Park School in London which opened in June, another BSF collaboration with Laing O'Rourke.
There is undeniable quality in both these buildings, particularly in their simple, streamlined profiles and spacious interiors. But if standardisation is to lead to a number of identical schools proliferating across the country, then more care will have to be taken to ensure that the concept actively responds to context and does not become stigmatised by monotony.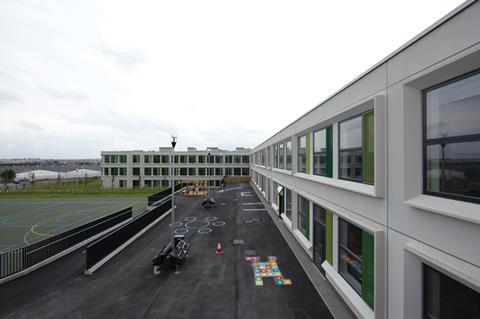 OAKFIELD PRIMARY SCHOOL, RUGBY
TYPE: 1.5 Form Entry Primary
PUPILS: 210
ARCHITECT: Atkins
CONTRACTOR: Willmott Dixon
SYSTEM: Sunesis (Keynes)
COST: £2.2m
COST per m2: £1,858
PROCUREMENT: 16-20 weeks
Willmott Dixon's standardised schools concept is quite simply revolutionary. In partnership with public sector contractor Scape, it offers a suite of four fixed-price and predesigned primary schools (Keynes, Newton, Paxton and Dewey) and one, Mondrian, secondary school. Each school has been designed by a different architect inducing a level of competition which, according to the contractor, assures good design. Each school can be bought through a website where the buyer is invited to customise their purchase with additions or alterations, (such as sliding partitions or cladding finishes) all of which is instantly priced on demand. For the first time, this is essentially bringing the technology and consumer psychology of Amazon or Ikea to architecture.
"It was actually based on the Fiat website" grins Scape business development director Steve Elkin.
"There you have a consumer product that is the essence of standardised design and yet it is undeniably high quality and extensively customisable. Why can't you do the same on buildings?"
According to Willmott Dixon framework manager Scott Corey, the answer lies in the fact that the "construction industry is driven by consultant fees conspicuously designed to confuse the consumer".
"Why does every building have to start with a blank sheet of paper?" continues Elkin "and why do we as an industry insist on quoting building prices per square metre when practically every other consumer product offers fixed prices? Sunesis challenges this by providing certainty, speed and an all-inclusive price that includes everything from start to hand-over."
How does all this stack up in design terms? So far, the most popular school model has emerged as Keynes and the first one of these is poised to complete at Oakfield Primary School in Rugby. It is a single storey portal frame comprised of a lightweight steel structure that requires a concrete slab depth of only 135mm and no internal structural columns. Oakfield has a render and brickwork external finish but the system allows for the use of alternative cladding, such as timber.
There is a limit to how much aesthetic animation can be injected into a portal frame and the exterior is perilously close to the mundane. But internally, a broad, majestic central hallway, top-lit by some of the 21 skylights cut into the roof and open at either end to the glazed sides of the block, sets the tone for the simple, spacious and flexible interior. "By taking care of the building we actually provide more opportunities for the users to concentrate on what they're really interested in" insists Elkin, "fixtures, fittings, furnishings and personalising their spaces."
As Sunesis is essentially an "off the shelf" system, the same issue of repetitive design that is posed by Holy Trinity is also relevant here. What impact will this level of replication have on the character and diversity of our urban environment and what is there to stop a Sunesis school in Runcorn looking roughly the same as one in Norwich or Penzance? "Nothing" muses Bob Athroll, Wilmott Dixon's education sector manager, "but there's a strong argument for saying that that is exactly what [education secretary Michael] Gove wants."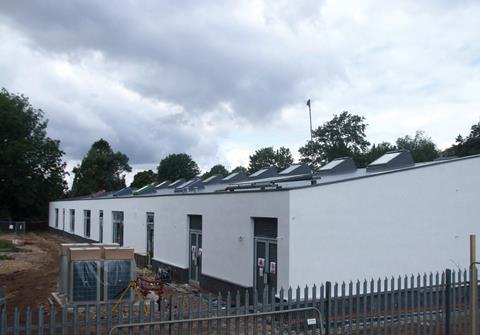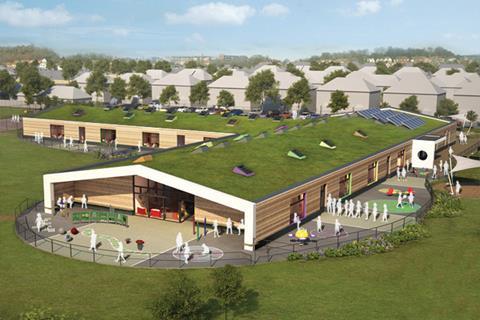 DO THEY MAKE THE GRADE?
The reluctance of some architects to embrace standardisation is understandable. While cars and flatscreen TVs may well be products of standardised design, films and music are not and the suspicion that standardisation diminishes quality is perhaps a remnant of the age old debate as to whether architecture is principally driven by art or necessity.
But standardisation merely sets parameters, how the designer chooses to respond to them is far more the result of their own skill than constraints or opportunities presented by the process. In the same way that a recording studio will not transform a bad singer into a good one, standardisation will never compel a good architect to create a bad building.
But standardisation within British schools is not exactly new. The UK's biggest ever school building programme was not actually BSF but the construction of hundreds of Victorian Board Schools across the country
in the late 19th century. With their distinctive red brickwork, tall sash windows, gable roofs and terracotta dressings these unmistakable buildings were essentially formed from a highly prescriptive yet extraordinarily flexible palette of materials and accommodation mixes. This same innovative approach to pragmatic design and functional flexibility could well secure an equally enduring legacy for this new generation of standardised schools.
Not one of the three schools featured above exudes any of the drama, intensity or charisma that constitutes great architecture. And yet they all without question provide '"fit for purpose" and cost-effective internal teaching environments that are light, spacious, airy, flexible and practical. And that, in spite of all the political and architectural histrionics about how our schools are procured and what they actually look like, is perhaps all that really matters to the children and teachers they will serve.