This week's sketch depicts the cabin of a bustling flight to this year's Mipim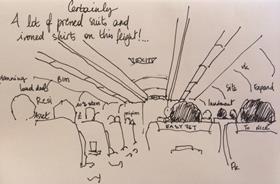 This week's #buildingdoodle sketch is by Félicie Krikler, associate director of Assael Architecture. The sketch shows Félicie's observations of sitting on Easyjet flight EZY8355 to travel to Mipim 2015, which took place last week. While various snatches of conversation on "planning", "BIM", "resi", and so on, fill the cabin, she notes that there are "certainly a lot of pressed suits and ironed shirts on this flight".
To submit your sketches for publication please email building@ubm.com or post via Twitter using the hashtag #buildingdoodle. Sketches can be anything from a technical drawing to a conceptual design or just something doodled in a particularly boring meeting.