Businesses next to and near the sites where new Crossrail stations are being built are at once feeling the pinch from a lack of footfall as the project stutters and looking forward to increased revenue from more customers when the project finally completes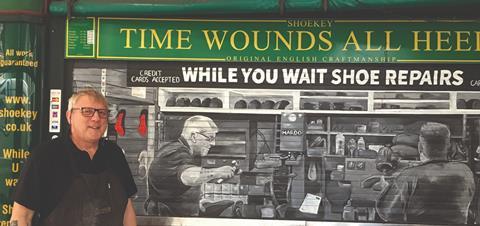 Six trains and about 82 minutes of travel. That is how long it took to visit Shenfield, Liverpool Street, Whitechapel, Bond Street and West Ealing stations, all of which will be on the Crossrail route when it finally opens. And when it does open, it will be a simple journey that takes 64 minutes. This purported ease of travel, as well as the massive overall cost and time overruns associated with Crossrail have been well publicised.
While the project is already £2bn over budget and there are no guarantees the central section of the line will be open before March 2021 – the more wide-ranging effect of both the scheme's delay and eventual opening is something that has not really been talked about.
What has not been widely discussed is the effect of the scheme on small businesses near the stations being worked on as part of the £17.6bn project. When complete, Crossrail will run through 41 stations, meaning there are hundreds, if not thousands, of businesses directly affected by the construction. Some have been buoyed by the influx of construction workers while others have been hindered by the disruption caused by the works.
The delay, announced a year ago this month, has had a number of effects on business, not least in that it has altered footfall projections and so set back potential financial gains. But by the same token, while the delay is unfortunate in an immediate sense, these businesses are, by and large, also in line to reap the benefits brought by increased commuter numbers and wider expansion spurred on by Crossrail's development.
Speaking to their owners, what is clear is the minutiae of the project matters. Whether it's the temporary acquisition of shops' yards or hoarding making access to shops and cafes much more difficult, things that seem insignificant in a project of this scale are of immense importance to the businesses being run in the immediate vicinity of the stations.
While the wider ramifications of Crossrail have been discussed at length, small businesses being run in its shadow tell Building both how they have felt the pinch during construction and how they hope to take advantage of its eventual completion – whenever that may be.
We set off from west to east using transport links – here are some of the people we met on the way.

West Ealing
Going back to the beginning, West Ealing in London's west, A2Zee cafe is one shop up from Graham's construction site to build a new ticket hall for the station ahead of Crossrail's arrival.
Graham was awarded the contract to upgrade West Ealing station in May. The firm will build a new station footbridge and a new ticket hall and ticket gates with office. When the full route opens, four Elizabeth line services an hour will allow passengers from West Ealing to travel through the central London tunnels or west towards Heathrow and beyond.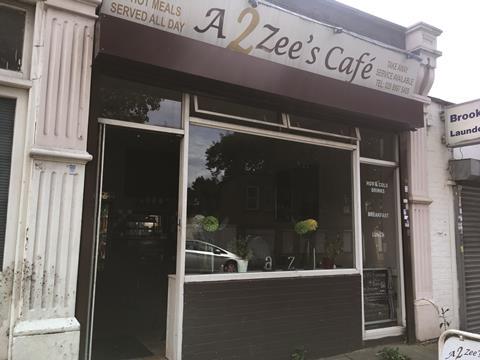 Zee, A2Zee's cafe
"Running a business next to the Crossrail construction site has been OK. There's been a bit of business from the workers and they are nice. But that hasn't been very consistent as the work has been on and off. There were some guys working around Christmas time and then they only started working again last month [July] so there was a bit of a big gap in between. It's been a bit noisy at times with the digging. Sometimes I've felt it's been to the point where I thought my customers might be disturbed but it hasn't been constant so we can live with it.
"I think Crossrail opening would definitely be good for business. Having the entrance of the station on this road where people will have to walk past to go to the main road would be good for business. At the moment I have a lot of regulars, but I think it opening would bring in a lot more walk-ins. It has also meant there is a lot of development going on in the wider surrounding area which also creates more customers for small business, plus I have lots of groups of builders coming in for as long as projects run. So, I would say things like the station coming in can definitely boost business."
Bond Street
Two trains and 40 minutes later the half-built Bond Street station is the next on the line to be visited. Stampa, a cafe, sits next to the site's hoarding on Davies Street, while sister-venue The Running Horse, a pub, sits diagonally across the road.
The "problem" station is significantly behind schedule and is not due to be opened by March 2021 in line with the central section of Crossrail. The station, which is being built by a Costain and Skanska joint venture, is expected to cater for 137,000 passengers a day on Crossrail when the line opens. Once full service starts, 24 Crossrail services will pass through the station each hour.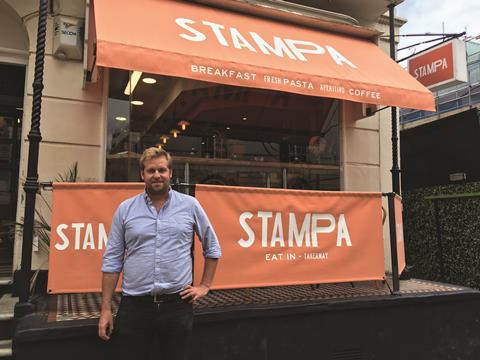 Dominic Jacobs, Stampa and the Runniing Horse
"It's been challenging. As construction has changed there have been different impacts and I don't think any of it has been positive. It's held back a lot of trade from Oxford Street as the site visually blocks off a lot of people. Recently they extended the hoarding beyond its usual boundaries for some extra work and that caused a huge drop-off in the footfall coming from Oxford Street. At the Running Horse, which is a licensed premises, no one [from the site] goes in even after hours. At Stampa they [the construction workers] are crucial to the offering. The delay is very frustrating but we are incredibly fortunate that we didn't invest the amount of money we were going to in the business. We had budgeted from the end of 2018 to have 250,000 people a day leaving the station so it's incredibly irresponsible [of Crossrail] to not have mentioned that sooner.
"There will be huge benefits when it does open, and we can see there is a light at the end of the tunnel. I think everyone believes it will be a great thing for London when it does open. I still don't think there is any certainty about when it will all be done, that I would accept. But, in their favour, there has been a lot of community liaison and we are updated reasonably regularly. We also don't know if our rents will go up afterwards."
Liverpool Street
Our third stop along the journey was Liverpool Street station, after 12 minutes on the Central Line, shoe repair shop Shoekey is set at the end of The Arcade, about 35m from the Crossrail site.
Approximately 124,000 passengers are expected to use Crossrail every day to reach Liverpool Street once the line is running. Liverpool Street station, which is being built by Laing O'Rourke, will be serviced by 24 Crossrail trains an hour once the line is fully operational. The new station is 34m below ground and the platforms roughly 238m long.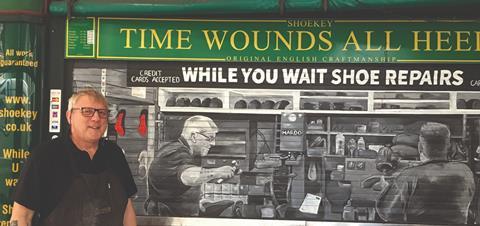 Gary Holding-Parsons, Shoekey
"There has been some negative impact on the pedestrian traffic coming through. When people exit stations, they have a set route to go to work, when it's blocked, they find another route and often they keep using that route even once the original route reopens. The [nearby] bus station has also been closed, which obviously has an impact on our business. It's also loud. There are constant whistles on the site. When it's busy there it's just whistle, whistle, whistle and they are up and down the road. They also move our A-Board [pavement sign] to back the lorries into Broad Street Avenue and they very rarely put it back. There is good communication from Crossrail with the businesses – we are constantly getting letters and updates. We also have a pretty good relationship with the whole Crossrail team.
"We've been told that we are going to be out, because they are going to refurbish the whole Arcade, in 2020. So, we were planning on having at least 18 months benefit of the increased footfall that we are expecting from Crossrail and we aren't going to realise that at all.
"I am sure that it will be good for all the businesses around when it does open up, we were just pipped at the post on that one. It's always disappointing when you are expecting a boost and it doesn't come and now it's never going to happen in the lifetime of the business."
Whitechapel
The shortest journey on the route is the five-minute Hammersmith and City line trip between Liverpool Street and Whitechapel in east London where Fresh Coffee is located. The sandwich and coffee shop backs on to the Crossrail construction site and sits next to the station's temporary entrance.
The East End station is being built by a Balfour Beatty, Morgan Sindall and Vinci joint venture. Once up and running, Crossrail services will deliver 99,000 passengers a day to Whitechapel station. When the full route opens, a Crossrail train every two and a half minutes at peak time will allow passengers to travel to Heathrow or Reading in the west and Shenfield or Abbey Wood in the east.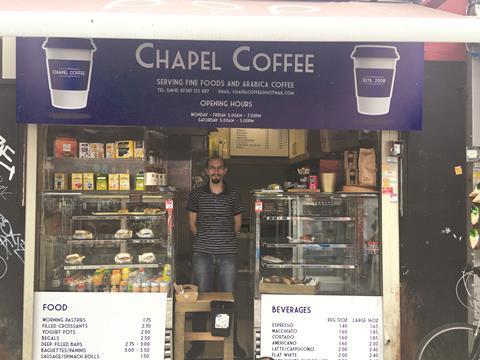 Diego Cappelletti, Fresh Coffee
"The construction phase is helping the business currently but at the same time the business was previously located in a bigger shop at the other end of the station, where Costa is, but because they closed the entrance we had to move here. The delay has actually given me an opportunity to stay here with the business for longer. The more delay there is, the more opportunity I have to keep working out of this location. Also, the construction workers actually come here quite a bit when they are on break as we are a good option if you are looking for a sandwich or coffee to grab and go.
The delay has actually given me an opportunity to stay here with the business for longer
"We are located near the temporary entrance and it's going to close at some point, but we don't know exactly when that's going to happen. The business works based on people coming out of the tube, as well as the construction workers, so I may have to shut, at least at this location, when that happens. We are hopefully going to find somewhere to open near the new entrance, but I will almost definitely close the business from this location."
Shenfield
The 35-minute trip from Whitechapel to Shenfield in Essex involves two tubes and a trip on the Greater Anglia mainline train. The Dry Cleaners is five shops up from the station, which is around 20 miles north-east of central London.
As the eastern terminus for Crossrail, Shenfield station will be served by 12 Crossrail services an hour in each direction at peak times. Costain is upgrading the facility, which is also served by Greater Anglia trains. Works include platform extensions to accommodate the Crossrail trains. Crossrail has also worked with Brentwood council on plans to improve the area around the station.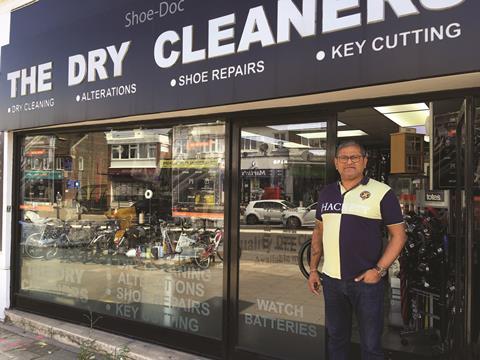 Harmesh Chanhan, The Dry Cleaners
"It's been crazily disruptive. With us they've compulsory purchased our yard. They started construction work three years ago and they used it for the first six months but for the past three years they've been sitting on it not doing nothing. We are supposed to get it back, but the deadline keeps moving and moving and moving and it seems pointless as nothing is being done with it. In the meantime, I have to pay for parking which is over £140 a month and we were originally meant to get it back after a year and we were compensated for a year. There hasn't been any additional compensation.
We are supposed to get our yard back from Crossrail but the deadline keeps moving and moving and moving and it seems pointless as nothing is being done with it
"They've said there is going to be a lot more footfall [when Crossrail opens] so hopefully the infrastructure that's already here can deal with that. Hopefully it doesn't price out the local people from not only shopping and everyday life but property especially. Something I have been afraid about is that Shenfield could just be a hub and we wouldn't see the footfall coming out of the station. Crossrail has promised that there will be increased footfall when the project goes live when their representatives have come up and down the street. The development in the wider area brought on by Crossrail will be good as more bodies on the high street can only be a good thing."