When Sadiq Khan became London's mayor this May, promising 50% affordable housing, the development industry held on tight. But so far, Khan has proved himself a pragmatist - a quality he'll need in buckets when he comes to address the capital's other major built environment challenges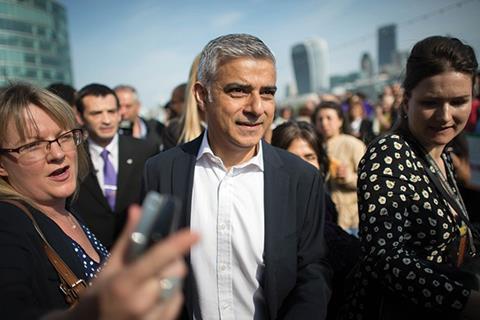 For some parts of the construction world, the idea of Labour politician who has pledged to gouge out far higher developer contributions for affordable housing becoming mayor of the UK's biggest and most vibrant economy could have been a pretty scary prospect. Maybe not scary in the way that Sadiq Khan's rival Zac Goldsmith tried to insinuate regarding supposed links to extremists – but worrying to their bottom line nonetheless.
Because Khan, the son of a Pakistani taxi driver, has come to power at a distinctly uncertain time for a city which is used to being the powerhouse of the UK economy. Suddenly the residential development market looks seriously challenged, with residential starts on site down by more than 60% in the capital over the summer, according to the latest NHBC statistics – the result of Brexit on top of stamp duty rises hitting prime property investors. Savills last month said it expects prime London prices to drop by almost 10% in 2016, right as sites in Nine Elms and Battersea are coming on stream. Likewise, Brexit uncertainty has caused developers to review commercial office schemes while the change in government means funding for infrastructure projects is once again up for debate. With so much at stake, Khan's progress since his election in May has been closely scrutinised, and questions raised about what he'll be able to deliver in his four-year term.
Most housing developers are now saying they'd welcome a fixed target for affordable as it stops them being at the mercy of the bidding process for land

Rab Bennetts, Bennetts Associates
But if the development industry was anxious about Khan, then so far he has managed to allay fears. Ken Shuttleworth, founder of architect Make, says: "We're quite encouraged by what we've seen of Sadiq so far. He's making the right noises and is clearly somebody that people can do business with. Of course he has a very long way to go on residential as there is such a huge requirement for homes." Fellow architect Rab Bennetts, founding director of Bennetts Associates, says Khan has been "calm and objective" with a "real grip on issues", while Peter Rogers, partner at 22 Bishopsgate developer Lipton Rogers, says "I rather like what I see."
Even on the issue he put centre-stage of his mayoral campaign – affordable housing – he is getting a more enthusiastic response than might have been assumed from the development community, partly because of the widespread recognition of the seriousness of the problem in London. Rogers at Lipton Rogers says: "It won't help our bank balance but I think he's right to push for much higher affordable housing, it's a fundamental issue in London and it's been a political negotiating tool for too long." Khan's deputy mayor for housing, James Murray, has been consulting developers about imposing a flat rate of 35% affordable housing on new schemes, on which he's won an unlikely supporter in the form of Berkeley executive chairman Tony Pidgley. Pidgley has gone public on his support for the idea of a flat rate to speed up the process of negotiating affordable housing obligations.
However, there is no doubt that Khan's hand has been worsened by the economic uncertainty following the Brexit vote, and the decline in the residential market. Professor Tony Travers, director of LSE London at the London School of Economics, says: "In a way Khan's job as mayor is to harness the market during his time for the benefit of as much public good as possible. The challenge is that Brexit has got in the way of any immediate capacity to know where the market is going, meaning it's hard to come up with direct positive policy proposals yet. Therefore it's too early to tell much as he's been mostly in listening mode."
Certainly, Khan has seemed to so far be a fairly steady hand, expert at positioning himself politically, and aware of the need to prop up the City economy and reassure major occupiers in the wake of Brexit. "There have been some pretty politically adept moves like the 'London Is Open' campaign in the wake of Brexit, and his recent trip to the US, which have given him a visible presence in public life," says LSE London's Travers. So, now that he's made a steady start, here Building assesses Khan's four big built environment challenges, his progress so far and the industry's expectations of where action is most needed.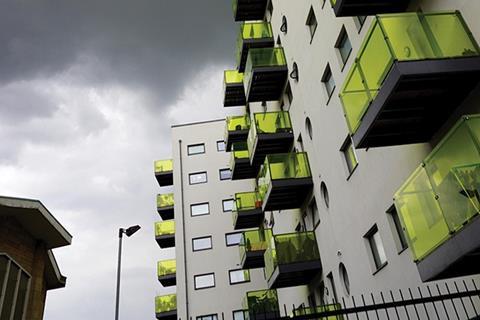 1. Affordable housing
There's no doubt that the provision of affordable housing is the principle pledge that Khan has made in the area of the built environment, with the promise to make 50% of new housing affordable arguably his highest profile campaign promise overall. Khan has said he will get to grips with London's housing crisis by setting up a new body, Homes for Londoners, to drive the creation of affordable homes, particularly on public land, and has already made a signal of his intent by allowing the sale of a surplus Transport for London site at a low cost on the basis it provided more affordable homes. He has promised to set up a team to review the viability assessments used by developers to dodge required affordable housing provisions, and his advisers have received a warm response from some for a flat rate planning contribution for affordable housing. Bennetts Associates' Bennetts says: "Most housing developers are now saying they'd welcome a fixed target for affordable as it stops them being at the mercy of the bidding process for land."
There is also the question of Starter Homes, which the government has indicated should make up the first 20% of affordable housing requirement on any scheme, but which is opposed by Khan, and which major developers such as Berkeley have said won't work in London. Despite his manifesto promise, Khan has been willing to be pragmatic to allow schemes to go ahead. This will be vital if the recent hiatus in housing starts following on from the slump in the prime residential market isn't to turn into a prolonged drop-off in housing output. Richard Jones, partner at consultant Arcadis, says: "The one thing he needs to avoid is putting up more barriers in terms of site viability. But I don't hear any real panic at this stage."
At this week's Conservative Party conference, chancellor Philip Hammond said the government would borrow £2bn to support the "Accelerated Construction" scheme, which aims to get houses built on publicly-owned "brownfield" land available for swift development.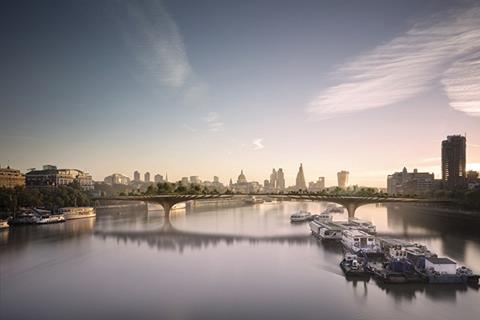 2. Major projects
Khan has already signalled his intention to intervene in major projects begun by predecessor Boris Johnson, including the Old Oak Common development, the controversial Garden Bridge scheme and the Bishopsgate Goodsyard development. Khan has put both the Old Oak Common scheme, which Johnson set up a Mayoral Development Corporation to drive forward, and the Garden Bridge project (pictured) under formal review – with the review of the Old Oak development due to be completed any day now. Old Oak has been hampered by fears that the Crossrail marshalling yard on the site is being built in a way that will massively undermine the area's development potential and Khan has pledged the review will get to the bottom of this issue. Former Public Accounts Committee chair Margaret Hodge will likewise look at whether the £185m Garden Bridge scheme represents value for the £40m of public money spent on it so far. Meanwhile, the developers of the massive Bishopsgate Goodsyard scheme have themselves pledged to review it after Khan appointed the project's most implacable opponent – former Hackney mayor Jules Pipe – to be his deputy mayor for planning. Bennetts says: "I hope he gets to grip with sad nonsense such as the Garden Bridge – which doesn't seem like a good deal for anyone."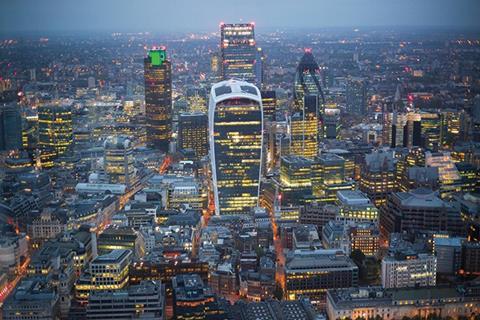 3. London Plan
Former Hackney mayor Jules Pipe will lead Khan's planned revision of the London Plan, the document that sets the parameters for development in the capital. Pipe has said little so far about his priorities, though Khan's manifesto said he would use the London Plan to help deliver more homes for disabled and older people, protect parks and prioritise space for small businesses. However, many developers will be looking hardest to find out what Khan's attitude to tall buildings will be, given widespread concerns around the more than 300 buildings of more than 20 storeys that are currently either under construction or have planning permission in London. Bennetts says: "He's going to take a good long look at the excesses of height we have from too much laissez-faire planning. These tall buildings aren't helping the housing problem."
Commercial developers, however, will want to know he is not going to limit the scope for new office schemes, whether towers or not. "It's early days to know about his attitude to high rise, but overall he seems to be sending out pretty supportive messages to the City," says Lipton Rogers' Rogers. Developers will also be keen to know where Khan stands on the issue of permitted development for converting office buildings into homes, which has been a significant part of the capital's housing supply in recent years but has angered local authorities which have been trying to retain employment space. But those hoping for major change may be out of luck. "Different people will hope for different things from the London Plan," says the LSE's Tony Travers, "but the reality is it has lived on in a very consistent form from Ken Livingstone through Boris Johnson, and it seems unlikely it will change radically."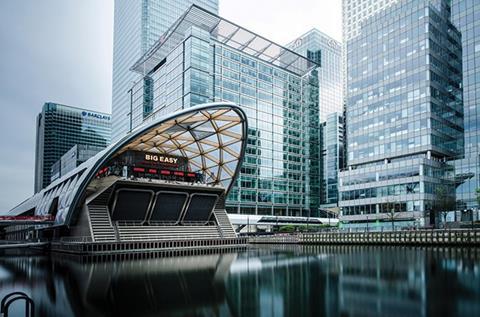 4. Infrastructure
London has been investing £2bn-2.5bn a year in infrastructure projects such as Crossrail (pictured), Thameslink, tube upgrades and improvements to London's overground rail network. Looking forward, key Transport for London projects include the Northern Line extension to Battersea, the "four lines modernisation" project for the Circle, District, Hammersmith and City, and Metropolitan Lines, the redevelopment of Bank Station, and above all Crossrail 2, planned to run from the north-east to the south-west of London. However, questions have been raised about the ability of Khan to fund existing and future projects at the same time as meeting his promise to freeze fares at current levels for the whole of his term in office, which will cost hundreds of millions of pounds of expected revenue and is already leading to major job cuts in the agency. The LSE's Travers says this decision may make the Treasury less sympathetic to pleas for increased funding, which will also be looking to support infrastructure investment in the regions. "The mayor's office is likely to think it can squeeze the savings needed from TfL out of organisational efficiencies. The big question is whether the likely greater opportunity for UK regional schemes will mean that London gets less than it's used to." Hence all eyes are on chancellor Philip Hammond's Autumn Statement for signs as to whether London's big ticket infrastructure – particularly Crossrail 2 – will continue to be supported. Arcadis' Jones is optimistic: "If the rhetoric is all about economic growth, then ultimately they can't afford to ignore London."

At our Building Live conference in November there is a session titled "London: Development under the new mayor". It will look at delivering the capital's construction pipeline over the next five years. Atkins' Mike McNicholas and Rob Tincknell of Battersea Power Station Development Company will be on the panel, which will also include Roger Madelin of British Land, Graeme Craig of Transport for London, and Colin Wilson from the Greater London Authority. For more programme information and to book your place go to www.building-live.co.uk
Industry advice for Sadiq Khan

Tackle the housing crisis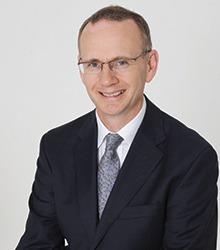 Mike McNicholas, managing director and director for London, Atkins
Finding a quick and sustainable solution to the capital's housing crisis must be the first priority for the mayor as the current deficit in number of homes delivered is only going to grow as the population increases. Including the appropriate green and social infrastructure to support new housing developments created across London is also vital. Without early consideration and planning for this, there's a risk communities won't thrive long term. Big investment schemes already committed to across the capital, such as Crossrail 2 and Old Oak Common, must also be managed to ensure their benefits are maximised for all Londoners.
The scale of these challenges facing London calls for fresh ideas, new solutions such as modular housing, and embracing new technologies. We're not going to be able to deliver the infrastructure required in such a rapidly changing city by carrying on with business as usual. There's also no reason why we should limit ourselves to UK investors in this global economy when we can look for international partners and investors.

Harness the private sector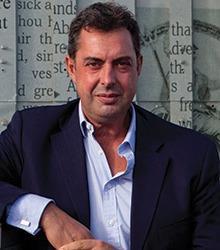 Rob Tincknell, chief executive, Battersea Power Station Development Company
Driving up housing supply has to be one of the mayor's biggest priorities, and the key to unlocking areas of land for regeneration is investment in transport infrastructure. The presumption is often that infrastructure can only be funded through the public purse, but actually here at Battersea Power Station the extension of the Northern line is being funded by the business rates generated from new office space. The provision of that transport infrastructure yielded twice as many new homes as would ordinarily be appropriate as well as guaranteeing a genuine mix of uses, a mix which is vital to building real community and a genuine sense of identity.
Another more recent priority for the mayor, following the referendum, has to be making sure London remains the world's favourite capital city – the city where people want to live, work, learn and spend time. Without doubt he has got off to an excellent start through his inspired 'London Is Open' campaign.