Although the summer getaway is now in full swing, the city has much to offer the design-minded sunseeker. In the first of a two-part series, here are some of the best UK roof gardens and public spaces to make you think twice about that beach holiday.

British cities have never quite engaged in the annual summertime exodus that takes place in their European counterparts. While the absence of school runs leads to moderately lighter traffic levels and university cities are noticeably quieter out of term time, London or Liverpool never quite experience the phenomenon of urban flight that occurs in or Madrid or Milan.
This unique demographic trait, coupled with a natural British propensity to revel in the outdoors whenever the traditionally inclement summer weather allows, provides a rare opportunity to see British cities adapted for occasionally sun-soaked leisure and recreational pursuits. And there are two city features whose popularity has grown in recent years that provide an excellent backdrop for such pursuits to take place: roof gardens and public spaces.
There was a time when public roof gardens were relatively rare in UK cities. Before its much lamented closure earlier this year, London's most famous and exotic roof gardens were those atop the former Barker's art deco department store in Kensington, where princes and playboys would mingle with preening flamingos and shelter beside trickling fountains and streams.
But today the city is awash with public roof gardens, and unlike Kensington these are egalitarian rather than exclusive spaces. Roof gardens are now considered to be an almost essential component of cosmopolitan credibility and can be found on top of bars, restaurants, hotels, shopping centres, car parks and sometimes, controversially, office towers – each one providing an enticing opportunity to view the city panorama from above.
Public spaces too have undergone something of a renaissance in the past two decades. Once strictly the preserve of traffic engineers, creeping pedestrianisation has helped reclaim these spaces for people and all the attendant spontaneity and animation that they bring. One of the biggest symptoms of this trend is the widespread reintroduction of fountains into the British civic landscape – our generation rediscovering their value for civic display and public entertainment as so readily understood by the Georgians and Victorians.
So as summer eases gently along, here are a selection of some of the best roof gardens and public spaces that our cities have to offer.
Piece Hall Square, Halifax
LDN Architects/Gillespies, 2017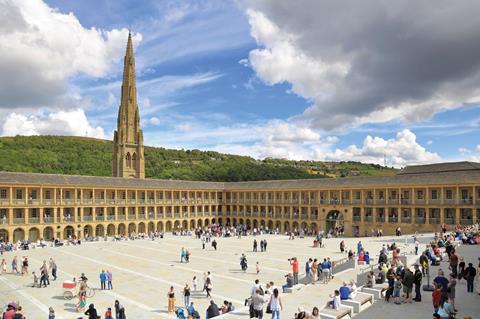 Covent Garden may be the UK's oldest classical square, but it is Yorkshire that can lay claim to one of the most stunning urban piazzas in Europe that survives in its original form. Even more strikingly, you've probably never heard of it.
The Piece Hall was built in 1779 as by far the grandest in a series of merchant cloth halls built across the West Riding valley. Its magnificent neoclassical architecture of stupendous tiered colonnades and arcades was impressive enough, but their dramatic placement around a vast courtyard created a devastating urban set-piece arguably rivalled only by Greenwich's Old Royal Naval College in the UK and easily worthy of anything in Rome or St Petersburg.
This failed to stop the building and square falling into various stages of disrepair during the late 20th century, a process only arrested by its recent, three-year, multimillion-pound restoration into shops and galleries surrounding a revitalised public space. The gorgeous Georgian stonework of the building has been lovingly restored and the huge 66,000ft² courtyard repaved and relevelled to create a spectacular new public space with a capacity of up to 7,500 people. Partly funded by £7m of National Lottery money, the restoration was completed in August 2017 by LDN Architects, with Gillespies as landscape architect, Buro Happold as engineer and Graham Construction as main contractor.
The redeveloped Piece Hall offers a superlative masterclass in how to optimise the abundant synergies between architecture and public space and between conservation and renewal.
Roof terrace, One New Change, London
Jean Nouvel, 201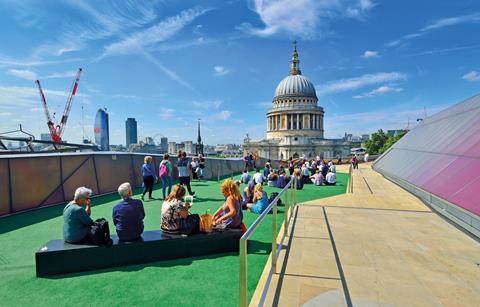 Eight years after the completion of Jean Nouvel's only UK building, One New Change in the City of London, opinion is still divided as to whether it forms a dynamic contrast to its historic surroundings or causes them serious harm. So controversial is it visually – nicknamed the "stealth bomber" for its low-slung, squid-like shape – it's easy to overlook how socially radical it has been.
First, it is the City's only purpose-built shopping centre and challenges its traditional office monoculture by extending retail into evenings and weekends. Second, it is crowned by a spectacular roof terrace – one of the largest in Europe. This is no ordinary roof terrace – with its piazza steps and attendant bar, it is a public space in its own right, offering stunning views over London and St Paul's opposite.
By contrast with some of the public sky gardens and viewing galleries in the City, which can seem more like ploys to help secure planning permission for tall buildings, this represents a generous extension of street-level public realm to offer a genuinely dynamic new civic experience for the city.