How green is your hotel? Azita Dezfouli and Adam Mactavish of Sweett Group look at the practical steps for reducing the environmental impact of hotels during design, construction and operation
01 / WHY BOTHER
There are strong business reasons for saving money by reducing the environmental impacts of hotel activities. Rather than detracting from the guests' experience, green initiatives have actually been shown to increase levels of customer satisfaction.
Both business travellers and holidaymakers are increasingly expecting their hotels to demonstrate environmental and social responsibility, while also providing expected levels of comfort and service.
In a recent survey of Canadian business travellers1, over 40% stated that the environmental impact of their hotels were important to them. A quarter of holidaymakers and over 30% of business travellers actively looked for hotels with environmental certifications.
A 2009 survey of customer satisfaction showed that guests' satisfaction2 was higher when they were aware that their hotel was actively trying to reduce its environmental impact.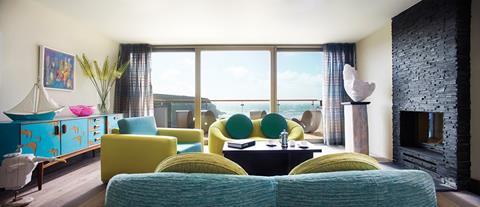 02 / KEY IMPACTS
A green hotel programme encompasses a broad scope of issues ranging from the energy performance of the hotel to its impact on local communities and those of its supply chain. This article focuses on impact areas most closely linked with the hotel building itself namely, the energy, water, and waste associated with construction and operations.
Energy
Hotel facilities rank among the top five in terms of carbon emissions and energy consumption in building types. In 2000 overall energy use in European hotels was 39TWh greater than the total electricity consumption of Denmark in 2008 (34TWh).3
Water
Water consumption varies in hotels depending on the presence of swimming pools, saunas, laundry and catering facilities. However, water accounts for 10% of utility bills in many hotels4, with taps, toilets and showers comprising around 40% of this total.5
Waste
An estimated 0.5 million tonnes of waste is produced by the hospitality sector in the UK each year6. This is typically food, glass, paper and card from either food- and beverage-handling (generating materials such as packaging and food waste, aluminium cans, glass bottles, corks and cooking oils), or from the housekeeping department (creating waste such as cleaning materials and plastic packaging).
According to the Waste and Resources Action Programme (Wrap), the hospitality sector could save up to £722m a year from reducing or preventing food waste.
03 / WHAT CAN BE DONE: DESIGN, CONSTRUCTION, MANAGEMENT
There is a range of individuals that can have a role in reducing the environmental impact of hotels. These include the designers, contractors, developers, owners and operators (not to mention the guests). Often, the more engagement and cross-collaboration to address environmental impact there is between the different organisations, the more effective the outcome.
A sensible starting point is to commit to achieving an environmental certification. This has the benefits of: encompassing and engaging the whole design and project team; providing a standardised way of benchmarking performance (within an organisations' own stock and against competitors); and is also a method to demonstrate environmental responsibility and green performance to potential customers.
Commonly used schemes are LEED and BREEAM. These focus on the design and construction of the hotels and offer a range of ratings depending on how far the project team address different "credits" within a variety of categories (such as Energy, Waste and Water). Many hoteliers have adopted a requirement for LEED and/or BREEAM ratings on all their schemes. For example, Hilton Worldwide pursues LEED certifications for its buildings and The Ascott apartment and hotel chain has also introduced BREEAM "very good" as a minimum requirement for its buildings across the world. Other initiatives include the Global Sustainable Tourism Criteria, which targets wider areas such as socioeconomic and cultural impacts.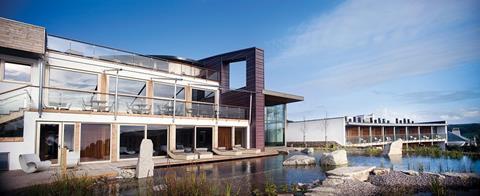 Energy
From studies carried out by Hotel Energy Solutions (2011), energy consumption in European hotels is mainly attributable to:
Heating, cooling, ventilation and air-conditioning - around 50%
Hot water - up to 15%
Lighting (depending on category) - 12-18%
Given these figures, energy use could be reduced by considering the right decisions at design and construction stage, and by implementing the right energy management during operation; some examples of measures are shown below:
Design and construction:
Energy-efficient building fabric and systems - for example, building insulation, natural ventilation and A-rated (and upwards) energy-efficient electrical appliances
Installing energy-efficient heating and cooling systems
Using low-carbon technologies such as heat pumps - ground source, air or water source; solar thermal hot water systems; and photovoltaic cells
Installing Combined Heat and Power (CHP) plant - this is preferred in scenarios where there is a high and constant hot water demand, such as in hotels with swimming pools
Installing Building Management Systems (BMS) and controls
Using thermal and lighting zones, where it is possible to adjust, and turn on or off small sections of floors and hallways at frequent points across the building.
Operation:
Ensuring energy efficiency in catering (which accounts for 4-6% of operational costs).
Installing efficient lighting and lighting controls
Installing daylight sensors
Maintaining and cleaning the windows and skylights to maximise daylighting benefits. Without regular maintenance, light levels can fall by up to 30% in two to three years
Preventing overheating of swimming pool water and other leisure facilities, which should be kept at 28-30ºC
Using covers for swimming pools when not in use
Maintaining thermal comfort in guest rooms by setting minimum and maximum temperature to heating/cooling systems.
Water
According to the Environment Agency, water efficient hotels can reduce the amount of water consumed per guest per night by up to 50%. Installation of water-efficient fittings might be of concern to hoteliers because of the perception that water use directly relates to the guest experience and for example a "luxurious" shower would typically have a high water flow. However, aerating shower head products are now available that provide a high-quality shower at flow rates of 9 litres per minute. These showers are being used in international five-star hotels, demonstrating that a shower can meet demanding performance standards and also be water efficient.
Puma Hotels, a UK hotel group, estimates savings of approximately £58,000 per year on water consumption by installing aerated shower heads across its 21 hotels. The changes have had no negative impact on guest satisfaction.
Other actions that can be implemented to improve water efficiency include:
Installing water leak detection systems
Installing solenoid water shut-off systems to public areas
Installing water shut-off valves for each zone, floor or block
Installing water-efficient appliances in the kitchen and laundry
Improving awareness of hotel management to sustainability issues and adjusting guest allocations so that water system can be shut off to areas not currently being used
Educating staff to help them understand why and how to reduce consumption.
Waste
Reducing operational waste in hotels firstly reduces the cost of disposal and secondly frees up more back-of-house floor area. This floor area can be added to the lobby and/or commercial units in the front-of-house area, resulting in a more spacious, attractive building for the guests.
Although most waste associated with hotels results from day-to-day operational activities, designers can both reduce construction waste and ease operational waste management by:
Introducing a modular and flexible design
Specifying materials with high recycled content
Specifying sufficient and suitable areas for waste to be stored and sorted.
It is good practice to undertake a design review, which can identify the opportunities to reduce the cost of waste material and its disposal. Figure 1 (below) demonstrates some savings attained for a hotel in Middlesbrough.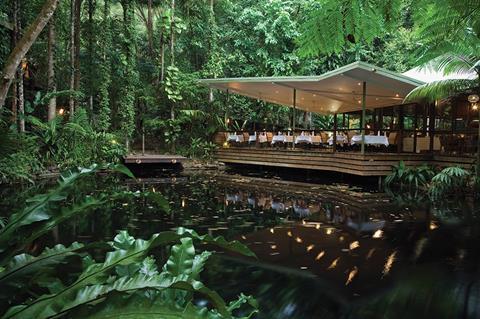 Figure 1: Waste, carbon and cost savings available through review of design options
| | Waste generated | Cost of waste materials | Cost of waste disposal | Embodied carbon of materials and waste |
| --- | --- | --- | --- | --- |
| Traditional construction of elements assessed | 4,200 tonnes | £93,600 | £366,700 | 1,950 tonnes |
| Waste minimising option | Waste saving | Cost of waste materials saving | Waste disposal and cost saving | Embodied carbon saving |
| Bathroom pods | 45m3 (90 tonnes) | £13,500 | £11,500 | 23 tonnes |
| Volumetric pods (Bathroom and bedroom) | 330m3 (660 tonnes) | Unknown | £43,250 | Unknown |
| Pre-cast walls and slabs | 700 tonnes | £75,500 | £43,250 | 186 tonnes |
| Pre-cast columns | 36 tonnes | £4,600 | £2,350 | 13 tonnes |
| Foundations | 3,050m3 (2,310 tonnes) | £0 | £245,000 | 3 tonnes |
| Potential savings | 3,140 tonnes | £93,600 | £303,900 | 230 tonnes |
Approximately 70% of the hospitality waste in the UK can be recycled. Food waste and packaging make the majority of waste in catering areas. Hilton Worldwide has developed initiatives and shaped a partnership, RePurpose, to reduce its waste across the world. The focus is on:
Food - minimize food waste, educating hotels on food banking opportunities, developing relationships between hotels and local food banks, and establishing systems for donating safe and nutritious food
Soap - reprocess soaps collected from Hilton Worldwide hotels and make them into new bars for distribution to populations at risk of hygiene-related disease
Mattress recycling - The components of the mattresses and box springs are recycled into various products including tools, oil filters, particle board shelving and carpet padding rather than being diverted to a landfill.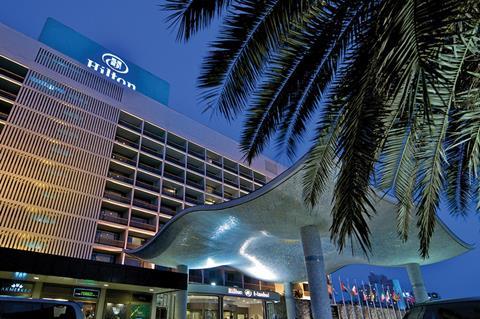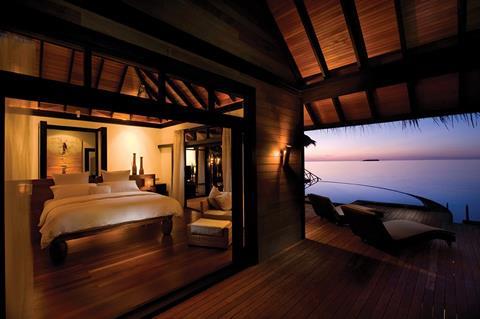 04 / COSTS
Hotel buildings that meet sustainability benchmarks perform better in operation. Sweett Group studied the costs of improving the environmental performance of a hotel brand to reduce carbon emissions and achieve BREEAM 2008 standards in Europe.
The research (2010) found that the key energy specific improvements can reduce CO2 emissions by 53% at a cost of £0.5m. Improvements and associated costs and savings are presented in Figure 2 below.
Figure 2: Costs and benefits of improving energy performance in hotels
| Upgrade | Carbon saved (kgCO2 /m2) | Extra capital cost | Pay-back | Additional BREEAM credits |
| --- | --- | --- | --- | --- |
| Improve chiller efficiency (Turbocor) | 71.3 | £85,000 | <1 years | 6 |
| Fan coil unit efficiency | 18.3 | £36,000 | 2 | 8 |
| Add external shading | 6.0 | £100,000 | 10 | 8 |
| Reducing specific fan power | 1.0 | £35,000 | 6 | 8 |
| Solar thermal panels (550m2) | 3.0 | £234,000 | 67 | 8 |
| TOTAL | 99.6 | £490,000 | | |
Figure 3: Costs and benefits of improving energy performance in hotels
| BREEAM credit | Credit cost | Implementation considerations |
| --- | --- | --- |
| Wst1 Construction site waste management | £0 | No cost effect in current market conditions. Identify through PQQ procurement stage those contractors that have a market leading waste record |
| Man2 Considerate constructors (innovation) | £0 | No cost effect in current market conditions. Identify through PQQ procurement stage those contractors that have achieved a CCS score of 36 or more |
| Wat2 Water sub-metering (innovation credit) | £1,000 | Not difficult to achieve. Supports a water efficiency programme |
| Tra7 Travel information point | £2,500 | Not difficult to achieve. Encourages use of public transport |
| Pol7 Reduction of night time light pollution | £5,000 | Not difficult to achieve. Reduces light pollution and saves energy. Potential conflict with having a well-lit hotel at all times |
| LE6 Long term impact on biodiversity (1st credit) | £6,000 | Landscape maintenance implications can be minimised and additional criteria form part of the main contractors obligations |
| Wat1 Water consumption (3rd credit) | £5,000 | Reduced flow taps part of baseline specification. Providing low flow showers further reduces water consumption |
| Wat3 Major leak detection | £6,000 | Not difficult to achieve. Supports a water efficiency programme |
| Wst 4 Compactor / baler | £10,000 | Space required on-site. Part of a waste management strategy |
| Ene8 Lifts (1st credit) | £10,000 | Reduced energy consumption |
| VERY GOOD | £45,500 | |
05 / CONCLUSION
The information above demonstrates the business case for hotels to embrace the green agenda. In an age when there is still a lot of rhetoric relating to sustainability it is encouraging that many famous brands recognise the importance (and as such reap the benefits) of reducing environmental impact. Building and running a greener hotel doesn't have to mean higher costs for developers and operators as many opportunities can be implemented at no cost uplift, providing they are thought about early in the design process.
In addition, an environmentally friendly hotel doesn't have to compromise the quality and enjoyment of the hotel - so we can all get a better night's sleep.
1. Hotel Association of Canada, 2012. 2012 HAC Canadian Travel Intentions Survey.
2. JD Power, 2009. North America Hotel Guest Satisfaction Index Study.
3. Hotel Energy Solutions, 2011. E-toolkit trainer manual.
4. http://www.tourismpartnership.org/what-we-do/key-issues/water
5. Green Hotelier, 2012. Green Hotel Shower Solutions.
6. Wrap, 2012. The Composition of Waste Disposed by the UK Hospitality Industry. www.wrap.org.uk