Not only is beautiful design compatible with sustainability, it can be integral to it. Ike Ijeh offers four eye-catching examples

There was once a time when sustainable design was seen as worthy and commendable but not necessarily capable of producing inspirational architecture. Even today, in the eyes of some, a committed environmental agenda is seen as incompatible with the more conceptually challenging business of creating a great work of built art. Well, a new generation of buildings is giving the lie to that.
For RIBA president Angela Brady, who is chairing a debate on this topic at Ecobuild, the combination of sustainability and irrestistible design is "vital". She offers the Olympic velodrome as a "perfect example of inspirational design being incorporated into sustainable buildings", pointing out how its elegant cable net structure, which uses the minimum amount of steel for its span and strength, simultaneously meets the demands of sustainability and design.
But how to achieve this blessed union? Brady says that having a well-informed client who promotes sustainable design is "a great start", adding that "a committed design team working well together from the outset has major advantages, as does factoring in time to test out elements of any cutting-edge design".
As the definition of sustainability widens to include all manner of considerations, such as longevity, adaptability and social impacts, buildings must work even harder to achieve truly sustainable design.
But aesthetics matter, too. Here are four recent buildings that make a compelling case for beauty's place on the sustainability agenda.
California House, Santa Monica, US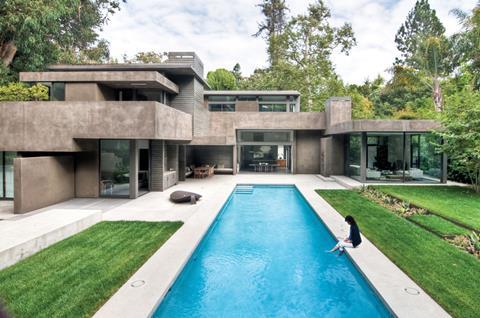 Chu Gooding Architects
California House is a private residential development whose thrusting lines and interlocking geometries powerfully evoke the combination of pioneer spirit and cultivated modern domesticity captured in the houses of Frank Lloyd Wright and John Lautner.
Historically, this uniquely American domestic tradition has been defined by a celebration of the unity between house and nature, and California House is no different. Two courtyards have been incorporated into the design to retain existing California sycamore and oak trees. According to architect Annie Chu, these create "opportunities for passive strategies that take advantage of the microclimate of the tranquil canyon site". The wrap-around balconies, large expanses of glazing and overhanging eaves that form such dramatic exterior design features are all strategically composed for solar orientation and optimised natural ventilation. The colouring of the natural materials is also designed to complement the verdant setting.
Chu adds that one of the house's key sustainable credentials is a social one. It was designed to house a family of six of all ages, and was conceived as a series of "private realms and variously scaled communal spaces that accommodate the social complexities and general domestic arrangements of three generations in order to address a commitment to the longevity of the home".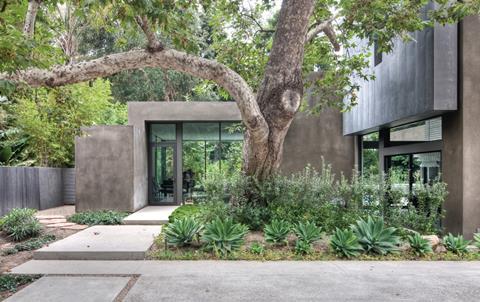 Sainsbury Laboratory, Cambridge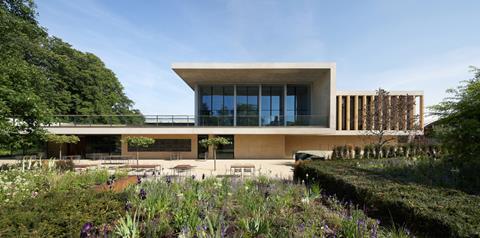 Stanton Williams Architects
It is not every day that a "green" building wins the coveted Stirling prize but this was the feat masterfully accomplished by the Sainsbury Laboratory last year. What makes Sainsbury a particularly interesting contribution to the sustainability movement is the power and poetry with which its environmental measures are realised.
Yes, it has all the familiar elements of sustainable design, such as photovoltaics, rainwater irrigation, lots of natural daylight and flexible work spaces.
But it is the building's relationship with the natural landscape that leaves its most enduring sustainable legacy.
A stunning screen of limestone columns flanks the entrance elevation and provides a spectacular natural veil that helps the building to immerse itself effortlessly into its parkland setting. The solidity of the stone envelope is then gradually peeled away in layers as the visitor moves through the building and encounters multiple and ever more expansive views of the surrounding botanical gardens. The entire sequence is defined by a circuitous procession of courtyards and cloisters that further modulates the relationship between the built interior spaces and the natural world outside.
The Sainsbury Laboratory eloquently shows that inspirational sustainable design is as much about the instinctive nature of human spatial experience as it is about legislative compliance or technical sophistication.
Essential session
Tuesday 5 March, 11.15 - 12.15
Sustainable design should be irresistible design, with Angela Brady, Eric Parry and Annie Chu
iCon Innovation Centre, Daventry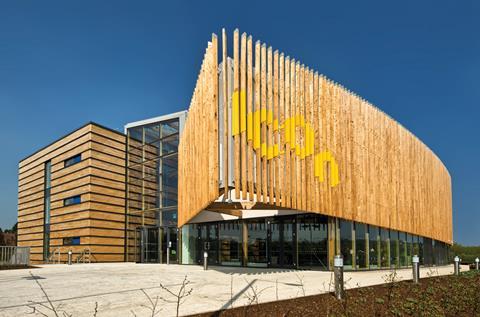 Consarc Architects
With a remarkably low annual carbon footprint of 12.2kgCO2/m2 per year, the iCon Innovation Centre, which was completed in 2011, still sets a sustainability benchmark that many offices can only
dream of attaining.
The £8.5m building provides business units for environmental and technology graduates from the University of Northampton, and it was vital for it to practise what they preach. Included are sophisticated post-occupancy energy consumption monitoring and a super-insulated post-and-beam construction providing an enviable airtightness of 5.5m2/hr/m2.
But iCon achieves all of this while retaining a strong architectural identity, most powerfully envisioned in its swooping, curved timber facade which encases the entire building behind a delicate, sculpted, natural tracery.
For Consarc director Tom Bell, the successful synthesis between architecture and sustainability is achieved by a pragmatic approach that deliberately avoids "eco-bling". "iCon doesn't achieve its low carbon rating with wind turbines or photovoltaics. All technologies are valid but they must be used intelligently. There is a balance to be drawn between mass low-carbon construction and zero carbon targets. iCon cost only £150/m² to category-A fit-out, so reducing carbon in buildings doesn't have to be cost-inhibitive."
50 New Bond Street, London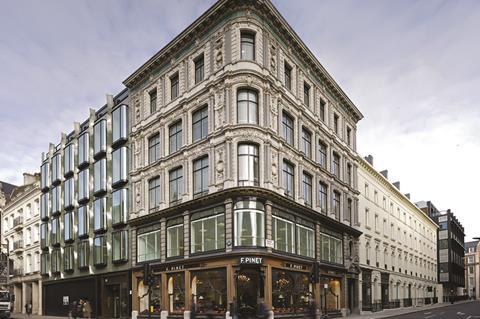 Eric Parry Architects
Over the past decade, Eric Parry's practice has carved a name for itself as a purveyor of measured and cerebral office buildings that sensitively insert a restrained, contemporary architectural language into rich, dense and frequently historic urban fabrics. The redevelopment of 50 New Bond Street and 14 George Street, with their distinctive glass block and glazed faience facades flowing into the ornate classical blocks alongside, stands as one of the foremost examples of Parry's craft.
But, as Justin Sayer, the practice's sutainability associate director, points out, there is more to this building than just a pretty facade. "It's essentially a good example of sustainable design because it stitches back together what was once a messy urban block. Also, by providing a new set of flexible, adaptable workplaces and carefully retaining existing facades, it ensures longevity for the site and the development."
Other environmental features include mixed-mode air control and cross ventilation via twin courtyards, a green roof, photovoltaics, and a biodiversity and ecology strategy. Sayer is keen to stress that these features were not "sustainability add-ons" but were "embedded into the design".