Buyers frustrated with a lack of housing choices are fuelling a growing market for custom build, with new developments offering a range of customisable features. Is designing your own home going mainstream?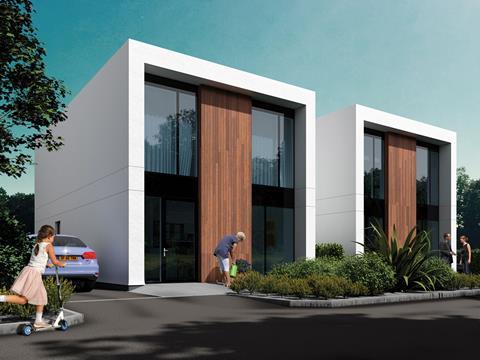 There is a peculiar truth in the UK: while the sales of most consumer products – fashion, cars, technology – thrive on the appeal of "the new", housing is one purchase for which customers have a dogged preference for the old and traditional. The recent exhibition at the RIBA by artist Pablo Bronstein, Conservatism, highlighted the British people's enduring love for Georgian architecture. And a 2016 public survey by the Home Builders Federation (HBF) revealed only 33% of respondents would buy a new-build home.
But while the much-reported quality issues around some new homes may be putting customers off buying new-builds, a number of buyers don't have the same attitude to homes they design themselves. According to the National Custom & Self Build Association (NaCSBA), 53% of adults aspire to build their own homes – no doubt partly inspired by television programmes such as Grand Designs.
Since self-build seems to have such an appeal, the government has been trying to make it easier to acquire land from local authorities for this purpose – between April 2016 and November 2017, more than 33,000 people signed up to local authority Right to Build registers across England, according to the NaCSBA.
The reality is, of course, that building your own home is a huge undertaking – and an unlikely route for most prospective homeowners. But would new-build homes be more appealing if you could have a touch of Grand Designs fantasy without the risk – the ability to customise your home, but have the build managed and supervised professionally? Custom build, a small but growing housing category in the UK, seeks to offer that.
The idea is that a buyer works with a developer to create a home tailored to their needs, either as a one-off or as part of a wider development. They are offered a catalogue of choices, ranging from interior finishes to the entire layout. The customer gets expert help in funding and realising their vision, and the housebuilder gets the certainty of a committed buyer.
First-time buyers
Carl Vann is a partner at architect Pollard Thomas Edwards, which is working on Beechwood West, a 250-home custom build project in Essex for developer Nu Living, part of Swan Housing Group, which he describes as "a Grand Designs opportunity for those with a first-time buyer budget".
"Buyers of new homes in Britain lament the lack of real choice, especially in low-value areas where cost tends to drive out character," he says.
In the UK at present, the custom and self-build sector delivers just 7% of new homes, compared with 70% in Austria. The Netherlands has made great strides over the past eight years, growing its custom and self-build sector from 8% to 12% of new homes, with large-scale developments near Amsterdam such as Ijburg and Almere offering thousands of units.
"Extrapolating that to the UK population would give a figure of 50,000-60,000 new homes per year," says NaCSBA chair Michael Holmes.
In recent years, several custom build projects have popped up across the UK, including Graven Hill in Bicester, Oxfordshire, a local authority-led experiment with 1,900 self- and custom build plots, and Cube Haus, a property company that allows you to commission a home designed by high-profile architects such as Adjaye Associates. Those involved in the custom housing movement are hopeful that it will and should become a bigger element of the housing market.
"I don't see this necessarily going head-to-head with national housebuilders – clearly they are always going to build the majority of new homes – I see this as an addition," says Mark Hallett, development director at developer Igloo, which recently completed a small custom housing project in Nottingham, and is working on the 54-home Heartlands scheme in Cornwall, where buyers can opt to work with one of six architect-homemaker teams.
Learning from other sectors
There are echoes in custom housing of the mass customisation that has emerged in the automotive industry. Car makers have used their knowledge of consumer preferences to offer a range of standardised options. Similarly, technological development in the housing market is making custom building easier.
Developer Urban Splash, for example, bought a factory in February to produce its modular home concept, House, which can be designed by customers on its website. It is already building the homes on sites in Manchester
and North Shields, with more planned for Birmingham.
"For customers, there's a new alternative away from the identikit solutions provided by mass housebuilders; they have the power to design and determine the layout of their home, which is then made in a factory, and transported as a preassembled module to site, where it is craned into position," says Urban Splash founder Tom Bloxham.
"There are great opportunities for economies of scale by home manufacturers exploring opportunities around offsite manufacture and modular construction," says Hallett.
Such projects are also exempt from the community infrastructure levy, and there is the added attraction for the developer of having secured your buyer at an early stage, reducing risk.
As for consumers, says the NaCSBA's Holmes: "You get all the advantages of a new-build with structural warranties, [compliance] with design codes and predictability in the [timeline of] construction and completion, but you also get an individual design. And as you are working with a professional developer, the price you agree is the price you pay." There is also a potential tax saving on stamp duty.
Then there are social benefits. Having the end-user so involved in the design, for example, might help push up standards when it comes to wellbeing and sustainability. Hallett adds: "There's empirical evidence building up that in custom and self-build, crime levels and vandalism drop, people's psychological welfare is better and people stay in those homes much longer because they have invested so much of their time and energy in creating a new neighbourhood."
Mainstream potential
For all the positives, there are barriers to getting custom build to move from niche to mainstream. For one thing, says Hallett, the obligation for councils to provide plots to meet demand from potential self-builders under the 2016 Right to Build legislation has been unevenly enforced.
Meanwhile, for volume housebuilders, it is a challenge to introduce new processes. "They produce products that are about repetition," Holmes says. "The moment you offer choice, you have to produce systems that ensure each house gets the bespoke choice the customer made and you have less buying power to achieve economies of scale."
He says, however, that this could be an opportunity to get smaller housebuilders back into the market – in 1988, he says, small builders were responsible for 40% of new-build homes compared with just 12% today.
Then there are the finances. Both Holmes and Hallett agree that reforms are required to make it easier to take advantage of the VAT and community infrastructure levy incentives for custom build. Funding is an issue too – while self- and custom builders would hypothetically seem to be very conscientious borrowers because they are likely to be exceptionally committed to their homes, it is not as easy to get funding for a custom build as it is for new-build. Many people use mortgages that release the money in stages as parts of the build complete, but they need quite a large deposit to access those.
"We are talking to Homes England, the communities department and the Bank of England about extending the government-backed equity loans scheme that would enable people to build a custom home with only a 5% deposit," Holmes says. Hallett explains Igloo has partnered with mortgage brokers and lenders in its latest scheme to make the journey easier for customers.
Ultimately, however, it comes down to the need for cultural change – British homebuyers, landowners and planning authorities need to become more familiar with the concept before they can appreciate its benefits. Hallett says: "I think there's a need for some larger and more regional examples where it becomes the norm as part of a mix of typologies of housing."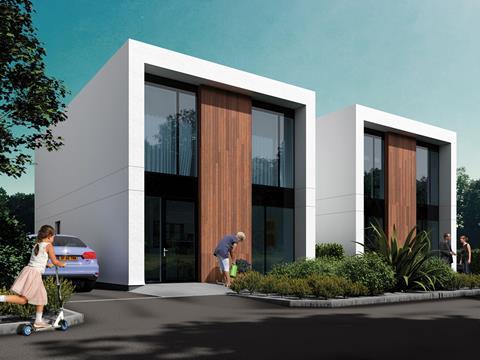 Graven Hill – Housing's Future?
The UK's most ambitious effort at custom build and self-build is taking shape right now in Bicester, Oxfordshire. A project initiated by Cherwell council, Graven Hill (above), is offering up to 1,900 plots of land for individuals, couples, groups and families to build their own homes, with 30% designated as "affordable".
Residential plots are handed over with foundations, drainage, substructure walls, ground-floor slabs and utility connections already in place, and designs are fast-tracked through the planning process. The plots – which currently cost from £180,500 upwards – will be released in phases, and the project is anticipated to take 10 years to complete, finishing by 2026. The plots on offer are for owner-occupied houses, shared ownership and rental, and eventually apartments too.
More adventurous buyers could choose to build a home from scratch by themselves, but the rest can go down the custom build route – using an architect and builder from Graven Hill's list of recommended suppliers to design and construct the home to their preferred level of finish, whether just the shell of the building or completely ready to occupy. The Graven Hill authorities are recommending offsite construction, sustainable materials and contemporary designs.
The ambition is to create a "sustainable, settled community", so the site will also include woodlands, allotments and a primary school, as well as space for commercial developments. There will be financial penalties for those who choose to leave before the end of three years.
The council paid £28m for the land, formerly owned by the Ministry of Defence, and hopes to turn a profit, as well as demonstrating a new way of developing housing. Could this be a template for the future?