Our Inside Westminster series continues with a look at the government's plans to devolve powers to mayor-led cities and regions. Will it create more opportunities in local housing and infrastructure, or just add another layer of red tape?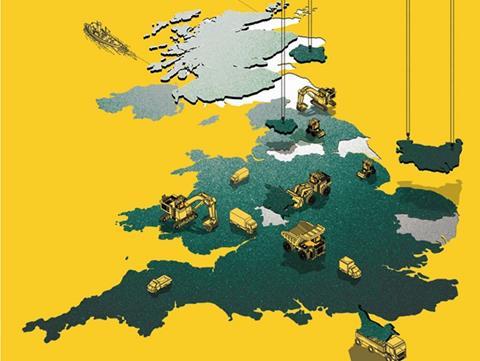 The eldest of the Scottish National Party's 56 MPs, Marion Fellows, is, at 66, old enough to collect her bus pass. At the other end of the age range is 20-year-old Mhairi Black, the youngest MP since the 17th century. The SNP took all but three of the available seats north of the border, up by 50 MPs on the 2010 general election. Having failed to secure independence in last year's referendum, the party has gathered momentum that confounded conventional political logic. Scotland has been won over by its insistence that all manner of powers, from control of housing benefit to corporation tax, should be handed to Holyrood.
As Scotland closes in on a devolution that could include full fiscal autonomy, so the English regions have been promised greater control of their budgets. No sooner had the Conservatives embarrassed pollsters by seizing a parliamentary majority last month, than chancellor George Osborne was outlining a Cities Devolution Bill, which was included in last week's Queen's Speech. This would allow city regions to oversee spending on housing and transport, provided they agreed to have an elected mayor.
It was a surprising policy to prioritise, particularly as elected mayors were rejected by nine out of 11 cities that held referendums on the issue in 2012. But, as the Tories have vowed to balance the public finances by 2018, it at least means that regional authorities will be able to make sure the most pressing local needs are met.
For the construction industry, such devolution could bring a plethora of housing and infrastructure projects, as mayors look to improve facilities for their voters. There are fears, though, that the policy will not be sufficient to overcome the Treasury's centralising instincts. Others fear that mayors will simply add an unnecessary layer of bureaucracy, creating a logjam, rather than smooth pipeline, of projects.
The plan
Greg Clark's elevation to the Cabinet as communities and local government secretary in the post-election reshuffle shows how seriously David Cameron and Osborne are taking devolution. Clark has long been an advocate of decentralisation, telling parliament in March that "every part of the country is different" and so should not be subjected to uniform policies directed by officials in central London.
"Greg's a very clever guy and really passionate about this," says one minister. He adds that the chancellor is "120% behind devolution" and there is "an absolute desire to do things locally".
Local authorities, hospitals and housing associations would have more freedom to award procurement contracts to local construction firms

Paul Hackett, The Smith Institute
There is also broad cross-party support. Labour leadership contender Liz Kendall says: "People want power over things that matter to them, like jobs and housing. Transferring from Whitehall to the town hall, to people, is what will work – we're too centralised in this country."
Greater Manchester is the pilot for the plans. It will elect a mayor in two years' time, who will sit above a combined authority (CA) of 10 councils, including Oldham, Salford, and Wigan. Already a unique structure that sees the CA pool resources and control £5bn of public money, the addition of a mayor will see it receive an extra £2bn. This will be the centrepiece of the "northern powerhouse" (see box, overleaf) – Osborne's plan to rebalance the economy from its dependence on London and the South-east.
Major metropolitan areas are keen to follow – Birmingham Chambers of Commerce president Greg Lowson has said this could "unlock even more resources" and Hull council leader Steve Brady describes devolution as an opportunity "not to be missed". For his part, Osborne wants the plan to be open to "any major city". Rail contractors could particularly benefit, as the Department for Transport's dissatisfaction with the performance of Network Rail may lead to its work being regionalised under the mayoral model. Similarly, Highways England contracts could be partly directed by authorities that see road improvements as vital to their economic growth.
Paul Hackett, director at the Smith Institute think tank, says such a shift could result in more work for regional firms: "Local authorities and other major 'anchor institutions', like hospitals and housing associations, would have more freedoms and flexibility to award procurement contracts to local construction firms, and include contract clauses to support local apprenticeships. The power of local procurement is not being utilised enough because of rigid Treasury rules."
Andrew Crudgington, strategy director at the Institution of Civil Engineers, believes mayors will be able to develop infrastructure plans, which means they will know what workers they will require over the coming years so they can establish skills academies, focusing on areas such as plumbing, surveying, or engineering, depending on the local shortages. However, he warns that the bill must avoid a "one size fits all approach" where every area is modelled the same and handed similar powers. He says not all city regions will be as "mature as Manchester" in their governance model – the CA structure means Manchester's mayor will not have to establish a fresh bureaucracy.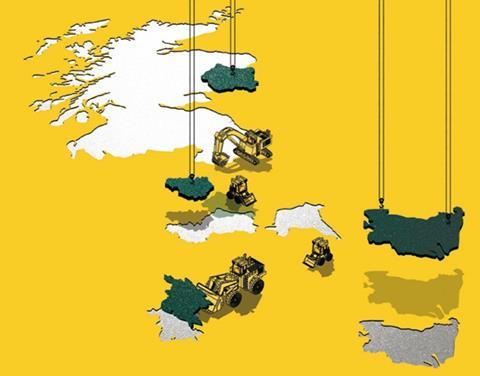 The problems
In a sign that the government has recognised this danger, Building can reveal that ministers are keen for counties, as well as city regions, to bid for devolution packages. A government source points out that Suffolk is eager for greater budgetary control and adds that it is "very much up to them [counties] to make proposals" as to why they would be the right bodies to which to devolve power. An industry source adds that this means government understands that the "centre of gravity" of a region is not always defined by metropolitan boundaries.
A greater issue is the idea of mayors themselves. Osborne has insisted that he is not imposing mayors on cities, yet cities can only gain the powers if they agree to having mayors. Having failed to introduce the system in the 2012 referendums, many cities feel they now have little choice but to accept something that goes against the will of the people. For example, former Leeds council leader Keith Wakefield says his city "answered this conclusively" in the referendum. Graham Brady, a Conservative backbencher and MP for Altrincham and Sale West, is considering tabling an amendment to the bill so that elected mayors are not the price of greater autonomy.
Richard Threlfall, head of infrastructure, building and construction at KPMG, believes the reforms will mean infrastructure is "less stalled in Whitehall" but hopes "we don't live to regret" elected mayors being part of the deal. He says that London has been lucky in having two "high calibre" mayors – Ken Livingstone and Boris Johnson– since the capital's assembly began in 2000. With much UK talent sucked into London and the South-east, Threlfall fears that it is "far from certain" that other regions will get the standard of mayor needed to oversee complicated development plans. He also says it will take regions at least two years from electing a mayor before they see the benefits of devolution.
Clive Betts, the Labour MP who chaired the communities select committee in the last parliament, is gloomy. He believes the reforms could be the "worst of all worlds", with added bureaucracy, minimal budgets transferred, and authorities "getting the blame" when new houses, roads and facilities fail to appear. The key, he adds, is for the Treasury to allow authorities to borrow money at a time of record low interest rates. "There is no sign that the Treasury is amenable to that," he says. "Freedom to borrow would let authorities build the housing and infrastructure that we need."
The bill, published last week, focuses on the institutional framework, such as removing the statutory limitation of functions – transport, policing – that can be conferred to a combined authority. The specifics of the powers themselves are deliberately vague, allowing authorities to tailor their plans before applying for them from the government. However, the bill does, as Betts feared, state that "the power conferred on the mayor may not include a power to borrow money". Pro-devolution politicians could seek to amend this when the bill is debated later this year.
The future
Devolution has heavyweight support from Osborne, who has gained greater clout since acquiring the title of first secretary in the post-election reshuffle. This means he is considered senior to the rest of the Cabinet, with some believing the position implies he is Cameron's preferred successor.
Generally, the industry and politicians from across the House of Commons are in favour of devolution and its potential benefits. And even if they weren't, political impetus is against them. The drive to an ever more autonomous Scotland has inevitably led English regions to conclude that they want greater control of their own spending. What's more, Cameron would have faced a backlash from his own MPs had England or the regions not be given powers as the price for granting Scotland so much autonomy.
But there are problems that will need to be addressed quickly – notably whether elected mayors really should be the price of devolution. Only then can the government claim the reason it wanted power was to be able to give it away.
Winning the North
Jim O'Neill, the former Goldman Sachs economist who coined the term "Bric" (Brazil, Russia, India and China) to represent fast-growing economies, has been put in charge of the northern powerhouse as a Treasury minister. KPMG's Richard Threlfall believes this shows just how central the idea is to David Cameron's second term.
Arguably, UKIP has usurped the Tories as the party of opposition in northern England. Even with boundary changes likely to benefit the Conservatives at the next election, they will want to take seats from Labour's heartlands.
George Osborne believes that the northern powerhouse - which will include high-speed rail to better connect cities like Manchester and Leeds, road upgrades, and even a "Great exhibition" celebrating the region's arts and culture – could be a vote winner. Although a long-term project, any signs that jobs and skills are booming in the North as a result of construction getting under way over the next few years could help to secure a third straight Conservative-led administration.
Mark Leftly is political correspondent at The Independent on Sunday and associate business editor across the Independent and London Evening Standard titles