These days, 'green building' is often synonymous with 'ugly architecture'. One project trying to prove otherwise is the iCon Innovation Centre in Northamptonshire. With a carbon footprint of only 12.2kg/m2 and a bold architectural identity, is this a sign of a new era for eco?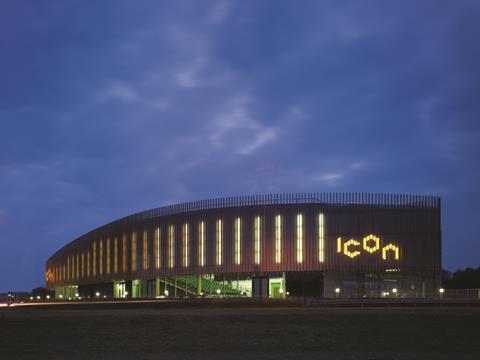 Can low-carbon buildings be sexy? Or, in less salacious terms, can a building that has prioritised its sustainability commitments also be convincing as a genuine piece of architecture or work of art?
For many, the common perception of "green" buildings is still one where aesthetics are sacrificed for performance, as witnessed in Exeter's Passivhaus Montgomery Primary School covered in Building two weeks ago. Unfortunately, many of these buildings appear to be the architectural equivalent of the Highway Code: diligent, dutiful and dull.
But a new generation of sustainable buildings is fighting back. Foster + Partners' PwC HQ in London is the first major UK office building to achieve BREEAM "outstanding" status. But with its slinky glass skin and sculpted curves you would never guess it. In successive buildings, from her London office to Wakefield's Sandal Magna School, Sarah Wrigglesworth Architects has championed eco-architecture with a pulsating design heart beating within. And now, Consarc Architects has thrown its hat into the eco-reinvention ring with the iCon Innovation Centre in Daventry, Northamptonshire.
The iCon Centre is an £8.5m business hub that offers rentable commercial units to firms that operate within the built environment sector and specialise in environmental innovation. This ranges from construction, engineering and manufacturing companies to energy, recycling and technology specialists. Developed by the University of Northampton and the West Northamptonshire Development Corporation (WNDC), one of its core aims is to arrest the flow of students to London after university and keep skilled graduate talent within the local area.
But what makes iCon really interesting is that it has achieved a remarkable carbon footprint of only 12.2kgCO2/m2 per year - and it has not done so by succumbing to the aesthetic timidity that often characterises sustainable architecture.
The building also makes a bold architectural statement and leaves an indelible urban impact. Add to this the architect's underlying political message - realised throughout the development - about cultural and economic misconceptions regarding the pursuit of genuine low-carbon buildings and you have one of the most provocative and progressive contributions to the sustainable development debate yet.
iCon is essentially a building split into three connected segments. The first is a three-storey rectangular block which contains 60 commercially lettable or "incubator" units ranging from 17m2 to 62m2. This rear wing is clad in narrow horizontal strips of finger-jointed, sweet chestnut timber, all locally sourced. The timber is coppiced, which means that rather than chopping the entire host tree down, its branches and stem are harvested, enabling the tree to regrow over time. The entire "incubator" block is also passively cross-ventilated. These are the first clues as to iCon's overarching environmental credentials.
The second segment of the building is a three-storey central atrium or "street" that runs through the centre of the plan like a hollow spine. The roof and each end are glazed, allowing natural daylight to flood the reception, foyer and staircase within. The atrium is also naturally ventilated and unheated, with the glazing fitted with solar controls to combat overheating. Internal glazing also allows borrowed natural light into the bowels of the building.
The third and most architecturally significant segment of the building is a narrow two-storey wing on the opposite side of the atrium to the incubator block. This houses a cafe, conference and meeting rooms as well as a lecture theatre that seats 200-300 people. It also acts as a solar buffer for the rest of the building as it is largely windowless and orientated south.
But its boldest features are external. iCon occupies a prominent gateway site on the approach road to Daventry town centre and on the edge of a major roundabout. However, it is also situated on a raised embankment largely surrounded by trees and grass verges.
All these elements give form to iCon's principal block. Its outer facade is chamfered by a swooping curve that runs the full length of the building. Furthermore, this curve is faced in a continuous curtain of spliced larch fins, fixed to the white render finish behind them but seemingly suspended over the glazed ground floor level below.
The delicate, tracery effect of the fins is also strengthened by their extending above and slightly below the render plane on which they are mounted, as well as being pulled away from the western end and supported on a cantilevered steel grille. These gestures provide a fritted, perforated quality to the facade that helps soften its edges and minimise its scale.
The curve and the fins are singularly responsible for forging iCon's architectural identity and ensuring that it wields a hefty urban presence. While the atrium and incubator blocks are environmentally worthy, the architecture remains conventional and intermittently staid, particularly on the rear elevation. Moreover, despite the unifying effect of the timber, some of the junctions between each of iCon's three volumes appear awkward and disjointed when viewed from the side elevations, almost as if each element has been assembled in isolation.
But the subtlety and flowing power of the curved facade provide instant redemption. This elevation gives a robust civic face to the building and forms a distinctive natural veil that manages to remain intimate yet sculptural, elegant yet monumental. It also roots the building inextricably to its context by ensuring that both form and material easily reflect the roundabout and its natural surroundings.
Unlike many public buildings, not only does iCon have a design strategy for illumination at night but it is also an eminently sophisticated one. Furthermore, it is also innovatively integrated into the design of the building itself and is not the glib utilitarian afterthought often tacked on to the end of a construction budget. Strip LEDs are concealed behind every sixth fin and the iCon logos are illuminated at each end of the facade. This lends the fins a kind of ethereal aura (particularly as it heightens the sense of them floating above a blank ground floor) and also endows the overall building with a seductive, landmark status at night.
Internally, while the central atrium lacks the drama of the curved frontage, it is an angular, compact and unpretentious volume bathed in natural light and embellished with an exposed stair, lift and connecting bridges as its central feature. This is an unashamedly functional space.
It also harbours the same theme of extreme environmentalism. The paving of the atrium is a finely honed UK-sourced limestone. The same horizontal sweet chestnut timber strips visible externally clad the interior face of the incubator wing. And opposite them, recycled compressed timber boards also provide acoustic attenuation.
But it is the elements not on show that are most responsible for iCon's impressive environmental performance. iCon is a timber frame building that deploys super-insulated post-and-beam construction. This helps the building to achieve an airtightness of 5.5m2/hr/m2, almost double the measurement required by the Building Regulations. No wet trades were required during construction; concrete was only used in the foundations of the incubator block and the undercroft car park that lies underneath it.
The building recovers heat by utilising an exhaust heat air pump system that provides more efficient usage of extracted air. Thus, iCon's amount of M&E infrastructure is comparatively low. Linked daylight dimming systems also use photocells in light fittings automatically to reduce lamp output when sufficient daylight is available, saving up to 60% of energy consumption.
Two features in particular embrace pioneering new technologies. iCon claims to be the first building in the world to benefit from an installed seamless monitoring system. This enables energy consumption and environmental performance to be recorded, which is then instantly available to visitors and occupants electronically.
Secondly, phase change materials (PCMs) have been selected for several plasterboard finishes. PCMs are embedded with miniature beads of wax that liquefy when heat rises. Their absorbent storage qualities mean that they could eventually provide timber frame buildings with the kind of high thermal mass naturally enjoyed by concrete.
Environmentally, these efforts have clearly paid off. iCon's 12.2kgCO2/m2 per year carbon emissions are far lower than the 89kg normally attained by a conventional
air-conditioned building. Why then only an "excellent" BREEAM rating and not an "outstanding"? Consarc director Tom Bell gives two reasons: despite its urbanised context, planning classification officially deems the iCon site to be a "greenfield" rather than "brownfield" site. Plus, the brief for the project was written before BREEAM's "outstanding" categorisation was created.
This issue of statutory certification, however, touches upon one of the key cultural challenges Bell sees in the future of low-carbon buildings. "BSkyB's Harlequin 1 achieved an EPC A rating," he explains, "but has whopping carbon emissions of 358kgCO2/m2 per year! Perhaps the next challenge is to better regulate unregulated carbon loads … computers, printers, kitchens. I hope that iCon will lead the way in this field."
Bell also believes the industry needs to ward against "eco-bling." He says: "iCon doesn't achieve its low carbon rating with wind turbines or photovoltaics. All technologies are valid but they must be used intelligently. There is a balance to be drawn between mass low-carbon construction and zero carbon targets. iCon cost only £150/m2 to category-A fit-out, so reducing carbon in buildings doesn't have to be cost inhibitive."
iCon therefore provides much food for thought for an industry at least ostensibly committed to lowering the carbon footprint of the built environment. But perhaps its most encouraging legacy is a simpler one. iCon is not visionary or exceptional architecture. But it is good, cost-effective architecture with extraordinary environmental credentials. Moreover, in its luscious timber screen, it has moments of real drama and excitement. Everybody knows buildings of the future will have to be more environmentally sensitive. The real challenge is achieving this while consistently delivering high-quality design as well. iCon sets a realistically attainable benchmark that others would do well to follow.
Project team
architect Consarc
client The University of Northampton
project manager WNDC (West Northamptonshire Development Corporation) / Elev8
main contractor Winvic
structural engineer SKM
services engineer: Synergy
acoustic engineer Sandy Brown Associates
quantity surveyor Potter Raper Partnership