BAA's major projects are waiting on the tarmac. What does this mean for construction and will the operator's reputation as an innovative client survive the turbulence?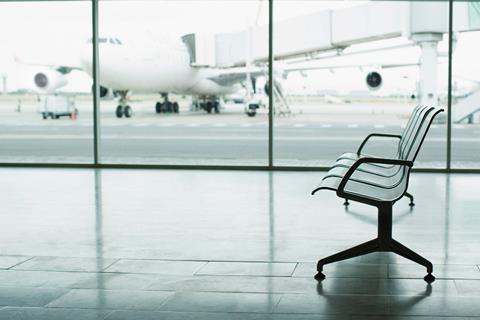 For those with their ear to the ground, last week's sudden announcement of the departure of BAA's high-profile capital director Steve Morgan was not perhaps a great surprise. Not only has Morgan always maintained that three years is long enough to be in any job, but he was always unashamedly ambitious about the scale of projects he wanted to lead.
And the truth is, the days of megaprojects at BAA are over - for the time being at least.
A combination of economic turmoil, regulatory delays and - overwhelmingly - political paralysis, means that the client that in the last 10 years commissioned Heathrow Terminal 5 (T5) and Heathrow Terminal 2 (T2) will go into its next five-year spending cycle with no major projects on the boil. Instead the sixth quinquennium (Q6), as BAA calls it, starting in April 2014, will focus on getting the new facilities working properly, major maintenance programmes and improvements to existing buildings.
As Steve Morgan said last week, confirming his departure, "I didn't want to spend the next few years watching the paint dry."
It's a situation that raises questions over what the future holds for BAA. Can it retain the scale to continue to be one of the UK's most important and innovative construction clients?
The short answer to the first part of this question is a fairly unequivocal yes. The notion that it will stop commissioning large volumes of construction work is fanciful in the extreme, and in a world where construction output is running 10% below peak, clients the size of BAA are rare indeed. BAA is on course to spend £4.5bn over the fifth quinquennium (Q5), 2008/09-2012/13, which includes £2.5bn on the Laing O'Rourke and Ferrovial-built T2, currently being fitted out and scheduled for completion in 2014. Confusingly BAA added a further year to the period (Q5+1) in order to deal with ongoing regulatory changes in the sector, covering 2013/14, and it plans to spend £879m in that year. Between 30-40% of that is still to be tendered. No small beer.
Shrinking workload
Looking further forward, BAA will not comment on the amount of capital expenditure which might occur in Q6, because it is still consulting with the airlines and the Civil Aviation Authority (CAA) over its five-year plan - the draft of which it published in August. However, Building understands that expenditure will be at least £3bn, and could be as much as £4bn, albeit with much of that money going on major refurbishment programmes and the completion of a couple of bigger projects, such as the £130m integrated baggage facility for Terminal 3. The exact amount will be determined by the airlines' appetite to pay a higher fee to BAA for better facilities for their passengers.
Therefore, whatever the outcome, although the amount of work will shrink and the type of work will change, BAA will clearly not be withdrawing from the market. One contractor who currently works for BAA but asked not to be named, said: "Our guys still see an incredibly healthy pipeline of work coming through. It's not the £100m jobs that were being commissioned, it's smaller improvements. But you look at the things that BAA thinks of as smaller jobs and they're still £40m-odd."
In this political and economic climate it just doesn't make sense for BAA to spend more expanding capacity

Source close to BAA
However, BAA's importance to the construction industry has over the last decade been measured not just in the volume of work, but in the importance of one-off new-build schemes. And it is this that is likely to change. The decision by the government to oppose a new runway at Heathrow has meant that that project, potentially worth up to £10bn, is on hold indefinitely, along with its corollary project, the proposed Terminal 6 (T6) building that would have served it.
David Cameron's decision to appoint the economist and former director general of the Confederation of British Industry Howard Davies to review the situation, reporting only after the election, means any resolution is at least three years away.
Indecision at the top
The cancelling of this scheme is just one consequence of the government's indecision over its aviation strategy. Heathrow - and BAA - is facing a sustained political campaign which is not just about opposing an additional runway, but, if successful, could see a new hub airport constructed elsewhere in the South-east, and Heathrow's capacity actually reduced.
Daniel Moylan, aviation adviser to London mayor Boris Johnson said last weekend that Heathrow should, over time, be reduced to a one-runway airport serving just 20 million travellers a year - it currently serves 70 million.
Heathrow is also under acute commercial pressure, with 25 million fewer passengers having travelled through Heathrow in the last four years than it had predicted. The lower numbers are down to a combination of global financial meltdown, snow, an Icelandic volcano and the slower than expected introduction of new larger planes such as the A380, with greater passenger capacity for each landing slot. All of which means any investment to expand capacity looks potentially very risky for BAA's owners. One source close to the company said: "In this political and economic climate it just doesn't make sense for BAA to spend more expanding capacity. There's no point building much more on the ground without more capacity in the air from a third runway."
This means that other major schemes, such as the further expansion of Terminal 2 - the so-called T2 second phase, worth between £1.5bn and £2bn - are now unlikely to be considered until the very end of Q6, which runs until 2019, at the earliest. It was originally hoped it might be finished by this date. Nothing can be finally decided until BAA's plan has been agreed with the Civil Aviation Authority (CAA) in the next few weeks, but the published draft Q6 business plan excludes the expansion of T2. BAA said: "There are on-going discussions with the airlines and the CAA on further plans and developments at Heathrow."
What impact the current changes have on BAA's reputation for innovation as a construction client is even harder to tell. During the first decade of the century BAA was the shining example of the John Egan-friendly client, embracing collaboration, frameworks and partnering to deliver consistently more than £1bn in construction every year. With Morgan's arrival in 2009 it also became one of the first to react to the grimmer reality of the recession, ripping up its existing frameworks, seen as too cosy by some, and re-introducing competitive tension. One contractor says: "Suddenly it wasn't the soft, cosy, 'who's next?' kind of framework environment that some people had got used to. He did a lot for Heathrow." Morgan claims to have saved BAA £300m by implementing the changes.
However, at both times BAA was seen by many as leading the pack in terms of construction procurement. Replacing Morgan will be John Holland-Kaye, BAA's current commercial director, whose background is not in procurement. Holland-Kaye, also a member of BAA's executive committee, arrived at the same time as Morgan from Taylor Wimpey, but has focused on increasing the firm's commercial revenues from things like parking and retail space, rather than procurement. It is unclear whether Holland-Kaye, who declined to talk to Building for this piece and does not start in his role until 1st November, will continue Morgan's approach. He said in a statement: "Although we've made great strides, there is still a huge amount to do. Our next regulatory settlement is just around the corner [and] I'm looking forward to leading the team and continuing to improve the airport for our passengers and airline partners."
After a recent history at BAA that comprises megaprojects T5 and T2, and some of construction's biggest names such as Crossrail chief executive Andrew Wolstenholme, former Laing O'Rourke deputy chief executive Tony Douglas and, most recently, Morgan, it's clear that Holland-Kaye will have a lot to live up to.
Turbulence ahead - the challenges facing BAA
Over recent years BAA has faced a number of challenges, many of which would not have been expected when Spanish infrastructure giant Ferrovial bought the firm in 2006:
Economic meltdown - passenger numbers were severely hit by the economic collapse in 2008, and, while they have recovered since to hit record levels, are still below predictions
BAA has been pursued vigorously by the competition authorities, and this year ceded defeat in its long-running battle against the authorities to hang on to Stansted and Edinburgh airports, after already losing Gatwick in 2009, meaning it will face more competition from other airports.
The Civil Aviation Bill, designed to reform regulation of airport operators, will potentially rewrite the rules of engagement for BAA. However, the bill's progress has been delayed.
Political paralysis on aviation policy: In 2006 the then Labour government looked set to support a third runway at Heathrow. The project was cancelled in 2010 by the coalition government.
Ferrovial is reducing its ownership of the firm, with Qatar Holdings taking a 20% stake in the firm in August, and Ferrovial's share falling to less than 40%. BAA said the changes did not affect strategy, but uncertainty over the long-term intentions of the owners may make make the investment environment even more uncertain.
Steve Morgan: Why I left BAA
"I have been at BAA for three and a half years now. My goals and objectives have all been completed. I was hired to lead the third runway project and its supporting Terminal 6, but these still needed improvements will not happen any time soon.
Right now is a good time to change the guard at Heathrow Capital. We have built a great new Terminal 2 with its satellite and the wood chip energy plant that will heat it, and the multi-storey car park is well under way. Our programme is now moving into the commissioning phase and we are essentially on schedule across the whole programme. We have modernised our older terminals and finished Terminal 5's satellite T5C without a hiccup. The months ahead will be focused on fitting out what we have built, commissioning and making sure everyone knows how to use what we have built.
I will remain with BAA for a while longer. I will be gradually winding down my Heathrow duties to complete discussions with my next team but I have recused myself from BAA dealings with the supply chain.
I have told my staff for the last three years that a good career rotation period is three years in order to keep fresh and excited. It is time for me to rotate into something new, fun and exciting so I asked Colin Matthews to free me to discuss another assignment."
Morgan's words do not necessarily represent the views of BAA.
Key projects to April 2014
Completion of T2A £122m
T2B second phase £96m
T2 logistics £63m
Runway overlays £20m
Multi-storey car park full build £18m
T5 extra capacity for tracked transit system £19m