The Construction Leadership Council has set out a two-year strategy to get the industry back on its feet. Building invited three members of the taskforce that developed it to explain how the plan will work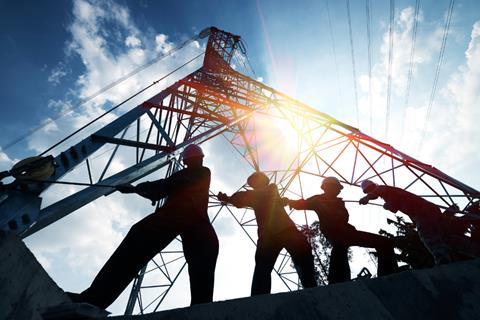 It was in late March, as the covid-19 outbreak gathered pace, that Andy Mitchell realised the construction industry was about to find itself in a crisis unlike anything seen before.
As the scale of the situation loomed into view, Mitchell, the co-chair of the Construction Leadership Council, called up his contacts at the Department for Business, Energy and Industrial Strategy (BEIS) to propose an action plan.
BEIS acted quickly, assembling a crack team of industry experts to discuss what needed to be done. The call to arms was "universally responded to," according to Mitchell. Some of the industry's leading figures joined the team, including Build UK CEO Suzannah Nichol, Federation of Master Builders CEO Brian Berry and Mace CEO Mark Reynolds.
On 23 March, the taskforce, as it has become known, held its first meeting via teleconference. On the same day, it published its Site Operating Procedures, guidance for keeping sites open safely which is still in use across the industry.
The taskforce has now held more than 50 daily meetings since the beginning of the crisis, in what Mitchell called a "relentless effort". Its talks with the government have yielded some big wins, including the delay to the reverse VAT charge and changes to the furlough scheme allowing firms to bring back staff on a rota.
On 1 June, the CLC published its Roadmap to Recovery, a step-by-step guide to hoist the industry back onto its feet. To discuss how the plan came about and what makes it so important, three of the team's key members – Mitchell, Nichol and BEIS deputy construction director Fergus Harradence – joined Building's editor Chloe McCulloch in a webinar on 9 June (pictured below).
The rescue plan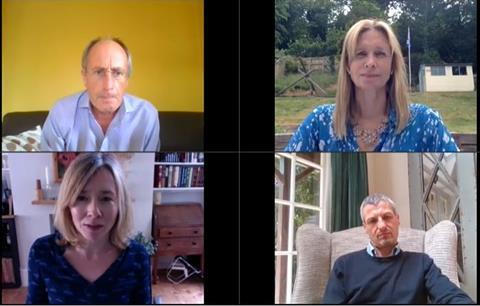 Construction output fell by over 40% during the height of the lockdown in April. Even though nearly all sites have now opened, government guidelines on social distancing have crippled normal working procedures.
With a new report by Mace's consulting arm estimating that output is expected to be 20% lower than pre-covid levels while social distancing rules are in place, it is clear that the industry will need to overhaul the way it operates.
It is worth noting that few of the ideas in the roadmap are new. Some, including greater use of BIM, have been being called for by industry experts for a decade or more.
But many innovations that can speed up project delivery times have now been made essential by the delays caused by social distancing rules. As a result, the crisis could act as a catalyst to force through changes that had previously got not much further than a whiteboard in BEIS.
Collaboration
Construction's notoriously adversarial culture is one thing the roadmap says needs to change. There is no quick fix here, and there is a real danger that the industry could consume itself in litigation if new orders begin to dry up, said Mitchell. "There are no easy answers to that," he admitted. "All of the issues that we had prior to covid are still part of the industry."
We have to flush out those who don't recognise that if we work together as a supply chain, then we are all more likely to survive

Suzannah Nichol, Build UK
This includes late payments, one area where some critics say the government taken a back seat. The taskforce has been working closely with the government, but with regulation on late payments – aside from the Prompt Payment Code – yet to materialise, the roadmap can only advise firms to reform. "My view is it probably isn't far enough," Mitchell admits, "but we mustn't rule anything out."
For Nichol, that change in the industry is a numbers game: "Enough of us have to say we want this," she said, adding: "We have to flush out those who don't recognise that if we work together as a supply chain, then we are all more likely to survive."
Working together might not be one of the industry's traditional strengths, but according to Mitchell, the construction industry has been "raising a few eyebrows" of late. "There's a lot of industries that don't appear to have managed to be of one voice or anywhere near the one voice that we are," he said, "which I think is a credit to the industry."
What is clear is that the government, which was in the midst of launching an infrastructure programme worth over £600bn when the pandemic struck, cannot afford to let the construction industry collapse. "What we're doing is being taken very seriously, and I know that the government will want to continue to be very much at the heart of this as we move forward," said Mitchell.
CLC webinar audience poll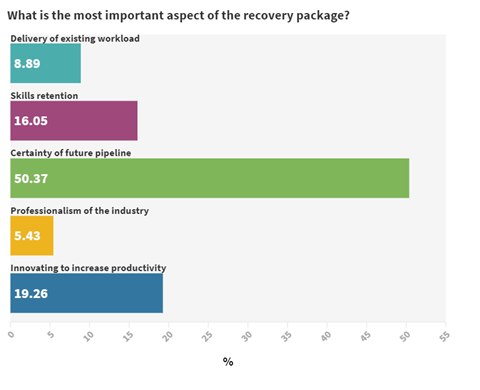 Confidence
With so many public sector contracts up for grabs as part of prime minister Boris Johnson's "levelling up" agenda, the industry also needs the government.
In a poll taken during the webinar, by far the most popular answer to the question "What is the most important aspect of the recovery package?" was, unsurprisingly, "certainty of future pipeline". Without a regular stream of new orders, firms will quickly go under, whether they are collaborating or not.
The government is well aware of this, said Harradence: "We recognise that probably the single most important intervention we can make as government is to maintain our spending in construction on current projects."
Harradence said that BEIS had been working for the past two months on a plan to speed up public sector contracts to give the industry "confidence that over the medium to long term there is going to be a supply of work." He said that the government was hoping to make an announcement "within the next two or three weeks" about which projects would be included.
We recognise that probably the single most important intervention we can make as government is to maintain our spending in construction on current projects

Fergus Harradence, BEIS
This could play an important role in breaking what Mitchell called a "vicious circle" of flagging confidence seen at the beginning of the crisis. He said: "We saw manufacturers reluctant to increase production because they weren't confident the builders' merchants were not going to be open, and the builders' merchants were looking at the sites and not confident that they were going to be there so what's the point in opening, and it became a vicious circle."
It is a scenario that many fear will return if there is a second wave of the virus, but Mitchell insisted that, compared with other industries, construction is now relatively well prepared. "I think we would do a lot better than we did the first time round," he said.
He added: "Comparing other industries, if you take the pubs and restaurants, which haven't had a chance to get back up and running in a 2m distance world, they haven't had a chance to learn how to keep going. We have."
Skills
The roadmap has been published ahead of a critical period for the industry. From August, employers will need to start paying national insurance and pensions contributions for furloughed workers, about 5% of total employment costs. From September the government will reduce its payments from 80% to 70% of furloughed workers' wages and lower the cap on per-employee monthly payments by £313.
As the furlough scheme winds down, employers are rapidly approaching a crunch point where tough decisions can no longer be avoided. Firms can either hold on to their workforce in the hope that it will stand them in better stead if a recovery materialises early, or else announce lay-offs now and avoid paying contributions to national insurance and pensions from August.
With employers obliged to give 45 days' notice of redundancies, these decisions are already being made this week. On Monday, Travis Perkins announced 2,500 of its 30,000 staff would be let go, and on Wednesday Mace announced it was shedding 300 staff.
Firms are also facing a potential time bomb with apprentices, 50% of whom are currently furloughed according to the CLC's People Survey.
Nichol believes the challenge facing the industry is how to retain those furloughed apprentices to avoid a skills gap in coming years. "We all know that in two years' time if we don't hold on to those apprentices, we will have a skills gap," she said, adding: "What we do now directly impacts on our skills for the future."
The CLC is looking at ways to use the apprenticeship grants differently, but one potential issue is the apprenticeship levy pot, which is used by firms to access funding for apprentices.
Due to the two-year window on apprenticeship levy contributions, a third of the funds in the pot are due to run out at the end of December. Nichols said: "Extending that deadline will be really, really helpful."
But unless there is a healthy intake of new apprentices in September, saving the apprentices who are already working but have been furloughed will just buy time. Only 40% of firms that responded to the CLC's People Survey said they were taking on the same amount of apprentices compared with last year.
For Nichol, the most effective solution, as for many of the crises now looming over the industry, is new orders. "Pipeline is key," she said, adding: "It all comes back to: the industry can do its stuff if it has work flowing."
One thing is crystal clear: whatever the size of the pot there might have been for building and construction, that pot certainly isn't any more full

Andy Mitchell, CLC
'Our time has come'
Ultimately, the success of the roadmap's aims will depend on the capacity of firms to change – a challenge that Mitchell does not underestimate.
Pre-covid efforts to reform the industry were all around the theme of "we've got to do more for less", he said, and: "One thing is crystal clear: whatever the size of the pot there might have been for building and construction, that pot certainly isn't any more full. If previously it was more for less, it's got to be even more for even less."
But he believes that the industry has now reached a tipping point: "We're describing a huge amount of effort that needs to go on in the industry but I'm convinced we can do this. I'm convinced our time has come."
And the panel agreed that the collaboration between firms, the government and trade bodies they witnessed during the crisis could see eyebrows raised still further.
Mitchell said: "We talk about an industry that's historically been fragmented, but I think we've just proven something which we cannot forget and must not forget – which is when we decide to do some things together, we can really make a huge difference."
More audience polls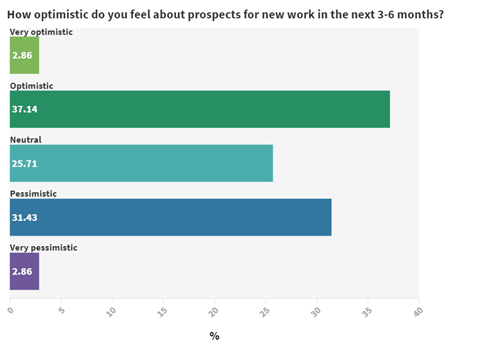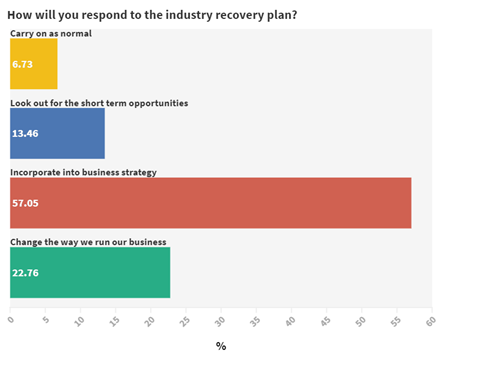 The Roadmap to Recovery
The roadmap is split into three phases over a two-year period.
The first, "restart", covers the first three months and aims to kick the industry back into gear after the initial lockdown shock. This phase focuses on retaining staff and skills, increasing productivity as much as possible within the limits of on-site social distancing rules, and minimising disruption.
The next phase, "reset", covers the next nine months and encourages firms to develop new approaches to compensate for any loss of productivity resulting from social distancing rules. This includes investing in new tech as well as improving payment times.
The final phase, spanning from 12 to 24 months after the start of the plan, is to embed these new approaches and build a more collaborative culture between clients, contractors and subcontractors. The outcome according to the plan is to "create a more collaborative, fairer and resilient industry".