Brasilia's seventies National Stadium has been rebuilt to the tune of £258m to become arguably the greenest arena in the world. It will be a key venue at the 2016 Olympics but, unlike its London counterpart, its real purpose is crystal clear: it's all about the beautiful game. By Ike Ijeh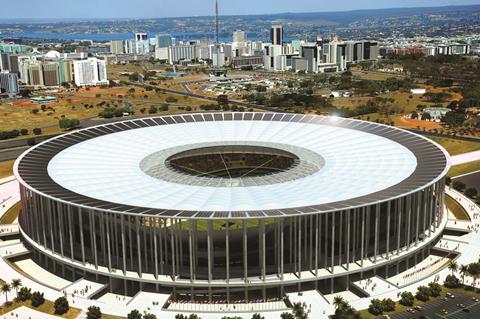 With the 2012 Olympics only a few weeks away, much of the world's attention is understandably focused on London. But there is one part of the globe where people's gaze will not be distracted by sporting events going on here. Brazil is hosting the 2014 World Cup and the 2016 Olympics, and the country is surging ahead with preparations of its own for its extended stint in the global spotlight.
The principal stadium of the 2016 Olympics and the venue for the opening and closing ceremonies will be the refurbished 85,000-capacity Maracanã stadium in Rio de Janeiro. However, in Brazil it is not athletics that is worshiped as a national religion but football, and for this, another stadium is very much taking centre stage.
The Brasilia National Stadium is located in the nation's capital and will be the main venue for the 2013 FIFA Confederation Cup, 2014 World Cup and 2015 Copa Americana, the equivalent of the European Championships. It will also play a key role at Rio 2016, as the Games' second largest arena and a key venue for the Olympic football tournaments.
Built in 1974, the original stadium has been demolished and is being ambitiously reconstructed to increase its capacity from 42,000 to 72,000. With almost two-thirds of the structure already complete, the £258m project is on course to meet its expected completion date of New Year's Eve 2012.
It has been designed by São Paulo-based sports specialist Castro Mello Arquitetos, the designer of the original stadium 40 years ago.
As well as providing a seminal backdrop to major sporting tournaments over the next few years, the Brasilia National Stadium is also a ground-breaking venture in design terms. The ambitious plan is for it to be the "greenest stadium on the planet" and the first stadium in the world to gain LEED Platinum, the US-based green building certification equivalent to BREEAM. In a country with an abysmal track record in stadium safety and sustainability, this is no easy feat (the death of seven spectators when a stand at Salvador's Fonte Nova stadium collapsed in 2007 underlines the point).
Additionally, the Brasilia National Stadium has also made revolutionary and unlikely breakthroughs with regard to conservation, the utilisation of BIM software and the age-old argument - painfully familiar to London ears at present - as to whether football and athletics can ever successfully co-exist in the same venue. All of which provides fascinating parallels with our own Olympic stadium and forms a tantalising preview of what the world may have to look forward to when the dust finally settles after London 2012.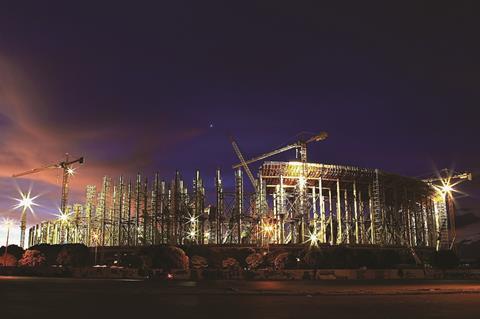 Design
Brasilia is sacred ground for the modernist movement and the capital's flat, arid landscape is still unforgettably punctuated by the solemn, sepulchral buildings of legendary Brazilian architect Oscar Niemeyer.
Niemeyer's iconic buildings date from the city's foundation in the fifties and they are principally characterised by white surfaces, monumental scale, simple yet powerfully expressive forms and a geometric repetition that (ironically) verges on the neo-classical. In Brasilia today, these ingredients form a revered and highly distinctive urban typology and it is one that the Brasilia National Stadium plays subtle homage to. With its clean lines, circular massing, continuous roofline and clustered screen of giant "piloti" columns, the stadium is a vivid contemporary reinterpretation of both Niemeyer's work and Brasilia's heritage.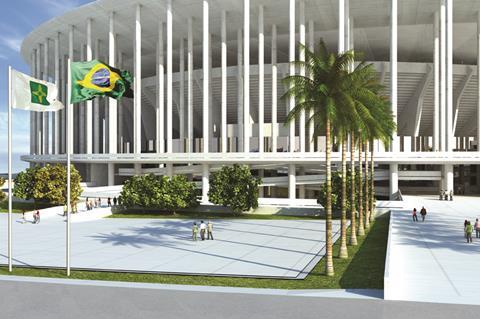 Structure
The stadium's most distinctive feature is the semi-permeable screen of full-height 46m-high columns that cluster around the seating bowl. Some 288 towering circular concrete columns with diameters ranging from 1.2 to 1.5m and were poured in successive 4m increments. They support a rooftop concrete compression ring which holds in place a retractable, translucent inner roof. This in turn is tied to a suspended central steel wheel by a series of radiating spoke-like cables.
For a FIFA-level stadium, LEED Platinum is nearly impossible

Ian Mckee, LEED project manager
Internally, the stadium is divided into three tiers. The lower two comprise in-situ reinforced concrete stands. The upper tier is being built from prefabricated concrete components assembled on site to speed construction and assembly. According to Sergio Graca, Brasilia's local organising committee coordinator, the on-site prefabrication process also "reduces the risk of accidents for workers as they do not have to be exposed to great heights".
Over 1,000 of the 1,604 prefabricated concrete members for the 39,050-capacity upper tier have already been installed at a rate of 8-10 per day. Around 100 workers work on the production of a single component while it takes 20 to install it. About 4,000 tonnes of concrete are being used to construct the 188,000m2 complex and around 3,500 builders are currently working on the site.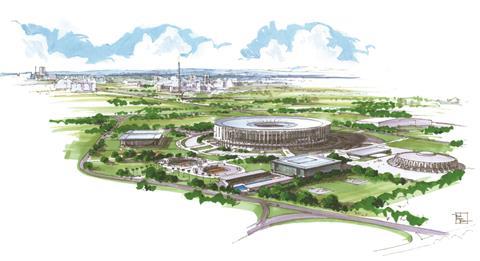 Sustainability
Ian McKee, Castro Mello's LEED project manager, proudly describes the Brasilia National Stadium as the world's first "eco-arena" and its environmental credentials are truly staggering. Its roof is covered in 169,000ft2 of solar panels, the largest assembly in Brazil and enough to power 1,000 homes. McKee points out that Brasilia has "terrific solar incidence so solar energy became a top priority. It became paramount that we lay down roughly 2.5444 megawatts of solar panels in order to generate approximately 3.5 million kilowatt hours a year."
The stadium is also surrounded by 2.5 million ft2 of new green space featuring native fauna, restored ecological habitats, bike parking, reflecting pools and wetlands. The latter incorporate large cistern capacity and retention ponds which enable the stadium to achieve 50% greater water efficiency than national standards.
Although parking is provided around the stadium, it is the landscaping that takes priority. McKee reveals that "up to 50% of most big stadiums' annual carbon emissions actually comes from the modes of transport used to reach them". As Brasilia National Stadium benefits from being in the city centre within easy reach of all the city's hotels, the design team anticipates that most spectators will either walk or cycle to it.
Natural shade and ventilation is maximised by the large roof and screen of columns. As McKee explains, this is particularly attuned to the local climate and scarce water resources. "Despite the strong sun, low humidity creates a very comfortable environment in the shade. The large roof also created an opportunity to capture relatively clean water for reuse in WCs, urinals and pitch irrigation. In Brasilia winds also blow consistently from practically 360 degrees, hence the circular roof over the bowl-shaped stadium."
Brazil has devised a much simpler response to the vexed question of whether football and athletics can coexist in the same venue: no
The roof is also coated in a white photocatalytic membrane which literally neutralises air pollution on contact. This, combined with the roof's high SRI (solar reflective index) also helps the stadium create a reduced heat island effect in Brasilia's scorching city centre.
Additionally, the stadium also recycled 95% of original materials from the old demolished stadium and, perhaps most impressively, the venue can modulate energy demand so that outside of peak hours, it essentially falls into "sleep mode". This generates annual savings of around £2.5m.
It is this revolutionary range of measures that contributed to the stadium's unprecedented LEED Platinum certification. "Many may not understand exactly how difficult this is to do for a regular commercial building," reflects McKee, "but for a FIFA-level stadium, it is nearly impossible."
FIFA's energy-guzzling stadium level requirements include 3D HD video-game field level lighting and high minimum heating, ventilation and cooling standards. McKee identifies Brazil's lack of sophisticated energy legislation ("net-metering or feed-in-tariffs or solar incentive programmes") as another complication.
He hopes that the approach adopted will reap rewards for the stadium design sector. "Designing sustainably increases costs at the time of construction by around 1-7%. But analysts suggest construction costs only account for 10% of long-term stadium costs. This should make building green an easy decision but this is still not the case."
In an effort to ignite the political and cultural change required to realise this shift in perception, McKee and co-architect Vicente Castro Mello have also founded the CopaVerde Plan. This aims to establish the green principles that drove the Brasilia National Stadium as the global standard for sustainable stadium design.

BIM
Vicente Castro Mello describes AutoCAD as being "critical to the design of the Brasilia National Stadium" and claims that it provided the "flexibility to incorporate changes quickly and efficiently and was fundamental to the control and coordination of the process in general."
McKee also credits Autodesk BIM software as being crucial in helping a relatively small firm to pitch its proposals to local government officials in "photorealistic detail" and thereby win a massive job. This process potentially has huge ramifications for the entire construction industry. Autodesk themselves describe this development as the "democratisation of construction procurement" and points to increasing evidence of smaller firms being "empowered" by BIM to bid for projects that their size would previously have precluded them from considering.
Football vs athletics
In marked contrast to the agonised hand-wringing and political procrastination that has accompanied the search to find a post-2012 role for our own Olympic stadium, Brazil has devised a much simpler response to the vexed question of whether football and athletics can coexist in the same venue: no. As McKee bluntly puts it, "Athletics tracks are not suited for soccer stadiums as they hurt pitch sightlines and reduce significantly the overall intensity of the experience. Stadium operators are competing with HD and now 3D broadcasting, so it is absolutely essential from a business perspective that the spectators be as close as possible to the pitch."
As with Wembley, Brasilia's secondary role in Rio 2016 ensures that the pressure to secure an athletics legacy there is significantly less than in London. Nevertheless McKee insists that it is important not to "try to fit everything into one box" and claims that the ongoing issue is one that FIFA needs to address.
Although the Brasilia National Stadium will not host an athletics track, it is still a multi-purpose venue. Football may well be Brazil's national sport by a significant margin but intriguingly Brasilia itself is not particularly passionate about the game. Therefore retractable breathable video screens have been incorporated into the stadium roof which, when activated, descend to conceal the upper tiers and reduce capacity to 27,000 for concerts and shows.
Learning from London?
Although McKee is happy to admit that the designers of the London 2012 Olympic stadium have done a "terrific job", he is wary about making direct comparisons between the two projects and cannot point to a specific London 2012 feature that influenced Brasilia's design decisions. "It is important to understand that sustainable design is really about adapting structure to the local environment and creating spaces that will function best according to the utilisation of people that inhabit that space.
"You should not be able to simply pick up an 'eco-arena' from one location and put it somewhere else because every location and climate calls for specific design choices. The city and its people need to fall in love with their 'eco-arena' - it has to be a new stadium experience."
Concrete Show South America
To find out programme information of the show on 29-31 August at the Imigrantes Exhibition Centre, Sao Paulo, Brazil, go to:
www.concreteshow.com.br