University capital expenditure has soared with the raising of tuition fees and construction in the sector is buoyant. But with contractors now more choosy about the projects they bid for, and inflation eroding HE's fixed tuition fee income, can universities remain attractive to the industry?
The furore over the university tuition fees hike was probably the biggest single cause of the Liberal Democrats' near-death experience at the recent general election. The construction industry, though, has cause to feel more warmly about the controversial higher education funding mechanism. Since the fees were raised to £9,000 in 2012, the pipeline of construction work has increased significantly in the university sector. According to figures supplied by Building's sister organisation Barbour ABI, contracts awarded by higher education institutions rose from £2.1bn in 2012-13 to £2.5bn in 2014-15.
David Cotton, business development manager at Bam Construct UK, says there is "no question that the future market within the construction sector is one of stability and growth". Richard James, universities sector manager at Willmott Dixon, agrees: "The scale of ambition of the sector is phenomenal. We are regularly seeing framework competitive bids for £200m plus, and that's across the board."
But, with tuition fees capped at current levels and inflation rising, for how long can the sector continue growing? And, with increased competition across the board for construction's services, how attractive are universities as clients to work for?
Turning point
Willmott Dixon's James identifies the government's move on tuition fees as the turning point for university capital expenditure. By freeing universities from the whims of grant funding, they can plan ahead with a lot more confidence. Steven Jenkins, head of higher and further education at EC Harris, says fees provide universities with a longer-term view about funding. "Before they had one-off grants, now they have long-term income streams."
In addition, this year has seen a lifting of the cap on the number of students that universities are allowed to enrol. "This is the first year we've had the cap off numbers. The feedback I've had is that it has attracted extra numbers into the sector," says Sue Holmes, chair of AUDE, the association for university estates directors.
This uplift has been further fuelled by uncertainty over whether ministers will lift the cap on the level of tuition fees, which has been in place since the 2012 increase. Students appear to be putting off thoughts of a gap year until after graduation in order to take advantage of the capped fees. "Students are jumping because of uncertainty over whether fees are going to go up," says Holmes, who is also director of estates at Oxford Brookes University.
"We'll see a bulge which is welcome because we know that we have a decline coming over the next five years," she adds, explaining that due to a drop-off in the teenage population, the number of potential tertiary education students won't recover to their current levels until the early to mid-2020s.
But even this decline in the overall student cohort won't necessarily inhibit the sector's appetite for construction projects. Again, the key factor is the introduction of tuition fees, which means that universities will have to compete harder to attract the shrinking student population.
The scale of ambition of the universities sector is phenomenal. We are seeing framework bids for £200m plus across the board

- Richard James, Willmott Dixon
Universities now pay the Times Higher Education Supplement's annual student experience survey the kind of attention once devoted to academic research papers. And the quality of students' experience will be swayed by the quality of the facilities on offer, like libraries and student union facilities.
"If you are spending £45k on education, you will want a reasonable environment to live and study in," says Jonathan Stewart, head of public sector at Gleeds, who argues that upgrading facilities is "essential" rather than "desirable" spending these days for universities.
Philip Watson, UK design director at Atkins, agrees: "The move from state-funded to private institutions has really upped the ante. If the place looks shabby and grimy, it makes a difference, so they have had to up their game."
James agrees: "Power has shifted towards the student and they are demanding a lot more from the facilities." Watson adds that good looking buildings increasingly play a role as marketing tools for universities. "They need the brochure shots to market themselves."
Mairi Johnson, Aecom's education sector global lead, says: "They [universities] see architecture as part of their brand and want to be seen as future looking - they really value good design."
This commitment to high-quality design is one of the reasons that universities are seen as attractive clients. "Doing these large jobs for universities has always had a cachet, and contractors want to have their names associated with these projects. There is no shortage of interested contractors," says Watson, who adds that staff are motivated by working on university projects because they offer a clear social benefit.
The construction industry also has other, less altruistic reasons for wooing the higher education sector. Watson points out that the university budgets tend to be bigger than those for school projects. And the size and scale of universities means they often bulk large within their local construction markets. EC Harris' Jenkins says: "They have huge buying power, influence and impact on the construction market."
Rupert Goddard, partner in architect Sheppard Robson, says contractors will often cut university clients greater slack owing to potential repeat business. He says: "There's still eagerness among contractors to compete in the sector because it's seen as much more resilient to recessionary pressures. They are a bit more pliable on these types of projects because they see it as good to build long-term relations with the universities."
Added to which, Watson says, universities are good clients as well as increasingly professional, with estates teams taking on more staff from private sector backgrounds. "They are fairly direct appointments so you will be working for the people who will be managing, operating and using the building, which is pleasing, rather than working for a developer where you don't know who will be operating it."
Turning the tables
However, industry figures complain that universities have exploited their privileged position during recent years by getting contractors to shoulder a disproportionate level of project risk. Now the market is heating up, contractors are becoming more choosy about the higher education projects they bid for. Universities face the added pressure in an inflationary environment that, unlike commercial developers, they rely on fixed-fee income so cannot hike prices to absorb increased costs. Such pressures are particularly acute for those institutions that own a lot of listed buildings that cannot be redeveloped.
Roger Bond, director of estates at the University of East Anglia, says that finding the capital to refurbish the largely listed 1960s campus is a major headache. Holmes says it is becoming more difficult for universities to procure contractors to do refurbishment work.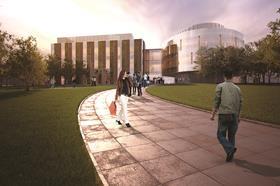 Goddard sees a "wind of change" in the contractor-university relations, noting that one northern university recently failed to attract any bidders on a single-stage, new-build job. He says: "University teams are becoming more aware that they can't take for granted a good looking shortlist just because they are a university. The message is getting through quicker to some than others."
Gleeds' Stewart agrees that universities are not immune from the pressures facing the wider market. Contractors are using their greater bargaining power by pushing for two-stage contracts, which are becoming the "norm" in the sector, according to EC Harris' Jenkins.
Stewart also sees more universities considering frameworks in order to secure the involvement of contractors and swifter delivery. Contractors like these partnering arrangements because it takes in the long-term workflows university clients can offer. "Bidding on single-stage design and build contracts is not the way to do it in our opinion," says Bam's Cotton. By using two-stage and partnering arrangements, he adds that contractors can lock in subcontractors at an early stage, mitigating cost increases later on.
The question for universities though, Stewart notes, is whether they are able to generate the length and volume of work to justify such arrangements.
Going further down the partnering route, universities also have the option of forming joint ventures with commercial developers. Holmes says Nottingham's Trent University has examined establishing a joint venture with student housing developer UPP, which would provide a student union facility as part of the deal. However, the nature of university estates offers relatively few opportunities for this kind of joint venture: facilities like research labs and libraries don't generally generate income streams. And while the funding situation is relatively rosy now, it may soon sour unless the government takes the politically unpalatable option of relaxing its current ceiling on fee levels, Holmes warns.
The freeze means that the level of universities' income has, once inflation is taken into account, effectively declined by 7-8% since the fees were introduced three years ago, she says. "We can't keep taking a cut in our income with a capped fee."
Nevertheless, for the time being, the higher education construction sector remains a buoyant one. Willmott Dixon's James says that his company remains strongly committed to the HE sector. He says: "If we have a chance of work that is attractive in terms of returns and ongoing work, we would give it our best shot."

A tale of two markets
While university construction may be booming, the further education sector is still nursing the hangover from the scaling back of its capital programme in the late 2000s. The now defunct Learning and Skills Council had overcommitted funding for its capital programme, leaving many 16-18 colleges lumbered with hefty debts for partially completed projects, which had already been approved in principle.
Combined with broader challenges around public funding and falling numbers of 16-18 year olds, it has added up to what the National Audit Office, in a report, published last month, described as a "challenging" financial climate for the sector.
In addition, FE projects tend to be smaller scale than those being carried out by universities, further diminishing contactors' appetite for the sector.
Bam's David Cotton says: "If you go back to the boom days of the LSC, when the government was giving them serious amounts of money, it was great. Funding is nowhere near the level it was and as a consequence we move towards sectors that have volume in them."