The Olympics are a triumph for the UK construction industry, with the project coming in on time and on budget. As Building continues its search for London 2012 unsung heroes, we talk to one experienced worker on the project, as well three young site-workers that have helped to make the Games happen
With just over a month to go, and the Jubilee celebrations done and dusted, the UK is careering towards 2012's main event. The countdown to the London Olympic Games has begun in earnest and centre stage will be the phenomenal work and talent that has gone into creating the venues and facilities this great event.
Over the last three months, Building has been searching for three unsung Building 2012 Heroes. They can be people of all ages, job titles and professions within construction who have made a real difference on the Olympic project behind the scenes and have not been dominating the headlines - until now. Calling on industry, the Olympic Delivery Authority (ODA) and our campaign partner CITB Construction Skills, Building has been pulling together a shortlist of people whose outstanding contribution to the construction of the venues has helped to make the Games such a success. And we're not stopping yet.
It's not too late to put yourself forward, or someone you think should be nominated. We will be accepting nominations until 6 July. Simply fill in the form online (details below).
If you are in need of inspiration, we have tracked down one of the nominations to explain just what working on the Olympic park meant to him (read about Steve Wood's experience on the aquatics centre, right). And, to mark joining forces with CITB Construction Skills on The Building Heroes campaign, we have also profiled three of our youngest nominated Olympic heroes (see overleaf), tipped by the ODA as construction industry stars of the future, to find out how they are using the opportunity of working on the Olympics to kick-start their careers.
Nominate your hero

In association with the Olympic Delivery Authority and CITB-Construction Skills, we are calling for nominations, out of which three people will be selected as Building 2012 Heroes to highlight the great work that has gone into this project at every level of the UK construction industry. However great or small the role, if you know someone who excelled on this scheme and who is worthy of recognition, or if you would like to put yourself forward, we are waiting to hear from you.
To nominate someone, fill in the form here
Steve Wood
The 51-year-old works manager for Balfour Beatty worked on the aquatics centre from June 2008 to July 2011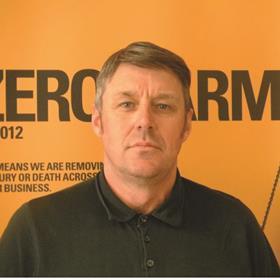 Wood was the man on site responsible for coordinating an average of 800 workers at a time - a number that rose to 1,000 for two weeks at peak building period - safely and efficiently to deliver one of the Olympic park's most iconic and technically complex schemes on time. Wood is now works manager on the Blackfriars station and bridge contract and will return to the aquatics centre post-Games to coordinate the removal of the temporary stands. He has been nominated as a Building 2012 Hero by Stuart Fraser who was project manager on the scheme.
Fraser said: "I've nominated Steve Wood as he was pivotal to the success of the aquatics centre. He was the focal point for all the logistics and labour management and central to the organisation of visits from Prince Philip to the Cabinet. Nothing was too much effort and he stoically supported the senior management team across all works for the duration of the scheme."
In his own words
"When I was put forward for the aquatics centre job I didn't quite realise the scale of it. We arrived on site which, at the time, was a couple of huts in a field. And Stuart [Fraser] said 'the chances of working on an Olympic project in your lifetime are very slim. Let along one in your own country.' And from that moment I appreciated how important this scheme was and I loved going into work every day for three years.
"It was a tough job to coordinate. We had a canal on one side and a railway on the other and this was no normal project. With a traditional building, you don't put the roof on first like we had to so we had a team excavating under the roof, working inside out. This made actually getting to the centre of the building harder and harder so, in the end, we had to put a tower crane in the swimming pool which had never been done before.
"The coordination was key. I had people working on the underside of the roof on scaffolding 30 metres up at the same time I had another team tiling the pool. There were any number of different disciplines going on at one time in the venue, often layered at varying heights. It was my job to ensure everyone was working on the right thing, at the right time, safely.
"It was the job of a lifetime and I have missed it ever since I left. Now, on the Blackfriars project, people say to me 'please don't mention the aquatics centre again' because I talk about it all the time. But this was a special job. I put everything into it.
"Next for me after Blackfriars is to go back to the aquatics centre post-Olympics to take the stands down and sort out the glazing. This will show the structure in its full glory and I can't wait to help be a part of that after being so involved in getting the venue ready for Games."
Ben Ginn
The 22-year-old electrician from Marcoe Electrical in Welwyn Garden City worked on the aquatics centre for two years from November 2009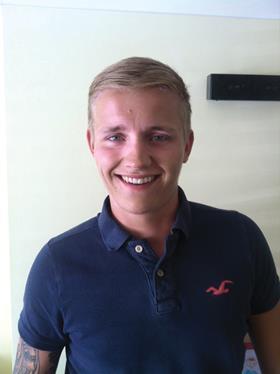 I was working on the HD light installations in the pool - there were 10-15 lights in total. Four of us were picked for the start up team - it felt great to be chosen.
I think they wanted to give some young people the opportunity to show willing and learn new things. Over time there were 30-40 of us working on the pool together.
What surprised me the most was how many different personalities you get working on a building site. There were loads of people working on the Olympic village, from all types of different backgrounds. It was really interesting meeting everyone who had been chosen to be a part of making such an important event. I felt like part of an extended team.
For me it was quite a learning curve in terms of the structure and the way we worked. I'm used to smaller scale projects. Having the Olympics on your CV is fairly impressive and it's something a lot of people won't have. I am still doing my apprenticeship and am working on a refurbishment of St Bart's Hospital at the moment. I would like to work my way up and reach a higher department in the company but I'm happy where I am at the moment. I definitely think apprenticeships are worthwhile; they may be a long-term commitment but they pay off and you get some great hands-on experience. If you keep your head down and do as you are told you will benefit the most and make a good impression on your employer. Then they'll be more likely to give you the chance to try something new, if it comes up.
Eugene Oppong-Kwarteng
The 25-year-old from Newham is a trainee heating and ventilation engineer at Imtech Meica. Eugene worked as a plumber on the main Olympic stadium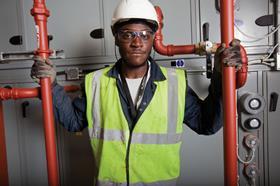 I got involved with working on the Olympic park when I was looking for an apprenticeship in my gap year and came across Newham College. Because I am from Newham, an Olympic borough, they were interested in putting me forward for work on the park. I took an exam, and passed and then was offered a job working as a trainee plumber with Imtech Meica after two interviews.
I was working on several jobs at once doing plumbing and heating and ventilation work - everything from putting in toilets and showers to checking pipes and water pressures. I got to work in the changing rooms in the main stadium which was so exciting. I was thinking "this is stuff the athletes will be using - and it's my work".
I felt special, like I had a great opportunity in my hands and one I didn't want to lose. That made me work hard. Now I have gone on to work on major hotel jobs like the Grosvenor on Park Lane.
My sector - plumbing and H&V - is one of the best to be in right now because it's useful in new build and refurbishments and it is good for people who might want to set up on their own.
I am still doing my apprenticeship and I will finish it next year. After that I would like to get enough experience to be a project manager. In that sort of role you get to see the whole job from start to finish and you talk to clients. Eventually I would like to run my own company or be the head of a big firm.
All of this has been made possible for me because of the Olympics. And it's such an important scheme for the UK.
Metoojah Dufeal
The 22-year-old from Tower Hamlets is a drylining specialist at Measom Drylining, Metoojah. He worked on the athletes village for six months in 2011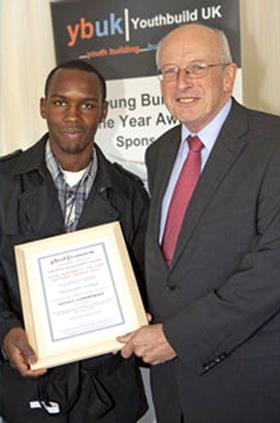 I worked on part of the athletes' village drylining, plasterboarding and working on metal partitions thanks to work I got through Be On Site, which helps people to find jobs in construction.
I was just 20 when I worked on the Olympic park and it got me a lot of credit with my friends when I told them. They said: "How did you get that job? Can you get me on there too?"
I learnt a lot on the project. The main thing was how to work safely. It was such a big thing on the Olympics to work in the correct manner.
At first, the Olympic park was quite confusing as it was so big. It took ages to get on because of all the security and it was different to anything else I had done before.
I was lucky because I had a friend, who I had met through Be On Site, working on the same project as me as a supervisor. He has done so well. He really look care of me and acted as a mentor.
I feel really privileged to have worked on such a big job and one that will be remembered. It made up a key stage of my training and has helped me move forward.
Now I am working on a 32-storey luxury residential project in Moorgate and am self-employed. In the future I want to expand my knowledge to work on my own projects.
The Olympic scheme has helped this all happen for me and I will be watching the Games - especially the running. Usain Bolt is amazing to watch. It makes me think of all the athletes living in the village I helped to build.
Judy Lowe, deputy chairman, CITB-Construction Skills
"Given the enormity of the economic challenges our industry is facing, it would be understandable if it was less than focused on investing in the workforce of the future. Nothing though, could be further from the truth. The quality of the Building Heroes 2012 nominees and the candidates for the competitions and programmes we sponsor like the National Construction College Awards, SkillBuild and Women into Construction show an industry planning for the future and developing a world class workforce ready to capitalise on the opportunities that will present themselves as the economy begins to grow.
What's good for our industry is also good for individuals. The Olympic project, through schemes like Building Heroes 2012, has provided life-changing opportunities and a showcase for individuals from a range of backgrounds to develop and display new talents and skills. These will be the foundations for rewarding and successful careers in an industry that has a bright future.
One of the most significant developments in recent years, and one in which I'm proud to say CITB-ConstructionSkills has been able to play a major part, has been the development of new routes into the industry. The growth of high quality apprenticeships routes, cadet schemes, for individuals looking for recognised degree-level qualifications without going to university, and graduate entry schemes, is raising the profile and reputation of our industry and opening up new opportunities for a new generation of talented individuals.
Programmes like Building Heroes 2012, provide a fantastic opportunity for the construction industry to demonstrate its commitment to a diverse, highly skilled workforce that can compete successfully at home and abroad."