Another election kicked off by a Conservative prime minister to secure a solid mandate – but what a difference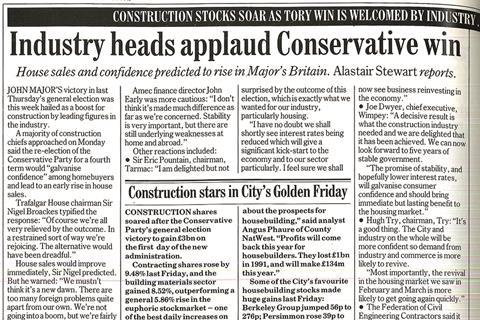 Industry heads applaud Conservative win
In case you're feeling confused, this headline doesn't suggest that Building has decided to be the only publication in the country to adopt a slavish attitude to the Conservative party's shaky position. It refers to the snap election held in 1992.
It was another election kicked off by a Conservative prime minister to secure a solid mandate. But what a difference. Labour were seen to lead but were pipped to the post by the Conservatives, with the largest number of votes in history for one party.
After the election in April, 1992, house sales were predicted to rise and construction shares "soared" - last Friday, Building reported a fall of 3% in housebuilders' shares.
Twenty-five years ago, commentators were very pleased. "It's a good thing. The City and industry on the whole will be more confident so demand from industry and commerce is more likely to survive," said Hugh Try, chairman of Try.
"A decisive result is exactly what the construction industry needed and we are delighted it has been achieved. We can now look forward to five years of stable government," said Joe Dwyer, chief executive of Wimpey.
That sounds a little like a speech given by one prime minister in denial last Friday.
To read the full article from 16 April 1992, download the PDF file below