Group says west London tragedy is the disaster advisers have predicted for years as police confirm 12 fatalities and expect the number to rise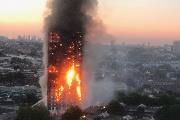 A fire-safety expert has said the inferno at west London high-rise Grenfell Tower is a disaster of the magnitude housing associations and councils had been repeatedly warned about, but did too little to prevent.
So far the Metropolitan Police has confirmed 12 deaths after fire ripped through the 24-storey building in the early hours of this morning, but it expects the toll to rise. A further 18 people are in critical condition at local hospitals, according to the London Ambulance service while 68 were taken to hospital.
As firefighters continued work to bring the blaze at the 44-year-old tower under control, Passive Fire Protection Forum chair Hannah Mansell, whose organisation brings together a range of trade bodies, safety professionals and Department for Communities and Local Government staff, said industry professionals had "a right to be very angry" at the scale of the tragedy.
"I regularly sit in meetings with fire safety professionals, and their fury and frustration at the inaction of local councils and social landlords is palpable," she said. "We have been warning about the risks of a fire like this for years."
"There is an endemic fire safety problem in this type of housing stock," she said.
Meanwhile, contractor Rydon who carried out recent refurbishment works at the building has said: "We are shocked to hear of the devastating fire at Grenfell Tower and our immediate thoughts are with those that have been affected by the incident, their families, relatives and friends.
"Rydon completed a refurbishment of the building in the summer of 2016 for KCTMO (Kensington and Chelsea Tenant Management Organisation) on behalf of the Council, which met all required building control, fire regulation and health & safety standards. We will cooperate with the relevant authorities and emergency services and fully support their enquiries into the causes of this fire at the appropriate time.
"Given the ongoing nature of the incident and the tragic events overnight, it would be inappropriate for us to speculate or comment further at this stage."
Kensington and Chelsea Tenant Management Organisation have said: "The events of last night and early this morning are a tragedy. KCTMO, in conjunction with RBKC and others, is doing everything it can to assist the residents of Grenfell Tower and those affected by the tragedy. This will remain our immediate concern and focus.
"It is too early to speculate what caused the fire and contributed to its spread. We will co-operate fully with all the relevant authorities in order to ascertain the cause of this tragedy.
"We are aware that concerns have been raised historically by residents. We always take all concerns seriously and these will form part of our forthcoming investigations. While these investigations continue with our co-operation, our core priority at the moment is our residents."