L&G has ambitious plans to set up a diversified housing business delivering 15,000 homes a year – a large share of them modular. So far, though, its modular factory has yet to deliver a single home. Joey Gardiner talks to boss James Lidgate to see how close he is to breaking the traditional housebuilding model.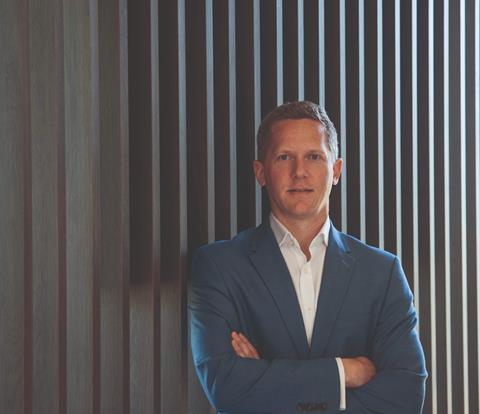 It's hard to disagree with James Lidgate, the man in charge of insurance giant Legal & General's homes business, when he claims to have just about the most exciting job in UK housebuilding today. If you don't believe him, it may be that you don't know enough about L&G.
Legal & General has dabbled in residential development for more than a decade, notably through its regeneration joint venture the English Cities Fund. But the firm's February 2016 announcement that it was creating a 550,000ft2 modular housing warehouse capable of turning out 3,500 homes a year was the moment many realised something pretty big and altogether new could be happening.
In fact the modular factory is actually just one strand in a strategy encompassing homes for sale, for private and affordable rent and for older people, which L&G says will see 80,000 houses built over the next five years. That's a run rate of more than 15,000 a year – the same as Taylor Wimpey today, equivalent to one in every 10 new UK homes. The big question is, of course, whether it can do it. Building met with former Bellway executive Lidgate at L&G Homes' first major site – Buckler's Park outside Bracknell – to find out.
So far L&G has put £1.5bn into its homes business, a down payment on its stated ambition to be a top five provider of housing within five years. The £40bn-turnover investment giant prides itself on being a market disruptor, using the £228bn of assets it manages to both turn a huge profit and – it claims – change society for the better. L&G group chief executive Nigel Wilson has picked housing as one of his top priorities, he says out of a desire to fix the intergenerational unfairness in the housing market. But he has clearly also spotted a market opportunity in disrupting a sector that has been obdurately resisting reform for generations.
The breadth of what L&G is attempting to do is pretty staggering. As well as owning upmarket 1,700-homes-a-year housebuilder Cala Homes and being a private sale housebuilder in its own right, L&G can boast a build-to-rent business, a "later living" business called Inspired Villages, the modular homes factory and – announced just two months ago – an affordable housing business (see "L&G: a new breed of housebuilder", overleaf). While some housebuilders are dabbling in build-to-rent, none are attempting diversification to this extent.
The closest comparison is instead with the big developing housing associations such as L&Q and Places for People, but even those organisations remain ultimately rooted in their landlord function. L&G's planned scale of development is an order of magnitude larger.
Confidence
Lidgate, a youthful 39 years old, sounds like he's used to receiving sceptical looks, but he's confident L&G can make good on its commitments. Asked about delivering 10,000-15,000 homes a year in five years, he says: "We're not delivering 10,000 units this year. But the scale of what we're doing – that's our publicly stated ambition and one we're confident we can hit. L&G is hugely ambitious and has the capital to back up the ambition. This is the future of housing."
The firm bases this confidence on the claim that it already controls around two-thirds of the 80,000 plots needed to deliver this ambition and can turn to other tenures of housing if the private sale market weakens.
Buckler's Park, a 1,000-home urban extension in Berkshire, is a microcosm of what it wants to do: building homes for sale itself, and bringing in other L&G products to drive faster build-out. In the first phase L&G Homes is building traditional suburban-style homes for sale, alongside community facilities including a care home. But ultimately, Lidgate says, anything up to 50% of the site could be different tenures, such as build-to-rent, affordable housing and later living, built by other parts of the business. The first of its modular homes will provide some of the rented stock, while Cala is also likely to develop parts of the scheme.
"We absolutely remain committed to innovating the construction industry and we are creating a product that is genuinely new and revolutionary"

James Lidgate, L&G Homes
He says this will fix the inefficiencies of the traditional master developer arrangement, in which the owner of a large site sells phases to rival housebuilders to build out. "All of those [businesses] will be working together to deliver those projects. That's our USP.
"[In] the traditional master developer role […] you're bringing in other housebuilders underneath that are potentially cannibalising sales off each other. The danger is it's a race to the bottom in terms of price, quality, and 'how quickly can I be off site'," he says.
"We think our solution to that is where you can differentiate the type of homes you're building and the tenure of homes you're building, and target different marketplaces and economic and demographic needs simultaneously. The great thing for Legal & General is that we control all of those different elements."
Lidgate is speaking two days after Sir Oliver Letwin MP published his draft analysis for the government on why the build-out rates for large sites are so slow. That recommended a much greater diversity of types and tenures of homes on big sites, in order to increase the rate at which local markets can absorb new supply, and it's clear Lidgate believes his business is hitting this particular zeitgeist. "It was music to my ears reading Sir Oliver's report," he says. "When you read [in Letwin's analysis] things like a large site of over 1,000 units takes an average of 15.5 years to build out – we think we can make a meaningful difference. We think we can close to halve that."
L&G: a new breed of housebuilder
L&G has a business, L&G Homes Holdings, within L&G Capital that draws together all of its housebuilding efforts. L&G is now a traditional housebuilder in its own right, with a 3,500-plot landbank, directly employing land, surveying, technical and site staff in the same way as other volume builders. It is now on site construction managing the build-out of phase one of Buckler's Park, its first scheme. At the same time, it acts as a master developer of the site, bringing in L&G's other housebuilding capabilities.
These include:
Cala Homes L&G bought the remaining 52% share it did not already own in £750m-turnover upmarket housebuilder Cala in March. Cala built nearly 1,700 homes in 2017 and has a landbank of 25,000 plots (short and long term) mainly in the South-east of England and in Scotland.
Build-to-rent L&G has a pipeline of 2,000 build-to-rent homes in partnership with Dutch pension fund manager PGGM, with one scheme built and several on site.
Later living In 2017 L&G bought two older people's housing schemes from specialist provider English Care Villages for £40m, rebranding the business as Inspired Villages and giving it a mandate to grow.
Modular homes L&G bought the lease to its modular factory in February 2016. The first homes, designed for private and affordable rented schemes, are in production, with L&G claiming it will have the capacity to produce 3,500 a year.
Affordable housing In April L&G announced its intention to set up a 3,000-homes-a-year affordable housing business. Lidgate says the firm will seek to both build and own these homes and is in the process of becoming an official registered social housing provider.
Urban regeneration This division undertakes mixed-use regeneration schemes and also works in partnership with Muse and Homes England on the longstanding English Cities Fund venture.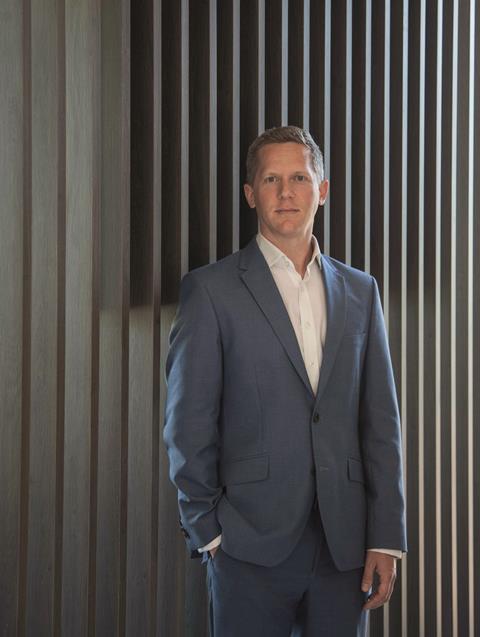 Scepticism
But if all this is exciting, it's more than equally challenging. Growing to this scale of operation so quickly is not a task for the faint-hearted, and there remains industry scepticism around L&G's real-world capacity to walk the walk – particularly in modular housing. Outside of Cala Homes, which appointed Kevin Whitaker as its new chief executive this week, it is only just beginning to gear its businesses up. Its build-to-rent business is probably furthest advanced, with 225 flats in Salford's MediaCity already occupied, and another eight schemes in progress in other UK cities making a pipeline of 3,000 homes.
The umbrella also includes the longstanding regeneration joint venture with Homes England and Muse, the English Cities Fund, as well as the Inspired Villages business bought last year for £40m. But L&G Homes as a housebuilder itself has yet to complete its first home, and has just 3,500 plots under its direct control – a significant number but not equal to the stated ambition. Lidgate says "relatively aggressive" land-buying will double this number in the next 12 months, but admits the business as a whole is still "in the foothills" of what it wants to achieve. "We've made that commitment, we've made that investment – we're doing it," he says, with a qualification: "albeit I can't today point you to 'here's a dozen examples of where we've delivered all of these different facets alongside each other'".
But if L&G's broader strategy housebuilding strategy can be described as thus far unproven, the biggest questions have encircled its groundbreaking £50m investment in its modular factory, in Sherburn-in-Elmet, Yorkshire. It had originally said the factory would be producing "precision-engineered" homes using cross-laminated timber (CLT) technology by June 2016, riding the crest of a wave of interest in modern methods. In fact, it took until last summer for the first prototypes to emerge, and the date for production in earnest continued to slip. Now, two-and-a-half years after that first announcement, L&G still can't point to a single occupied modular home.
L&G's press release assertion that its factory would "modernise the home building industry" – as if it were as simple as just deciding to do so – is not understood to have made it popular with rivals, many of whom bear scars from their own previous attempts to bring in modern construction methods. One industry observer told Building the factory had been a "disaster," and that other housebuilders were viewing L&G's travails with no small degree of schadenfreude.
However, Lidgate says the first real homes for occupation are in factory production now, and L&G is expecting to install them on site around September. He flatly denies the modular investment has been a mistake – but admits it has been "a learning process", firstly in terms of which part of the housing market to target, and then with the manufacturing technology.
So, what went wrong? "We have been through an evolution of the design and the manufacturing methodology. There are a number of constraints to the way that you organise a manufacturing process like that," he says, somewhat elliptically. "And early on [we] thought that some of those constraints were easier to overcome than they perhaps were." An example, he says, was around the much publicised "precision-engineered" nature of the homes. While the factory's machines can cut materials and build to tolerances of 0.1mm, he says L&G could not initially get CLT boards supplied to the same tolerances. In general, he says, the inevitable interface where the high-tech manufacturing process ends and traditional trades such as kitchen fitting begin has been a challenge.
Some are worried there may be even more fundamental problems with L&G's technology choice, given that last month some experts expressed concern that the government's proposed ban on combustible materials in cladding systems on high-rises could encompass CLT and that such a ban could shake confidence in the material more generally.
When asked if this is a worry, Lidgate's response is that at present L&G's "product range" does not include the mid-rise and high-rise building types that could potentially be affected, adding carefully: "We assess both customer and regulatory requirements and choose the appropriate material systems to meet these."
Lidgate insists that there are no fundamental problems. Moreover, the skills crunch that provided the rationale for investment in the first place is only worsening. He says: "There's a constant refinement process but we're more than happy with the quality and the price of what we can produce. Modular has not been a mistake nor has it taken away money from other parts of the business. We absolutely remain committed to innovating the construction industry and we are creating a product that is genuinely new and revolutionary."
There is an enormous amount to admire in what L&G is attempting to do in creating a genuinely diversified housing business. Moreover, its timing looks good, coming in the wake of publication of the Farmer review which recommended modern methods of construction, and alongside the Letwin review which is calling for diversification, and while a stagnating private sale market makes the traditional housebuilding model look less well adapted to current conditions. But there is a whole world of difference between having a good theory and delivering in practice – and in this sense, the jury on L&G's housebuilding business is still out.