The UK chief executive of EC Harris on parent company Arcadis' acquisition of Hyder, and the firm's own growth ambitions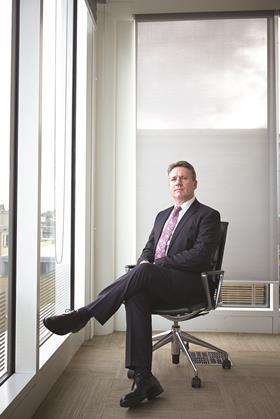 Last Friday was a busy one for Alan Brookes, UK chief executive of 2,700-strong consultant EC Harris. Because Friday was the day that the long-awaited acquisition of £296m turnover engineer Hyder Consulting by EC Harris' (ECH) parent company Arcadis went through, a purchase which will add more than 1,000 staff to the UK business.
Brookes spent the day in Hyder's Victoria and Guildford offices, helping explain the rationale behind the move to Hyder staff, and attempting to reassure them of Arcadis' intentions. "We're not looking to change the business," he says. "We care about our people, and rumours start straight away, so really [we wanted to] start talking to people," he says. "Who are Arcadis, what's the rationale, and what's going to happen. I think everybody's happy that Arcadis has a strong engineering pedigree and background. I thought the mood actually was good, positive."
The acquisition
For Dutch parent company Arcadis, the £256m Hyder acquisition will transform the firm into a £2.3bn turnover engineering giant, adding 4,500 staff worldwide to its 22,000-strong workforce, and filling in important gaps in its offering. It will enable it to offer a full range of design engineering services in the UK and Middle East, as well as establishing a significant business for it in the Australasian market for the first time. With the war for talent a major issue for all big consultants, both Hyder's workforce itself and its approach to finding talent were seen by Arcadis as big attractions. And as Brookes reveals, it is an approach which could just have major implications upon the way ECH itself works in the UK.
The acquisition has happened just as Brookes, who joined ECH through the acquisition of Povall Flood Wilson in 2000, is about to consolidate control of the firm in the UK. Long-time global ECH chief executive Philip Youell is about to move to a new marketing role for Arcadis as the group restructures along geographic lines, leaving Brookes in sole charge of the UK firm from January next year. This is happening exactly one year after he returned to the UK from running ECH's Asian business from Hong Kong, and more than three years after Arcadis' 2011 purchase of the UK-based consultant. But the Hyder purchase clouds this picture slightly - Hyder will continue to be run by its existing management while the integration is happening, and it remains to see who will lead once the businesses are combined in the UK. "It'll come down to what sort of firm do we want to be, and who's the best athlete for that. Unless I get a call in the next five minutes I wouldn't presume at this stage. At the end of the day after we go through the process, if somebody else should lead that combined business in the UK then so be it," he says, diplomatically.
The "process" he is referring to is the setting up of a group-wide "co-creation" board designed to come up with a vision and a plan for the integration of Hyder within the Arcadis group. This will be led by Arcadis Europe CEO Stephan Ritter and Hyder chief executive Ivor Catto. The first part of this will be due diligence, but it will then move on to a detailed country-by-country breakdown of what the market proposition should be in each geography, and how that should be achieved, with country heads such as Alan feeding in at that level. "Remember it's a plc buying a plc, so there's been necessarily very little due diligence in that process. Of course we've been in the data room, [but] we now need to understand exactly the details. Then you'll probably find over the next six months we'll be planning, focusing on the market, seeing clients, getting the proposition right. Then at that point we'll make the decisions. We're not imagining an awful lot of overlap," he says.
He says it will take six to nine months to formulate a plan, and in the meantime Hyder will be run by its existing management as an independent company. "We've told everyone to carry on as normal because both businesses are busy, making good profit, so from our perspective we just want people to carry on. The biggest issue we face is people worrying and getting distracted. It's business as usual. This is not an aggressive acquisition that's looking to asset strip. I don't see why we'd lose jobs to be honest, we're not looking to change the business model. We're looking for the opportunities going forward."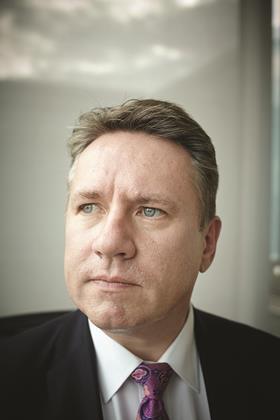 Managing the merger
In the UK Alan is already looking at what "client synergies" can be found by combining the offers of the two firms - Hyder with a 160-year engineering heritage spanning iconic projects from the Sydney Harbour Bridge to the Burj Dubai, and ECH, the UK's largest QS, with an equally impressive 120-year track record as a building consultant. But while Brookes says clients are increasingly looking to buy single solutions that combine engineering, cost and project management consultancy, there are equally other clients for whom combining Hyder with ECH may present a conflict of interest. Brookes says the detailed work to pull out these clashes is being done now, but so far he has only detected three potential problems among all of the thousands of clients of the two firms, and they don't represent a big slug of revenue. In one example ECH has been running a tender process on a contract on which Hyder is bidding. The clients on each have been contacted and alerted to the issue and asked how they want to proceed. "We think there's a maximum of three clients, to date. We're being very conscious about the protocols, I think we'd probably say stand down, even if client just asked for a Chinese wall," he says.
While Brookes is determined not to pre-judge the outcome of this integration, there are a huge number of possibilities already presenting themselves. With Hyder having worked on the Burj Dubai, and ECH now working on the Kingdom Tower in Jeddah, he says: "There might be some skills and experiences to share on those sort of schemes, so [the question is] should we have a combined team to make the best of that fit?" And where regional office leases are up for renewal, such as in Bristol and Exeter, they are likely to look to combine Hyder and ECH teams in a single building, though he cautions they "are not looking to close offices" in the sense of withdrawing from existing locations. "Obviously we're not looking to spend more money [on overheads] because we have a larger business, but the focus is not on cost cutting. Both businesses are growing, and we've got an opportunity if we can bring the businesses together to grow even faster."
Hyder staff worried about the acquisition will do well to look at the purchase of ECH, he says, where three years on the firm still has retained its brand, a fair degree of independence, and a large amount of its senior staff. Of course branding will be a major part of the decisions to be taken in the wake of the Hyder acquisition, but Brookes pours cold water on the idea there will be any imminent loss of either the Hyder or the ECH name, with Philip Youell now in charge of determining strategy over the issue. "It's about looking at what clients want. Do we want an Arcadis [brand] globally? If so what's a sensible timescale to get there? But no-one's going to throw away hundreds of years of Hyder history - they're not. I know some of our competitors would do that - but our approach is you don't throw away something until you've got something to replace it with of equal or better value. If that's a three to five year journey then so be it," he says.
It is clear, furthermore, that the Hyder acquisition could presage change in the way ECH itself operates. Arcadis made much during the purchase process of the fact that it wanted to learn from Hyder's model of staffing major schemes, which has seen it employ 900 of its 4,500 staff through what it calls "Design Excellence Centres" in the Philippines, India and Jordan. While Hyder is by no means the only design firm to use staff in fast-developing nations to bolster its resources, Brookes says the way the firm has done this moves beyond the traditional stereotype of outsourcing low-value drawing and drafting work to cheaper staff offshore. "They seem to be able to get really good quality people and we need to ask how can we best benefit? It's not so much outsourcing, it's what can you do to get the right quality of people, where you can't get the available people here. There's a fight and a war on talent, and for standard processes they seem to get extremely well qualified and able people in those countries."
And it is clearly something Brookes is intending to learn from for ECH's QS and project management business, albeit only with the explicit approval of clients. "We are really struggling to get hold of really good experienced quality people right now. If you can't get the people, can you use design excellence centre to do some of the more basic work and supplement the work we do, with client's approval? We're exploring [whether] we can look at extending that model in to other parts of the business. We're not sure yet but we think we probably can if we need to. We'll research that over the next three to four months and see if that's a possibility."
Staff shortage
There is an urgency behind this because, as Brookes puts it, skills is "number one on my agenda". Arcadis grew revenue in the UK by 2% last year to around £240m, and Brookes says the firm's operating margin is growing, despite the fact an exceptional tax charge related to the 2011 acquisition meant the recorded profits shrank on the group's reported accounts. It is on course to show further 5% revenue growth this year. But with clients poaching staff as they restock their businesses, the lack of availability of people is limiting how quickly he can meet demand. "The honest answer is we could grow a lot more if we could find the people. We have probably got 60-100 vacancies today, and all of that would drive more revenue growth if we could get them. We're actually not able to go after some of the work simply because we haven't got the people.
"People feared that 'ok, we'll be out of a job because you'll use these guys [in India]'. That's not the case actually. Hyder has grown and grown because they've been able to get access to jobs because they can get the people."
Brookes is more concerned about these issues of growth than he is about recent stockmarket jitters related to a deepening downturn in the eurozone, global instability and general election-related uncertainty. He says he has already factored in further falls in government work due to a general election hiatus, but with the public sector only accounting for a fifth of UK business, isn't too concerned. "Property is still really really buoyant, particularly in London, and we're hoping that will extend to other cities."
So with the Hyder takeover and the war for talent all happening just when Brookes gets his hands round the whole business, it'd be fair to say he'll have a lot on his plate in 2015. "It's about me getting the right people around me now. But I think I'm ready for it."