Lee Polisano's high-profile departure from KPF at the height of his success seemed a daring decision. But nearly five years on, and with big projects and cash coming in, he's actually rather happy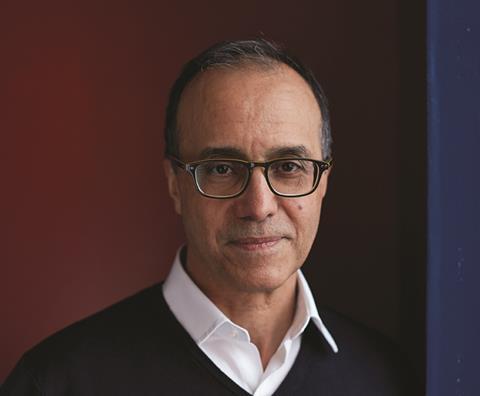 It's hard to imagine Lee Polisano getting into an argument with anybody. The president of PLP Architecture has a warm, engaging manner and speaks softly in a gentle accent that reveals his east coast American upbringing. The faintest hint of a smile plays at the corners of his mouth.
But this is the same Lee Polisano who prompted the biggest row in the architecture community in 2009, when he announced that he was leaving his post as head of the US giant Kohn Pedersen Fox Associates' (KPF) London office to set up shop on his own, taking four of the firm's partners with him - and a sizable number of its clients to boot. In short, this apparently gentle soul caused one hell of a ruckus.
So what led Polisano and his fellow escape artists to leave KPF? After all, 2009 was hardly the most welcoming of economic times in which to launch any new business, let alone a new architecture studio. And four years on, just how well is PLP performing?
Polisano describes the split from KPF as "very acrimonious". Polisano and his partners ended up taking some of KPF's biggest projects with them, including major schemes for Heron and Land Securities, which led to a legal tussle over compensation. An agreement in principle to compensate KPF was signed in 2009 around the time PLP was set up, but the final settlement was only agreed in July 2012 when PLP said that it would pay KPF £2.1m.
Polisano must have wanted out pretty badly, and says that he had grown tired of the corporate atmosphere at KPF. "I think that we just felt for personal and professional reasons that we had outgrown the situation," says Polisano. "It had just reached the point where we weren't enjoying it anymore. We had grown culturally apart from our partners in New York, not in an adversarial way but in a philosophical way."
Polisano confirms that PLP has now paid off the £2.1m in full and the firm's finances seem to be in good shape. In the last set of accounts filed with Companies House, PLP reported that at the end of 2012 it had net assets of almost £1m, compared with a deficit of around £300,000 at the end of 2011. PLP's turnover was down slightly over the period, from £12.6m to £10.8m, but pre-tax profits were up, from £1.4m to £1.5m.
London is enjoying a remarkable resurgence at the moment in terms of inward investment and a lot of that is coming into property
Indeed, PLP is now working on a number of very high profile projects that will have an impact on London's skyline for years to come. Famously, while at KPF Polisano worked on the stalled Pinnacle tower in the City - a scheme he describes as "a product of its time" and on which a spokesperson for PLP confirms the company is working on - and when he left he took Land Securities' Nova Victoria and the Heron Plaza with him. Now other major central London projects have been added to the mix, with PLP appointed to work on the redevelopment of Sampson House and Ludgate House (currently home to Building) on the South Bank, the redevelopment of the Shell Centre further up the river and the Imperial West scheme for Imperial College London. PLP has also started working on its first commissions overseas, with work on a new port for the Qatari government and significant opportunities in China, where Polisano says he is considering establishing a full-time base.
"London is enjoying a remarkable resurgence at the moment in terms of inward investment and a lot of that is coming into property, not just as holding assets but as ways of creating and preserving wealth for investors," says Polisano. "That has a knock-on effect in terms of benefiting people like us. We're entering a period when we're going to be very busy."
The range of different projects that PLP is working on is also striking. While at KPF, Polisano was famous for his work on commercial buildings. Now, however, he and the team are engaged on a huge range of different types of building, from high-end residential projects in Mayfair to social and student housing, as well as major mixed-use and civic projects. "Our history was all commercial," says Polisano. "But as soon as I left, people started calling me asking me to do things that they'd never have asked me to do before. I think that [previously] we were identified as part of a large American corporate entity and therefore they thought of us as only being able to do certain things."
PLP has grown steadily in headcount, from 90 employees in 2011 to 100 at the end of 2012. Polisano says that at the end of 2013 the company employed 130 people and were continuing to hire. However, whatever Polisano's ambitions to grow PLP, it is clear that it will be done in a measured way. He is keen that the practice continues to expand abroad, but says that it will only do so in a way that doesn't put jobs at risk back home. "You have a responsibility to people and their families to make the business sustainable," he says. "We [the partners] have always worked internationally and we have a lot of interest in continuing to do that. But we've purposefully done it in really small steps."
The strategy, therefore, is to build a sustainable business in the UK - currently almost exclusively in London - and only to venture abroad once sufficient surplus has been generated to cover the risks involved. "Everything you do outside of [the UK] has a higher risk profile," says Polisano. "It's not based on English law, you're no longer just competing against other great British architects, there's a currency risk and people have different ideas about when they should pay you … I think we're at a point now where we're able to participate more in that risk. We have new projects in India and Kuwait and we're looking at things in Qatar and New York. We're starting to expand internationally now."
Clearly Polisano calls the shots in terms of the broad strategy and direction that PLP takes, but he says that he now spends 80% of his time in the studio as a practicing architect, which he describes as "a total shift from my former firm". Indeed, Polisano says that he tries to keep out of the financial side of running PLP as much as possible. "We've never set a target, although our financial guy does and he has a green line that goes like that," he says, describing an upwards trajectory in the air with his hand. "We try to hit the line, but I just know that he keeps on moving it."
So the last four years have been tough, but Polisano is clearly satisfied with the progress that PLP has made. He's also far happier than he was at KPF. As sole shareholder, the risks involved in running the business rest entirely on his shoulders - he has, quite literally, bet his house on the firm's success, using it as security against PLP's bank debts - but that is more than compensated for by the fact that he is his own boss. He says: "Since I left my old practice, even when we were really struggling in the early days and having all our legal problems, I've never woken up unhappy."
Major ongoing projects
Ludgate House and Sampson House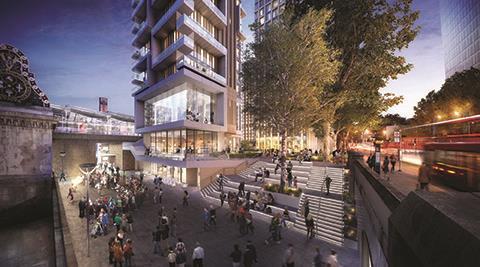 Client: The Carlyle Group
PLP's masterplan (pictured) for the redevelopment of two universally derided office blocks on the south side of Blackfriars Bridge includes apartments, offices, affordable housing and retail. The two blocks would be replaced by a cluster of nine towers comprising 1.4m2 of floorspace.
Nova Victoria
Client: Land Securities and the Canada Pension Plan Investment Board
The firm's masterplan and designs for three new commercial buildings with retail space is intended to regenerate a site to the north of Victoria station. Formerly known as Victoria Circle and the successor to Victoria Transport Interchange 2, the masterplan for the £2.2bn project was granted approval in 2009 and forms the largest single planning consent from Westminster City council to date.
The Shell Centre
Client: Development Securities and the Carlyle Group
The redevelopment of the Shell Centre next to Waterloo station is intended to provide new commercial, residential and retail accommodation, as well as new public space, and could be worth up to £1bn.