Since becoming UK chief of WSP Parsons Brinckerhoff following last year's merger, Mark Naysmith has been busy integrating the two firms into one combined company. But, he tells Joey Gardiner, the focus will be on assuring its traditional clients that much will stay the same
It can sometimes feel like big consultancy mergers are about as regular as political photo opportunities at the moment - and not that much more exciting. And for engineer WSP, its £820m 2014 purchase of 130-year old transport and infrastructure consultant Parsons Brinckerhoff from Balfour Beatty wasn't even the first time in recent years it has made headlines through its involvement in a corporate mega merger, having been bought in 2011 by Canadian consultant Genivar.
The story, from recent buy-outs of grand old UK names like Scott Wilson, Halcrow and Davis Langdon, is familiar: a big purchaser, usually foreign, and a growth strategy designed around a desire to deliver a broad and consistent range of services internationally for the biggest of global clients. We've heard all that before. However, this time, says new UK chief of WSP Parsons Brinckerhoff Mark Naysmith, it's different.
Where the likes of Scott Wilson, Halcrow and DL lost their brand identities by selling up to big foreign buyers, WSP has already demonstrated by keeping its name after the Genivar deal that it can do things slightly differently. Now after the Parsons Brinckerhoff (PB) deal, Naysmith says the combined business will retain both WSP's exisiting country autonomy and its local focus, and keep on doing the smallest of jobs, despite being part of a 32,000-strong global engineer, and targeting double digit revenue growth in the UK. The purchase of PB adds that firm's expertise in public sector infrastructure projects to WSP's traditional strength in building engineering, potentially giving it the ability to move up to the next level. But, like all mega-mergers, it also contains big risks. With the two businesses formally starting to work as one in the UK at the start of last month, Building reveals their combined structure, and grills Naysmith on his blueprint for success.
Winning combination
A WSP lifer, and prior to the merger WSP's UK MD, Mark Naysmith was named UK chief operating officer of the combined WSP/PB business last month. The Scot now heads a £400m turnover business with more than 5,000 UK staff, of which about 40% come from the former PB business. He is still busy carrying out the detailed business planning for its strategy, so can only give broad indications of the expected pace of progress. "In the current market I'd be looking at least double digit revenue growth per annum over the next couple of years. I can say that pretty confidently as WSP grew by 20% in the UK alone," he says.
I'm a big believer in being best in class locally. There's an element of still being a boutique business despite being 5,150 strong
The idea behind the merger is to leverage the combination of the two firms by bidding and winning jobs that require the expertise of both, with sectors such as rail, energy and aviation, all of which require buildings expertise to complement the civil engineering, seen as key targets for growth. While WSP prior to the merger already had an infrastructure business as well as its buildings structures heritage, the purchase of PB adds a real strength in transport in general and rail in particular, which Naysmith describes as the "crown jewels", alongside an almost totally public sector focus: 95% of PB's work was for public clients. WSP, on the other hand, has always been a go-to engineer for private clients and contractors. Even in the two-fifths of its work that has been on public sector projects, the vast majority - around 85% - is as a consultant to private contractors delivering the scheme, rather than the ultimate public sector client itself.
Naysmith says these contrasting focuses mean there will be little direct overlap, and lots of opportunity for teams hailing from both firms to bid alongside each other, as it has already been doing with the Highways Agency's Collaborative Delivery Framework. It has already been able to jointly win additionalwork on major residential projects such as Earls Court, where WSP has been able to use PB to deliver specific rail systems consultancy that it would previously have had to outsource.
Of course the potential pitfall of WSP and PB having contrasting roles is if it results in client conflicts which force one side or the other to step away from work. Naysmith says he has so far identified no conflicts of this kind, although he accepts that "this is something we'll need to manage", given WSP's common position advising contractors working on public sector projects on which PB might be retained client-side. "The important thing is we identify these at an early stage," he says. Overall, he says: "It's truly a two plus two equals five scenario. It's very early days, but we are starting to track what we call revenue synergies such as with Earls Court."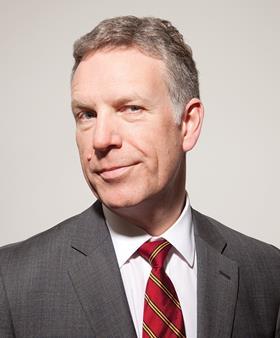 Split structure
If the growth plan is not yet set in stone, one thing that has been decided is the firm's structure. It will be split into two key divisions: the core property, transportation and infrastructure, which will be overseen directly by Naysmith as MD, and an energy and industry business which combines the former WSP industrial engineering discipline as well as Parsons Brinckerhoff's power and energy arm, and for which Ian McLean will be MD. Within Naymith's remit, services will be delivered in one of seven disciplines: development, building structures, building services, rail, highways & bridges, environmental and major project services, with heads appointed to run each discipline. Of these nine principle roles, WSP executives have bagged six, and former PB staff, including McLean, have taken three.
The disruption potentially caused by all this reshuffling seems to be the biggest thing on Naysmith's mind. While he says the feedback from PB staff to the deal, who had spent the previous five years being owned by but not integrated into contractor giant Balfour Beatty, has been very positive, he accepts that staff have been living in an "era of uncertainty" which could be unsettling. "The reason we're doing the integration so quickly is there's always going to be underlying uncertainty until people know where they sit within this new bigger organisation. That's why I launched my executive leadership team structure very early."
Even though the acquisition is designed to allow the combined company to grow, as in every merger process the uncertainty for staff is exacerbated by the need to cut back office functions and overheads to deliver the savings promised to investors - in this case £25m worldwide - in the merger's justification. Naysmith won't say how much of this saving he has to make in the UK, but with his business contributing almost a quarter of global turnover, there clearly have to be cuts. "We don't need two full-size back office support functions, and that's where a large part of the savings will come from," he says. "Our objective here is not to lose frontline technical staff. We're in a growth market, we're continuing to recruit, so it'd be daft to lose frontline fee-earning colleagues." The first external sign of this cost cutting was the combining in Bristol of WSP and PB into one office last week, and there will be more of this to come, with at least five or six further mergers from the business' 34-strong office network on the cards this year alone.
But the welcome reality of a growing market means that Naysmith plans to hire upwards of 1,000 people this year. Unlike global engineers such as Aecom and Arcadis, Naysmith is not predicating that growth on winning global clients that take WSP overseas. "The most important thing to me is being a top draw consultant in what we do. That doesn't necessarily mean big is beautiful. I'm a big believer in being best in class locally. There's an element of still being a boutique business despite being 5,150 strong. Clients come to us for technical intellect - it's important to me that we don't lose that as part of the growth … or become a conglomerate mass of general practitioners.
"A huge strength of ours is country autonomy. I think there's a difference between global connectivity and head office domination. For [WSP's HQ in] Montreal to tell us what we must do in our markets is slightly naive."
The way contractors and consultants operate and make money is quite different and they don't necessarily mix
Naysmith says there are a few key ways to prove this continued local focus to the firm's traditional clients. Firstly, it is by sticking to consultancy, something that PB staff may welcome after five years as an adjunct to a contractor. "The way contractors and consultants operate and make money is quite different and they don't necessarily mix. You look at the Aecom URS monster merger, they've not stuck to a pure-play consultancy model - Aecom are getting involved in contracting and development as well. That differentiates us from Aecom already," he says.
The second key, he says, is to avoid putting artificial constraints such as minimum contract size on the business, which could stop potentially vital future clients from engaging. "To me that's a naive approach. Because acorns grow into oak trees. That £1,000 commission can end up being tomorrow's £250m commission.
"The majority of what we do is still through local regional relationships, and that won't change. Where some of our competition lost their way during the recession is they took their eye off the local markets and local clients and chased international opportunities. Our local competition who have American parents are pulling out of some of the UK markets because of perceived risk. Which to us, it's not risk, it's just understanding your local client base. If you become a truly global player where things are dictated by head office, that's when you lose that."
Grow your own
However, for all these stated differences, what makes WSP like its big competitors is its struggle for skilled staff as the economy recovers. To supplement UK skills and keep costs low the firm has "offshoring" offices in India, the Phillippines, Romania and Serbia, and is planning a new one in Bangalore. However, Naysmith, who got his start in engineering after completing a higher antional diploma but was sponsored to take a degree from Edinburgh's Napier University by WSP, says he sees a huge benefit in taking on people who come up "through the tools". So as well as recruiting in the market, WSP last year had a 150-strong graduate programme and sponsored 50 apprentices (PB took on 50 and 10 respectively), and Naysmith is adamant that the rest of the sector needs to act similarly. "I'm a true believer in growing your own, and I wish a lot of our competition would take the same approach. Identifying talent at an early stage is always something WSP's been good at, and we have targets for that and for gender diversity."
With skills shortages the sector's biggest collective headache, much of Naysmith's success will ultimately be determined by how well WSP does in attracting this new talent. But in the meantime its progress is likely to be more linked to how many of its potential clients value WSP's "localist" pitch above the competition.