Despite a career spent working on London's skyline, Peter Rogers has never lost his hunger for a challenge. Which is just as well, as, alongside property legend Sir Stuart Lipton, he's taking on the Pinnacle, possibly the capital's most troubled project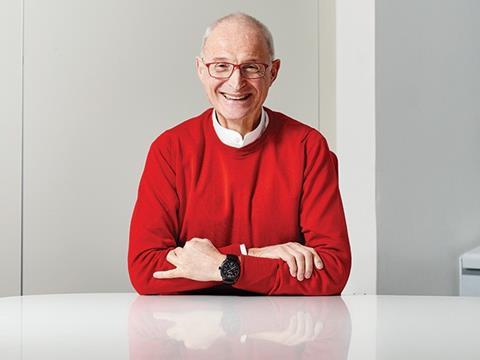 When he's not at work, Peter Rogers' principal passion is sailing his 56ft yacht Temerity around the Mediterranean, popping into Sardinian ports and navigating the treacherous Bonifacio Straits between that island and Corsica. And Temerity is an appropriate name considering how Rogers, with his long-time collaborator Sir Stuart Lipton, has pulled off what already looks like the development deal of the year with a firm of eight staff that is not even two years old and has, until now, no projects to its name. Building revealed last month that Lipton Rogers is to be developer of 22 Bishopsgate - the site of the long-stalled "Pinnacle" scheme - in a deal backed by insurer Axa.
Getting the deal over the line comes as a relief after two years of tortuous negotiations - and sees the two veterans of the London construction scene inject life into a scheme that has spent the best part of a decade not being built. "It's brilliant. Particularly a job that has been at a standstill for so long, freeing that up is a double success. It's one hell of a marker project for Lipton Rogers," he says.
Of course, while this particular collaboration may be new, few in the sector have track records to match Lipton Rogers' founders. Because this year also marks 30 years since Sir Stuart tempted trained engineer Peter away from his career at McAlpine to help found Stanhope, the developer that has helped define the capital's construction industry for decades with developments at Broadgate and Paternoster Square.
The younger brother of acclaimed architect Richard Rogers, Peter - the former Constructing Excellence chairman - is, at 68, still as restless as ever for modernisation in the industry he loves. But what can he tell us about the new plan - still formally under wraps - for the Pinnacle site, and the future of his still new company?
Meet the team
As a team, Lipton and Rogers have clearly defined roles - with Stuart's reputed genius for masterplanning and development dealing with the front end of the process, while Peter tackles the construction problems these plans create - taking apart the construction programme, interrogating and examining it, and building it back up. Steve Watts, the QS on the Bishopgate scheme at newbie consultant Alinea, and a long-time collaborator with Peter, says his "fiercely intellectual" approach means the whole construction team has to challenge any assumptions about how they think a project will be built. "He's great to work with," he says, "but he's very challenging, and keeps you on your toes. There's no way you can blag your way through meetings. It gives you confidence working with a client that knows what it wants."
When Lipton sold his share in Stanhope in 2005, Peter always intended to reduce his involvement over time as well - and eventually left in 2013. During that period, Rogers says Lipton "teased me with one or two interesting things", and he ultimately started working at Chelsfield with him. "We get on very well," Rogers explains. "And then as we were there Stuart said to me: 'Come on, it's about time. Let's see if we can get the two old boys back together for one final round of fun.'" Their joint venture was set up in 2013.
However, Rogers' work on the Pinnacle site goes back far further. In fact, he was asked to help make the original expensive design more viable by its original owners DIFA while still at Stanhope in the early 2000s. Then, more than three years ago, construction on the site stalled and the architect of that scheme, Karen Cook, asked Lipton to look over the designs again. Once again Rogers got involved.
While Cook, at PLP, has been retained as architect for the scheme - now called 22 Bishopsgate - it is an entirely new design for the site that Lipton Rogers will build. This current scheme has its roots in work carried out by Lipton, Rogers and a group of top London development experts in 2011, which attempted to cut the pound-per-square-foot cost of building a city tower in half. The concept was dubbed the "austerity tower" when it was revealed by Building, and it centred on cutting costs by introducing more standardised components and parts, and larger, more regular-shaped floorplates, which would reduce the amount of cladding needed relative to space provided.
In a sense, this work was tailor-made to solve the Pinnacle problem - a signature design that was never built because of its excessive cost. While its proponents reject the "austerity tower" tag, it is no coincidence that many of the principle authors of that cost-cutting concept - Lipton, Rogers, Alinea's Steve Watts, and WSP's Kamran Moazami - are part of the team behind the new design. Some industry commentators were concerned at the time the austerity tower was conceived that cost cutting would come at the expense of good design, and lead to a generation of bland or even downright ugly buildings. So to say the design of the new Pinnacle will be keenly anticipated is something of an understatement.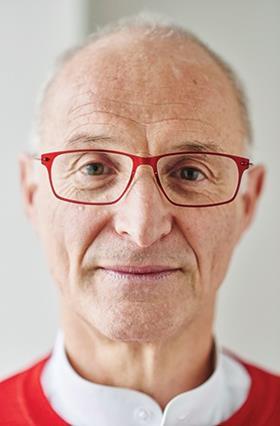 Classic city building
The confirmation of Lipton Rogers' appointment to the project was followed fairly swiftly by the leaking of some visualisations of the new building on the internet, which it would be fair to say have not been well-received.
But Rogers brushes off this criticism, maintaining the visualisations were working drawings at quite an early stage, and that the scheme has "quite considerably changed" since those images were produced. "People don't like tall buildings, and they start off on that negative before anything else," he says.
Rogers says the team is still one or two weeks away from finally agreeing the design, so no images have yet been produced. But he can confirm some basic principles: it will be marginally lower than the original building, in order to align with the existing planning permission, though the exact height and number of floors is still being finalised. A much bigger floorplate than the original plan will see it deliver 2 million ft2 of accommodation, a 25% increase on the Pinnacle's design.
But what will it be like? "We've tried to make a real classic city building," explains Rogers. "Classic, elegant, modern. We're not trying to make a statement building here."
"We were very keen to address the next generation of buildings - what sort of size do [occupiers] want? How's it going to work? One of the main demands was big floorplates. The City traditionally has had relatively small floorplates, if you look at the Heron [Tower] and the Cheesegrater. This is playing against Canary Wharf's strengths."
While some online comments on the leaked visualisations have reacted against the bulk of the building, Rogers maintains its height will lend it elegance, despite the larger floorplate. "The Shard is a good example - a very crisp building, very simple in its own way. Clearly this wants to be in that sort of language. Rather than its shape giving it architectural interest, this is about its elegance and simplicity."
Given all these changes, the tower will require a new planning permission, and the detailed technical work behind that will start as soon as the design is finalised, with Rogers anticipating submission of a new application in May-June "probably just after the election". It's bound to be controversial, but the existing permission gives Lipton Rogers a big leg-up in securing approval. "We've had a lot of negotiations with the planners. I'm very nervous of saying there'll be no problems [but] we've worked very closely to try and eliminate any issues. It's asking for disaster to pretend it's a foregone conclusion."
Clean situation
Rogers confirms Building's report that contractor Brookfield Multiplex has been awarded a pre-construction deal, with the anticipation the Australian-owned firm will build the whole scheme if things go according to plan. Rogers says Brookfield will start pre-construction work on site in the next couple of weeks, with demolition of the existing eight-storey "stump" from the previous scheme's aborted construction due to start in two to three months.
We're never going to take on a huge number of jobs. we don't intend to get large. we like complicated projects. something that's got a twist to it
Brookfield, the contractor on the previous scheme - which ended up settling out of court a £16m claim for unpaid fees with the special purpose vehicles that owned the Pinnacle - will take on the first year's worth of work on a construction management basis, using the period to bring in the trades as the design details become available. However, once the trades have been engaged on a fixed design, Brookfield will move to a fixed-price lump-sum contract - if terms can be agreed. So why Brookfield? "Clearly they're very competent, they've done some phenomenal high rises in the Middle East and Australia. As this started up Ashley [Muldoon, Brookfield Multiplex Europe's chief executive] came and met me and said 'maybe we can help you.' They were very keen to do it. As the deal has got much clearer, we've liked their style to be quite honest, so we've not gone out and talked to anyone else," Rogers says.
He rejects any suggestion that the engagement of Brookfield might have been a stipulation of its 2013 court settlement for those outstanding fees. "The one thing we wanted absolutely clear was that ours was a clean situation. There is absolutely no hangover from the previous project."
Rogers won't give any guidance on the price of the job at this stage, beyond saying that it will be cheaper to build than the previous scheme, despite the huge increase in floor space, but whether that's cheaper than Brookfield's original reported £575m construction contract, or than what costs escalated to, he again won't say.
Unsurprisingly, 22 Bishopsgate will be Lipton Rogers' prime focus in 2015. But Rogers says the firm is still working on a "small handful" of unnamed other schemes, which he says will not come to fruition this year. These include residential projects, and at least one involving his starchitect brother Richard. And as with Stanhope, they will all be in London.
"We know the London market well- if you can't get there by black cab we don't want to do it, crudely," he says. But he has no intention of growing this firm to rival his former company. "We're not out to re-create Stanhope or a mega-conglomerate. We're never going to take on a huge number of jobs, we don't intend to get large. We like complicated projects, something that's got a twist to it."
He's clearly relishing the opportunity to get his teeth stuck in to such a major scheme. "It's a big job, going at high speed, and it's going to be good fun. Let's not kid ourselves, half of this is about enjoyment." And while he may like his sailing, don't go away with the impression he's got one eye on retirement. "For both of us, this is both a hobby and a job. Stuart and I chat at the weekend about project issues, and send each other articles about building issues and design. I don't think either of us are going to take up golf and retire - we're just not that sort of people."
Close to entering his eighth decade, for Rogers, the Pinnacle could just be the start.
The Pinnacle's Progress
2001
Pinnacle scheme first proposed
April 2006
Pinnacle wins planning permission
May 2007
DIFA sells the Pinnacle to three special purpose vehicles, including Saudi investment manager SEDCO, with Arab Investments named developer
January 2009
Brookfield confirmed to build Pinnacle for £575m in City
September 2011
Debt deal agreed for Pinnacle tower
January 2012
Developer confirms Pinnacle tower on hold after just nine floors of concrete core built
October 2012
Brookfield sues the Pinnacle for £16m in unpaid fees
January 2013
Brookfield agrees deal to end £16m row
July 2013
Pinnacle seeks funder to kickstart tower
December 2013
Rival teams vie to take on stalled Pinnacle tower
January 2014
PLP confirms its involvement
September 2014
City planners reveal they expect new Pinnacle tower plan
November 2014
Lipton Rogers closes in on deal to revive stalled Pinnacle tower
February 2015
Deal done: Lipton Rogers inks Pinnacle rescue deal