Innovation in business practice and access to wider markets make Britain a good place for a French contractor to be, says the boss of Bouygues UK. And then there is the opportunity for more acquisitions
When Madani Sow moved to England from France three years ago to head up Bouygues UK, his daily lunch menu remained unchanged: two apples and a glass of milk.
While Sow seems personally keen to avoid excessive growth, the same cannot be said for his attitude to business. Since he arrived from Paris in June 2008, bosses of the firm's £1bn parent company, Bouygues Construction, have been hoping for successful acquisitions to boost its UK presence and revenue.
Acquisition is a dangerous game. You see a lot of bad mergers where value has been destroyed. I need a gut feeling i will succeed
Things remained pretty quiet on that front until a couple of months ago, when Bouygues UK bought a £38.5m controlling stake in the regional contractor and affordable housing specialist Leadbitter, rocketing Bouygues Construction into the top 20 contractors in the UK.
The deal is likely to see the firm's UK turnover nearing £800m in 2011. This, coupled with its ranking as second only to Vinci in this year's Top 200 Euro contractors league tables, gives Bouygues - and Bouygues UK - plenty to be happy about.
Despite all this, Sow says there is no escaping the fact that 2011-12 will be tough. Bouygues is not exempt from the worries facing much of the construction industry. The firm is busily targeting new markets, and potentially more UK firms as acquisition targets, in order to keep the work coming in and the finances healthy.
Sitting in his Waterloo offices, Sow talks about how crucial the UK market is to Bouygues, why be believes more mergers could be in the pipeline and where he wants to take the company next.
The UK is crucial
Bouygues UK contributed £210m to Bouygues Construction's £1bn turnover in 2009. Sow says Paris is well aware just how important UK operations will be continue to be. "The UK market is bigger than the French market and has the same sorts of business rules, so it has a lot of interest for our parent company," he says in a heavy French accent.
In terms of the specific benefits a UK presence offers a French firm - or indeed other Euro contractors - Sow points first to global opportunities: "In the UK market we meet a lot of British architects, and consultants who work very successfully abroad. For example, we won the Singapore sports hub through a relationship with Arup, we won the Kai Tek Cruise Terminal Building project in Hong Kong with Norman Foster and so on. And as English is the worldwide business language, a lot of the people we are recruiting in the UK can be used easily on overseas projects which allows us to be mobile globally."
A heavy UK involvement also means Bouygues is well placed to pick up on innovations before any of its non-UK competitors: "I don't know what the baby of PFI will be," says Sow, "but there is a good probability it will come from this country. Therefore, because we are here, we will be among the first to understand it and be able to use it in other countries."
He believes that, despite the recession, the Comprehensive Spending Review (CSR) and fear of work drying up further, in the right sectors there will be plenty of opportunities. "There are huge needs in this country," he says. "The UK has 70km of high-speed rail. In France there is 2,000km and about 2,300km in Spain. In seven years Morocco will have 700km of high-speed rail and the UK will, I am sure, have to do something to keep up. I do know that if we are here, a good firm with a good reputation, clients will choose us."
Such confidence could be just as easily feared as admired by other UK contractors. Bouygues certainly has a good reputation among clients, and Sow is open about the fact that Bouygues' UK presence is, in part, to identify British talent and innovation and use it to chase opportunities aggressively both here and overseas.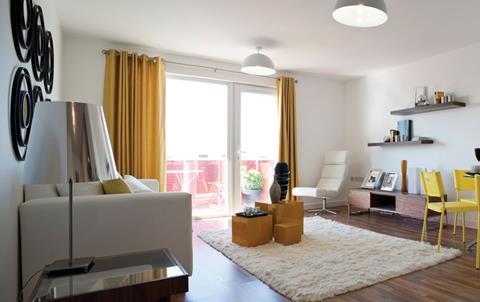 Growth on the horizon
The question on everyone's lips now, though, is whether Bouygues' interest in the UK will lead to any more major acquisitions. "It is my personal opinion there may be some more mergers," says Sow. "I can't say much about what sectors that will be in, but if you look at the way Bouygues UK has grown - housing and social housing are big growth areas."
What about rumours of potential talks with contractors including Costain and Midlands-based Thomas Vale? "I have met with them in the last two-and-a-half years but then I have met lots of contractors and consultants. We work on lots of things together, sometimes in JVs. We team up with other firms regularly."
Does this have any bearing on potential acquisitions, particularly in the immediate future? "I don't know," says Sow. "It depends. Acquisition is a very dangerous game. You see a lot of bad mergers where value has been destroyed. I am not paid to do that. I need a gut feeling I will succeed and then I have to convince my boss. It's not easy."
That gut feeling was obviously there when the firm joined forces with Leadbitter, a move that Sow hopes will expand Bouygues UK's regional spread and increase access to local authorities, to get more public sector work.
Where next?
Financially, the last 18 months have been stable for Bouygues UK as the firm posted a £210m turnover and £10.2m pre-tax profit. But this was partly because there were a lot of projects going on, many of which have now stopped. Sow expects a 5-10% contraction in turnover for 2011. "It could stay the same," he says. "But I don't think we'll see growth this year or next, not including acquisitions." He goes on to say that anticipated turnover for 2011 is £200m, then £220m in 2012 and the same for 2013. The firm's order book looks healthy, though, with 90% of 2011 turnover already secured.
But Sow knows all too well that it will be a difficult couple of years and, like most contractors, he is looking at new and emerging markets. "We have selected some parts of the market where we believe things will happen and we are focusing more on the private market than in the past," he says. "It's a big shift. Maybe in London in two years it could go from 90 public/10 private to 60/40. We will be moving towards transport, infrastructure and energy, but only if we have any expertise to add.
"This is on top of housing, which will be a priority, as well as public client projects like schools and gymnasiums and we are currently bidding on one or two big hospitals. In the coming years, through Leadbitter, we will have more access to localities [local authorities] and we want to work over the whole of the UK rather than just half. Leadbitter will help us develop local knowledge, a better understanding of local markets."
Sow is pragmatic about the public sector cuts, describing them as a "necessary" measure taken by government. "We knew it was coming. The CSR has to happen and this country, and the people leading it, have decided to reduce their spending like you or I would have to. If I don't have the money for the yoghurt in the supermarket, then I don't buy it."
The future
Sow is keen to add that despite the recession, despite the reduction in work, his staff will be receiving pay increases this year. "While we need to deliver more for less for our clients, we will give staff a salary increase this year and find the savings elsewhere. Of course we'll be asking for more productivity. This is all part of the answer: motivating staff and being the best for clients. We can find the money by changing the way we do things, finding cost savings in materials, cutting out wasteful processes, committing ourselves to energy consumption targets and getting part of the savings back from the client. It is possible. I promise it is possible."
Madani in a minute
The thing that makes me feel most guilty about my carbon footprint is … how much I like speed.
If I could take one thing to a desert island it would be … music to listen to.
I always … take time for my family.
I am never … pessimistic (pessimism reduces the imagination).
I regret … not having worked more in places with a large number of international companies.
I wish … I had the opportunity to travel more often (there is so much to discover in the world).