New bands and a new judge at the first night of this year's Construction Rocks fundraiser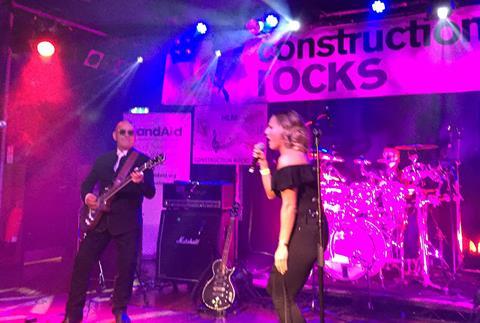 This year's Construction Rocks is a game of two halves with last night being devoted to "New Bands" (although there were at least a few familiar names and definitely one wig I recognized from previous years).
Returning too were veteran judges Gina Way of the Eel Pie Club, former Leaf Hound and Atomic Rooster frontman Pete French, and Chris Liddle, chair of HLM Architects and keen amateur muso. And as well as the new bands a new judge in the form of our very own Yoosof Farah - one of the star reporters of Building's news desk.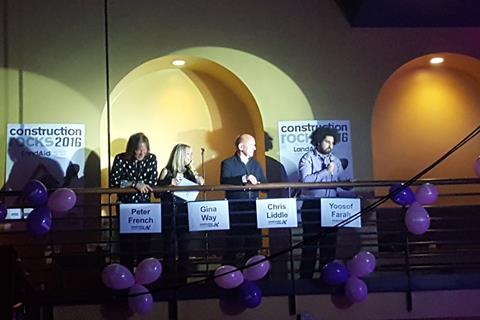 After a warm up from Exile – a band featuring Liddle and event co-organiser Bill Price - and an introduction from this year's compere David Rubin (apparently he's been in Birds of a Feather, amongst other things). We were on to this year's competition…
Starting with Gleeds' The Elusive Butterflies of Rhythm we found ourselves firmly in classic Construction Rocks territory. There was hair, tattoos, shredding guitars and a finale consisting of an emotional rendition of the power ballad Purple Rain by the late, great Prince. Our three old school judges loved it but new kid on the block Yoosof got off to a rocky start with the crowd by saying he felt they could have got a bit more mileage out of the latter song. Boooo!
Next up were Assael Architecture's Tender Package. Tender Package have definitely been a fixture for the last couple of years but we'll let this slide as we presume this is a new line up. Incredibly perky singer Millie Golightly crooned and bobbed through songs by the Black Keys, Taylor Swift and the Kaiser Chiefs, flanked by a band of sharp looking chaps in bright primary-coloured suits. They all seemed very young and bouncy, like a group of hyperactive Tiggers or a sack full of kittens, and just seemed to be having so much fun… Which the judges picked up on. Except for Yoosof who pointed out that they went overtime.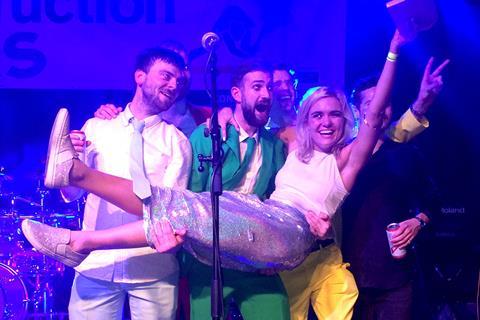 (There have now been Tweets suggesting Yoosof is the event's Simon Cowell or "Abusive Yoosof" as someone unkindly labels him…)
Third on were UB-2 from Price & Myers who started their set - perhaps bravely - with a slightly experimental cover of Massive Attack's Teardrop (there was a recorder involved). They then went onto safer ground with the crowd with a Mumford and Sons cover before (slightly) winning the judges back with a cover of Patti Smith's Gloria. But I preferred their early stuff when they were edgy. Yoosof decides to play it safe now by pointing out singer Eamonn Doherty was the only person so far who had women's underwear thrown at him on stage and thus must be a rockstar. Is he softening?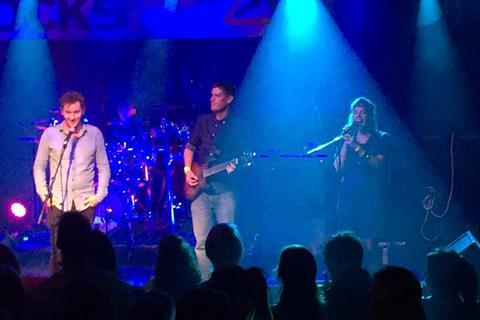 Superfluous from Peter Brett Associates… Once again the name is definitely familiar, as is THAT wig (see picture, below) and the bass player beneath. None-the-less, they seem to keep our judging panel happy by belting out tight versions of rock standards including Blondie's Hanging on the Telephone, Martha and the Vandella's Dancing in Streets and Joan Jett's I love Rock 'n' Roll.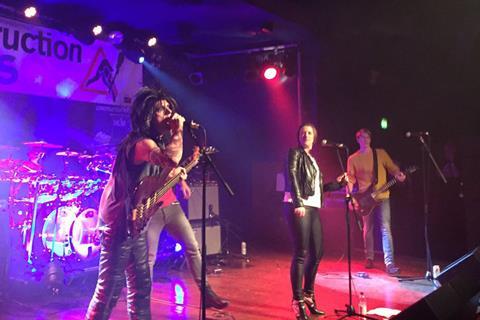 Savills' ingeniously named The Margaret Street Preachers are strong all-rounders too, with a line up that includes an excitable looking keyboard/saxophonist (thankfully she never gets these two confused) and a diverse choice of material that goes from The Killers to Bowie and then Springsteen.
Make Noise had four vocalist and an array of interesting costumes (including a fez… and we all know that a fez is cool). That is, at the start it looked like they had a singer and three backing singers, but then they kept switching round. There was also the first song repeat of the evening (the Black Keys again), as well as covers of the Coral and La Roux. Even if they weren't the tightest band of the evening they looked like they might have been having the most fun and the crowd seemed to agree.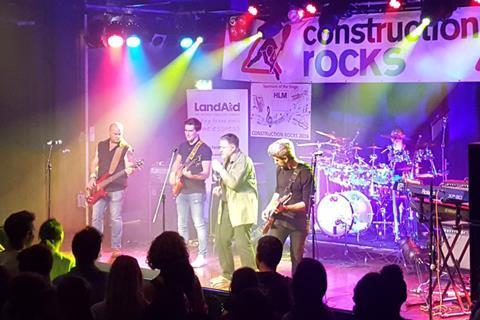 20% Structural from Willmott Dixon Interiors were another pro sounding standards band with numbers including Otis Reading's Hard to Handle, the Kinks' Really Got me Going and, perhaps more surprisingly, Eurythymic Sweet Dreams (Are made of this). More significantly, this marked a turning point in Yoosof's relationship with the crowd, where, upon saying he couldn't disagree with the audience's fondness for the band's sounds he was lauded by his name being repeatedly chanted by the mob. Thus, his transformation from villain to Construction Rocks hero was complete…
Finally, we finished with Sheppard Robson's The Iterations. This was the only band I actually thought may have been entirely ringers brought in especially for the competition; so settled into their own sound did they seem that I actually thought they were a genuine act. But apparently they are indeed architects by day, rock stars by night, with a hard(ish) rock set that reimagined the Zutons' Valerie, Marvin Gaye's Sexual Healing and (our second repeat of the night) Prince's Purple Rain, bringing us full circle.
And the winners were…
The Margaret Street Preachers Best band
Tender Package Best stage act
Make Noise Best fundraiser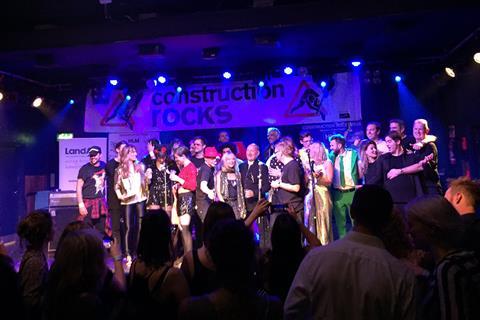 Well done to all this year's new bands… But wait… Tonight it's all going to happen again with "Vintage Bands Night" – tune in tomorrow for an update.
Construction Rocks was conceived by Bill Price and Nigel Fraser in 2007. Since its conception Construction Rocks has raised over £90,000. The funds go primarily to property industry charity LandAid (www.landaid.org), among others. For more information go to www.constructionrocks.com