Equipment problems have reduced waste removal capacity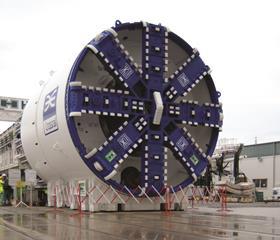 Crossrail has stopped one of its two tunnel boring machines after the collapse of part of its waste removal equipment reduced its capacity to remove earth at its Westbourne Park site.
Last Thursday morning a hopper, which automatically offloads waste earth brought up from the tunnels onto wagons, tipped into one of the wagons. The hopper is now no longer in use while the cause of the incident is being investigated.
The firm continued to tunnel with two machines over the weekend but has taken the decision to switch one off to ease pressure on the earth removal operation at the surface, where an excavator is now being used to load the wagons - a less efficient method of working.
An update on how the earth removal operation will continue is expected later this week. A spokesperson for Crossrail said the delay was within its contingency plans and its programme of work was still on schedule.