Move over, HS2. Dubai has plans to reduce the travel time from the emirate to neighbour Fujairah from two hours to just 10 minutes. And the Build Earth Live Hyperloop, a free 48-hour BIM competition created by Asite, is seeking the smartest minds and solutions for a new Hyperloop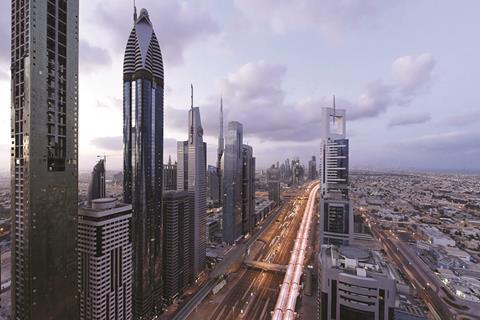 It has been hailed as the transport revolution of the 21st century, capable of whisking passengers at supersonic speeds across countries or even continents with minimal effort, and has been backed by technological luminaries such as SpaceX and Tesla supremo Elon Musk.
However a project in the United Arab Emirates has set its sights on turning the much-vaulted Hyperloop from a vision into a reality by linking the skyscrapers of downtown Dubai with the neighbouring emirate of Fujairah.
The Dubai Future Foundation has revealed plans to build a Hyperloop link to cover the 65 miles between the two emirates and cut journey times from the current two hours down to a mere 10 minutes. Alongside Vectorworks, Hyperloop One and RTA, the Foundation is sponsoring a design competition launched by Asite to put the proposal through its paces - and teams and individuals can register now at buildearthlive.com/hyperloop.
The Hyperloop plans form a central part of the annual Build Earth Live event this coming September, which will see more than 100 international participants including engineers, architects and designers collaborate to facilitate the best in sleek transport designs for the new Hyperloop project and formulate a new station vision for the Dubai link.
The 48-hour contest is organised by Asite, which provides cloud-based collaboration solutions for major projects.
The event will involve international scientific co-operation to introduce the latest technology for the project and, in the final stage, six teams will explain their project in front of evaluation judges.
Judges include BIM expert and Asite group chief operating officer and Build Earth Live co-founder Nathan Doughty and architect and urban designer Paul Beaty-Pownall.
Utilising the latest in building information modelling (BIM), the contest also aims to raise awareness of cloud-based working, international developments in interoperability and public access to the design process.
Speaking about the design competition, Doughty said: "We are delighted the UAE is hosting the Build Earth Livecontest. Hyperloop is truly bringing Build Earth Live to life. Through this partnership, we are looking forward to bringing innovative designs to further develop the infrastructure and find realistic future solutions, especially in the transportation sector."
Asite CEO Tony Ryan added: "Build Earth Life has come to life! We are proud of our creation".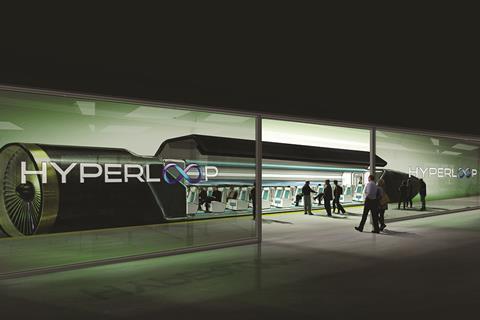 Hyperloop
Though the idea of sending people through tubes at hundreds of miles per hour sounds far fetched, the basic science behind the Hyperloop is over a century old. In 1909 Russian professor Boris Weinberg proposed a "vactrain" concept, which would see passengers within capsules move without friction.
Since those early designs dozens of plans have surfaced across the world from the US to Switzerland, with many combining maglev technology with evacuated tubes to reduce friction and ensure a smooth ride.
The system works by eradicating air resistance from tunnels by creating a vacuum. With air resistance reduced, capsules within the tube can reach much higher speeds than conventional ground transportation systems and, if the concept was taken to its full extent, up to twice the speed of an aircraft. The Hyperloop itself has been described by Musk as a "cross between a Concorde, a Railgun and an air hockey table".
In the Hyperloop considered for the Dubai to Fujairah link, instead of using magnets, which can be costly, each capsule "floats" on a bed of air between 0.5-1.3mm in depth, which provide an air-caster. Linear motors located along the tube would accelerate and decelerate the capsule to the appropriate speed.
Any additional air pressure that builds up atthe front of the vehicle would be transferred to the rear via an inlet fan and air compressor. Musk's concept was revealed in 2013 and has been published without patent to facilitate both international scientific collaboration and open-source design.
Since the Hyperloop plans were first unveiled by Musk, links between Los Angeles and San Francisco; Stockholm and Helsinki; and now Dubai and Fujairah have been proposed.
The Dubai project has been backed by the Dubai Future Foundation, an independent research organisation that aims to shape Dubai's future in light of the Dubai Future Agenda, a comprehensive plan to enhance all strategic sectors of the country, including transport and tourism, through the launch of initiatives and strategies such as autonomous transportation.
Speaking about the project Mohammed Al Gergawi, managing director of Dubai Future Foundation said: "Dubai is hosting this global event as part of the vision of His Highness Sheikh Mohammed bin Rashid Al Maktoum, vice president and prime minister of the UAE and ruler of Dubai, to make the UAE and Dubai a global platform for innovative minds to come together to create futuristic solutions on issues of relevance to humanity."
Al Gergawi believes that along with 3D printing and driverless cars, transport systems such as the Hyperloop can herald the next global economic boom. If successful, the project would certainly herald a step change in the way people and goods are transported, and would make the UK's current plans for HS2 look modest in comparison. It may even be cheaper. In March, Hyperloop One chief executive Rob Lloyd stated at the Middle East Rail Conference that the technology could cost as much as 62% less than conventional high-speed rail systems, and would require less land to build. Lloyd said: "It would be more equivalent to the metro we see in Dubai than traditional high speed rail construction."
The Dubai Autonomous Transportation Strategy, a joint venture between the Dubai Future Foundation and the Roads and Transport Authority, envisages that up to 25% of Dubai's transport would be converted to autonomous vehicles by 2030. Saif Al Aleeli, chief executive of Dubai Future Foundation, said: "Hyperloop is now a major topic of study and research to find effective ways of implementing technology in line with the global trends of innovation as well as the vision of Dubai Future Foundation as part of Dubai's Future Cities programme which has smart transportation as a key pillar of the programme.
Gergawi added: "This will eventually lead to massive global economic growth, and we aim to keep pace with the rapid developments by focusing on smart application of services and innovation in all fields."

The Build Earth Live Dubai Hyperloop design content will take place on 26-28 September. Whether BIM expert or novice, anyone can enter.
Finalist teams will get the chance to fly out to Dubai to present their designs to a live UAE audience. This includes flights and accommodation, a tour of Dubai and entry to the award ceremony. To register a team or find out more, go to www.buildearthlive.com
Build Earth Live Dubai Hyperloop is sponsored by:

The Roads and Transport Authority (RTA) came into formation in November 2005. It is responsible for planning and executing transport and traffic projects in Dubai, preparing legislation and strategic plans, planning and constructing the Dubai Metro, developing other integrated solutions of road systems and marine networks that are safe and in line with the city's economic development plans and the highest international standards.

Vectorworks, Inc. is a global design and BIM software developer serving over 650,000 professionals in the architecture, landscape and entertainment industries. Since 1985, we've been committed to helping designers capture inspiration, nurture innovation, communicate effectively and bring their visions to life.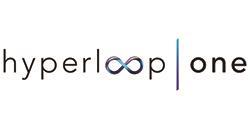 Hyperloop One is reinventing transportation by developing the world's first Hyperloop, an elegant, integrated structure to move passengers and cargo between two points immediately, safely, efficiently, and sustainably. For more information, please visit https://hyperloop-one.com/

Asite's award winning cloud technology gives everyone involved in construction projects access to key information online. It allows for increased collaboration, fewer mistakes, reduced rework, and time and cost savings. Asite's Adoddle platform allows firms to store and manage all project data in one central and secure repository.